Leafs Looking for a Veteran Goaltender: 7 Goalies That Could Be on Their Radar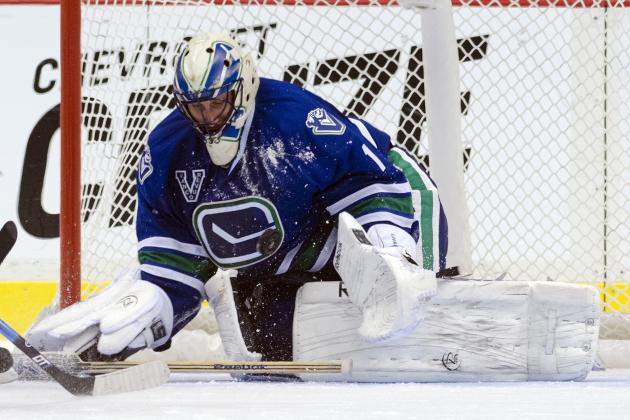 Rich Lam/Getty Images

According to TSN.ca, GM Dave Nonis of the Toronto Maple Leafs is still looking for a veteran goalie to either back-up James Reimer, or, if they're good enough, start for the team.
News of this comes as a minor surprise to some because of how solid the Leafs' goaltending this season has been, Both James Reimer and Ben Scrivens have combined for one of the best goaltending combos in the NHL.
Allowing just 2.25 goals against per game, the Leafs' goaltending is tied with New Jersey for seventh best. You can put some of the emphasis on an improved defensive system under head coach Randy Carlyle, however, most of kudos should go out to the Leafs' goaltenders. They have improved quite a bit since last season, and Reimer in particular has returned to his pre-concussion form that saw him take the city of Toronto by storm in 2010-11.
So if the Leafs are looking for a goaltender, who could be on their radar? If they're looking for a goaltender even though they've got good goaltending already, I'm led to believe that if they make a deal, it will ll be a starter, not some veteran back-up.
Begin Slideshow

»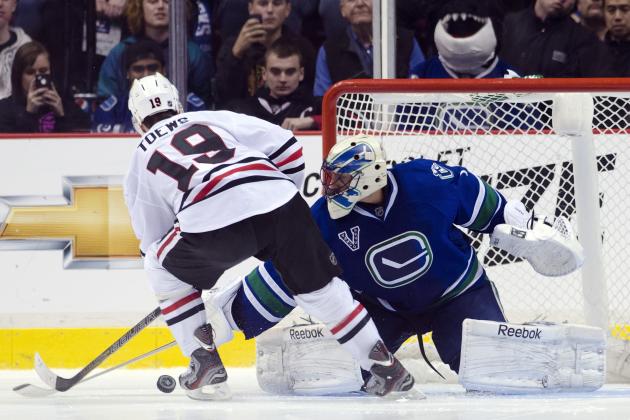 Rich Lam/Getty Images

Surprise, surprise. Another Roberto Luongo to Toronto slide. I wouldn't be doing my job properly if I first didn't mention Luongo's name here.
Long been connected to Toronto, Luongo has been one of the best goaltenders all season so far, and it's very likely the Canucks don't move him this year, or at all.
But needless to say, if they don't move him, they'll have that albatross of a contract hanging over their heads for years plus he'll be taking playing time away from starter Cory Schneider.
Possibly Acquired: Via Trade
For Who?: Starting to think Tim Connolly, Jake Gardiner, a high level prospect, and a first round pick will pry Luongo away from Vancouver.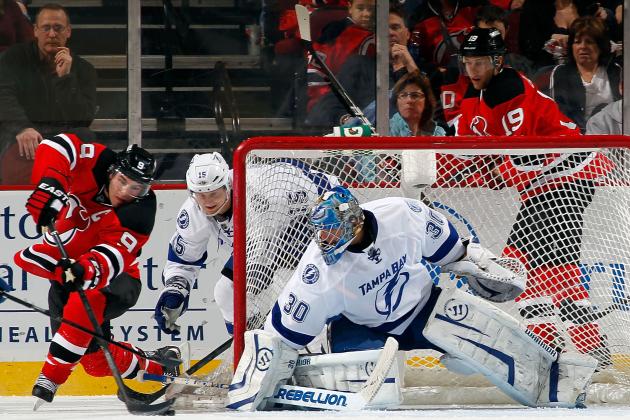 Paul Bereswill/Getty Images

At 43 years old, Roloson's best days are definitely behind him. But he's still looking for work, hasn't retired, and sports pretty good numbers across the board in his career.
Last season was a season to forget for Roloson finishing with a 3.66 GAA and a .886 SV% with the Tampa Bay Lightning.
Is he finished? That remains to be seen. But signing him to a veteran minimum two-way contract could be a great get for Dave Nonis, and it could really help Toronto out with their run at finally making the playoffs since 2003-04.
Possibly Acquired: Free Agent Signing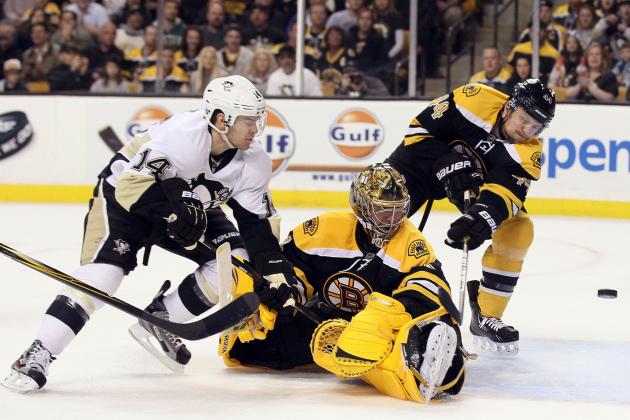 Elsa/Getty Images

Another blast from the past is Marty Turco. A few years younger than Roloson at 39, Turco's best days are also behind him.
However, Turco is a solid veteran to have on a team, and what makes him very valuable is his ability to handle the puck. With his outstanding puck-handling skills, Turco is almost known as a sixth positional player, and he has always made great outlet passes, helped lead a break with a good pass, or has influenced the game with his puck handling abilities.
That's one part of both James Reimer's and Ben Scrivens' games that need a lot of work, their ability to handle the puck.
Having Turco around will not only influence them, but it could really help them evolve into a better overall goaltender. Signing Turco wouldn't be for the short-term, in the grand scheme of things, his influence could have a long-term impact.
Possibly Acquired: Free Agent Signing.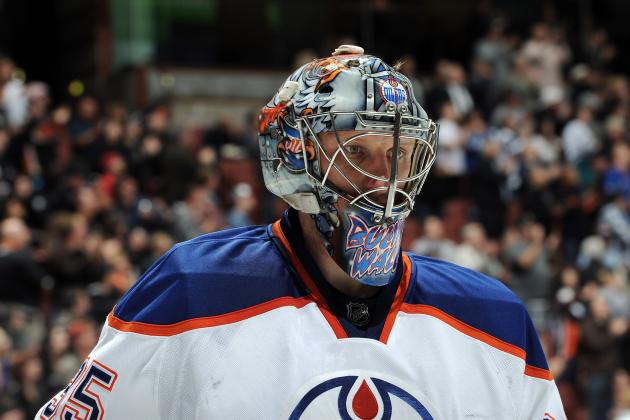 Harry How/Getty Images

Here's another name for you, the Bulin wall. He has only played in two games this season, but sports a pretty good 1.84 GAA and a .936 SV% on Edmonton, one of the youngest teams in the NHL.
He has an expiring contract, but will provide some much needed veteran experience to the squad.
His troubled past might be a deterrent from him possibly being acquired by Toronto though, after he was arrested for a DUI and spent 30 days in prison.
Possibly Acquired: Via trade
For Who?: My best guess is a second or third round pick would be enough. The Oilers will probably be looking to unload Ryan Whitney as well, so if they wanted to expand a deal, I'd look into including both Ben Scrivens and Mike Komisarek in the deal as well, for Whitney and Khabibulin.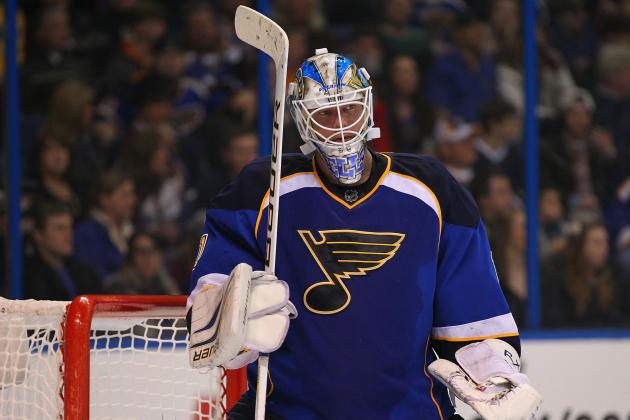 Dilip Vishwanat/Getty Images

With the emergence of Jake Allen into the fold, the Blues might be looking to unload Brian Elliott to their highest bidder.
I believe Elliott isn't the greatest goalie, his game likely masked by an incredible system Ken Hitchcock runs in St. Louis. However, Hitchcock's system is very much like Randy Carlyle's, and Elliott could thrive in Toronto if the Blues elect to go with a cheaper Jaroslav Halak and Allen tandem.
Possibly Acquired: Via trade
For Who?: The Blues are pretty balanced everywhere, which leads me to believe a good prospect and a second round pick could be enough to get Elliott.
Mike Ridewood/Getty Images

With the Calgary Flames currently struggling to find any semblance of success right now in the NHL, the club might elect to blow it all apart and start from scratch.
The Flames ever since I can remember haven't had a very good farm system. They have drafted pretty terribly the last decade or so. The only draft pick that has really amounted to something, they dealt to the Leafs. That man is the Leafs Captain Dion Phaneuf. Other than Phaneuf, its been a pretty bleak outlook on the Flames drafting history.
Sven Baertschi, one of their most recent picks, looks to be a good one, but I won't hold my breath at how long he'll last in Calgary.
So what should be the plan? To start with, they should be looking to shed as many veteran bodies as possible this season. Gone should be Michael Cammalleri, Jarome Iginla, Matt Stajan, Alex Tanguay, Jay Bouwmeester, and finally Miikka Kiprusoff.
All of them, for a proper rebuild, should be dealt for good prospects and high draft picks. With a pretty good draft class this year, the Flames would be smart to look into stockpiling talent in their farm system and building now from within.
They, like the Leafs were, are still stuck in the past hoping they can buy their way to a playoff berth.
Possibly Acquired: Via Trade
For Who?: This one is tough. Obviously James Reimer, Jake Gardiner, and Joe Colborne will be starting points. They probably will ask for Morgan Rielly, or a first round pick in the deal as well.
Is this move worth it, probably not.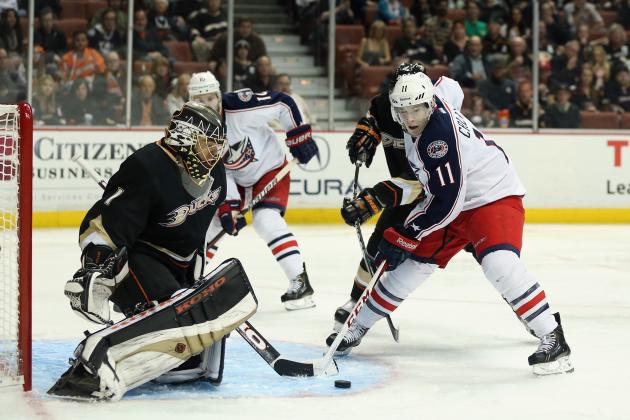 Jeff Gross/Getty Images

With free agent signed goaltender Viktor Fasth currently leading the NHL in goalie wins, Jonas Hiller's playing time has started to really slow down lately.
How much longer does he have left in Anaheim? After this season, he has one more season left at a $4.5 million price tag. A far cry from what Roberto Luongo has left.
With Fasth, they only have him for one season at $1 million this year. Fasth will be looking for a new contract, and it will likely be in the $3 to $5 million dollar range. Can the Ducks afford to keep both of them? They have Corey Perry and Ryan Getzlaf expiring this season, as well as Saku Koivu, and Teemu Selanne also expiring and needing to be resigned. The task won't be easy.
Or is it? Do they shed Hiller's contract, elect to sign a cheap veteran backup, and run with Fasth. When prospect John Gibson of the Kitchener Rangers is ready for prime-time, the Ducks will again be left with two solid goaltending options.
Possibly Acquired: Via trade
For Who?: I'm thinking an expiring contract like Tim Connolly, Ben Scrivens, and a second round selection could be enough to get Hiller.