Liverpool vs Zenit: 5 Ways for the Reds to Secure a Europa League Victory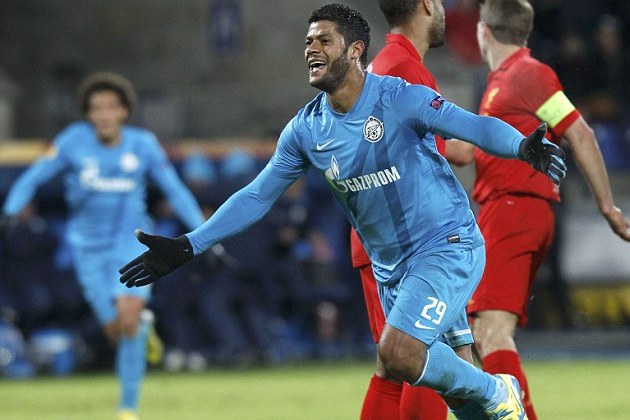 Hulk celebrates his stunning opening goal in the first leg last week - Image courtesy of Reuters News and dailymail.co.uk
As we all know, Liverpool were on the end of a 2-0 loss in the first leg of their Europa League knockout match against Zenit St Petersburg in Russia last Thursday.
It wasn't a Valentine's Day to remember for Brendan Rodgers and his side.
You could argue that the goals that they conceded were preventable, but it still took one hell of a strike from Hulk to break the deadlock before Sergei Semak put the game beyond doubt with Zenit's second.
Liverpool created a few decent chances last week, and they'll feel reasonably confident heading in to Thursday's second leg.
The Reds have been imperious at Anfield lately, and they're scoring plenty of goals too, which is a plus.
Their cause hasn't been helped by Fabio Borini's injury on Sunday, which has ruled him out for the rest of the season, and Daniel Sturridge is ineligible because of Chelsea's involvement in the competition too.
Once again, the weight of expectation will fall on Liverpool's little Uruguayan magician, Luis Suarez, to provide the goal threat.
Even without two of their recognised attackers, it will still be a close run tie and it's by no means over yet.
In no particular order, let's take a look at the 5 ways that Liverpool can beat Zenit on Thursday night.
Begin Slideshow

»
Laurence Griffiths/Getty Images
Playing Lucas would bring out the best in Steven Gerrard
From what I've seen of Liverpool lately, Joe Allen has been a bit inconsistent.
In the first leg over in Russia, Allen gave possession away cheaply, and that's something that Liverpool can ill-afford, especially at home and considering they're chasing the game.
Zenit are a very good side, and they have some excellent midfielders like Axel Witsel, Danny, Igor Denisov and Sergei Semak who can all cause problems for the Reds if they're not careful in possession.
In this type of match, Lucas Leiva is a better option than Joe Allen, at least for me.
Lucas keeps the ball well and is disciplined.
It's very rare that he'll maraud forward with the ball, preferring to keep things neat and tidy.
Playing Lucas in the holding midfield role might just bring the best out of Steven Gerrard as well.
Don't get me wrong.
Joe Allen is a very good player, but in this type of match, I'd go with Lucas instead of him.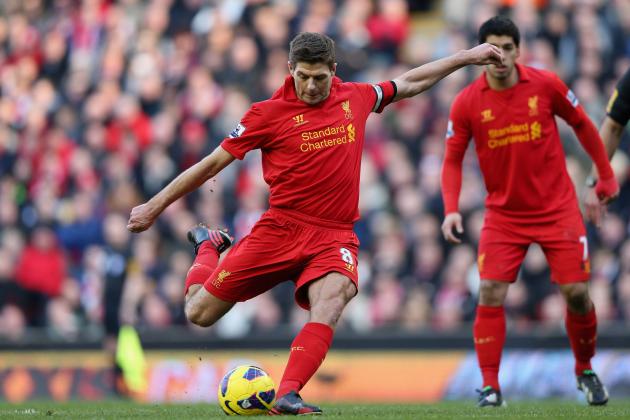 Clive Brunskill/Getty Images
To get the best out of Gerrard, he needs to play in a 4-4-2 system
It's well known that Brendan Rodgers loves to play a 4-3-3 formation.
He achieved great success with that system at Swansea, and he's tried to implement the same system at Anfield with a modest degree of success.
It's early days yet.
Playing 4-3-3 is fine when you have the players to do it, but if it was down to me to pick a system for Thursday's match, I'd go with a more traditional 4-4-2 formation.
Yes, I know Daniel Sturridge is ineligible and Fabio Borini is injured, but it could work.
Let's not forget that Liverpool are chasing the game now and they didn't score an away goal last week, despite creating chances.
Before the first leg last week, Brendan Rodgers said in a pre-match interview that he picked a strong team because he wants to win the tournament.
For Liverpool to win, they have to go out and send a strong statement of intent.
That doesn't mean they have to go gung-ho straight away though.
By playing Stewart Downing and Raheem Sterling out wide and possibly Jonjo Shelvey just behind Luis Suarez, it would give Steven Gerrard the chance to influence the game from where he does it best—the middle of the park.
Gerrard will play a crucial role in the midfield area, and if Liverpool are to get the best out of their talismanic captain, he needs to play at the heart of a 4-4-2 system.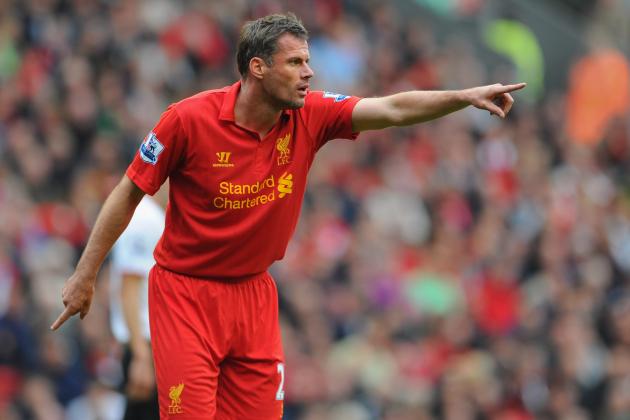 Michael Regan/Getty Images
Carragher can use all of his experience to keep Hulk quiet
At a time when Daniel Agger and Martin Skrtel are struggling for form, Brendan Rodgers must thank God that he's still got Jamie Carragher at his disposal.
One of the greatest Liverpool players of all time might have announced his impending retirement the other week, but that doesn't mean that Jamie Carragher won't have a key role to play in the second leg against Zenit.
Granted, Carragher might not have the pace that he once had, but he's still a terrific defender and his reading of the game is second to none.
Carragher is a hugely experienced defender, at both club and international level, and he'll be able to use all of his experience and defensive knowhow to keep the Brazilian quiet.
Hulk might be a monster of a man, but Carragher has played in teams that have kept the best players in the world quiet before, and you'd be a fool to bet against him doing it again on Thursday.
Liverpool simply cannot afford to give Hulk the freedom of Anfield on Thursday because if they do, they'll go crashing out.
By deploying Carragher to man-mark him, the Brazilian won't get a minute's peace and he won't like that.
We all saw how dangerous Hulk can be from outside the box last week, and Jamie Carragher could just be the man to snuff out the threat of the burly Brazilian.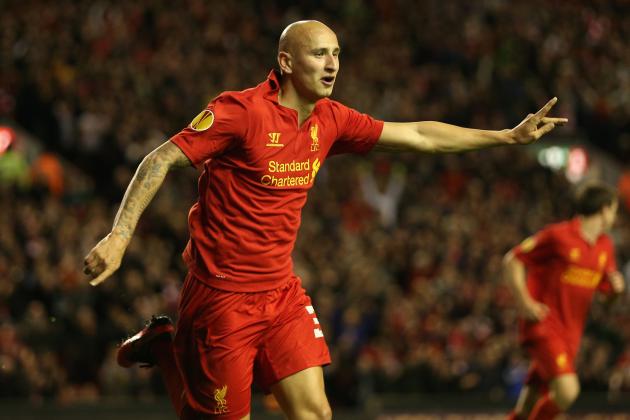 Clive Brunskill/Getty Images
Jonjo Shelvey can be Liverpool's ace in the pack against Zenit
It's something that might not seem obvious to a lot of people, but Jonjo Shelvey would thrive in that role.
The youngster was really impressive in the early part of the season before his red card against Manchester United.
Since then, he's been in and out of the team, but this exactly the kind of match where you'll find out exactly what Shelvey is made of.
For me, he's not a central midfielder.
He's someone that should be playing behind the striker, just like Steven Gerrard did countless times with Fernando Torres.
Shelvey has an eye for goal, a great range of passing and he's a strong boy who isn't afraid to mix it up if he needs to.
Zenit are defensively sound, but they're not invincible.
We all know the problems that Luis Suarez will cause the Russians with his close control, skill and pace.
By deploying Shelvey in that No. 10 role to feed off scraps, he's exactly the kind of player who, more often than not, capitalises on any chances that come his way.
It's time for the boy to become a man and there's no better time for him to do it than against Zenit.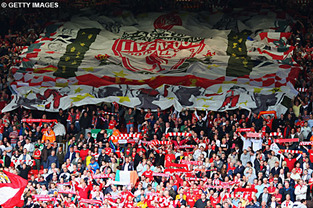 The crowd at Anfield will be like a 12th man for the Reds - Image courtesy of Getty Images and dailymail.co.uk
Anfield is a special place to be on any given day, but when there's a European game there, the atmosphere is simply spine-chilling.
As someone who has been lucky enough to sample a European night before, I can safely say there's nothing like it.
The Liverpool fans will have just as much a part to play on Thursday as the 11 men who will start and finish the game.
It's so important that the crowd give the team their full support for the entire 90 minutes and encourage them at every opportunity.
You don't have to go back too far to see how the crowd can play their part for Liverpool.
In a Champions League game against Olympiakos in December 2004, Liverpool needed to win the game by two clear goals to have any chance of qualifying for the knockout stage, but they went in 1-0 down at half-time.
For that entire second half, Anfield was as loud as it had ever been and the players, inspired by a fanatical and raucous crowd, managed to score three second half goals to win the game 3-1 and qualify for the knockout stage.
Later that season, Liverpool were 3-0 down at half-time in the Champions League final against AC Milan.
Inspired by their hardcore support and the magnificent Steven Gerrard, Liverpool scored three second half goals to take the game to extra-time and penalties, before ultimately winning the trophy.
If Liverpool are to have any chance of overturning the 2-0 deficit this Thursday, the crowd will play as much of a part in any victory as the players on the pitch.