MLB Under-the-Radar Sophomores Who Are Poised to Break out in 2013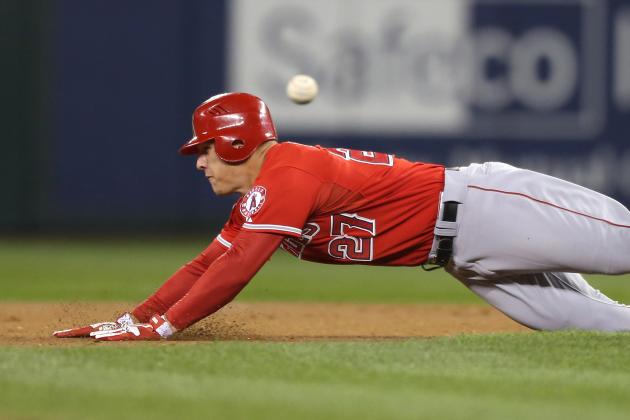 Otto Greule Jr/Getty Images
Mike Trout stole the show among MLB rookies in 2012.
The 2012 MLB season was a big one for rookie phenoms. Los Angeles Angels outfielder Mike Trout demolished everything he saw en route to finishing second in AL MVP voting and first in AL Rookie of the Year voting. Washington Nationals counterpart Bryce Harper won the National League Rookie of the Year award in his age-19 season.
The American League also saw Cuban defector Yoenis Cespedes make a good name for himself with the Oakland Athletics. Their division rivals, the Texas Rangers, had a star of their own in Japanese import Yu Darvish, who was impressive in his debut campaign in the United States.
In the National League, the top rookie pitcher was Wade Miley of the Arizona Diamondbacks, who nearly beat Harper for the NL Rookie of the Year title. Todd Frazier finished third, emerging as a viable option for the Cincinnati Reds.
However, some other rookies flew a little under the radar in terms of their overall performances, either due to more limited playing time or just not being in the right situation. But with a new season ahead of them, here are some of those names set for stronger second seasons.
Note: Stats from Baseball-Reference.com.
Begin Slideshow

»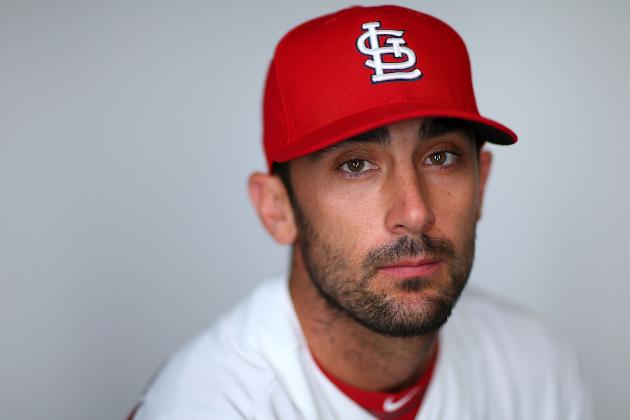 Mike Ehrmann/Getty Images
Matt Carpenter could see himself as an everyday player in St. Louis.
Matt Carpenter popped up on someone's Rookie of the Year ballot, and his strong work as a utility man for the St. Louis Cardinals does deserve some recognition. He played more than 30 games at both first and third base, while also playing more than 20 games in the outfield.
He also got a taste of the big time by making several appearances in the Cardinals' playoff run. This included a two-run homer off Matt Cain in the NLCS, a series in which he filled in for Lance Berkman at first base.
However, it is second base where Carpenter is likely to make his presence felt this season. He outperformed the likes of Daniel Descalso, Skip Schumaker and Tyler Greene—the trio that got most of the time at the position last season.
With Descalso a consistent underperformer and Schumaker shipped off to the Los Angeles Dodgers, the stage is set for Carpenter to step in.
Indeed, Carpenter has worked with infield instructor Jose Oquendo to learn from watching elite players at the position like Robinson Cano and Brandon Phillips, as detailed by the Cardinals' official site.
Carpenter has shown the potential he possesses, and should he become an everyday player, expect him to excel in his second full season.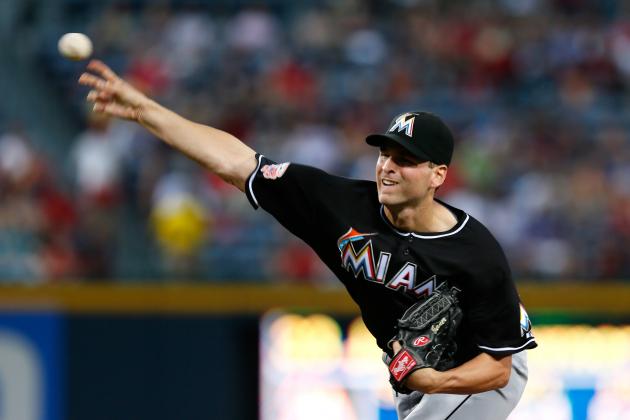 Kevin C. Cox/Getty Images
Jacob Turner could be huge for Miami in 2013.
Included as a part of the deal that sent Anibal Sanchez to the Detroit Tigers, Jacob Turner was regarded as a top pitching prospect in the minors. Before the 2011 season, Baseball America projected him as the Tigers' No. 2 starter behind Justin Verlander by 2014.
After a few starts in the minors after his trade, Turner made seven starts for the Miami Marlins in 2012, going 1-4 with decent peripheral stats (3.38 ERA, 0.98 WHIP, 29 strikeouts).
He put on a stellar performance of note, throwing seven innings of two-hit ball to defeat the Cincinnati Reds in September. In his final start of the year, he pitched into the eighth and allowed just one run on three hits against the New York Mets.
Sure, he threw a couple of clunkers in there as well, but almost the entire Marlins season was a clunker last year. As a part of the Marlins' rebuilding plan in 2013, Turner figures to be a favorite to be the second starter in the rotation, behind veteran Ricky Nolasco.
At the end of the year, Turner may not sport the best win-loss record in the league, a consequence for playing on such a ramshackle squad. But his emergence as a top talent could see him play an important role in turning the Marlins around.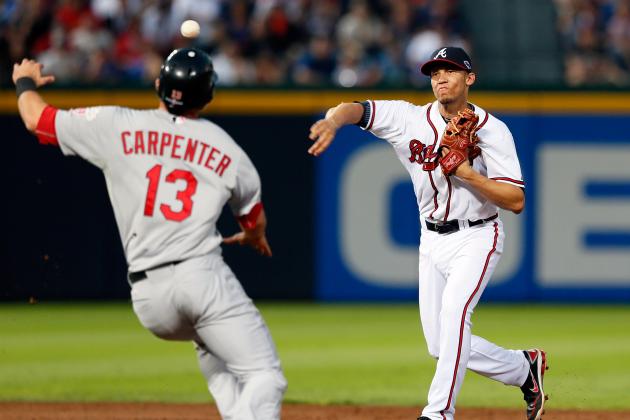 Kevin C. Cox/Getty Images
Andrelton Simmons could be the Braves' next great infielder.
Ten years ago, the Atlanta Braves possessed a speedy shortstop who impressed offensively, making the All-Star team. That man was Rafael Furcal, of course. Now, in 2013, the Braves have a new talent looking to take up that mantle: Andrelton Simmons.
The Curacao-born shortstop impressed in limited playing time last year, having suffered through injury troubles. But when he played, he had established himself as the everyday player at his position.
His offensive abilities are solid, with his three big league homers matching his total from his early-2012 stint in the minors. He's also got potential as a threat to steal, having stolen 26 bags in 2011 with Single-A in Lynchburg.
But it's his defensive abilities that have him rated so highly. In fact, ESPN's Dan Schoenfield went so far as to state that Simmons "may already be the best defensive shortstop in the majors." By comparison, Furcal led big league shortstops with 31 errors in 2003.
The Atlanta Journal-Constitution's David O'Brien indicated Monday that Simmons is set to be the Braves' leadoff man in 2013, hitting in front of the Upton brothers, among others. Expect him to be a great threat in 2013 and beyond.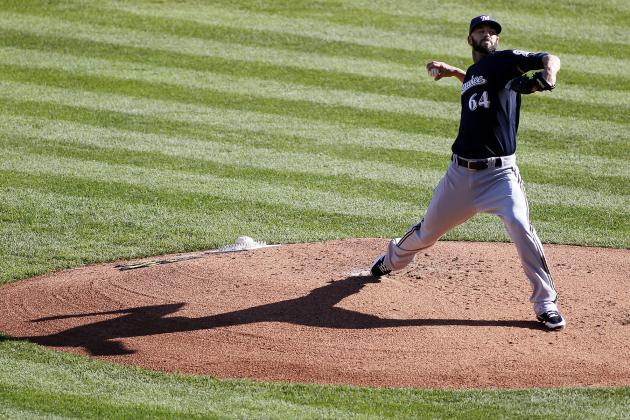 Justin K. Aller/Getty Images
Mike Fiers established himself as a legit force for Milwaukee.
The Milwaukee Brewers rotation entering 2012 was all about Zack Greinke and Yovani Gallardo. But with Greinke traded to the Los Angeles Angels midseason and free-agent signee Shaun Marcum dealing with injuries, someone had to step up behind Gallardo.
Enter Nova Southeastern University alum Mike Fiers. The unheralded righty finished with an unassuming 9-10 record over 23 appearances, but his win total matched Greinke's total with just two more games pitched. Additionally, Fiers struck out better than one batter per inning in 2012.
With Greinke and Marcum both gone and Chris Narveson still battling back from injury woes, Fiers figures to be a strong contender for the second spot in the rotation, behind only Gallardo and ahead of Marco Estrada.
Estrada and Fiers put up similar numbers (strikeouts, ERA, innings pitched) but finished with different records—Estrada managed just a 5-7 mark. Also, Fiers allowed a third fewer home runs (12 compared to 18) than his teammate in 2012.
Given this, Fiers' name should definitely be penciled in as that second starter. And given a full season to display his abilities, he has a good chance to shine.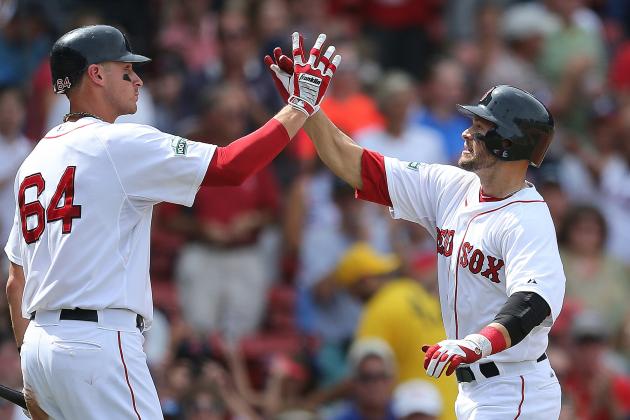 Jim Rogash/Getty Images
Will Middlebrooks (L) made a big impact as a rookie in Boston.
Will Middlebrooks' 2012 was cut short in early August due to injury, but what a year it was. The youngster took hold of Kevin Youkilis' third base spot for the Boston Red Sox, pushing the veteran to first base before he was traded to the Chicago White Sox.
In his 75-game season, Middlebrooks smacked 15 homers and drove in 54 runs. Had he not gotten hurt, he might've come remotely close to Mike Trout in AL Rookie of the Year voting. After all, he was about the only good thing going for the Sox at times.
Now back to full health, Sox fans will be looking forward to getting a full season of this kid at the hot corner. What can they expect? Well, his 2012 line extrapolates to 32 homers and 117 RBI over a 162-game season. That's pretty good for a player who nobody knew about a year ago.
Middlebrooks told ESPN recently that he'd like to spend his whole career in Boston. If he has continued success to go with his promising rookie year, Red Sox management should not hesitate in helping make that become a reality.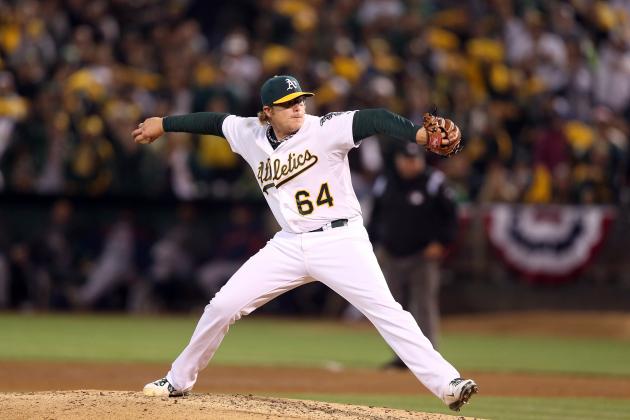 Ezra Shaw/Getty Images
A.J. Griffin could emerge as a great pitcher in Oakland.
The Oakland Athletics have had their fair share of top pitching talent over the years. From the Zito-Hudson-Mulder days of old, to Dan Haren and Rich Harden and the more recent likes of Brett Anderson and Gio Gonzalez, a lot of great arms have plied their trades at the Coliseum.
In 2012, A's fans got a taste of what could be another top talent in A.J. Griffin. Making his debut in late June, Griffin ended up winning his first six decisions, not losing until his 12th start, which came in mid-September.
An injury cost him almost all of August, and as such, we could have seen a few more stellar appearances from the righty. He even got a start in the playoffs, allowing two runs in a no-decision as the A's fell to the Detroit Tigers.
Oakland's current rotation is cluttered with talent right now. Anderson will be the headline guy after returning from Tommy John surgery, while Bartolo Colon will return following a suspension for performance-enhancing drug use.
Tommy Milone and Jarrod Parker are likely to slot right in as well, leaving Griffin to battle Dan Straily for that fifth spot. But given last season, Griffin has to be the favorite and will likely play a big role in helping the A's get back to the postseason.