2012-13 NBA Predictions: Picks for Second Half of Regular Season, Playoffs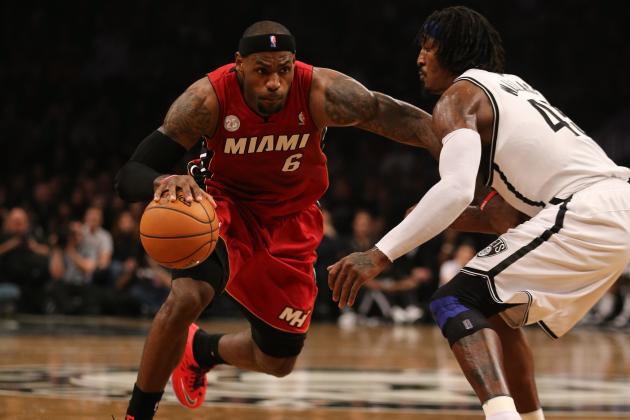 Al Bello/Getty Images
Can the Heat repeat?
Now that the All-Star Weekend is over and players are coming back to their respective teams and schedule, we have about 30 games (from each team) to get ready for the NBA playoffs.
This is it, people; the fun starts now.
Stories will be told, heroes will be made, teams will rise and fall and there will be only one standing when it's all said and done. We can feel the jitters already.
One thing is for sure: You can bet things will look different than they do now come April 20 (Game 1 of the playoffs).
Here are 10 predictions for the rest of the 2012-13 NBA campaign.

Begin Slideshow

»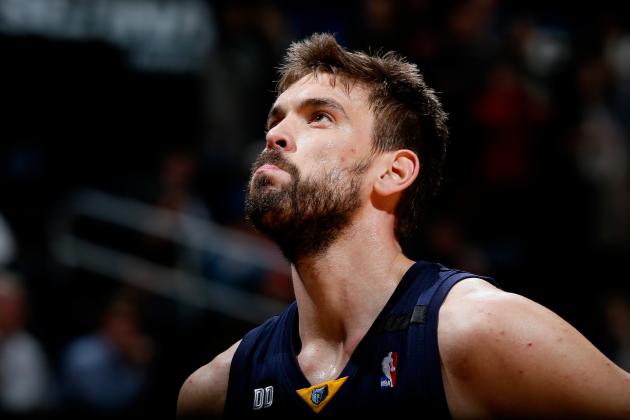 Kevin C. Cox/Getty Images
Marc Gasol is looking at his team's bright future in this picture
Remember last year's fun seven-game playoff matchup between the Memphis Grizzlies and the Los Angeles Clippers? What about the year before that, when the Grizzlies took only six games to dispatch no other than the San Antonio Spurs in the first round?
Get ready for the same type of excitement, folks.
A lot of people saw the Rudy Gay trade as a negative thing for the Grizzlies. Rudy Gay is one of the most athletic and versatile players in the league, and he did work on the Grizzlies frontcourt; it's impossible to say he won't be missed.
Then again, he won't be missed that much.
Truth is, the Grizzlies still have enough talent in their starting quintet of Conley-Allen-Prince-Randolph-Gasol to make plenty of noise in the playoffs. Plus, they have only gotten better defensively.
Memphis already has a very high-powered offensive game, the size to beat up San Antonio and the athletic ability to go head-to-head with running teams like the Denver Nuggets and the Golden State Warriors.
Now it has a defense that could potentially stop the Oklahoma City Thunder and the Lob City Clippers?
Scary good.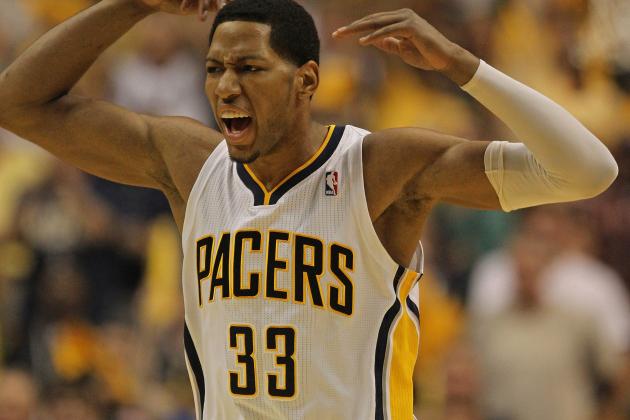 Jonathan Daniel/Getty Images
It's all about this man right here
Understatement of the day: The Indiana Pacers have overachieved without Danny Granger, who's been out since early November with a patellar tendinosis in his left knee.
Paul George has clearly picked it up, posting the best numbers of his career in pretty much every single category and lifting Indiana to the top of its division.
So, once Danny Granger comes back, Indiana should be unstoppable, right?
Well, not so fast.
George and Granger will literally have to take their next 29 games to understand how to distribute the ball between themselves. After all, only one player can score at a time; the rules do only allow one ball per game.
That shouldn't be a problem come playoff time, but it might mean the Pacers will lose home-court advantage in the postseason, as the Chicago Bulls are only 1.5 games behind them for the division title.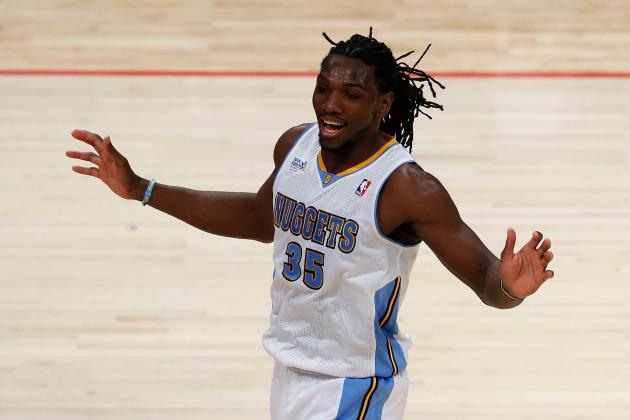 Scott Halleran/Getty Images
Kenneth Faried will be shining that smile come playoff time
If there's one team that plays basketball the right way, it's the Denver Nuggets.
To watch them share the ball and have virtually everybody on their team be "the man" on any given night is nothing short of fun. That is, unless you're the opposing coach. Who are you going to stop each night? Andre Iguodala? Kenneth Faried? Ty Lawson? Danilo Gallinari?
Oh, also, good luck running with them.
Nay-sayers and haters will say that style of basketball can't win, that you need an alpha dog in crunch time and that you need to slow the pace in a seven-game series.
And to that, we agree. No, the Nuggets are not making the NBA Finals this year. Sorry, guys.
However, you can't count them out for at least one playoff series. You can also count them as everybody's favorite team in the series after that, too.
I mean, just look at Kenneth Faried. Don't you just want to hug him?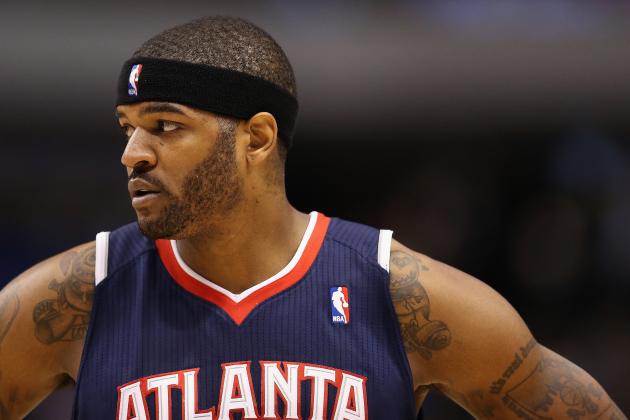 Ronald Martinez/Getty Images
By the time you read this, Josh Smith might not be a Hawk anymore.
The best part of the All-Star weekend is that it precedes the trade deadline.
As of February 18, Josh Smith is an Atlanta Hawk. That might change after 3 p.m. on Thursday, February 20, also known as the trade deadline. There is no other player being shopped more than Smith right now, and rumors coming from all places (like
Boston
and
Brooklyn
) have been sparking up.
Here is the prediction: No matter where the forward goes, he underachieves.
Might sound crazy for a guy as talented as Josh Smith, but he is perfectly suited for Atlanta's style of play. Put him in any other team and he might not do just as well.
He is not exactly the most prolific scorer in the world, averaging 15.2 points throughout his career, and neither the best passer around, averaging 3.2 assists in eight seasons (via
ESPN
). Seems like teams other than Atlanta will want him to be a more aggressive offensive player, but his true talent lies in the defensive side of the ball, snatching boards and denying shots (even if he is
Atlanta's leading scorer this season
).
Thing is, teams like the Boston Celtics (who rumors say may trade him for
Paul Pierce
) will expect and need Smith to drop 20 points a night, and we are not quite sure he can do that.



Latest deadline rumble: Boston exploring its Josh Smith options. The prob: Can't do it w/out Pierce. Justcan't see Ainge sending PP to ATL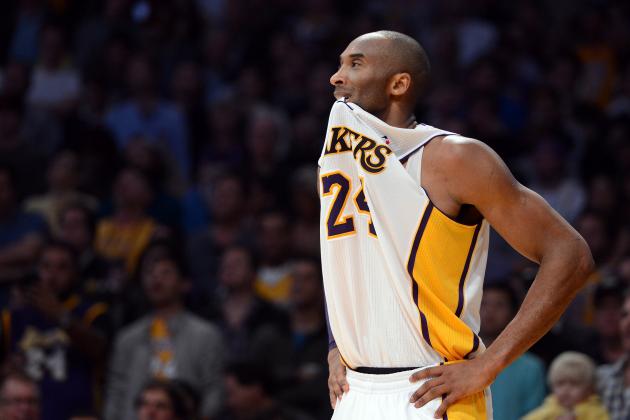 Harry How/Getty Images
Not this year, Kobe
Fine, that's not the boldest prediction we have here, as the Los Angeles Lakers are currently 3.5 games away from the playoffs. But can we all just take a moment to realize how crazy that would have sounded in the preseason?
Moment taken, you have to be crazy to think that Kobe will go down without a fight. We all know the Mamba is not just playing for rings anymore; he is playing for history. The one thing he wants is to retire, look up the word "basketball" in the dictionary and find his name in the definition. That means getting more rings, yes, but it also means getting more of other things—like points.
No, we're not calling another 81-point game. But maybe a 40-point game? And to finish the season with 30-plus points per game? Sure.
In Bryant's mind, every game he plays is another chapter in the Kobe history book. So, you can count on him doing everything he can to play more than 82 games this season. Just don't count on him getting there.
It's fine Kobe; at least you got those two blocks on LBJ.
Streeter Lecka/Getty Images
Paul Pierce is staying in Boston, thank you very much
Since Rajon Rondo's injury, Boston Celtics fans have been bombarded with trade rumors. To their despair, many of these rumors have involved the C's captain, Paul Pierce (as we pointed out a few slides ago).
In a purely logical world, it makes sense. The Celtics have little to no chance of even making the Finals without Rondo's heroics in the playoffs, and it might be time to blow up the team. Thanks Paul, you've been great, but the Celtics need to move on.
But this isn't a purely logical world, is it?
Check again: The Celtics won nine of their first 10 games without Rondo, including wins against the Heat, the Chris Paul-less Clippers, the Bulls and even a triple overtime thriller against the Nuggets.
All of a sudden, Boston and its veteran, banged-up team looks like it could make a run in the playoffs.
Even if Danny Ainge is known for pulling some pretty crazy trades, expect the Truth—and everybody else, for that matter—to remain wearing green for the rest of the season. And expect them to win at least 20 of the last 30 games, too.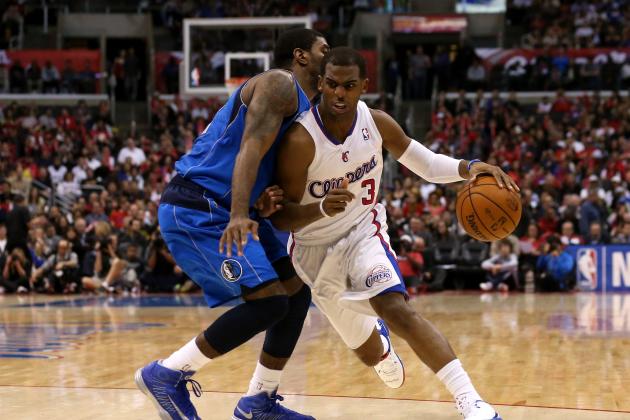 Stephen Dunn/Getty Images
Chris Paul will lead the Clippers to far places
The competition is stiff in the West, no doubt. There are literally five teams (Clippers, Spurs, Thunder, Warriors and Nuggets) that could all make very deep runs in the playoffs. However, only two of those teams will advance to the Conference Finals.
We are calling the Clippers to be one of them
All-Star game MVP Chris Paul is decidedly the best point guard in the league. They definitely have the best bench in the NBA with Eric Bledsoe, Jamal Crawford and the gang. DeAndre Jordan and Blake Griffin are scary together. Is there anything this team can't do?
As our next slides suggest, that would be making the Finals. But the Staples Center is in for at least two games of the Western Conference finals.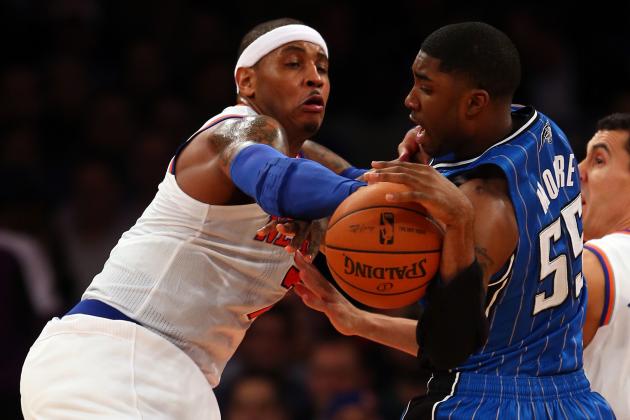 Elsa/Getty Images
The Knicks looked good early, but can they keep it up?
If there's one team that won't live up to expectations set earlier in the season, it's the New York Knicks.
The Knickerbockers still sit comfortably atop their division with a 32-18 record and, quite frankly, that shouldn't change. The Brooklyn Nets probably won't have enough fire power to compete with them down the stretch, allowing the Knicks to end the regular season in the second spot.
The trouble is what lies ahead.
If the playoffs ended right now, New York would host the Celtics in its first playoff series. That amounts to a whole lot of "uh-oh" for Knicks fans.
The Celtics have already proved they can compete equally with their New York rivals this season. And no, we are not going to even touch on the whole KG-Melo feud, as it is non-existent at this point.
However, we can say this: If both these teams meet in the playoffs, there will be (figural) blood.
Even if the Knicks do manage to advance rounds, they will have to face the likes of Indiana and Chicago, two teams that are absolutely playing better than the Knicks right now.
Even Carmelo Anthony won't be able to save the Knicks this season.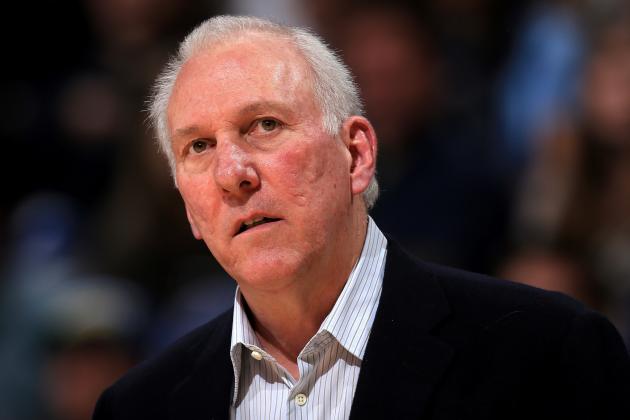 Doug Pensinger/Getty Images
Gregg Popovich and the Spurs will reach their fifth NBA Final
Some things get better and more valuable with age: Wine, cheese, real estate and the Spurs, of course.
Avoiding the cliched, "Oh, wow, Gregg Popovich and Tim Duncan reached the Finals in 1999 and are still playing at a high level," it is no stretch to say the veteran Spurs are the best team in basketball right now.
The Spurs average more assists than any other team in the league and feature the best record too, at an impressive 42-12. Tony Parker is playing some of the best basketball of his career, Thiago Splitter is doing work down low, Manu Ginobili is still the sneaky offensive force he has always been and Tim Duncan is, well, Tim Duncan, arguably the best power forward of all time. This guy invented a time machine a couple of years ago and forgot to tell anybody else.
We are picking the Spurs to trump over the Thunder and the Clippers to try to go for their fifth franchise title.
It won't come easy, though, as the team in the next slide is no walk in the park.
Mike Ehrmann/Getty Images
LeBron will stand tall at the end of the season
You knew this was coming, didn't you?
LeBron and company have been criticized all season long for taking the season too lightly and waiting for the postseason to play what many would consider their "best basketball."
Meanwhile, they lead the East with a 36-14 record and LeBron James is coming off one of the craziest statistic stretches of any NBA player ever, averaging 31 points, 8.3 rebounds and 6.3 assists per game in the last 10 games.
In short, LeBron James is the best basketball player in the world right now—by far.
And no, our whole argument is not that "LeBron is the best and will win the title single-handedly." This is a Heat team that definitely improved since last season.
The addition of Ray Allen was more than welcome, Chris Bosh is playing his best basketball in a Heat uniform and Wade and James have never understood each other so well on the court.
The Heat are poised to repeat, folks. LeBron is still far from his promise of "not seven" championships, but this season could see him fulfill the "not one" promise after all.