25 College Football Players with Most to Lose This Spring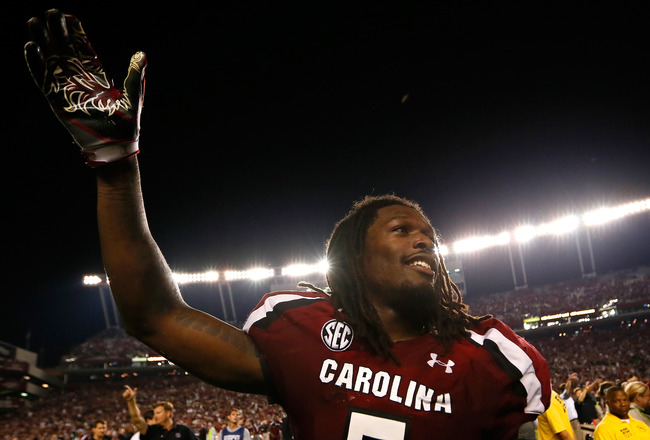 Kevin C. Cox/Getty Images
College football spring practice will soon be here for every school in the country, and players will have a chance to either impress or disappointment the coaching staff. The practices over the next couple of months give every player another opportunity to make a name for themselves, or prove that they don't have what it takes to see the field as much as they would have hoped for.
Then, there are some of the players who have too much to lose in spring practice. These could be the players who are in a competition for a certain position, are dealing with injury issues or are just so gifted that they shouldn't be anywhere near the field until the game actually counts.
Spring practice should be a happy time for everybody involved, but for players who have a lot on the line, this time of the year is something they could do without.
Here are some of the top players who may be dreading the upcoming spring practices for various reasons.
Kiehl Frazier, QB, Auburn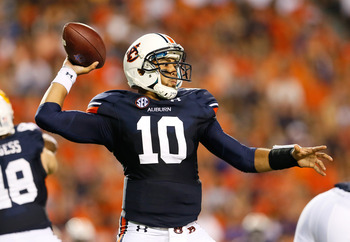 Kevin C. Cox/Getty Images
Auburn will once again have a quarterback competition in spring practice and that means Kiehl Frazier will be given another shot.
Once a player who had Tigers fans excited and was even compared to Cam Newton at one point, Frazier has fallen off the face of the earth and has many questioning if he was even worth the hype.
The team now has a brilliant offensive-minded coach in Gus Malzahn and if anybody can turn Frazier into a respectable player, it is certainly him. However, the young quarterback was brutal a season ago, completing less than 54 percent of his passes and throwing eight interceptions to only two touchdowns.
Frazier must show some signs of life if he expects to take over the starting quarterback position over another dual-threat in Jonathan Wallace.
Curtis Grant, LB, Ohio State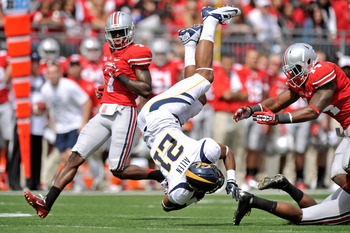 Jamie Sabau/Getty Images
Ohio State was mighty thin at the middle linebacker position last year and will be looking for depth during the offseason.
Curtis Grant spent a lot of time in the middle, but due to inconsistent play and being paper thin, fullback Zach Boren switched sides and ended up playing linebacker as well.
Grant is expected to remain the starter entering the spring, but it is time he starts playing like the player he was recruited to be back in 2011. Boren is no longer around to help out and with young and talented 2013 recruits coming in, Grant could start feeling the pressure.
With his skill set, the middle linebacker position shouldn't be such a question mark entering the spring. It will be time for Grant to show and prove.
Chris Black, WR, Alabama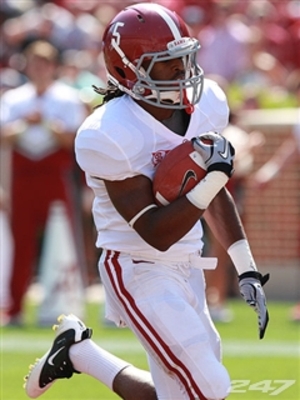 Credit: 247Sports.com
Chris Black figured to play a huge role for the Crimson Tide last year, but an injured shoulder during the offseason forced him to miss all of the 2012 season. Now, although he is without a doubt one of the more talented receivers, he will be thrown into a competition that includes several other elite pass catchers.
Black has the speed and is a playmaker with the ball in his hands. But you figure Amari Cooper has one of the wide receiver spots locked up and Kevin Norwood will take another. That leaves only one starting position open and other guys such as Kenny Bell, Christion Jones and 2013 recruit Robert Foster all fighting for it.
The young receiver had a bright future in this Alabama offense, but with the overwhelming depth at the position, he still has to prove he deserves more playing time over other worthy players.
Cameron Whigham, DE, Ole Miss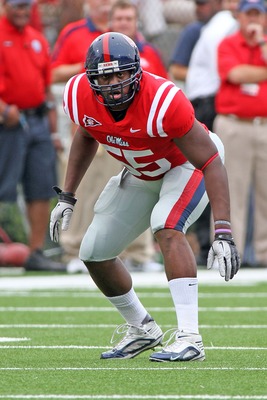 Spruce Derden-USA TODAY Sports
Ole Miss returns 10 starters on the defensive side of the ball, including everyone on the defensive line. That is great news for the Rebels and their chances to compete in the SEC, but thanks to a remarkable recruiting class, defensive end Cameron Whigham may soon be taking a backseat.
Whigham has spent three seasons in Oxford, but just hasn't been getting the job done with any type of consistency. He doesn't have elite pass-rushing skills and Ole Miss could soon see an instant upgrade with the addition of 5-star recruit Robert Nkemdiche, somebody who is sure to see immediate playing time and help add to an already experienced defense.
When you have elite recruits coming in, a lot of the guys start to feel the pressure and that will be the case for Whigham.
Malcolm Brown, RB, Texas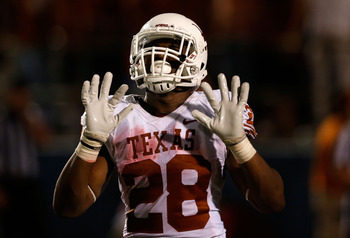 Scott Halleran/Getty Images
Malcolm Brown jumped on the scene as a true freshman back in 2011, racking up a solid 742 yards and scoring five touchdowns. Last year he only received 61 carries, as running backs Johnathan Gray and Joe Bergeron seem to have passed Brown on the depth chart.
All of this happened so quickly that speculation began floating around indicating that Brown was looking for a transfer.
Texas fans don't have to worry about the physical back looking to leave schools anytime soon, but there is a good chance Brown remains the third option at the running back position. That is, of course, unless he tears it up this spring and begins to show the coaching staff flashes of a couple of years ago.
Blake Bell, QB, Oklahoma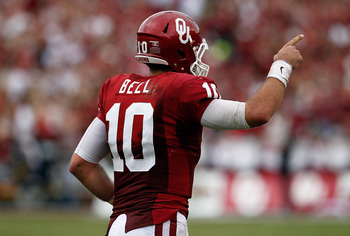 Tom Pennington/Getty Images
When you spend the last two seasons as the backup quarterback, most consider you the favorite to become the starter once the original starter moves on. However, with Oklahoma quarterback Blake Bell, there are more questions than answers.
At 6'6", 254 pounds, Bell has spent the last two years as more of a running back who runs over opposing defenders and gets into the end zone. More of a Tim Tebow-type player, Bell is terrific with his legs, but hasn't shown what he is capable of when dropping back to throw the football.
Can this kid really get the job done as a full-time starter?
Bell will be given every chance to succeed, but Drew Allen will be waiting the second he shows he doesn't have what it takes to lead the offense as the signal-caller.
Matt Jones, RB, Florida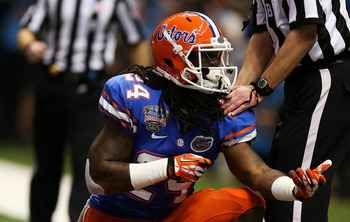 Matthew Stockman/Getty Images
Matt Jones was a solid No. 2 option behind Mike Gillislee last season and is considered the starter once the spring begins. With only 52 carries under his belt, Jones averaged a little more than five yards a carry and scored three touchdowns.
He has great size at 6'2", 226 pounds, and runs with tremendous acceleration. The problem is that Florida has one of the top recruits in Kelvin Taylor, who has already enrolled with hopes to become the starter by the time the season opener kicks off. Taylor is also receiving a lot of buzz from Gators fans, as he is the son of former great Fred Taylor.
Jones has a lot of upside and will be productive regardless, but if he would like to see an increased role, he has to bring it during the spring.
Logan Thomas, QB, Virginia Tech
J. Meric/Getty Images
There is almost no way Logan Thomas can lose his starting job, simply because of his athletic ability and the experience he brings to the table. At this point, Virginia Tech has little choice but to roll the dice and hope the senior is able to turn things around.
So, why is Thomas on this list?
Because this was somebody who was high on draft boards entering the 2012 season. Scouts drooled over his size, strong arm and ability to kill defenses with his legs.
He ended up completing less than 52 percent of his passes and threw 16 interceptions to 18 touchdowns. The performances were absolutely terrible and he quickly fell off every mock draft in the country.
Thomas must have a solid spring to gain some of that hype back and to make Hokies fans happy again.
George Atkinson, RB, Notre Dame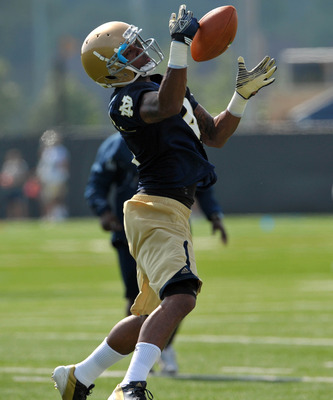 Matt Cashore-USA TODAY Sports
After spending the first two seasons as more of a utility man, George Atkinson will be given a chance to become the starting running back. He averaged seven yards a carry last year and scored five touchdowns on only 51 touches.
However, the running back depth is there for the Irish with USC transfer Amir Carlisle, redshirt freshman William Mahone and 2013 recruit Greg Bryant all fighting for playing time. Atkinson has the speed and ability to run between the tackles, but he has never seen significant playing time and been asked to carry the load within the offense.
A great spring could make all of the difference in what type of role Atkinson plays next year.
Barry Sanders Jr., RB, Stanford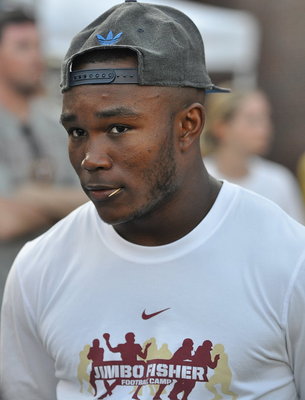 Credit: 247Sports.com
Barry Sanders Jr. was a redshirt running back last season who will have a chance to crack the depth chart with Stepfan Taylor no longer around to do all of the heavy lifting.
Sanders is, of course, the son of the NFL great Barry Sanders, and has many of the similar traits that his dad once had.
And while this shifty back is a joy to watch and will add some playmaking ability to the backfield, Stanford does have two proven guys in Anthony Wilkerson and Remound Wright on the roster. Sanders does have the ability to hit the homerun and has the genes to make Cardinal fans excited, but nothing will be given to him in his first season of eligibility.
This young back must prove he has what it takes, or he won't see as many carries as he was hoping for in the upcoming season.
Clint Trickett, QB, Florida State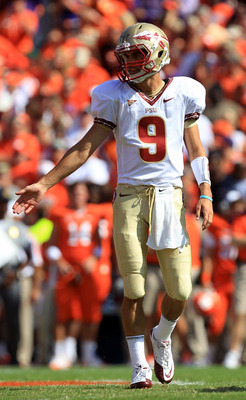 Streeter Lecka/Getty Images
Clint Trickett is the son of Florida State offensive line coach Rick Trickett. And with E.J. Manuel moving onto the NFL, he will be considered the favorite to take over the offense.
The issues that a Seminoles fan would have are the lack of size Trickett brings to the table and the sometimes-questionable decisions he makes with the football.
There is also a talented young quarterback on the roster in Jameis Winston, who is an exciting dual-threat option with an extremely strong arm. By the time offseason practices come to an end, he will also be in the conversation to become the starter.
The quarterback controversy in Tallahassee will be an interesting one and if Trickett doesn't step up to the plate, he will be benched for Winston, who has much more upside.
Michael Bennett, WR, Georgia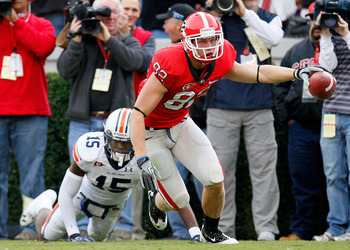 Kevin C. Cox/Getty Images
Michael Bennett likely won't be healthy enough to suit up for spring practice, as he suffered a knee injury towards the end of last year. Listed as one of the starting wide receivers entering the season, Bennett could lose some ground to some of the other guys if they decide to show up in the next couple of months.
One of the main receivers that could make a splash with Bennett still hobbled is Chris Conley. Finishing last season with 20 receptions, six of which went for touchdowns, Conley is a big play target that knows how to find the end zone and has some of the better hands on the entire Bulldogs roster.
Bennett was the most productive Georgia receiver through the first five games, but in order for him to seal his starting position, he must prove he is healthy and still the same guy that we saw a season ago.
Loucheiz Purifoy, DB, Florida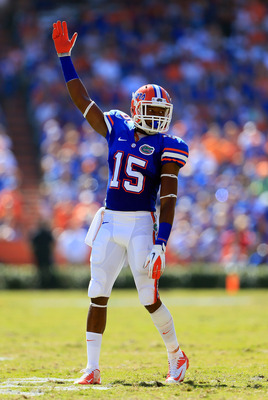 Sam Greenwood/Getty Images
Loucheiz Purifoy finished fourth on the team last season with 51 tackles and was tied with Matt Elam with five passes defended. And although the stats are solid enough to turn some heads, Purifoy was arrested during the offseason for possession of marijuana.
With an off-field incident hanging over his head, Purifoy also has to prove he has what it takes to remain on the defensive side of the ball. With Vernon Hargreaves III, an elite cornerback prospect coming in, Purifoy could end up switching to the offensive side of the ball and becoming a playmaker at wide receiver.
Purifoy appears to be comfortable anywhere he lines up, but changing positions is never an easy task and could result in a few growing pains if he isn't able to remain on defense.
Zach Mettenberger, QB, LSU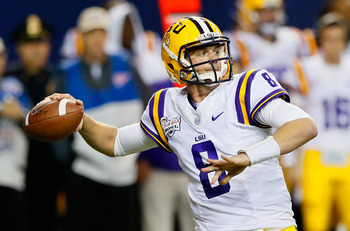 Kevin C. Cox/Getty Images
LSU is absolutely desperate for consistent quarterback play and is hoping Zach Mettenberger can take that next step. Completing 58.8 percent of his passes last season and throwing for 12 touchdowns, Mettenberger was hot and cold throughout the year.
The Tigers' quarterback now has a full year of SEC experience under him and a new offensive coordinator in Cam Cameron, who could end up paying off in a big way. The problem is that Mettenberger very rarely showed he has what it takes to complete passes consistently and would sometimes force the ball into places it shouldn't have been thrown.
LSU has a solid backup option in Stephen Rivers, who happens to be the younger brother of NFL quarterback Phillip Rivers. If progress isn't made in the spring, LSU may once again be without a legitimate signal-caller.
Brandon Ivory, NG, Alabama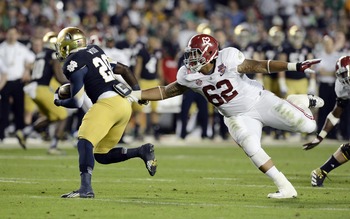 John David Mercer-USA TODAY Sports
The nose guard in Nick Saban's 3-4 defense is the anchor that makes everything work. Last year, there was a man-child in Jesse Williams doing much of the dirty work, but he has moved on to test the waters in the NFL.
Now, a lot of the attention will be focused on last year's backup in Brandon Ivory. With his size and ability to clog running lanes, Ivory is going to be the front-runner for the starting spot.
However, there is a lot of buzz about Darren Lake, who has a similar build as Ivory, but carries his weight a lot better than the upperclassman. He saw some playing time last year and has more upside than any other option at this position.
Alabama makes you work for every rep and it is clear that Ivory will have his work cut out for him this spring.
Steven Bench, QB, Penn State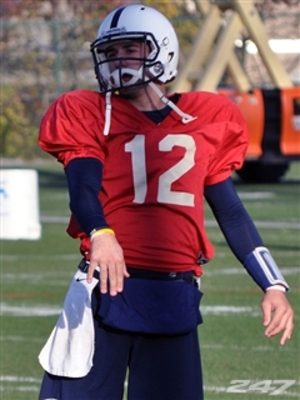 Credit: 247Sports.com
Penn State has a quarterback controversy on its hands and it will feature plenty of new faces. The most experienced option on the roster is Steven Bench, and he has only thrown a mighty eight passes in his short career at Happy Valley.
Due to the lack of experience at the position and a former quarterbacks coach in Bill O'Brien calling the shots, the Nittany Lions added two talented guys from the 2013 recruiting class in Christian Hackenberg and Tyler Ferguson.
Either one of those players could end up becoming the starter this upcoming season, especially Hackenberg, who was the No. 1 overall quarterback recruit of the 2013 class.
Bench is the favorite to land the starting spot because he has a year head start over the other guys, but with the talent coming in, it wouldn't be surprising to see him riding the bench once the season opener kicks off.
Fitzgerald Toussaint, RB, Michigan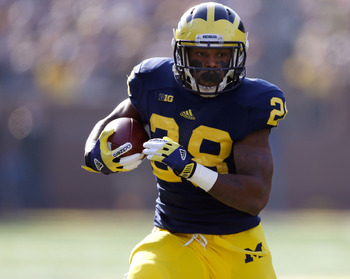 Gregory Shamus/Getty Images
Fitzgerald Toussaint suffered a nasty leg injury late in the year and there was a question of when he would be able to return to the field. The Michigan running back said he will be participating in spring drills, at the very least running and trying to get back into playing shape with the rest of the guys.
It is wonderful that Toussaint was able to recover this quickly and is even thinking about playing in the spring. However, this is mighty quick to recover from a broken leg and the last thing anybody involved needs is a setback that prevents him from participating in the season opener.
The Wolverines are already thin at the running back position and every fan in Ann Arbor will be holding their breath whenever this talented runner touches the football.
Vinnie Sunseri, S, Alabama
Marvin Gentry-USA TODAY Sports
Vinnie Sunseri was fourth on the team with 54 tackles and he added two interceptions for good measure last season. The issue with the experienced safety is that he was a liability in pass coverage and would sometimes take poor angles when going in for the tackle.
Sunseri is a hard worker and brings leadership to the defense, but the Crimson Tide could use an upgrade in the defensive backfield. This is why Landon Collins will be given every chance to become the starter and take away that spot from Sunseri in the spring. Collins is a versatile player, who is a lot more athletic and can play the pass as well as the run at a high level.
Competition is always going on in Tuscaloosa and it won't be much different at the safety spot.
Andrew Maxwell, QB, Michigan State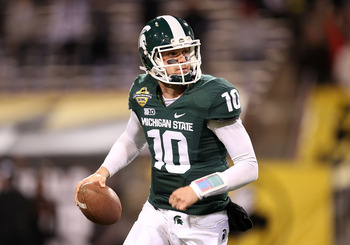 Christian Petersen/Getty Images
In his first season as a starter, Andrew Maxwell completed only 52.5 percent of his passes and threw nine interceptions to only 13 touchdowns. Because of the painful play, Michigan State was ranked 10th in the Big Ten in scoring offense and just barely qualified for a bowl game.
Maxwell is penciled in as the favorite to remain the starter at quarterback, but it wouldn't be surprising if Connor Cook or Tyler O'Conner ended up taking the keys from him. Without running back Le'Veon Bell to carry the offense, the quarterback position needs to have a reliable option to help this unit move the chains and produce points.
Michigan State needs an answer at quarterback and if Maxwell can't provide it, the coaching staff will waste no time looking elsewhere.
Jadeveon Clowney, DE, South Carolina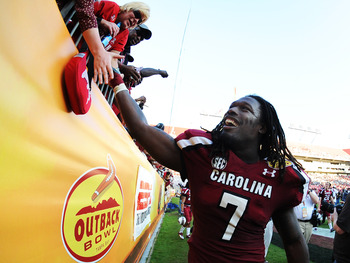 Al Messerschmidt/Getty Images
Jadeveon Clowney is probably the only college football player who doesn't need to practice. Oh sure, he could still improve on a few things, but if we are talking about the college level, there aren't many offensive lines that can block this kid on a consistent basis.
So what does Clowney have to lose in spring practice?
Getting injured and missing significant playing time. Talks have already been going around that the No. 1 defensive end should just sit out the entire 2013 season to avoid injury and seeing his draft stock take a nose dive. While I am highly against that idea, seeing him get injured in practice and suffering something serious in practice is a completely different story.
Coaches will make Clowney run drills because that's what they do, but there is little benefit in running this kid into the ground this spring.
Marqise Lee, WR, USC
Harry How/Getty Images
You can throw Marqise Lee in the same conversation as Clowney. Without question the best wide receiver in college football, practicing a whole lot in the spring doesn't make much sense. There is much more risk involved than there is reward.
If this USC offense is going to improve on last year's efforts, it will need Lee to be completely healthy and ready to go once August rolls around. Lee finished second in the country last year with 1,721 receiving yards and is easily a first-round NFL draft pick in the 2014 draft.
Sure, the Trojans have a new quarterback and it would be nice to develop some type of chemistry during the offseason. But Lee is so gifted—just throw it his way and he will go up and get it. There are just some guys who have most of it already figured out and Lee is one of those types of players.
Spring practice is overrated for this USC receiver.
Josh Nunes, QB, Stanford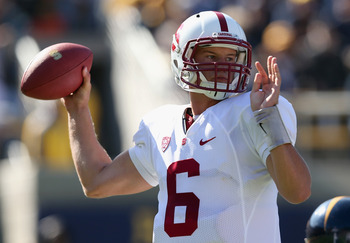 Ezra Shaw/Getty Images
Is it too soon to name Kevin Hogan the starting quarterback of the Stanford Cardinal?
Not only does the youngster have tremendous upside and playmaking ability, but Josh Nunes will miss the entire spring due to injury. It is hard to claim your starting position back when you are on the sidelines holding the clipboard, watching the rest of your competition light it up.
Regardless of Nunes not being able to go, Hogan is a dual-threat quarterback who really looked sharp towards the end of the season and gave the Cardinal offense a serious boost. Nunes likely wasn't going to win the starting position anyway, but with this injury, it is almost a guarantee he will remain the No. 2 option heading into the new season.
Jibreel Black, DL, Michigan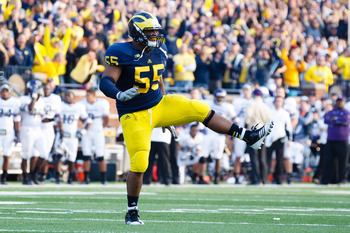 Rick Osentoski-USA TODAY Sports
Jibreel Black will be entering his senior season and he simply needs to step it up if this Michigan defense is going to turn the corner. Finishing last year with 20 tackles and three sacks, it is fair to say the Wolverines were expecting much more from a guy who was a highly recruited player coming out of high school in 2010.
Black has a quick first step and began to turn things on late in the year, finishing the final four games with a combined three sacks. Still, he has to develop some type of consistency to his game and continue to play at a high level all year long if Michigan is going to remain a Top 25 defense.
If the senior can't get the ball rolling, he will see some of his reps taken away by redshirt freshman Willie Henry.
Johnny Manziel, QB, Texas A&M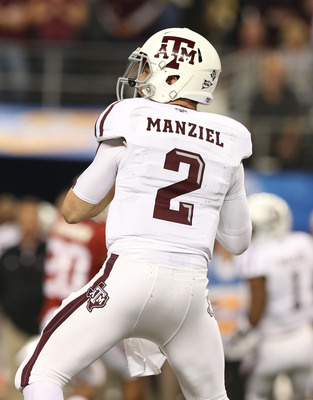 USA TODAY Sports
If there is any quarterback in the country who is guaranteed his starting job, it would be Johnny Manziel. Winning a Heisman Trophy does that sort of thing and the expectations are even greater entering his second season in an Aggies uniform.
The concern for Manziel should be living up to those expectations. Everybody saw what he was capable of last season and how he torched the SEC week in and week out. He is looked at as some type of super human and can't do anything wrong on the gridiron.
Because of this, every move Manziel makes is going to be magnified, which includes the bad decisions and mistakes he makes in practice.
It is insane to expect a similar performance this upcoming year. A rocky spring performance will bring out the critics and the confidence could be shattered a little bit.
Everett Golson, QB, Notre Dame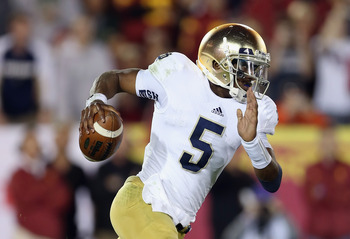 Jeff Gross/Getty Images
Everett Golson made progress as the year carried on, but wasn't nearly as consistent as Irish fans would have liked to see. He still made rookie decisions with the football, wasn't as explosive with his legs as you would expect and he sometimes looked loss out on the football field.
Golson has a lot of upside and could eventually develop into something special, but there is little reason for Notre Dame to wait when there are other options. Gunner Kiel, who was one of the top recruits of the 2012 class, will push Golson for the starting position and could end up winning it if he shows enough throughout the practices.
Notre Dame is in a good position at quarterback, but Golson could find himself on the bench more times than not if Kiel can blossom into the star everybody thought he would.
Keep Reading