Before long the Seattle Mariners will begin their 2013 season. There may appear to be ample time before April 1 but there is much work to be done. Specifically, management must decide which players are going to make the 25-man roster.

Currently, baseball is at the 40-man roster phase of the season. In addition, Seattle has a list of 21 (via MLB.com) nonroster invitees that will also be in camp.

61 - 25 = 36 players that must be cut between now and opening day. Some position battles are obviously going to be more fierce than others as there are certainly a number of positions that are far from being established.

Projecting the 25-man roster is a challenge, particularly for a team like the Mariners that has a lot of young talent. There will be a reasonable high number of potential future stars in Arizona. Whether they will ready for 2013 is yet to be determined. Still, the roster will need to get shaved at some point.

Let's get started.

Last year, the Mariners started the season (via Yardbarker) with 12 pitchers and 13 hitters. That roster consisted of five starters, seven relievers, three catchers, six infielders and four outfielders. Obviously some of the players on that roster could play multiple positions so there were actually more outfielders.

For 2013, there are certain players that can be penciled in with a reasonable amount of confidence. At this point, assume the following starting pitchers will have jobs barring injury or major failure:

Felix Hernandez
Hisashi Iwakuma
Joe Saunders

Saunders may be the exception, but he was paid a salary that suggests he is going to be starter. Projecting the rest of the starters is challenging, particularly with the high-profile prospects that will be in camp. For the moment, let's assume that Blake Beavan keeps his job and veteran Jon Garland beats out young Erasmo Ramirez for the fifth spot in the rotation. That could obviously change.

The lineup has a number of questions, but the following players are arguably the people that are most likely to be on the roster:

Justin Smoak (1B)
Dustin Ackley (2B)
Brendan Ryan (SS)
Kyle Seager (3B)
Michael Morse (LF)
Franklin Gutierrez (CF)
Michael Saunders (RF)
Jesus Montero (C)
Kendrys Morales (DH)
As noted by Greg Johns of MLB.com:
Wedge reiterates plan for now is to keep Smoak at 1B and Morales at DH. gregjohns.mlblogs.com

— Greg Johns (@GregJohnsMLB) February 18, 2013
Obviously, this is a safe list and there are going to be a few arguments about whether a few of these players might lose their jobs in the spring. Saunders only hit .249 last season, Ackley hit .226, Smoak hit .217 and Ryan finished at .194 for the year. However, this is the list of incumbents, which means that someone else will have to hit fairly well or play above-average defense if they are going to unseat a starter from 2012.

Assuming that Raul Ibanez was not just signed to fill up a slow news day, one could project that the veteran outfielder will find a position on the bench.

If the Mariners carry three catchers, the safer picks would be veterans such as:

Kelly Shoppach
Ronny Paulino

Finally, there is the bullpen, which could include the following incumbents:

Tom Wilhelmsen (CL - R)
Carter Capps (R)
Josh Kinney (R)
Stephen Pryor (R)
Charlie Furbush (L)
Lucas Luetge (L)
Oliver Perez (L)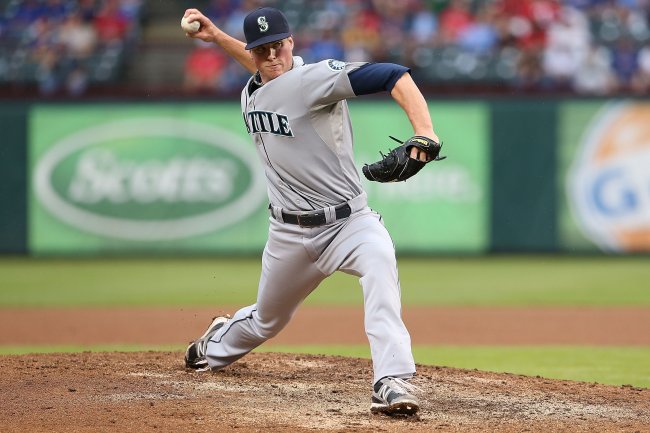 Ronald Martinez/Getty Images
Keeping track? If all of those players make the club, we are at 24. This is where the fun begins.
In terms of starting pitching, there will be competition from veteran Jeremy Bonderman and young prospects such as
Taijuan
Walker, Danny
Hultzen
, James Paxton and Brandon
Maurer
. To win a spot in the rotation, one or more of these guys would need to pitch noticeably well in the spring. What is hard to know is whether Seattle would put any of these players in the bullpen if they pitched well but not well enough to displace a starter.
The bullpen as it is set up right now may be very much what the Mariners want in terms of righty/lefty combinations. In addition, there is a decent mix of youth and experience. Still, there are pitchers such as Chance Ruffin, Kameron Loe and Hector Noesi who could fight for spots. If someone like Loe finds a role in the bullpen, Seattle might send someone like Josh Kinney back down to Tacoma.

For hitters, there is Jason Bay, who will be vying to win a bench role. There is also Robert Andino, who can back up a couple of infield spots. When you look down the roster, players like Casper Wells and Eric Thames may have trouble winning a job with the logjam in the outfield. There is the possibility that Nick Franklin or Mike Zunino could make the club, but Seattle is not going to be anxious to rush their young hitters. Franklin would need to beat out Andino and Zunino would need to beat out a veteran backstop.

Other prospects like Carlos Triunfel, Alex Liddi and Carlos Peguero will also be in the mix as they hope for spring at-bats. They are probably on the list of players that are less likely to make the big club.
Greg John tweeted about Liddi:
@stevesie1 My best guess is he opens year in AAA since there's not much of a spot for him right now, but we'll see. He looks real good.

— Greg Johns (@GregJohnsMLB) February 18, 2013
Confused yet? Ultimately, the key battles may be in the outfield, the bullpen and the back end of the rotation. Walker, Hultzen, Paxton, Zunino and Franklin are all exciting, but they will need a hot spring if they are going to steal a job from a veteran.

At this point it would not be surprising if all of those prospects start the year in Tacoma.

In terms of veterans, players like Eric Thames, Casper Wells, Jason Bay and Jeremy Bonderman may be fighting hard for a spot on the roster. Jon Garland will also have to pitch well if he is going to hold Erasmo Ramirez and other talented prospects at bay.

There is always the possibility that Seattle could relieve some of the roster pressure by making a preseason trade, but those deals are going to become more and more rare as teams get deeper into their evaluation process.

Let the games begin, and may the best 25 men win.

Follow @tpheifer