WWE Raw Live Results, Coverage and Analysis for Post-Elimination Chamber Show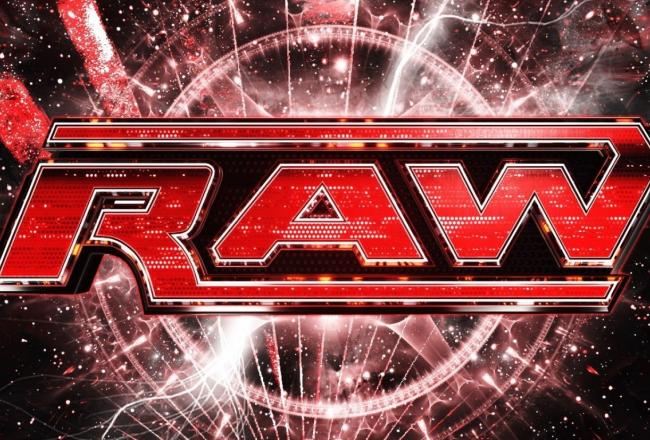 wwe=wallpapers.com

Welcome to the Bleacher Report live coverage for the post-Elimination Chamber WWE Raw.
With the Chamber in the books, there is nothing left in terms of pay-per-view events between now and WrestleMania.
Sunday's show certainly had a few shocking outcomes, as well as some that were as predictable as anything we have ever seen.
Jack Swagger prevailed in the chamber match, every champion who defended their titles retained them and The Shield put away the team of John Cena, Ryback and Sheamus.
With many unanswered questions heading into WrestleMania, anything is possible on tonight's Raw.
Will The Undertaker return to challenge someone for WrestleMania?
How will Brock Lesnar play into things tonight?
What is next for The Shield?
Can The Rock and John Cena wait until 'Mania to engage in a fight?
And lastly, will Zeb Colter's mustache finally get the recognition it deserves?
Make sure to bookmark this page and come back tonight at the start of the show for answers to all these questions and more as I bring you up-to-the-minute coverage of Monday Night Raw.
Follow me on Twitter @BR_Doctor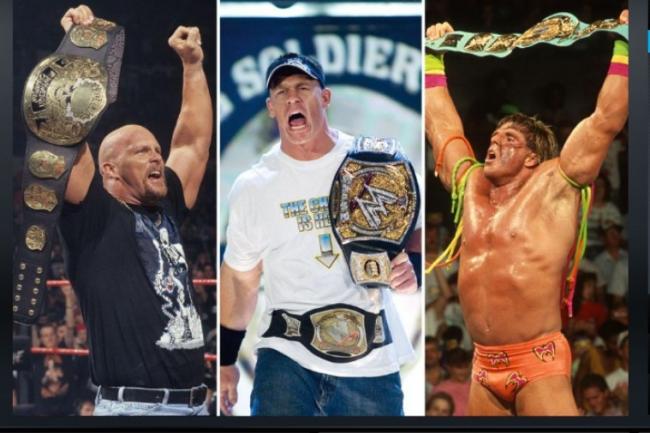 Rock cut best promo i know in the business he Iron Sheik class

— The Iron Sheik (@the_ironsheik) February 19, 2013
Rock talks about the title being cool, while also inspiring people. As Rock talks about facing Cena at WrestleMania, Cena's music hits and he makes his way out.
Cena stand on the ramp and CM Punk comes out and hits him with the old spinner title belt. Punk drops the title on the ramp and says he wants the one Rock is holding.
Rock puts the title down and calls CM Punk to the ring for a fight. Punk walks away and the show ends with Rock looking at Cena as he struggles to get up.
What are your thoughts on the new WWE title?
Rocky talks about beating CM Punk twice in a row. Rock makes a big introduction and the crowd chants his name.
Rock talks about the spinner being introduced by one of the greatest of all time, John Cena. Rock talks about how the title used to be cool.
Rock gives the belt to a producer at ringside and says the WWE title should look like a real title. Rock talks about having a title worthy of being worn by all those who have worn it.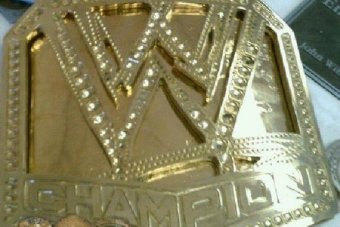 The Rock unveils the new title, and it looks a lot like the one that was floating around the internet awhile back.
The Rock comes out to a huge ovation. The band plays along with the beat of his music. It actually sounds kind of cool with the added drums.
Is that a new title belt in the ring?
A marching band is on the ramp for what can only be the start of the Rock's celebration.
Kane vs. Orton Part 2
After the break we see Kane with a headlock on Orton. Orton runs into a big boot for a close two count.
Kane and Orton trade shots until Kane hits a DDT for another two count. Kane locks Orton in a read chinlock to keep him grounded.
Orton gets back control after breaking free and he takes Kane down with a dropkick before stomping on various body parts.
Kane gets up and takes Orton down with one shot. Kane hits a sidewalk slam for another two count.
Kane goes to the top rope and Orton avoids the flying clothesline. Orton sets Kane up for the rope-hung DDT, but Kane breaks out and drops Orton on the top rope.
Daniel Bryan comes down the ramp and Kane yells at him to leave. Orton hits the RKO out of nowhere for the pin and the win.
Winner: Randy Orton
Kane vs. Randy Orton Part 1
Didn't we see this match at WrestleMania and Extreme Rules last year?
The bell rings and Kane gets the upper hand early. Kane sends Orton to the floor from the top rope as we head to break.
A Fandango promo airs as we return from break. Where is this guy?
The Shield brings a refreshing, intense dynamic to @wwe. The three distinct styles operating as a unit reminds me of The Fabulous Freebirds

— Mick Foley (@realMickFoley) February 19, 2013
Randy Orton comes out for his match with Kane next.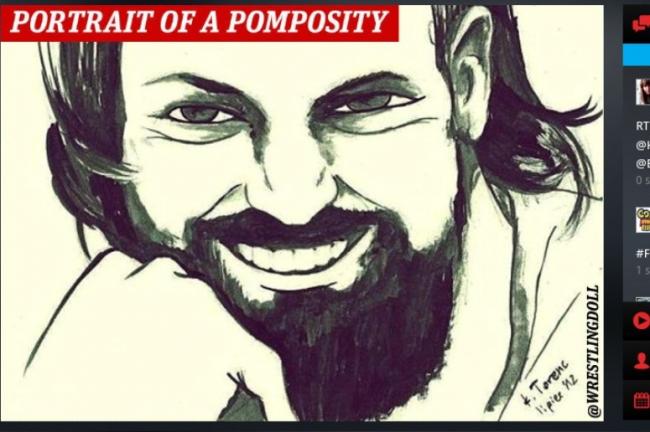 Kofi Kingston vs. Damien Sandow
Kofi is in the ring when we return and Sandow comes out with a mic to enlighten us. Sandow says many members of his family have served as aides to Presidents.
Sandow attacks Kofi before he even gets his robe off or the bell rings. Kofi tries to fight back, but Sandow beats him down to the mat and then runs his shoulder into the ring post.
Sandow keeps up the punishment until R-Truth's music hits and he comes out to make the save. Truth gest the better of Sandow and hits a jumping heel kick.
Truth hits the scissor kick and then takes Sandow out of the ring with a clothesline.
Match never took place.
Channel surfing & caught this 6 man. I like the Shield. They look good!

— MVP (@The305MVP) February 19, 2013
The Shield vs. Ryback, Sheamus and Jericho Part 2
Sheamus is being beaten up by Rollins when we return. Reigns tags in and Sheamus begins to fight back. Jericho and Ryback are both wanting the tag.
Sheamus tags in Ryback and he rips through Rollins and Ambrose. Rollins gets planted with a spinebuster and Ryback lines up for the Meat Hook and hits it.
Ryback picks up Rollins for Shell Shocked and Reigns hits him with a spear, just like last night. Rollins gets a near fall on Ryback.
Ambrose tags in and keeps up the punishment to Ryback. Quick tags from The Shield keep Ryback in their corner and on the defensive.
Ryback manages to crotch Reigns on the top rope and tags in Jericho, who takes it to Ambrose. He hits the running bulldog after taking out Rollins.
A Lionsault gets Jericho a near fall and he tries for the Liontamer, which Ambrose turns into a roll up for a near fall.
Jericho locks Ambrose in the Walls of Jericho and Sheamus prevents Reigns from making the save. Rollins comes off the top rope and hits Jericho to make the save.
Ambrose pins Jericho for the win.
Winners: The Shield
WWE is really putting these guys over with some big wins.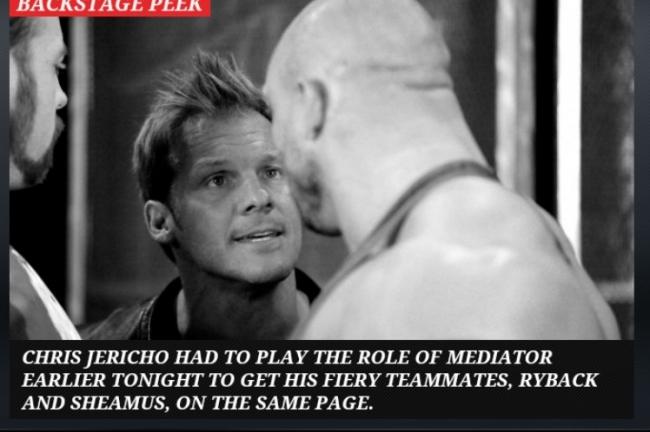 Interesting dynamic working, @iamjericho @ryback22 @wwesheamus vs @thedeanambrose @wwerollins & @romanreigns. Hmmm. #WWE intrigue.

— Jim Ross (@JRsBBQ) February 19, 2013
The Shield vs. Sheamus, Ryback and Chris Jericho
The Shield make their way through the crowd after the babyfaces have gotten to the ring. Ryback and Rollins kick things off and Ryback immediately puts Rollins in his corner.
Jericho makes Ryback back off so he doesn't get disqualified and Jericho ends up fighting Ambrose. Jericho hits a missile dropkick for a near fall.
Sheamus gets the tag and he ends up facing off with Roman Reigns. Sheamus takes it to Reigns with plenty of high impact moves.
He picks up Reigns and hits White Noise and then signals for the Brogue Kick. Rollins pulls Reigns from the ring to save him, so Sheamus kicks Ambrose off the apron instead as we head to a break.
How nuts would it be if Jericho ended up being the new leader of The Shield? It does seem a bit strange how he just threw himself in this feud.
Have The Shield ever attacked him?
Chris Jericho is out next for the six-man match with The Shield.
Vickie and Paul Heyman are in the ring when we return from break. Vic says her announcement could change Heyman's life.
She says she is naming a new assistant for herself, Brad Maddox.
Maddox gets a little heat when he comes out on the ramp, but not much. He says Hi to Heyman and Heyman says Hi back. It was funnier than it sounds.
Maddox is a heat vacuum. He managed to kill the heat Vickie and Heyman had.
Vickie and Maddox squabble over his title a little but, just like Gareth and David did in The Office and Jim and Michael continued to do in the American version.
Vince McMahon comes on the big screen and he tells Heyman to be quiet. McMahon makes a joke about not having a heart and he talks about doing Heyman a favor for the stipulation at the EC match.
He shows a clip of Heyman saying he would do anything to get what he wanted. McMahon teases firing Heyman.
McMahon says that once he is healed up, he is going to fight Heyman on Raw. Heyman drops the mic and the segment ends, abruptly, again.
As a Latina, I am insulted by the comments made by Zeb Colter & Jack Swagger. America is a melting pot of amazing ppl!! @wwe #Raw

— Lilian Garcia (@LilianGarcia) February 19, 2013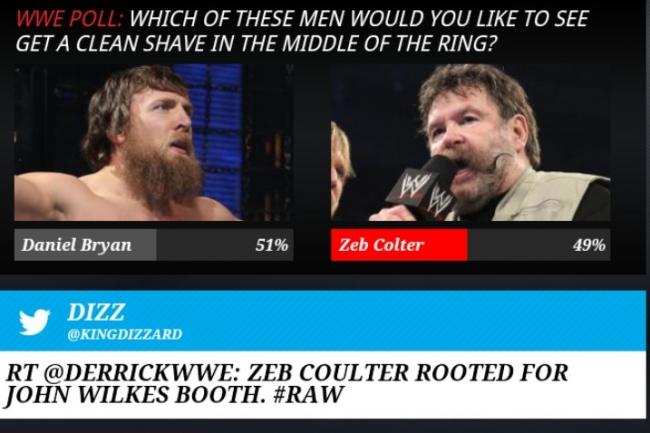 Jack Swagger vs. Daniel Bryan
The match kicks off on the WWE app. Swagger takes Bryan down quickly and Bryan goes to the outside.
Swagger continues to use his power to control Bryan until we head back to USA.
We return to see Bryan making a comeback with kicks to the leg Swagger gets rolled up for a near fall and Bryan follows up with a surfboard, but Swagger powers out of it.
Bryan drops Swagger into the middle turnbuckle face-first and he keeps on Swagger with a low dropkick for a two count.
Swagger follows Bryan into the ropes and clotheslines him over the top rope. He grabs Bryan on the outside, but Bryan breaks out and runs Swagger into the ring post.
Bryan misses a running knee off the apron and Swagger picks him up and slams his back into the barricade.
He rolls Bryan back into the ring for a near fall and then focuses in on the leg. Bryan takes a hard knee to the injured ribs.
Swagger locks Bryan in a submission, but Bryan fights his way out, only to take another knee to the ribs. A Swaggerboomb gets Swagger another near fall on Bryan.
Bryan comes back with some signature offense and he ends up low-bridging Swagger to the outside and following up with a suicide dive.
Bryan hits a flying dropkick from the top rope for a close two count in what is turning out to be a pretty good match.
Bryan starts Hulking up and he lays in with kicks to the chest. Swagger slams Bryan, but Bryan turns it into a No Lock.
Swagger makes it to the bottom rope to break the hold. Bryan misses a dropkick in the corner and sells an ankle injury.
Swagger drives Bryan's knee into the mat and then he takes Bryan down with a running chop block. Swagger locks in the Patriot Act for the submission win.
Winner: Jack Swagger
The more I hear his new music, the more I like it. That was a hell of a match.
Jack Swagger and Zeb Colter are in the ring when we return for the WWE State of the Union address.
Swagger introduces Zeb Colter, who talks about President's Day. He says the Bill of Rights gives him the right to say what he really wants to.
Colter blames illegal immigrants for ruining this country. Colter talks about how Del Rio vs. Swagger is like the battle for the heart and soul of the US.
As the promo ends, Swagger repeats "We the people" over and over.
Daniel Bryan's music hits and he makes his way out for his match with Swagger.
Brodus Clay and Tensai vs. Epico and Primo
The music switched a little too early during Clay and Tensai's entrance. What is happening on this show?
Cameron takes out Rosa early and then she hits Epico with a flying headscissors before Tensai comes in and dominates everyone.
Clay makes the blind tag and they hit their dual splash for the quick pin and win.
Winners: Brodus Clay vs. Tensai
I don't even know what is happening on Raw anymore. What an odd past few minutes.
I actually, kind of want to see that movie.
Sheamus comes on the big screen and points out how Barrett is not the star of the film.
That segment ended very abruptly. What the hell was that?
Now Cole and Lawler are plugging a new WWE toy. What a show, what a show.
Nice. Wade Barrett is in the ring when we return. It feels like we haven't seen him in awhile.
Barrett talks about how he had a role in Dead Man Down. He introduces a trailer of the film. If I recall, the trailer didn't have him in it.
Del Rio vs. Ziggler Part 2
Ziggler continues the offense and Big E gets in a cheap shot while the ref is distracted by Ziggler. Jack Swagger and Zeb Colter are shown watching on a TV backstage.
Ziggler hits the Famouser for a two count. Del Rio avoids Ziggler in the corner and then climbs up to deliver a reverse superplex.
Ziggler and Del Rio start trading shots in the middle of the ring and Del Rio gets the upper hand. He hits Ziggler with a tilt a whirl backbreaker.
Del Rio lines up and hits a running sidekick to the face for a two count. Del Rio signals for the Cross Armbreaker, but Ziggler counters in a neckbreaker for a two count.
Del Rio hits Ziggler with a bunch of forearms to the back and a back stabber for a close two count.
Langston gets on the apron and Del Rio kicks him off. Ziggler ends up getting locked in the CAB for the submission.
Winner: Alberto Del Rio
That was a good back and forth match. These two had a good match last week too.
Langston comes in after the match and attacks Del Rio, as I predicted. Ziggler sees that Del Rio is down and he goes to grab his case.
Ricardo steals the briefcase and runs away, with Langston chasing him. Ricky drops it and AJ gets it for him, but ADR was able to make it up and kick Ziggler in the head.
Del Rio celebrates with his title following the match.
This article is
What is the duplicate article?
Why is this article offensive?
Where is this article plagiarized from?
Why is this article poorly edited?