UFC 157: Keys to Victory for Every Main Card Fighter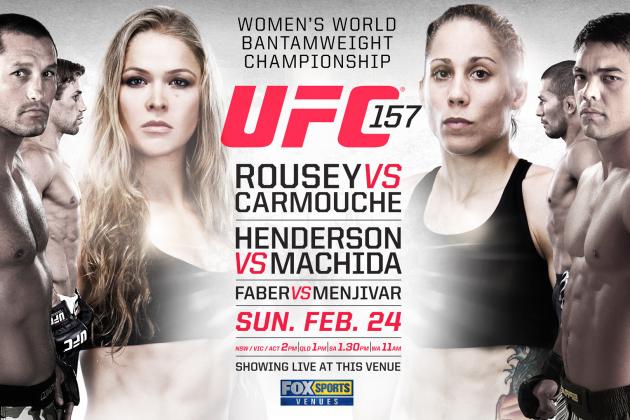 Photo courtesy of acemelbourne.com.au
UFC 157 is a very important event in UFC history.
It will be the first time that women fight on a UFC card.
Ronda Rousey and Liz Carmouche are set to do battle for the title in the main event.
Alongside them on the main card we have Dan Henderson taking on Lyoto Machida, Ivan Menjivar fighting Urijah Faber, plus Court McGee and Josh Neer duking it out.
Who could forget Josh Koscheck and Robbie Lawler to round out the main card of the event?
Each of these fighters has been working a game plan to defeat their opponent on fight night. Each needs to implement some specific goals to win their fight.
Here are the keys to victory for each main card fighter.
Begin Slideshow

»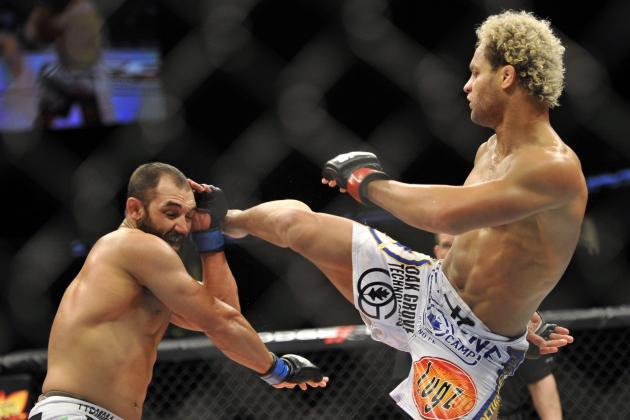 Joe Camporeale-USA TODAY Sports

Josh Koscheck hasn't been seen in the Octagon since dropping a split decision to Johny Hendricks in his last outing.
Koscheck has a big right hand. He needs to set it up with some feints or combinations and attempt to keep Lawler off balance and on his toes.
Koscheck also has excellent wrestling to rely on. He has a very quick shot and can take just about anyone in the welterweight division down.
If Koscheck feels threatened on the feet, he should look to secure a takedown and ground and pound his opponent.
He has shown great positioning and control from the top, and this is what he will need to do to neutralize the power of Lawler.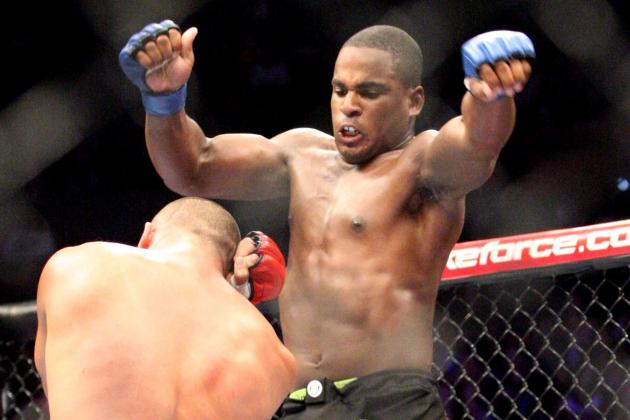 Scott Olmos-USA TODAY Sports

Robbie Lawler will be making a return to the UFC after fighting in the Strikeforce organization since 2009.
Lawler will be looking to establish himself in the welterweight division by trying to take out Josh Koscheck.
Lawler has shown himself to be a very technical and powerful striker.
He should throw combinations to keep Koscheck guessing and maintain constant pressure on him.
He will also need to avoid the takedown attempts of his opponent and look to keep the fight on the feet where he will have the best chance of winning.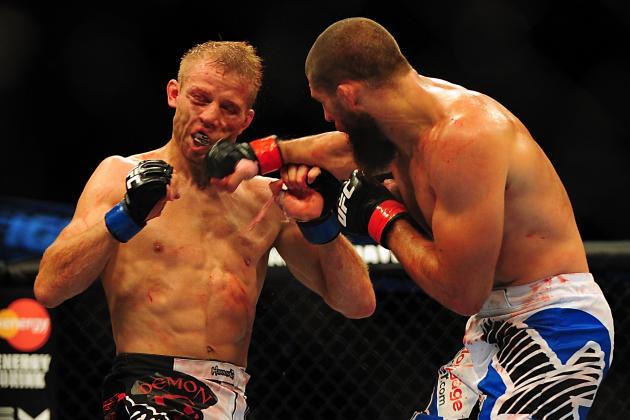 Anne-Marie Sorvin-USA TODAY Sports

Court McGee is currently on a two-fight losing skid.
For his fight against Josh Neer, a few things need to happen.
McGee needs to get his striking going early. If he can do that, he can put pressure on Neer with his heavy hands.
McGee could also push Neer up against the fence and throw some dirty boxing in while controlling him.
McGee is a big welterweight with good cardio. If he can outlast Neer and avoid his striking, he could take home a victory.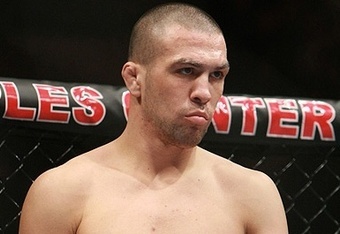 Josh Neer also enters this contest on a two-fight losing streak.
He wants to get back into the win column against McGee.
Neer has powerful striking. His first moves should be to hit McGee with a few good power shots and make him respect the striking.
Neer needs to react fast and not let McGee bully him around the Octagon.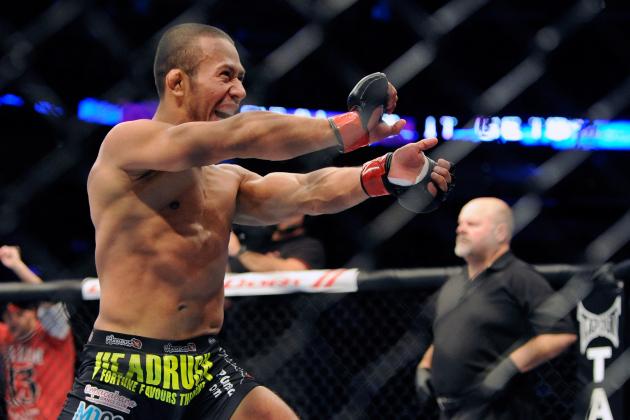 Eric Bolte-USA TODAY Sports

Ivan Menjivar is a veteran presence in the UFC's bantamweight division.
He is tough and savvy, as well as being incredibly difficult to finish.
Menjivar needs to work his striking early on in his fight with Urijah Faber. He needs to constantly move and avoid the takedown and control of Faber.
Menjivar has a good ground game but must be careful to avoid the patented guillotine choke of Faber, in the case the fight hits the mat.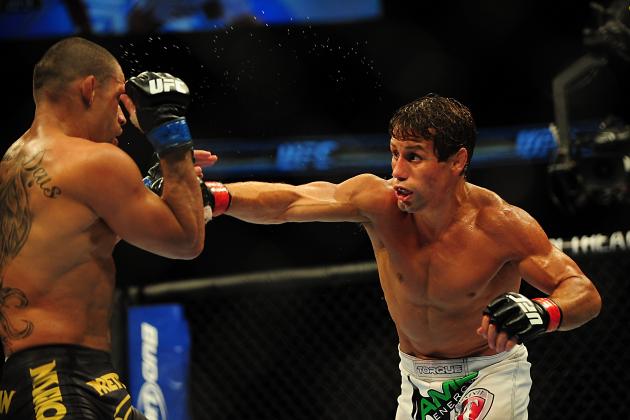 Anne-Marie Sorvin-USA TODAY Sports

Faber is coming off a loss for the interim bantamweight championship to Renan Barao.
Faber would very much like to get back into the top-contender position, but in his way is a former opponent in Menjivar.
Faber should look to use his elite-level wrestling skills in this fight. He has smothering control on the ground and should use it to grind his opponent.
If the opportunity presents itself, Faber should also attempt some kind of submission.
Menjivar has good submission defense, but if Faber can see an opening, he should try for a submission finish.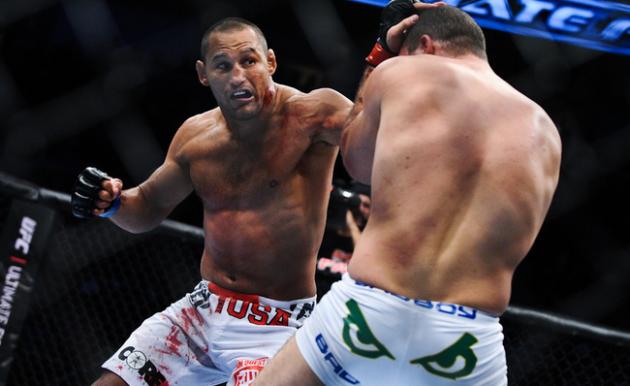 Dan Henderson wants to finally earn his shot at champion Jon Jones.
He has a tough test ahead as he takes on former champion Lyoto Machida.
Henderson needs to do a few things to help him win the fight. He will need to hit Machida with his powerful right hand.
He will need to keep the pressure on Machida and make this a dirty fight.
Hendo could also look to use his wrestling and try to get the fight to the mat.
Henderson will need his timing to be perfect for this fight. All it takes is one big right hand, and if he's patient, that could very well happen.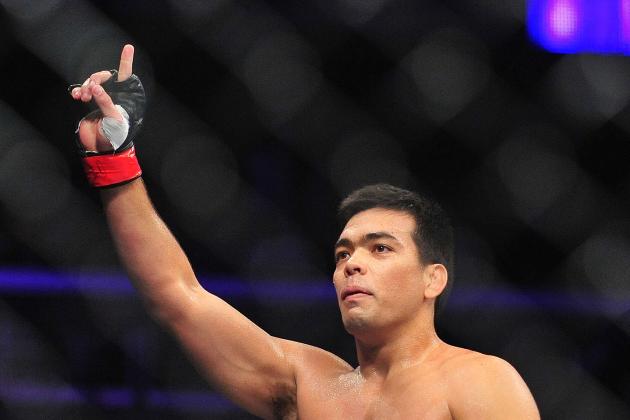 Gary A. Vasquez-USA TODAY Sports

Machida needs to get through Henderson to earn another shot at UFC gold.
Machida should use his deft footwork and speed to avoid the powerful right hand of Henderson.
He should also look to work some kicks into this fight to take away the movement of Henderson.
If Henderson attempts a takedown, Machida needs to be prepared to sprawl or simply to get out of the way.
Machida will be also be successful if he hits Henderson from different angles and keeps changing it up.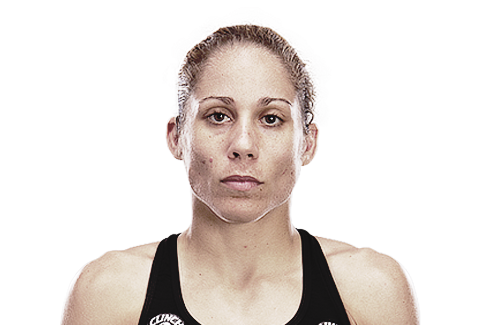 Photo courtesy of UFC.com
Liz Carmouche finds herself in the biggest fight of her career against her toughest opponent to date.
Carmouche needs to get on her striking game right from the get-go. So far, she has shown more of her striking than Ronda Rousey has.
Carmouche isn't afraid to strike with anyone. Her ground-and-pound is also devastating as she almost finished Marloes Coenen from the full-mount position in their fight.
Carmouche also needs to do her best to avoid getting thrown to the mat by Rousey.
That is the single most important key to her victory. Not getting taken down is imperative.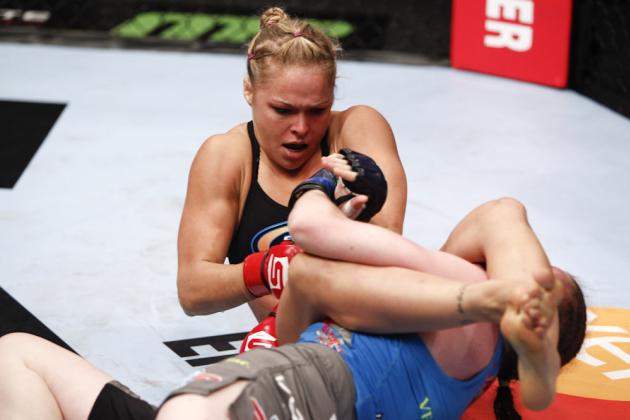 Photo courtesy of fcfighter.com
Rousey's keys to victory are very simple.
She needs to watch out for the striking of Carmouche. When she sees an opening, she needs to tie her up and use her judo skills to bring the fight down.
From there, she will do what she does best and look for the armbar finish.
Rousey needs to keep top control and not get swept by Carmouche from the bottom.
If she maintains top position, the armbar can't be far behind.
Tweet me @FuscoNation16.