6 Potential Celtics Trades to Push Boston into NBA's Elite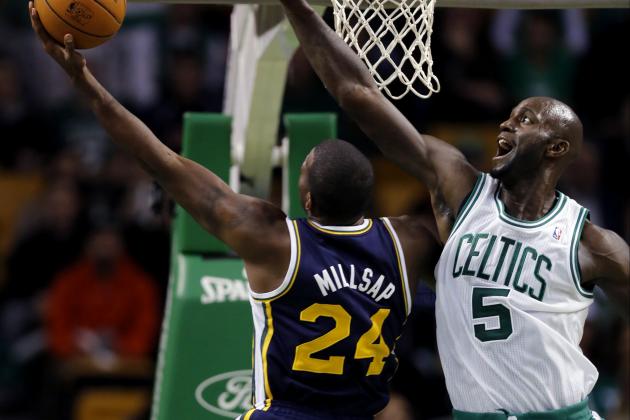 Greg M. Cooper-USA TODAY Sports

The Boston Celtics are in an interesting position leading up to Thursday's trade deadline, with three conceivable doors to choose from, each leading to three significantly different long-term paths.
They can do nothing, stand pat, rely on experience and leadership and hope what they have is enough to take down teams like the Miami Heat, New York Knicks and Indiana Pacers.
They can sell, sell, sell by convincing Kevin Garnet to waive his no-trade clause, then dealing Paul Pierce in an attempt to accelerate the rebuilding process.
Or, in what's probably the most difficult door to break through, they can do what most fans probably want to see: Keep Garnett and Pierce, then somehow acquire an impact player to improve their team's shot at a title this season.
The proposed trades that follow would all make the Celtics a better team this year, but the future is another story. For this exercise, the future has no bearing; they're constructed with the present in mind.
So here are six deals, ranked from least to most helpful, with regards to Boston's shot at eventually dethroning the Heat and winning an 18th championship.
Begin Slideshow

»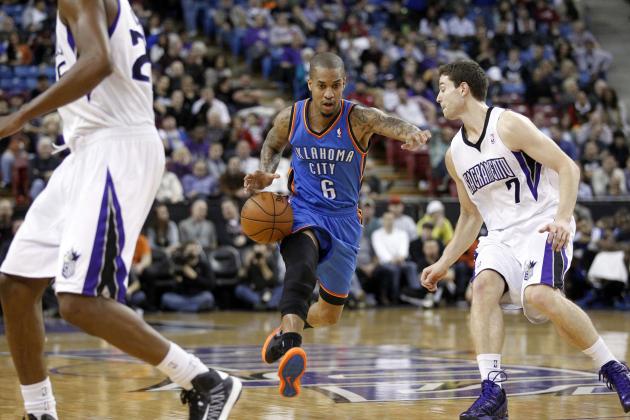 Cary Emondson-USA TODAY Sports

Courtney Lee and Chris Wilcox for Eric Maynor, Hasheem Thabeet and Daniel Orton
The Celtics are in desperate need for depth at just about every position, but point guard and center are the two most vital needs. Adding Eric Maynor—an incredibly talented point guard stuck behind Reggie Jackson on Oklahoma City's depth chart for contractually related reasons as much as anything—would be a major upgrade over the zero true point guards they currently have on the roster.
Maynor has playoff experience, an understanding of how to blend his strengths with the best talent in the world and an ability to score off the dribble. He could stabilize a backcourt that's currently propped up by the genius of Paul Pierce and Doc Rivers and will surely be needed in the playoffs.
Hasheem Thabeet and Daniel Orton are two big bodies (in the case of Thabeet, a gigantic body) that could give Boston depth behind Garnett. (Absolute best-case scenario: Thabeet might even be able to anchor—the term is being used loosely here—the paint for limited minutes while Garnett blows up pick-and-rolls on the perimeter).
And the 22-year-old Orton is more versatile and athletic than Jason Collins, rightfully taking him out of the rotation altogether.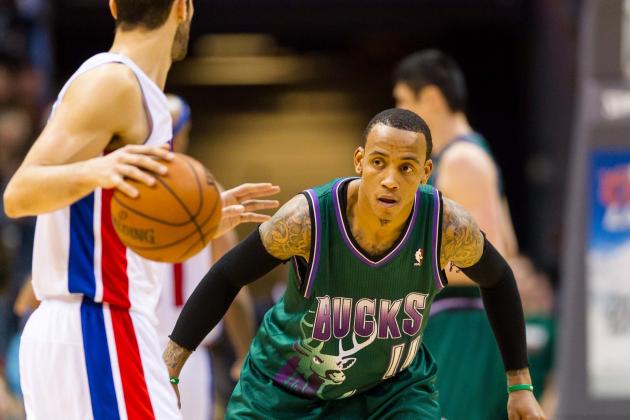 Jeff Hanisch-USA TODAY Sports

Avery Bradley, Courtney Lee and Brandon Bass for Monta Ellis
What the Celtics get here is a serious scorer who needs no help with the ball in his hands. But, as we're all well aware, he's far less efficient than would be desired. Ellis is embarrassing himself from behind the three-point line this season, shooting 23 percent on 3.5 attempts per game. But if there's one thing he can do it's get to the basket and score.
He's averaging 4.6 free-throw attempts per game and 18.4 points. Ellis has never been an All-Star, but his defense couldn't be any worse than Jason Terry's, and his ability to put the ball in the hoop could loosen up the tight knot still strangling Boston's offense. (This season Milwaukee's offense is scoring 5.9 more points per 100 possessions when Ellis is on the court as opposed to when he sits, according to NBA.com/Stats). The Celtics currently sport the 23rd best offense in basketball.
Bass' contract is there to make it work financially, but is understandably an elephant in the room and the biggest reason Milwaukee wouldn't do this deal.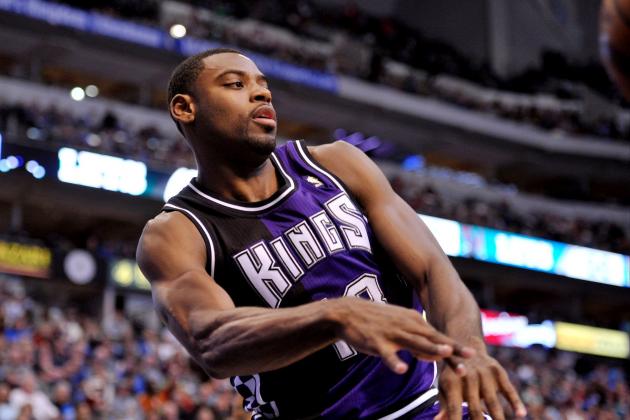 USA TODAY Sports

Courtney Lee and Avery Bradley for Tyreke Evans
The Sacramento Kings are understandably treading choppy waters when it comes to making any trade that involves millions of dollars in salary changing hands, but from a basketball standpoint, this deal makes a lot of sense for both teams.
Evans is a two-way nightmare with All-Star potential and someone offensively gifted enough to take over for elongated stretches. While he isn't up to Avery Bradley's level on the defensive end, Evans' work on the ball is very, very close, and his scoring ability can't be understated.
According to Hoopdata.com, Evans attempts more shots at the rim per game than Dwyane Wade, Tony Parker, Kobe Bryant and Kyrie Irving. It's a skill the Celtics have craved desperately over the past few seasons, and setting Evans free in transition could be the missing ingredient for a struggling offensive basketball team already elite on the other side.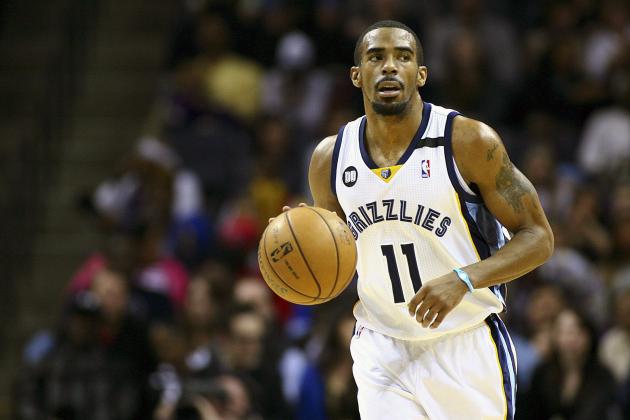 Spruce Derden-USA TODAY Sports

Rajon Rondo for Mike Conley and Darrell Arthur
This deal might not be as practical as the others, but if a call is made from Boston's front office to Memphis, the conversation lasts longer than a few breaths.
The Grizzlies are the obvious skeptics here, taking back a player who can't play until next season and ultimately throwing in the towel on any shot at the title this season. But they're getting back a brilliant point guard who's one of the 15 best players—and five best contracts—in the league.
Mike Conley is perhaps the most underrated point guard in the game, though, and giving him up would be extremely difficult to do. Conley's numbers have improved incrementally from year to year, and he's currently putting forth his best campaign as a pro, highlighted by a career-best PER of 17.1 (the exact same as a 24-year-old Rondo).
The Celtics would become an incredibly dangerous basketball team with Conley running the point (especially if he's paired on the defensive end with Avery Bradley), and throwing in Darrell Arthur (a versatile big man with a knock down mid-range jump shot) would be icing on the cake as a replacement for Jared Sullinger.
As constructed, nobody wants to play the Celtics in the playoffs. If this trade were to happen, it'd be shocking if they didn't have home-court advantage in the first round.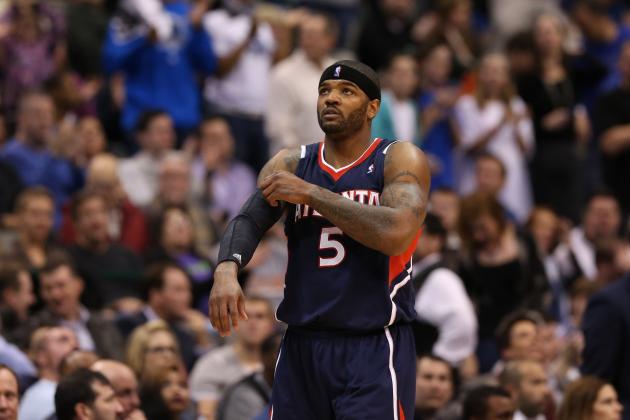 USA TODAY Sports

Jeff Green, Avery Bradley, Chris Wilcox and a 2013 first-round pick for Josh Smith
The offers on the table for Josh Smith are likely numerous and plentiful.
This haul probably isn't the best on Atlanta's plate, but it does give them three first-round picks in the 2013 draft (enticing as anything should a sign-and-trade for Dwight Howard become possible), the best on-ball defender in basketball who's still on his rookie contract and one of the most athletic forwards in the world.
The Celtics? They do this in a heartbeat. A starting lineup of Courtney Lee, Jason Terry, Paul Pierce, Josh Smith and Kevin Garnett? That's something no team wants any part of, especially on the defensive end.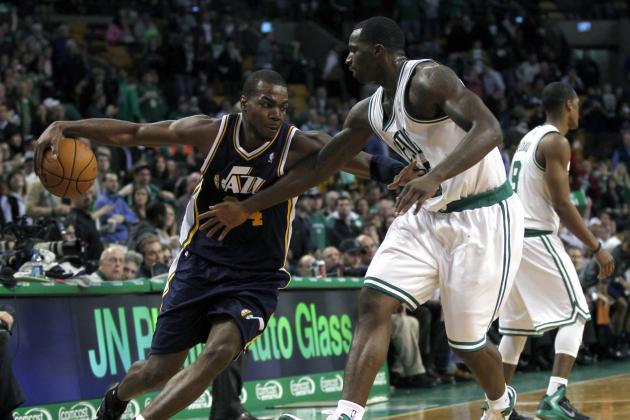 Greg M. Cooper-USA TODAY Sports

Brandon Bass, Avery Bradley and a 2013 first-round pick for Paul Millsap
In the hours after the NBA lockout ended a little over a year ago, the Boston Celtics were frantically trying to acquire David West, a bruising power forward who was coming off a serious torn ACL injury but could help out in the area of frontcourt dirty work while also providing some useful scoring on both the perimeter and low block.
They were eventually beat out by the Indiana Pacers, where West has basically played at an All-Star level in 118 games since. Why am I mentioning West? Because a younger, more athletic, overall better version of the Pacers forward is currently on the trade block. His name is Paul Millsap.
One of the most sought after players on the market right now, Millsap is a grisly power forward chiseled from the same no-nonsense block of wood that Boston subscribes to. His presence would ease up Kevin Garnett's load on the glass and Paul Pierce's responsibility to score.
Adding a player as good as Millsap would turn Boston into a force very few teams could handle in a seven-game series, and if a move to acquire him is presented, it'd be wise to grab it.
Twitter: @MichaelVPina