Bracketology: Analyzing Most Intriguing March Madness Contenders After Week 15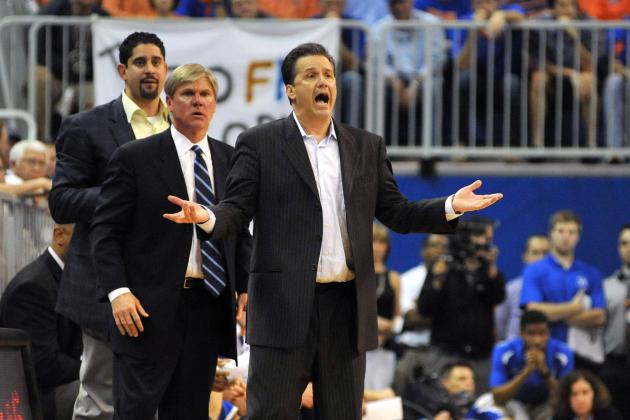 Al Messerschmidt/Getty Images

For most college basketball teams, the first goal of the season is reaching the NCAA tournament. However, that objective will prove to be difficult for some of the country's top squads.
Each week during the season, teams that are on the bubble for March Madness are under a lot of pressure to win a big game. While some came through this week, others severely hurt their profiles with losses.
Of course, everything can change before the end of the season.
Here are predictions and analysis of the teams that have the most to worry about leading up to Selection Sunday.
Follow me on Twitter for the latest college basketball information and analysis through the end of One Shining Moment.
Begin Slideshow

»
Jamie Squire/Getty Images

Results: Win vs. No. 9 Arizona, 71-58; Loss vs. Arizona State, 63-62
With a 7-6 record in one of the weaker conferences in the country, Colorado seems like it has only an outside chance of making the tournament.
However, a deeper look shows that this squad is very deserving of an at-large bid.
The Buffaloes got a huge win this week over Arizona, avenging an overtime loss from earlier in the year. This is the second big victory of the month after winning at Oregon.
In addition, Colorado's win over Colorado State looks very impressive at this time of the year.
The problem is that the bad losses have been piling up as well. A loss to Utah is downright embarrassing, and the recent defeat to Arizona State will hurt as the two are compared as bubble teams.
If the Buffaloes want to make the NCAA tournament, they will likely need at least 10 or 11 wins in conference and a decent showing in the conference tournament.
Prediction: IN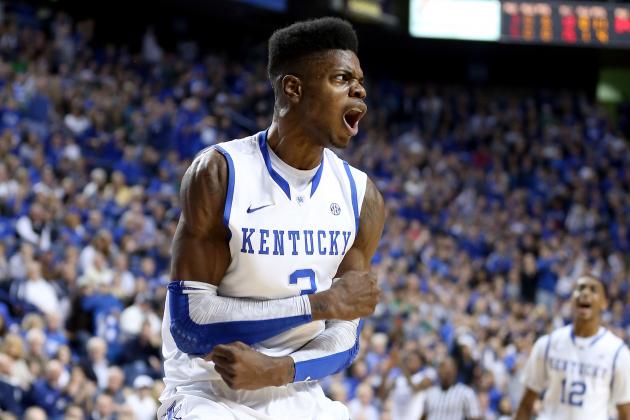 Andy Lyons/Getty Images

Results: Loss at No. 7 Florida, 69-52; Loss at Tennessee, 88-58
Kentucky not only lost two games this week, but Nerlens Noel also tore his ACL and is out for the season. Things cannot get much worse in Lexington.
Heading into the game against Florida, the Wildcats were second in the SEC standings and had a chance to tie for first. That hope is long gone at this point.
The tournament selection committee now takes into account how teams fare with and without key players. In the first game without Noel, Kentucky showed that it does not belong anywhere near the postseason.
Looking at the complete profile, the Wildcats are a bubble team with only a few good wins. However, taking into account what they looked like on Saturday, they are clearly far out of the running.
It will take a big effort for this storied program to turn things around over the next few weeks.
Prediction: OUT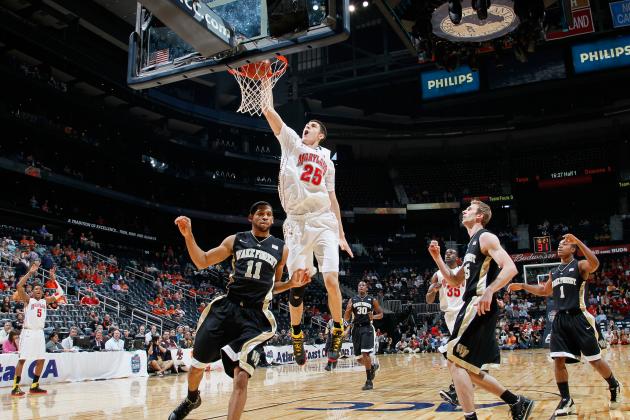 Kevin C. Cox/Getty Images

Results: Win vs. No. 2 Duke, 83-81
Maryland only had one game this week, but the Terrapins made it count with a big home victory over No. 2 Duke.
With the victory over North Carolina State losing prestige, this was an important resume-building win for the young team. However, that same squad has to prove it can get it done against the weaker teams in the conference as well.
The next four games are against teams with losing records in the ACC. Making it out of this stretch unscathed will be much more important than getting another big win.
In order to get into March Madness, a team has to show it is capable of beating great teams and does not fall apart against the weaker foes. Maryland did the first part on Saturday, but it now has to accomplish the other half of the equation.
If Alex Len can play like he did against Duke, that should not be a problem.
Prediction: IN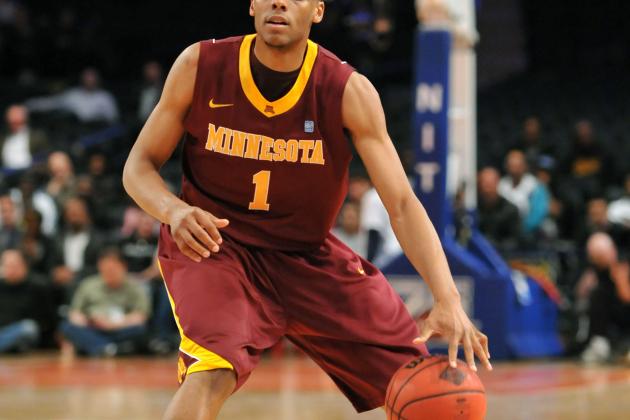 Jason Szenes/Getty Images

Results: Win vs. No. 20 Wisconsin, 58-52; Loss at Iowa, 72-51
Minnesota has the marquee wins in the toughest conference in America to make the tournament, but this team is fading fast.
After starting the year 15-1, the Golden Gophers have now lost seven of their last 10. This includes all five road games during that stretch.
They picked up a huge win against Wisconsin this week after ending regulation on a 6-0 run to send the game into overtime. Unfortunately, those good feelings were lost quickly with a blowout loss at the hands of Iowa.
Things get even tougher next week as Minnesota has a matchup at Ohio State and then home against Indiana.
If the Gophers are unable to secure at least one of these upsets, it will make things interesting on Selection Sunday.
Minnesota's wins over Michigan State, Memphis and Illinois will probably keep the squad in the tournament, but the collapse should be concerning.
Prediction: IN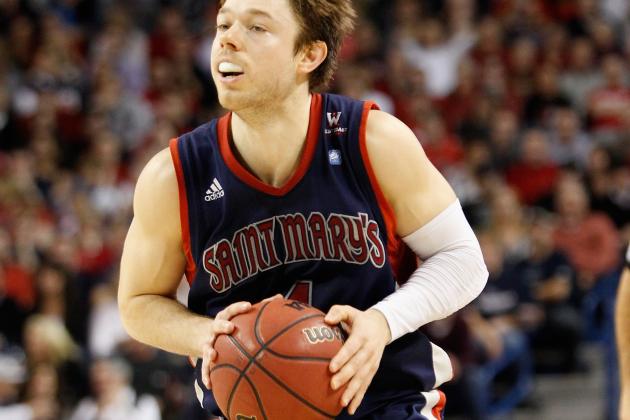 William Mancebo/Getty Images

Results: Loss vs. No. 5 Gonzaga, 77-60; Win at Loyola Marymount, 61-50
College basketball analysts love to talk about the "eye test" when it comes to inclusion in the NCAA tournament; the question is whether the team in question "looks" good enough to play with the best in the country.
If you watch Matthew Dellavedova and Saint Mary's play, the answer to that question is yes.
Unfortunately, the profile will keep the Gaels from securing an at-large bid to the Big Dance.
After a hard-fought loss to Gonzaga, they are running out of chances at getting a big win. Creighton comes to town next weekend, but the Blue Jays have lost three of four and are fading fast.
Saint Mary's has bad neutral losses to Pacific and Georgia Tech, and not enough good wins. Despite a 22-5 record, it is simply not enough to get an invite to the NCAA tournament.
Prediction: OUT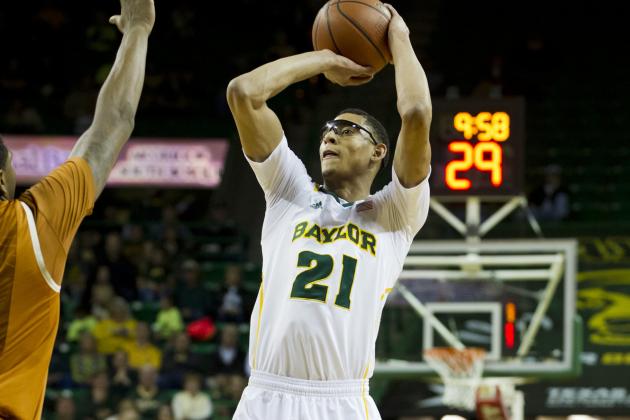 Cooper Neill/Getty Images

Results: Win vs. West Virginia, 80-60; Loss at Kansas State, 81-61
There is no better example of the divide between good teams and bad in the Big 12 than this week. Baylor dominated West Virginia by 20 points on one day and then was destroyed by the same margin at Kansas State a few days later.
The Bears are clearly somewhere in the middle of the conference, but the question is where that ranks in the rest of the country.
As of now, the only good wins on the season are against Oklahoma State at home and on the road against Kentucky. However, neither of these is good enough to overcome losses to Northwestern and College of Charleston.
This squad has a lot of talent with Pierre Jackson and Isaiah Austin, but we have reached the point where that has to start equating to wins. For this team to have a chance at the tournament, it will likely need to beat either Kansas or Kansas State in March.
Otherwise, the Bears might be too far down the Big 12 pecking order to reach the postseason.
Prediction: OUT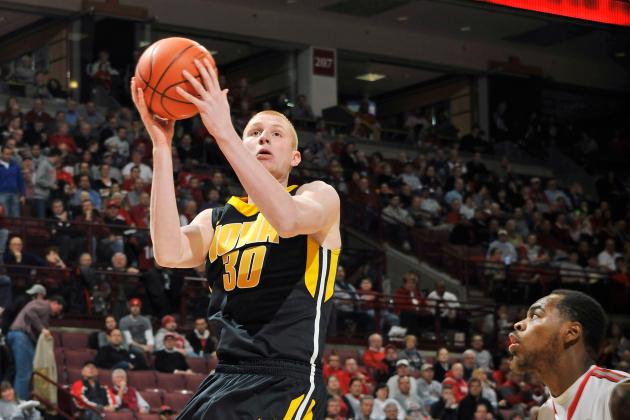 Jamie Sabau/Getty Images

Results: Win at Penn State, 74-72; Win vs. Minnesota, 72-51
Iowa has been an afterthought in the strong Big Ten all season long, but it is making a late charge for the tournament.
This week's victory over Minnesota was a statement to the selection committee that the Hawkeyes need to be taken seriously.
They currently have a 6-7 conference record, but only one of the final five games are against teams with a winning conference record. They could become a serious contender for the bubble if they are able to get to 10-8 in that tough league.
However, the thing that will hold Iowa back is RPI. It is currently No. 79 in the country, according to ESPN, with a non-conference strength of schedule of 323.
Wins against upcoming opponents like Nebraska are unlikely to improve the computer numbers too much.
Iowa is the type of young team that no one will want to play, but reaching the NCAA tournament is unlikely this season.
Prediction: OUT