Top 10 Switch-Hitters in Major League Baseball History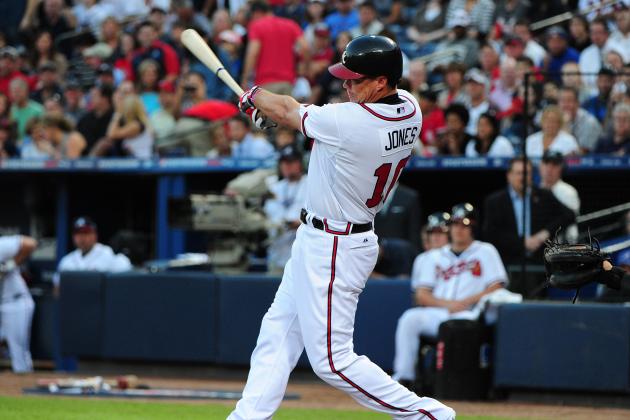 Scott Cunningham/Getty Images

Switch hitters are always at a premium in baseball. The degree of lineup versatility and the more even splits offer teams a lot of benefits.
With 2013 marking the first spring training since 1993 without Chipper Jones, it seems as good a time as any to take note of the exclusive club of elite switch-hitters, of which Jones is platinum member.
Switch-hitting is a skill that only a small percentage of baseball players have, and one that far fewer have mastered. Though the list of the elite is not large, it was still difficult to pare it down to such a small a number as 10.
Begin Slideshow

»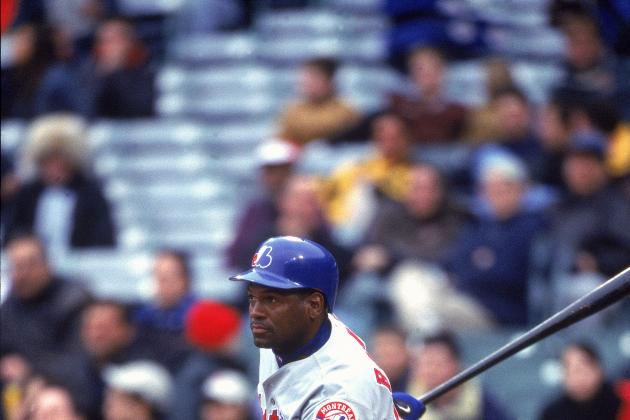 Jonathan Daniel/Getty Images

The speedster Tim Raines kicks off this list as the 10th-best switch-hitter of all time. While he is remembered mostly for his 808 stolen bases, Raines was a fantastic hitter. After all, how did he get on base enough to rack up those steals?
Raines enjoyed an incredibly long major league career, which spanned four decades and six different teams, and was very productive during it. His .294 batting average and .385 on-base percentage, as good as they are, don't tell the full story behind Raines' greatness.
During the years 1983-1987, with the Montreal Expos, Raines batted .318, stole 311 bases, won a batting title and finished in the top 12 in MVP voting each season.
Raines' splits were as evenly spread as anyone's. His .293 batting average while hitting right-handed was just a hair worse than his .294 batting average while hitting left-handed.
Interestingly, he enjoyed significantly more success stealing bases while batting lefty; as a lefty, he successfully stole 87.9 percent of the time, whereas as a righty, that dropped to 73.7 percent. That likely has a lot to do with the fact that the pitchers were lefties when he batted righty, and lefties are tougher to steal against.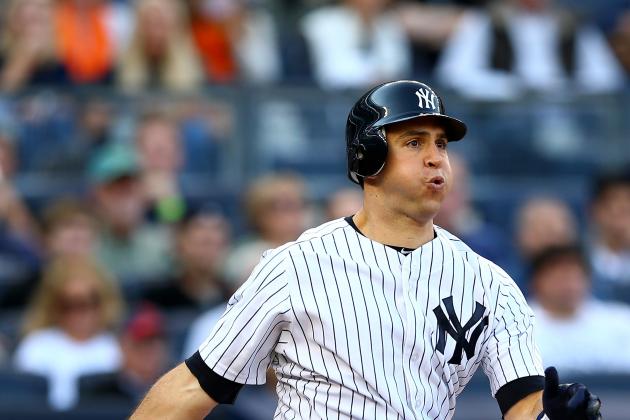 Elsa/Getty Images

One of only two active players on this list, Mark Teixeira has already established for himself a spot among the greats.
In his 10-year career, Teixeira has hit at least 24 homers every season and has driven in over 100 runs eight times.
His splits are interesting; from one side he has the pop, and from the other he has the average. From the left side of the plate, Teixeira has hit 241 homers with only a .269 batting average. From the right side of the plate, he has hit only 96 homers, but has batted .301.
At 32 years old, Teixeira could conceivably climb a couple spots on this list by the time his career is over. That might not happen with the way things are trending, though. Teixeira's OPS has dipped in every season since 2009, and he hit a career-low 24 home runs last season.
Still, the Yankees' first baseman has already shown enough excellence to deserve a spot among the greatest switch-hitters of all time.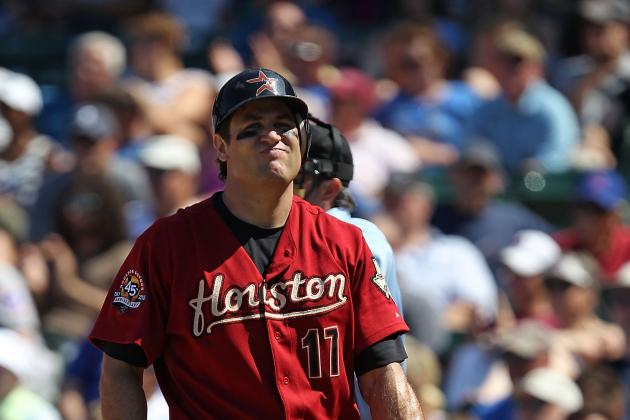 Jonathan Daniel/Getty Images

The long-time Houston Astros star comes up at No. 8 on the list.
Berkman has quietly put together a very nice career for himself. His average hovers just shy of .300, at .296; he has driven in 100-plus runs six times, scored 100-plus five times and has hit 360 home runs and 412 doubles to boot.
That all goes along nicely with his six top-seven MVP finishes and his contributions to the St. Louis Cardinals' World Series victory in 2011 (Berkman batted .423 with a .516 on-base percentage in that series).
There was some hesitation with putting Berkman on this list because of his splits. In no way is he better (or even close to as good) from the right side than he is from the left (313 home runs from the left, 47 from the right; .307 average from the left, .260 from the right).
From both sides of the plate, however, he is able to draw walks. He averages .129 bases-on-balls from the right-hand side and .162 from the left-hand side.
Regardless of the terrible splits, Berkman is just such a great hitter that he could not be kept off any listing of the great switch-hitters in baseball history.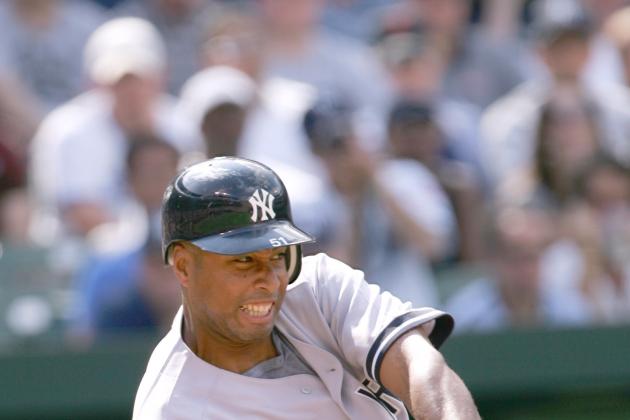 Doug Pensinger/Getty Images

Bernie Williams was a key cog in the Yankees' dynasty of the late 1990s. He and Jorge Posada (who would have made the extended-cut of this list) formed an unmatched duo of switch-hitters.
It is sad that Williams' career average dipped below .300 by the end. This was a man who had posted, from 1995-2002, eight straight seasons with a .300-plus batting average. In fact, it wasn't even close to .300—his average was an astounding .321 during that span. He also slugged .537 during it, and registered 495 extra base hits in those years.
Williams posted pretty clean splits during his 16-year Yankee career. He averaged .308 batting right-handed, and .292 batting left-handed. His power was also very consistent from the two sides of the plate. He may have hit 179 home runs from the left side versus only 107 from the right side, but this was because he had far more at-bats from the left side. In truth, he averaged more homers per at-bat from the right-hand side than the left-hand side, .0435 to .0332, respectively.
He also must be given some credit for his contributions to the four World Series championship teams he was a member of. Williams was the cleanup hitter most games during those years, and while he did not do so well in the World Series (he hit just .208 in his 32 World Series games), he made up for it with his spectacular performances in the ALCS (.321 average in 41 games).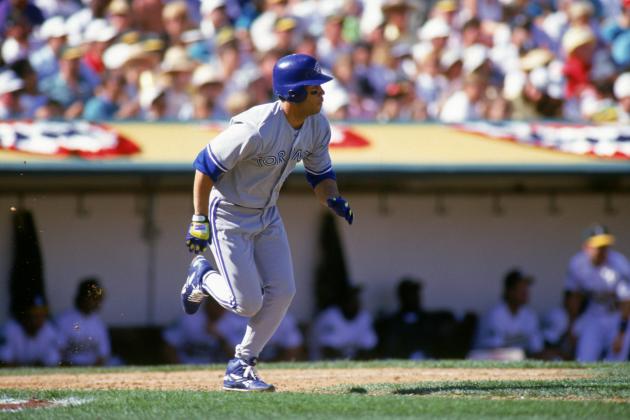 Otto Greule Jr/Getty Images

In addition to being one of the game's greatest second basemen, the 2011 Hall of Fame inductee Robert Alomar is also one of its greatest switch-hitters.
Though he played for seven different teams, Alomar is best known as a member of the Toronto Blue Jays. Alomar lent his switch-hitting prowess and wonderful glove to the 1992 and 1993 Blue Jays en route to a pair of World Series titles.
He is one of the few switch-hitters to bat .300 over his career (he retired, in fact, at exactly .300), by virtue of his 2724 hits. He also showed some pop from both sides of the plate for a guy not known as a power hitter, hitting 70 homers from the right side and 140 more from the left.
He did not enjoy the clean splits that some other great switch-hitters boast. His average dropped 46 points when he hit from the left side of the plate. Still, you can bet that no right-handed pitcher felt comfortable facing Alomar, even from his weaker side.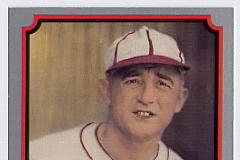 Photo courtesy of www.claremontshows.com
Frankie Frisch is one of the more overlooked stars of the 1920s. A contemporary of Babe Ruth, Ty Cobb and Rogers Hornsby might expect to be neglected.
But the four-time World Series champion certainly deserves the distinction of top-five switch-hitter of all time. Over his 19-year career, Frisch had a lifetime batting average of .316 to go along with 466 doubles and 105 home runs. He was awarded the MVP in 1931, which, interestingly enough, was one of his weaker seasons.
Along with Chipper Jones, Frisch is the only hitter to bat .300-plus from each side of the plate; he hit .320 from the left side and .304 from the right.
Frisch is best known for being the heart of the "Gashouse Gang," which was the nickname of the St. Louis Cardinals teams during the Great Depression. He even was player-manager from 1933-1937 with the Cardinals.
Frisch was traded from the New York Giants to the Cardinals before the 1927 season. Before that trade, the Giants reached four World Series and won two. After the trade, the Cardinals appeared in four World Series and won two, while the Giants only made one World Series in that span.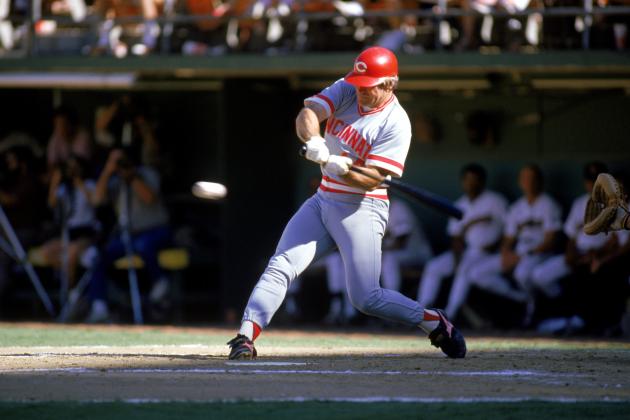 Stephen Dunn/Getty Images

Pete Rose is known for many things: his blacklisting from baseball, his intense attitude, his collision with Ray Fosse in the 1970 All-Star Game. Sometimes lost in the mix is his high quality of play.
Rose was the epitome of longevity and persistence, playing in a major league-most 3,562 games and batting a major league-most 14,053 times. And through all of that playing time, he was able to best Ty Cobb's lifetime hits record, with 4,256. Despite all those hits, he finished his career with a relatively low .303 batting average (because of all those at-bats).
Rose's accolades include three World Series championships. Two came with the Cincinnati Reds' fabled "Big Red Machine" teams of the 1970s, and the other was the Philadelphia Phillies' first championship in 1980.
He also grabbed the Rookie of the Year award in 1963 and the NL MVP award in 1973. He also had three batting titles and led the league in runs four times and in hits seven times. The list of career numbers is just remarkable all around.
His splits were also very consistent. He batted .307 from the left side and .293 from the right.
Though he may not be in the Hall of Fame because of off-the-field controversy, there is little doubt that Rose is one of the best switch-hitters ever.
Doug Pensinger/Getty Images

The only switch-hitter to smack 500 home runs and compile 3,000 hits, Eddie Murray was certainly a dynamic hitter.
Murray enjoyed a long career that spanned 21 years. He played for six different franchises, but his best years came with the Baltimore Orioles. With the Orioles, he was a huge part of the 1979 and 1983 American League champion teams.
Oddly enough, Murray never hit more than 33 home runs in a single season. He made up for the lack of a single spectacular season by having many great ones; he hit double-digit home runs in every season but his last.
The left-hand side was clearly Murray's preference, as he hit 362 of his 504 homers from that side and batted 17 points higher batting left-handed than he did right-handed. He was still a formidable bat no matter which side of the plate he was on.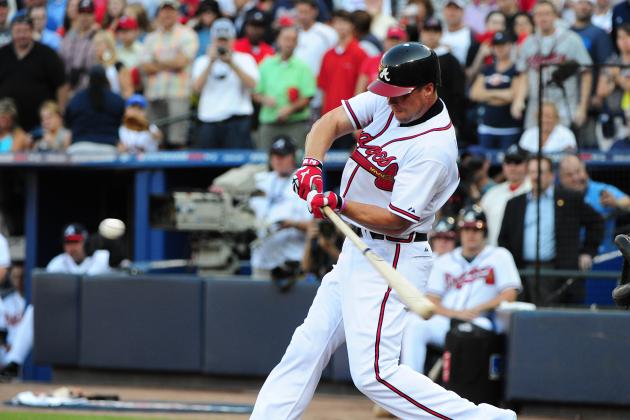 Scott Cunningham/Getty Images

2012 marked the end of an era. Up to his retirement last season, Chipper Jones was a mainstay in the Atlanta Braves' lineup, anchoring the lineup of their 14 consecutive division championships from 1991-2005.
Jones accumulated some historic numbers in his 19-year career. He finished with a .303 batting average, .401 on-base percentage, 468 home runs and 2,726 hits. He won one MVP award, one batting title and made eight All-Star Games.
Equally impressive were his consistent splits from each side of the plate. He posted a .303 batting average and .405 on-base percentage batting left-handed and a .304 batting average and .391 on-base percentage batting right-handed. His power, however, was better on the left side of the plate, as he hit 361 of his home runs from that side.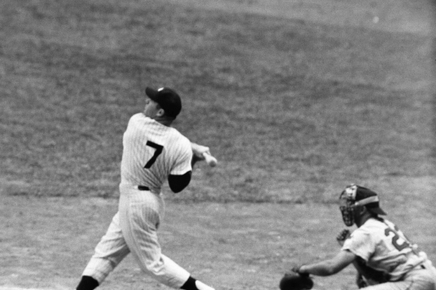 Photo coutesy of www.marshallmatlock.com
The choice for top switch-hitter of all time is Mickey Mantle almost by default. You could get cute and throw someone else atop the heap, but that would just undermine all credibility.
Mantle embarked upon his major league career as a 19-year-old teenager from rural Oklahoma. He would end it as a legend of the big-city darling New York Yankees.
There is so much to be said about Mantle, who was one of the great five-tool players to play the game. He was not the most popular player among Yankees fans when he came into the league—replacing a legend like Joe DiMaggio will do that—but over time, he was so good that Yankees fans had no choice but to love him.
His resume is comparable to those of any that have played the game. He reached the All-Star Game 20 times in 16 different years (1959-1962 there were two All-Star games, and he made both each year) and won the MVP three times. Even more incredibly, he finished runner-up another three times, and in the top five another three times. Yes, the man was not human.
By the time his career was finished, his 536 home runs were nicely complemented by a .298 career average and a .421 career on-base percentage.
While he was a great hitter from both sides of the plate, he was better from the right side. From that side, he batted an insane .330, while he hit a "meager" .280 from the left. His power was better from the left side, though. From that side, he clocked 369 home runs and averaged .070 home runs per at bat. From the right side, those numbers dropped to 161 and .059, respectively.
Most mind-boggling is the fact that if his knees hadn't limited his production in the later stages of his career, he could have been even better.