Thornton Could Commit to UF "at Any Moment"
Use your ← → (arrow) keys to browse more stories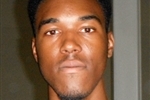 There are few 4-year-olds growing up in Alabama who root for the Gators. If you can find one, his or her family must have graduated from UF or been lifelong Florida fans. But that wasn't the case with Justin Thornton. His mother cheered for the Crimson Tide and he knew nothing about the Gators until a trip to Louisiana in late 2000...