2013 March Madness Field of 68 Projections: Feb. 18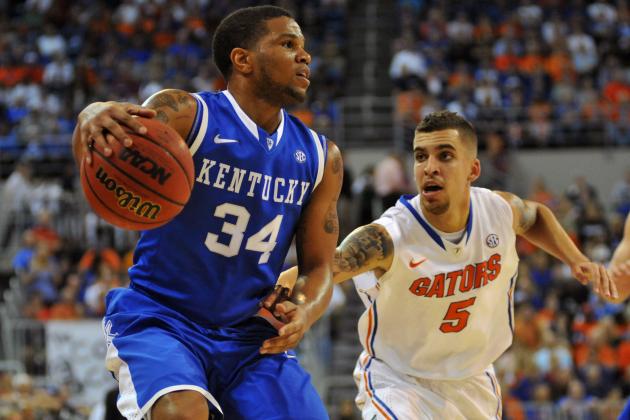 Al Messerschmidt/Getty Images

With just 27 days left until Selection Sunday, everything from No. 1 seeds to spots in the field remains up for grabs.
I like to break teams down into three categories:
1. Wallflowers are bubble teams, because everyone wants to get into the Big Dance, but not all of them have the guts to ask a girl out onto the dance floor.
2. An elite team that is safely in the field is "Dancing with a Hottie."
3. A school in the middle is "Dancing with Its Sister."
For two of the past three years, my final bracket projections have been more accurate than those of ESPN's Joe Lunardi, and I had the most accurate projections in the country in 2011.
I'll begin with the two First Four at-large-bid games:
(No. 12a) UMass vs. (No. 12d) Ole Miss
(No. 12b) Villanova vs. (No. 12c) Iowa State
First 14 Teams Out: Alabama, Southern Miss, Arizona State, Virginia, Baylor, Kentucky, Wyoming, St. John's, Maryland, St. Mary's, BYU, Boise State, Air Force, Iowa
The projections are presented in slideshow format, with each major conference receiving its own slide.
First up is the ACC.
Begin Slideshow

»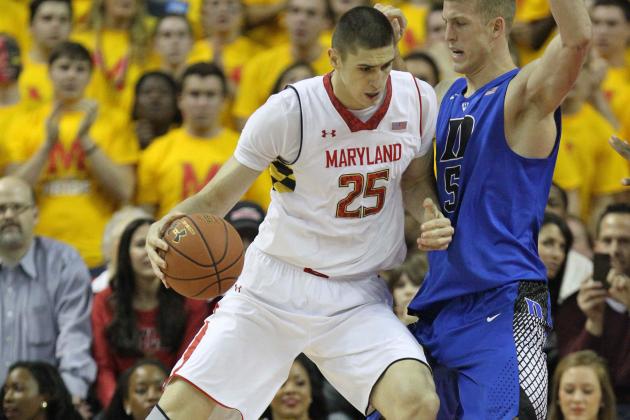 Mitch Stringer-USA TODAY Sports

Dancing with a Hottie: Miami (No. 1 seed), Duke (No. 1)
Dancing with Its Sister: NC State (No. 6)
Wallflowers: North Carolina (No. 11), Virginia (fourth team out), Maryland (ninth team out)
Duke lost by a basket at Maryland on Saturday but remains on the top line due to the strength of its overall resume. The Blue Devils are the top team in the country in RPI, overall strength of schedule and nonconference SOS. In addition, they are 7-2 against the Top 50, 12-3 vs the Top 100 and 9-3 away from Cameron Indoor Stadium.
North Carolina moves to safer ground after two solid performances last week. The Tar Heels lost at Duke, but there's no shame in that, and they played well, falling by only five points. Three days later, UNC whopped fellow bubble-team Virginia and now sports some pretty strong computer numbers (RPI 30, SOS 16).
That loss was UVa's first against the Top 100, but the Cavs still have those six sub-100 defeats, dropping their RPI to a very questionable 79. Another opportunity awaits with a trip to Miami on Tuesday.
Maryland gets on the radar with that huge win over Duke, but one win does not make a resume. The Terps still have poor computer numbers (RPI 62, SOS 90, nonconference SOS 299), a 3-7 record against the Top 100 and a 3-5 mark away from home.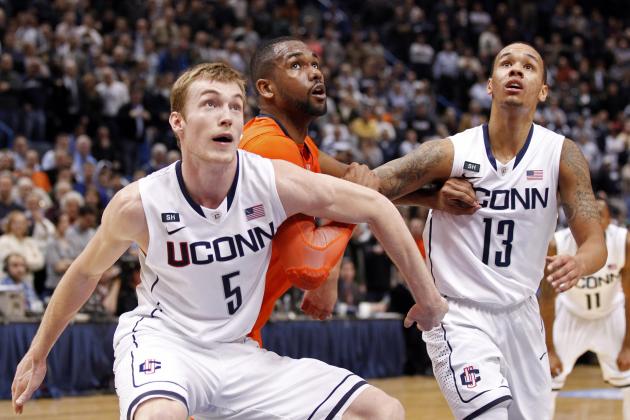 USA TODAY Sports

Dancing with a Hottie: Syracuse (No. 3), Louisville (No. 3), Georgetown (No. 4), Marquette (No. 5)
Dancing with Its Sister: Pittsburgh (No. 6), Cincinnati (No. 7), Notre Dame (No. 8)
Wallflowers: Villanova (No. 12b), St. John's (eighth team out)
Syracuse drops a line following its 66-58 loss at UConn. Brandon Triche had one of his worst games of the season, going 3-for-15 from the field, including 0-for-7 from long range. That was the Orange's final Big East meeting with the Huskies, and a record crowd is expected at the Carrier Dome on Saturday, when SU hosts archrival Georgetown for the final time as conference foes.
The Hoyas, meanwhile, are red-hot, winners of seven straight, including victories last week over Marquette and Cincinnati. The Golden Eagles then bounced back with a win over Pitt on Saturday.
Nearly every NCAA-bound Big East team lost last week as Notre Dame fell at Providence, and Cincinnati suffered a seven-point home defeat at the hands of Georgetown on Friday.
Villanova moves into the field with a victory at UConn on Saturday. That moves the Wildcats to 7-6 in conference, 3-5 against the Top 50 and 7-6 in road/neutral games. They also have an impressive 30th-ranked schedule strength.
St. John's, on the other hand, falls out of the field following its second straight loss. There's no shame in losing at Syracuse and Louisville, but the Red Storm is now 0-4 in its opportunities to pick up signature wins against the RPI Top 25. The Johnnies, who sport a questionable 58 RPI, are also under .500 vs. the Top 100 and away from home.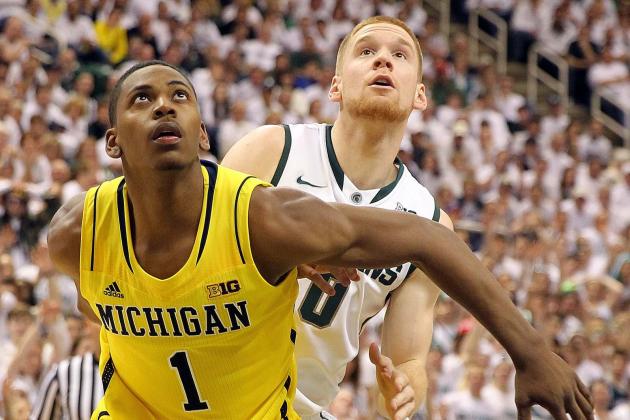 Mike Carter-USA TODAY Sports

Dancing with a Hottie: Indiana (No. 2), Michigan (No. 3), Michigan State (No. 3), Wisconsin (No. 4), Minnesota (No. 5)
Dancing with Its Sister: Ohio State (No. 6)
Wallflowers: Illinois (No. 9), Iowa (14th team out)
The top-ranked Hoosiers remain on my second line because their computer numbers (RPI 12, SOS 34, nonconference SOS 81) and records against the Top 50 (6-3), vs. the Top 100 (8-3) and in road/neutral games (7-2) do not compare favorably to the other teams in the top 12 of the RPI.
Michigan drops to a No. 3 seed after getting throttled, 75-52, at Michigan State.
Wisconsin moves all the way up to a No. 4 seed following a 71-49 blowout of Ohio State. The Badgers have three wins over the RPI Top 25, six against the Top 50 and nine vs the Top 100. They also have the seventh-ranked schedule strength and not a single loss to a sub-80 opponent.
Minnesota beat Wisconsin last week, but then turned around and lost at Iowa for the Gophers' third loss in four games and seventh in their last 10. However, they remain on solid ground thanks to early-season triumphs over Memphis, Michigan State and Illinois. In addition, only Miami and New Mexico have more Top 100 wins than Minnesota.
Iowa gets a mention this week thanks to that victory over Minnesota. The Hawkeyes have three Top 50 wins, but their computer numbers are dreadful (RPI 80, SOS 104, nonconference SOS 321), and they are 4-7 against the Top 100 and in road/neutral games.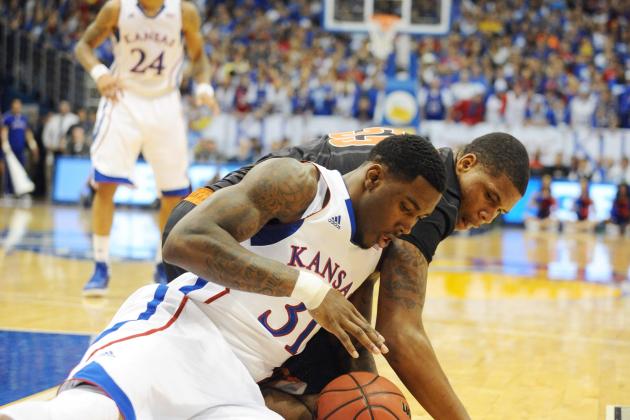 USA TODAY Sports

Dancing with a Hottie: Kansas (No. 2), Kansas State (No. 4)
Dancing with Its Sister: Oklahoma State (No. 5), Oklahoma (No. 7)
Wallflowers: Iowa State (No. 12c), Baylor (fifth team out)
Kansas is slowly recovering from that historic three-game losing streak. The Jayhawks dominated both Kansas State and Texas at home last week to move up to a No. 2 seed.
Oklahoma State continues to move up the pecking order, running its win streak to seven with victories over Texas Tech and Oklahoma last week.
Iowa State suffered a bad loss at Texas on Wednesday, dropping the Cyclones into a First Four game. Their strength of schedule figures are weak (overall 78, nonconference 175), and they are just 2-5 against the Top 50, 3-8 away from home and now have two sub-140 losses.
Baylor had a chance to get itself back into the field, but the Bears laid an egg at Kansas State on Saturday. They are just 2-7 against the Top 50.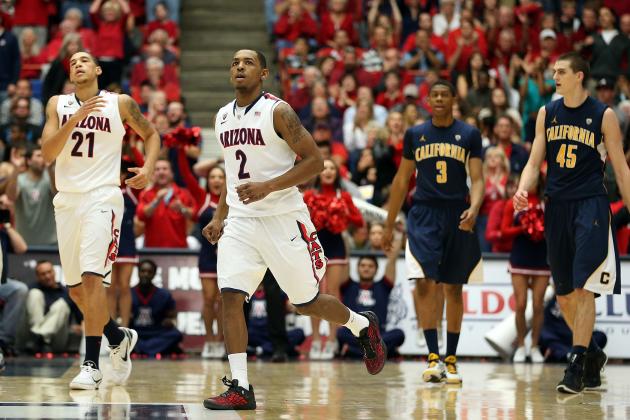 Christian Petersen/Getty Images

Dancing with a Hottie: Arizona (No. 2)
Dancing with Its Sister: Oregon (No. 6), UCLA (No. 9)
Wallflowers: Colorado (No. 9), California (No. 10), Arizona State (third team out)
Arizona's stay on the top line finally ended with a loss at Colorado on Thursday. The Buffaloes then lost some of the value they had gained from that win when they fell at home to Arizona State two days later.
UCLA drops after a loss at Cal on Thursday. The Golden Bears, meanwhile, are heating up at the right time. They've won three in a row and five of six to climb to 53rd in the RPI. They have a great win at Arizona, two more good wins over UCLA and Oregon and not a single sub-100 loss on the ledger.
Arizona State's win at Colorado wasn't enough to make up for its earlier loss at Utah, and so the Sun Devils remain just outside of the field. Their 302nd-ranked nonconference SOS is really weighing down an otherwise OK resume.
Stanford not only moves out of the field, but out of consideration as well following consecutive home losses to USC and UCLA last week. The Cardinal is now 1-8 against the Top 50 and 6-7 in the Pac-12.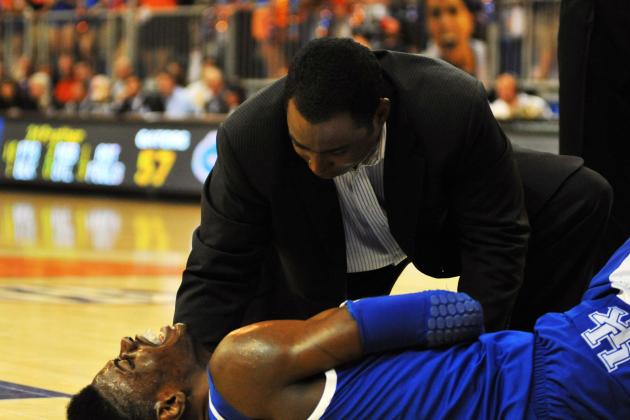 Al Messerschmidt/Getty Images

Dancing with a Hottie: Florida (No. 1)
Wallflowers: Missouri (No. 10), Ole Miss (12d), Alabama (first team out), Kentucky (sixth team out)
Missouri drops all the way down to a No. 10 seed following its loss at Arkansas on Saturday. The Tigers, who are a dreadful 1-6 in true road games, get a big opportunity at home against Florida on Tuesday.
Ole Miss falls to my last team in after losing at Texas A&M on Wednesday. The Rebels are only 1-4 against the Top 50, and the Selection Committee won't look kindly on their 273rd-ranked nonconference SOS.
Alabama beat Georgia and South Carolina last week, and while those wins are nothing impressive, they are wins. The Crimson Tide improves to the first team out, but those four sub-100 losses are holding them back.
I didn't have Kentucky in my field before Nerlens Noel's season-ending injury, and I certainly don't have them in after it. The Wildcats didn't have much of a resume to impress the committee before losing their best player, and now they'll have to start from scratch as they will be evaluated based on their play without him. The first impression wasn't good with a 30-point loss at Tennessee on Saturday. UK is 0-4 against the Top 50 and 4-8 vs. the Top 100.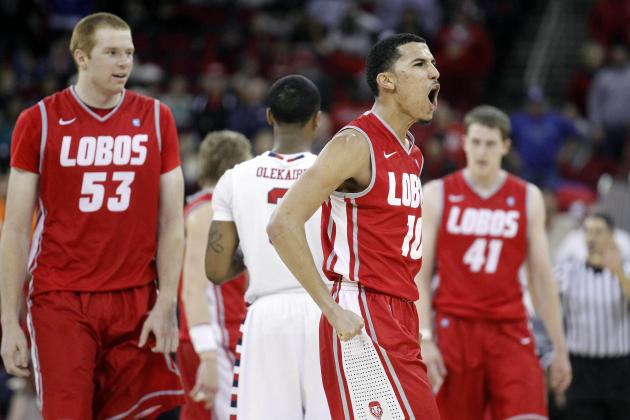 Cary Edmondson-USA TODAY Sports

Dancing with a Hottie: New Mexico (No. 1)
Dancing with Its Sister: Colorado State (No. 5), San Diego State (No. 7), UNLV (No. 8)
Wallflowers: Wyoming (seventh team out), Boise State (12th team out), Air Force (13th team out)
Yes, I have New Mexico as a No. 1 seed. The Lobos are third in the RPI, fifth in overall strength of schedule and seventh in nonconference SOS. Their 14 Top 100 wins are the most of any team in the country, and they defeated UConn, Indiana State, Cincinnati, Boise State and Wyoming all away from home. Then add a pair of RPI top-20 victories at home against UNLV and Colorado State. Finally, UNM is leading the second-ranked conference in America.
Colorado State is surging as well with triumphs over San Diego State and Air Force last week to increase the Rams' win streak to six. They have won 27 straight at home.
The Aztecs, meanwhile, are headed in the opposite direction, losing at Colorado State and UNLV last week.
Look who's back! Wyoming returns to the radar with a pair of wins last week. The Cowboys still have a lot of work to do thanks to poor computer numbers (RPI 64, SOS 100, nonconference SOS 237) and a 3-6 mark against the Top 100, but they still have that victory over Colorado back on Dec. 1.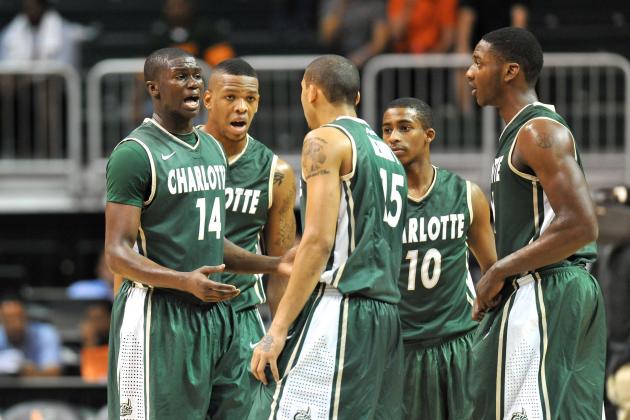 USA TODAY Sports

Dancing with a Hottie: Butler (No. 4)
Dancing with Its Sister: VCU (No. 7)
Wallflowers: St. Louis (No. 9), La Salle (No. 10), Temple (No. 10), Charlotte (No. 11), UMass (No. 12a)
VCU has won five straight and is back up to a No. 7 seed.
St. Louis crushed Charlotte, 75-58, in a big bubble game on Saturday and has now won seven in a row.
After losing at home to Duquesne on Thursday, there was almost no way Temple would remain in the field this week, but then the Owls won a huge Wallflower game at UMass on Saturday. Everything about Temple's resume is "just good enough." Their computer numbers are barely better than other bubble teams (RPI 52, SOS 59, nonconference SOS 88), and the same can be said for their records against the RPI Top 25 (1-3), Top 50 (2-3) and Top 100 (6-5). The Owls are also 7-5 in road/neutral games.
Charlotte got blown out at St. Louis on Saturday, but the 49ers had already done enough to get themselves back in the field with a win at Butler on Wednesday. That's the ace in the hole for any A-10 team this season.
UMass lost to VCU and Temple last week and is barely holding onto a spot. The Minutemen can thank their strength of schedule numbers (58 overall and out-of-league), as well as their six Top 100 wins and 8-5 mark away from home.
Xavier has been removed from consideration after a loss at Dayton dropped its RPI to 98.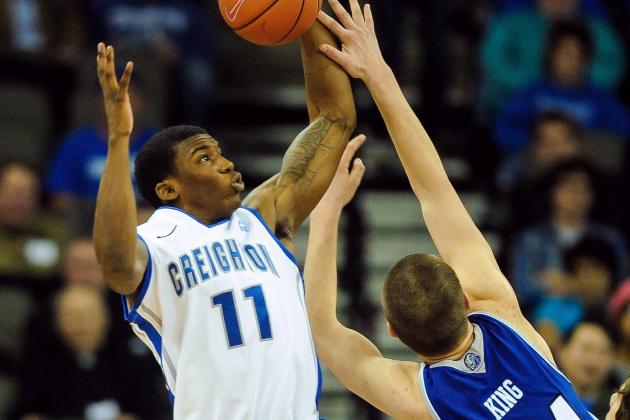 Eric Francis/Getty Images

Dancing with a Hottie: Gonzaga (No. 2)
Dancing with their Sister: Wichita State (No. 8), Memphis (No. 8)
Wallflowers: Creighton (No. 11), Indiana State (No. 11), Belmont (No. 12), Middle Tennessee (No. 12), Southern Miss (second team out), Saint Mary's (10th team out), BYU (11th team out)
Some have said that Creighton is a lock for the tournament based on its No. 21 ranking in the Pomeroy Ratings, but if you look at actual wins and losses (something the Selection Committee kind of cares about), you will find that the Bluejays have lost three of four and five of nine. Over the past two weeks, they've lost to Indiana State, Illinois State and Northern Iowa, and they barely avoided a fourth straight loss at lowly Evansville on Saturday. Other than that win over Wisconsin back on Nov. 23, Creighton's best win is Akron.
Indiana State is the most frustrating team in the country. The Sycamores added two more sub-100 wins last week with losses at Missouri State and Bradley to bring their season total up to a horrid six, but they also have wins over Ole Miss, Miami, Wichita State and Creighton. Try to figure that one out.
People fall in love with Saint Mary's 21-5 record, ignoring the fact that 18 of those wins have come against sub-100 competition. The Gaels got blown out at home by Gonzaga on Thursday and now have just one more chance to pick up a big win (against Creighton in the BracketBusters game on Saturday) to give them any hope of an at-large bid.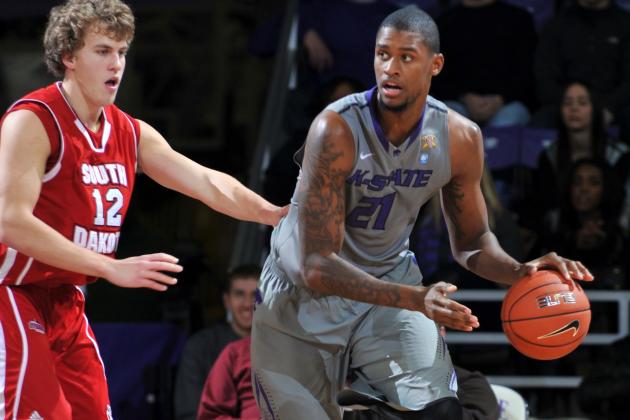 USA TODAY Sports

No. 13 Seeds: Bucknell, South Dakota State, Louisiana Tech, Akron
No. 14 Seeds: Valparaiso, Stephen F. Austin, Stony Brook, Davidson
No. 15 Seeds: Harvard, Robert Morris, Long Beach State, Montana
No. 16 Seeds: Niagara, Mercer, Northeastern vs. High Point, Norfolk State vs. Southern
Follow me on Twitter @JordanHarrison.