The 20 Coolest Trick Shot Videos Ever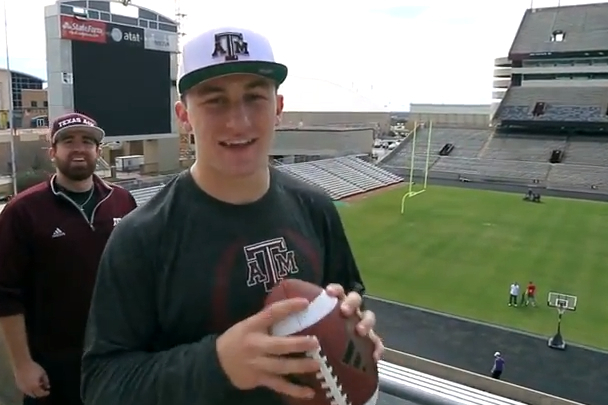 Source: TotalProSports.com
When you throw a football off the top level of a sports stadium toward a basketball hoop on the field, you don't expect it to go in.
But sometimes, when you practice enough, it does—and that puts you into the Trick Shot Hall of Fame.
Some of these videos are so cool and so unlikely that you have to wonder if they've been doctored (I'm talking to you, Sidney Crosby). Most likely, though, they haven't been, and these guys and girls are just uniquely and freakishly talented.
Here's a look at some of the coolest trick shot videos out there.
Begin Slideshow

»
Carli Lloyd is a good person to have on your team when you're, say, trying to win the gold medal at the Olympics. She did score the game-winning goal for the U.S. back in 2008 in Beijing and helped the women's team garner gold yet again in London last summer.
But she also has some unique shooting skills that are good for impressing the crowds—and her teammates—during practice, even if they may not do anything for her at game time.
Bleacher Report caught up with Lloyd before the Olympics last summer to watch her show off her trick shot reel. When you can make water bottle explode with the sheer force of your shot, you know you're doing something right.
Dude Perfect pretty much owns the online space dedicated to spectacular trick shot videos, and this one is no exception. This summer, they orchestrated a special Olympics edition of trick shots to help count down the days until the Games kicked off in London.
Here, we have a compilation of Olympic-themed tricks—complete with cameos from the likes of cyclist Giddeon Massie and gymnast Joshua Dixon—to help get the national pride percolating in London.
Make sure you catch the gymnastics-crossed-with-basketball shot at the 1:50-minute mark—it's a highlight.
Gonzaga's men's basketball team couldn't just sit back and watch the rest of the world make awesome trick shot videos; these guys had to get in on the magic.
And if you can get past the cheesy and embarrassing superhero-y intro to the video, the tricks are actually pretty impressive.
From behind-and-over-the-basket shots, to shots made from inside a trash barrel, to a Johnny Manziel-esque attempt from the top floor of the arena, these guys prove they have skills. Hopefully, someday soon, those skills start paying off in March Madness.
Wayne Gretzky is sick of seeing wannabe-internet sensations try to make names for themselves online with lame trick shots.
So here, we have the master himself "showing the scrubs exactly how it's done."
Back in 2011, the hockey legend teamed up with College Humor to make an incomparable trick shot video of his own in which he lofts a puck into the flower pot in front of his door, prevents his garage door from closing by wedging a puck under it at the last second and shoots a puck off the wall in order to move an ottoman under his feet.
Now that's how it's done—complete with the necessary trash talk.
Tennis players want to get in on the fun, too—and these guys are pretty impressive.
A couple of weeks ago, Hamburg trick shot sensations The Courooons released their first compilation of the year, filled with crazy tennis-themed shots.
These guys can volley a tennis ball into one public trash bin and out of the other. They can knock water bottles off their partners' heads with a ball. They can volley the ball into a trash can while riding a rotating platform that will make you dizzy just by looking at it.
These guys may not be winning Wimbledon any time soon, but there's something to be said for their accuracy.
Phil Mickelson wants you to be able to get in on the trick shot fun, too. So here, he offers a hilariously earnest instructional video in which he demonstrates his own favorite trick shot.
The PGA legend spends a lot of his time practicing his chipping, and he doesn't always have time to fetch his own balls. That's why you're supposed two chip two balls at the same time instead of one.
Mickelson shows you how to chip two balls from a sand trap and onto the green, then get one of them to roll right back to you in the trap so you don't have to waste time retrieving one.
What a nice guy.
A few years ago, the Boston Bruins ran a Mini 1-on-1 series during home games in which youth hockey players would take over the ice at intermissions to show off their skills in front of the TD Garden crowds.
But once this kid came along, the fans weren't all too interested in seeing the pros return to the ice.
This nine-year-old future NHL superstar dazzled the crowd and absolutely schooled his opponent with a behind-the-back trick that left the goaltender's head spinning.
If Jack Edwards had been in the booth for this one, he definitely would have lost his mind just like he did during that Rangers game.
Table tennis may not have gotten as much attention in London last summer as gymnastics or basketball, but these trick shots put some of the others to shame.
Bleacher Report joined forces with U.S. Olympic members Erica Wu and Lily Zhang prior to this summer's Games in London to get a first-hand look at the best tricks that can be done with a paddle.
From bringing down an entire tower of Solo cups with one ping pong ball to hitting balls into each of the cups without missing, beer pong-style, these girls know how to impress with their skills.
Nashville Predators defenseman Shea Weber may not have the utmost confidence in his trick shot skills, but maybe he should.
Weber stood in Section 317 of his stadium—that's high up, just for reference—and attempted a shot down onto the ice and into the net. When the puck left his stick, it didn't look like it was going in, but what do you know? It was a goal.
From the look of how many pucks were on the ice when the winning one finally trickled in, it may have taken Weber a while to get the hang of this trick, but hey—practice makes perfect.
We've seen some golf, hockey, ping pong, soccer, tennis and basketball trick shots—but what about frisbee?
That's what Dude Perfect frisbee aficionado Brodie Smith is there for.
Given how limited my own frisbee skills are, I found these to be some of the most impressive tricks of the bunch. Smith, the resident frisbee extraordinaire, attempted to mimic the Dude Perfect crew's basketball trick shots with a frisbee instead of a basketball, succeeding with flying colors in most cases.
And the tricks look way more impressive with a hurtling lightweight disc than they do with a basketball.
Titus the Toddler has been in the news quite a bit lately because of his highlight reel. Some are even calling him a (very) early favorite for the NBA draft.
The two-year-old has been melting hearts and blowing minds worldwide with his basketball skills, all captured on camera and posted online. Titus can do more than make a basket, which would be good enough for most babies. He can make a basket from anywhere.
From the stairway, from the couch, behind the back, over the head, behind the backboard—he can do it all. Titus is clearly a legend in the making.
Watch out, LeBron.
Geoff Swain may not be as well known as Phil Mickelson, but he's renowned worldwide in some circles for being the World Golf Trick Shot champion. And this is why.
As impressive as it is to be playing golf outside in the freezing cold while wearing flip flops, that's not what makes this reel so spectacular. First, there's his bouncing the ball on the club, all while explaining what he's about to do—and given my hand-eye-speaking coordination, this is super impressive to me—but then, there's the shot itself.
After bouncing the ball on the face of an iron, Swain switches to a driver while the ball is midair and sends it straight down the fairway—and breaks off the head in the process. Now that's power.
We've seen hockey pucks, footballs and frisbees hurtle from the highest points of stadiums into hoops waiting far down below—but this is the infamous shot that began it all.
Dude Perfect's Cory Cotton stood on the top floor of the Texas A&M Aggies' football stadium back in 2009 and attempted to make history by sinking what he professes is the world's longest basketball shot. The shot would be replicated time and time again thereafter, but this is where it began.
Cotton sent a basketball from the upper deck of the stadium toward a hoop waiting on the sideline of the football field—and he improbably made it.
So what if he used the backboard? This, right here, is greatness.
There are a lot of people out there who love to hate on Duke basketball, but it's hard to hate on this.
Well, kind of hard. You can probably enjoy this, as long as you ignore him saying, "This is Kyle Singler and I approve this message" at the beginning.
The former Blue Devil and current Detroit Piston presented us with this reel of trick shots back in 2010, displaying his ability to sink a shot from anywhere. He's a big fan of the throwing-the-ball-straight-up-and-watching-it-land-in-the-hoop move, but he really can sink it from anywhere.
The stands, the weight room, the bench--and there's even a tribute shot to Mrs. K.
Now it's time for volleyball.
Pro volleyball player Morgan Back teamed up with Dude Perfect and Bleacher Report this summer during the Olympics to show off her best moves.
She can send a serve from way back, over the net and into a trash can. She and Olympic skier Bode Miller can single-handedly school the entire Dude Perfect team (and cause some serious bodily harm to the Dudes in the process). It took a few attempts, but she can knock a cone off one of the Dude's heads.
And of course, she can serve a volleyball into a basketball hoop because no Dude Perfect endeavor would be complete without that.
There's a lot of skepticism out there about whether or not this reel is legitimate, but it looks pretty good to me.
We know Sid the Kid is one of the fiercest competitors in the NHL, but apparently, he's also one of the fiercest trick-shot propagators out there, too.
Crosby's shots can apparently move an NHL goal all the way off the line—which doesn't seem too outlandish, though the commentators disagree. But what they're really skeptical about is his ability to stand at nearly center ice and fire off shot after shot and knock a pyramid of pucks, one by one, off the wall.
And when one wayward puck rolls along the wall, Crosby picks off that one in motion, too. Yup, totally real. As Mike Milbury says, I still believe in Santa Claus, too.
At this point, we've seen virtually every kind of trick shots except baseball trick shots.
Now, it is time.
Here, Connor Powers of the San Diego Padres organization shows off for a while during batting practice. He can hit off a tee and into a garbage can. He can hit a ball at a post and have it deflect back at the cameraman behind the plate, though it's unclear whether or not that one was intentional. He can knock over the ball machine with his sheer velocity.
Maybe this will be enough to get him up and out of Single A ball.
Now, we're into the heavy hitters.
There are a few quarterbacks out there who have so perfected the art of trick shots that it is virtually the only thing they are known for. Here, we have Monmouth College quarterback Alex Tanney trying to join that group of elites.
Tanney is definitely good. He can stand waiting at a window on the top story of a house and throw the ball to a receiver in the bed of a truck—while it's moving. He can stand on top of the library, throw over the Jumbotron and hit the goal post.
His skills are impressive, but are they Johnny Mac-level? Not quite yet.
Earlier this year, Johnny Manziel stood in the very spot in which Cory Cotton attempted the longest basketball shot and tried to replicate it—with a football.
The Texas A&M quarterback and 2012 Heisman Trophy winner isn't scared of anything—not pressure, not the likelihood (or lack thereof) of one-upping one of the trick shot masters. And that's how he turned this shot from a dream into a reality.
With Cotton standing right beside him, Johnny Football sent the pigskin right into the basketball hoop waiting on the field. As if there was any way Manziel could turn himself into even more of a legend.
Before he became the Trick Shot Quarterback, Johnny McEntee was just a quarterback flying under the radar at UConn.
Now, Johnny Mac is a legend.
The original trick shot quarterback made a name for himself by attempting and succeeding in the impossible—hitting the back of someone's pool stick with the football and thereby helping him sink the ball into the corner pocket, standing in the upper deck of the practice field and hitting a trash can at the 40-yard-line, opening the door to the field with the football.
May the legend of Johnny Mac never be broken.