Arsenal vs. Bayern Munich: 5 Bold Predictions for Champions League Clash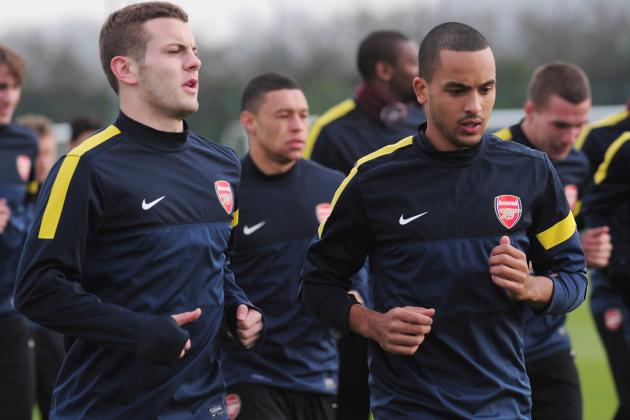 Shaun Botterill/Getty Images

On the back of their FA Cup humiliation at the feet of Blackburn, Arsenal will host German giants Bayern Munich in the Champions League Round of 16 on Tuesday.
Obviously, one side has considerably more pressure on it than the other. Nobody really expects Arsenal to go very far in the Champions League this season, let alone win it, so simply holding their own against superior opposition would constitute a minor victory.
But for Bayern, who are running away with the Bundesliga, nothing less than winning the competition will suffice. The sting of last year's defeat is fresh, and with the insanely good form they are in at the moment, anything less than a win will be a massive disappointment.
Let's try to predict five things that will happen in a truly top-level clash.
Begin Slideshow

»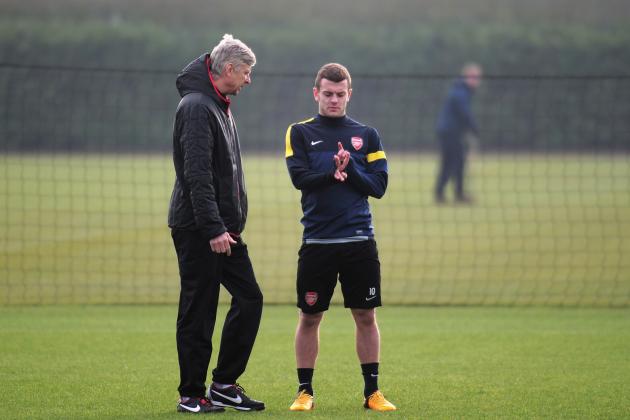 Shaun Botterill/Getty Images

In an area of the pitch that will be patrolled by Mikel Arteta, Santi Cazorla, Bastian Schweinsteiger, Toni Kroos and Javi Martinez, Jack Wilshere will shine the brightest.
While still a teenager, Arsenal's English prodigy put in arguably the best display of his career during the club's famous victory over Barcelona in 2011. He is clearly a big-game player who performs best when the pressure is most intense.
Wilshere and Schweinsteiger are the most complete midfielders who will be on the pitch for either side. But, driven by the Gunners' humbling FA Cup exit at the weekend, Wilshere will be extra motivated to control the game from the center of the pitch.
And no one, not even Schweinsteiger, has the game-changing ability that Wilshere does. When he turns it on, he is unstoppable.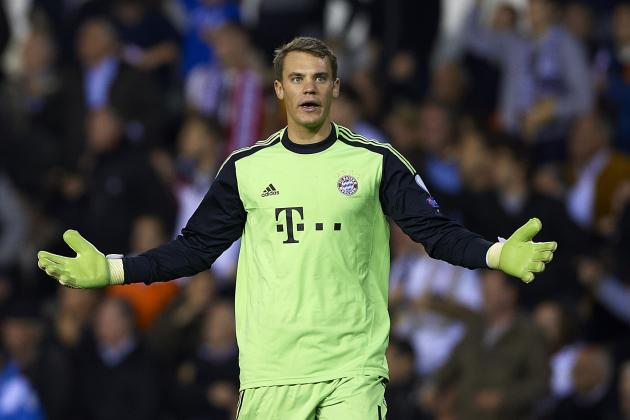 Manuel Queimadelos Alonso/Getty Images
Where's the other team already?
Bayern Munich is now conceding so few goals that even their starting goalkeeper has lost complete interest in games.
That's right, Manuel Neuer, arguably the best goalkeeper on Earth, resorted to having Thomas Muller head balls at him from the sideline to keep busy during a match against Schalke—while the match was being played.
That is domination.
But, despite their sometimes inexplicable inability to put the ball in the back of the net, Arsenal possess a wealth of world-class attacking players that are capable of splitting any defense that does not simply park the bus.
Bayern won't, and neither will Arsenal. This should be a game of attacking football, and Neuer needs to be prepared for that.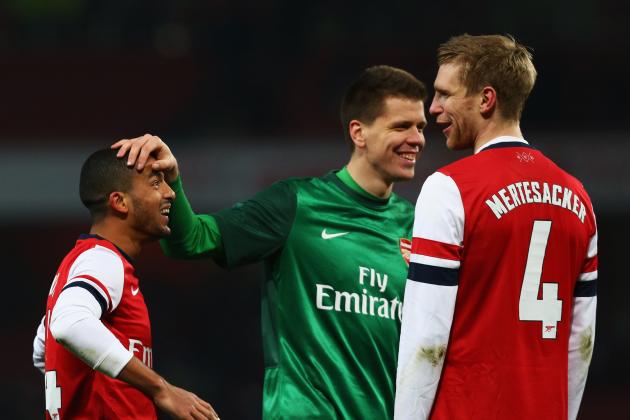 Jan Kruger/Getty Images

Arsenal's biggest problem will be their defense. Bacary Sagna will hold the fort down at right back, but Thomas Vermaelen will be pushed out to his unfavored left-back position and Laurent Koscielny is dealing with a fresh injury that could throw another wrench in Arsene Wenger's plans.
And Bayern Munich happen to have two of the most threatening wingers in the world in Arjen Robben and Franck Ribery.
Jupp Heynckes can also throw on Mario Gomez, Xherdan Shaqiri, Thomas Muller and others if his first-choice XI is not doing the job well enough.
It's fair to say that this Bayern team is stacked in all attacking positions, and how Arsenal's slightly piecemeal defense deals with the threats coming at them from every direction will likely determine the outcome of the match.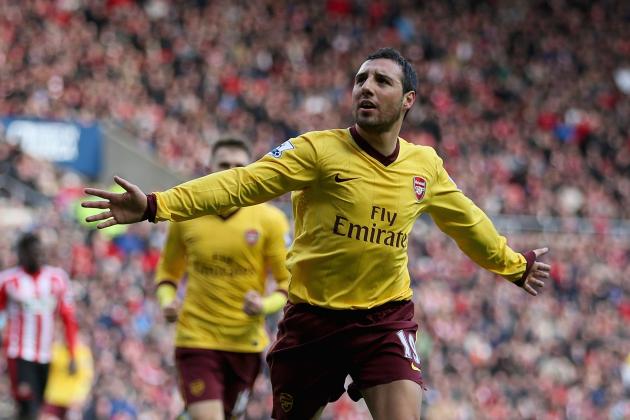 Clive Brunskill/Getty Images

In the last two months, Bayern Munich have conceded just one single goal—and that was a penalty. They have not let in a solitary goal in their last six matches.
So predicting that Arsenal will breach a lockdown defense composed of Philipp Lahm, Dante and Co. is fairly audacious.
Arsenal are a very inconsistent team, but when they find their collective form, the Gunners are capable of dismantling any team in the world.
When it's not Santi Cazorla's day, it's Jack Wilshere's. When Olivier Giroud can't find his shooting boots, Theo Walcott can be the most threatening player on the pitch—and so on.
If there's ever a time for Arsenal to find a bit of consistency it is now, and a motivated side with no looming pressure could stun the world like they did in the second leg against AC Milan last year.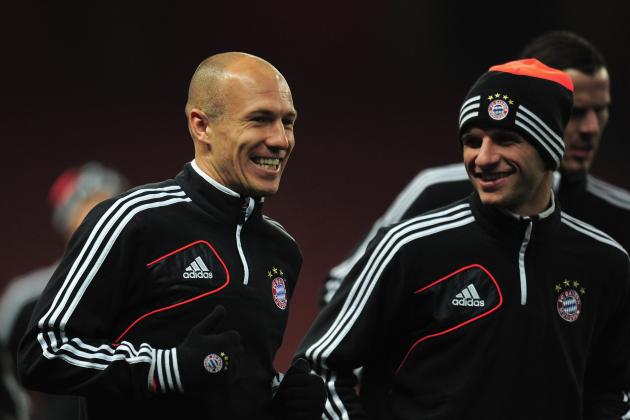 Shaun Botterill/Getty Images

Without taking a scientific poll, it's safe to assume that many observers expect Bayern Munich to take an away win, if a slim one, back to the Allianz Arena en route to an efficient passage to the quarterfinals.
However, far crazier things have happened during this season and seasons past—like Arsenal losing to two lower-league opponents in the same campaign. Bradford City and Blackburn's victories merely show what an underdog is capable of when all the pressure is squarely on the shoulders of the other team.
And Arsenal are far too good a team to be merely written off, even against a team as clinical and ruthless as Bayern. The Gunners are a team of world-class international players; they might occasionally have trouble congealing into an effective unit and reaching their full potential, but the raw ability is there.
It's just a question of whether Arsenal are able to turn on the quality for one 90-minute period in their own stadium against a backdrop of adulation from their fans. They still might not travel to Germany with a victory; Bayern are just too good to be that audacious.
But don't be surprised if a draw turns the second leg into a very compelling match.