Arsenal vs Bayern Munich: 5 Ways for Gunners to Shut Down Bayern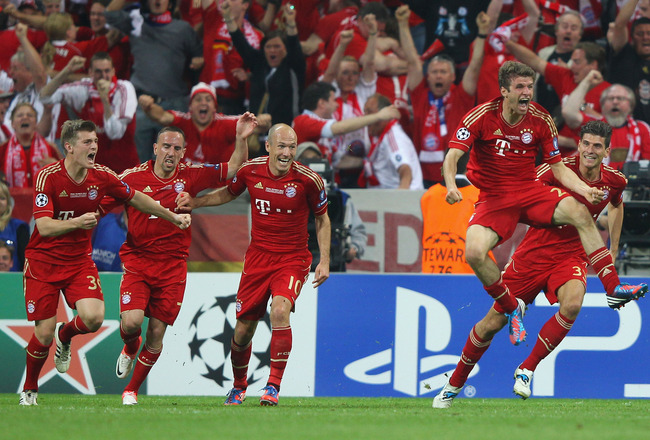 Alex Livesey/Getty Images
The Champions League last-16 clash between Arsenal and Bayern Munich represents an opportunity for The Gunners to reignite the dying embers of another disappointing season. To do so, they are going to have to shut down one of world football's premier outfits in Bayern Munich. They can do it, but it'll be difficult.
How difficult? Well, exceptionally.
Bayern have been fantastic this season. The side that reached the final of the Champions League last campaign has been built upon considerably.
They are better in every department, allowing manager Jupp Heynckes to rotate the side and keep everyone relatively fresh. Dante, Javi Martinez, Xherdan Shaqiri and Mario Mandžukić have all proved to be excellent signings. We have also seen younger players such as Toni Kroos, Thomas Müller and David Alaba showing improvements every time they take to the field.
Even Arjen Robben, who has been a peripheral figure this campaign, looks to be on his way back to some kind of form.
They are 15 points clear at the top of the Bundesliga and have won every game since the turn of the year without conceding a goal. If you throw in Arsenal's erratic form and fragile confidence, Bayern look set to lay down a beating on Arsene Wenger's side.
If Arsenal are to avoid the aforementioned humiliation, then they are going to have to exploit the minor chinks in Bayern's armour whilst utilising their own strengths to the very maximum. Here is how they might go about doing that...
Theo Walcott Must Isolate Van Buyten and Dante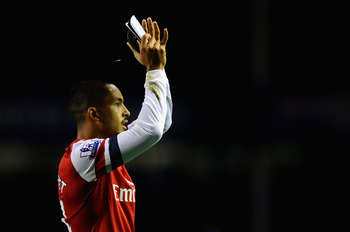 Laurence Griffiths/Getty Images
Bayern have yet to concede a goal in 2013 and have only been breached seven times in the Bundesliga all season. So the task facing the Arsenal forwards is certainly nothing to envy.
But you have to think that the two centre-backs could be troubled by the Arsenal front men—Theo Walcott in particular.
Regardless of where the England international starts from a positional point of view, Arsenal have to try and get Walcott one-on-one running at Dante and especially the often ponderous Daniel van Buyten.
Van Buyten is a strong centre-half who loves the physical battle, but if Walcott can run off and in behind Olivier Giroud, then the Gunners might have some success against him.
The two Bayern full-backs, Alaba and Philipp Lahm, also like to push on, which could leave space in the channels for Arsenal to exploit on the break. If Walcott can drag the two centre-backs into uncomfortable areas, particularly out into the right and left channels, then they might have some joy.
Utilise Cazorla's Exceptional Lateral Movement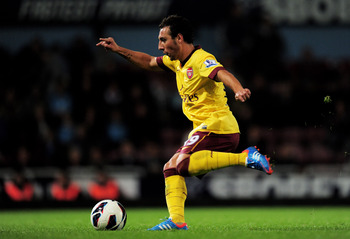 Arsenal will look to find Cazorla between the lines
Shaun Botterill/Getty Images
One of the main traits of Santi Cazorla's play since joining Arsenal is his superb lateral movement between the lines.
Bayern use a relatively flat midfield, with Bastian Schweinsteiger and Javi Martinez likely to operate as the central pairing. With this in mind and with Bayern's defence likely to sit deep when Arsenal have the ball (an attempt to counter Walcott's pace), gaps could appear between the midfield and the defence.
Cazorla must do his best to exploit this space.
Martinez will try to dictate from a deeper position a la Xabi Alonso, whereas Schweinsteiger will have slightly more license to roam from the central position to press, tackle and make incisive passes in advanced areas.
If Arsenal can catch Schweinsteiger up the pitch, then Cazorla's movement could allow him to negotiate space at the expense of his compatriot Martinez. The former Bilbao man is a really eye-catching passer of a football, but his lack of mobility is often compensated for by Schweinsteiger's fantastic work-rate.
If Cazorla can get him turning and running back toward his own goal, Martinez might find himself in some bother.
Wilshere Must Be Disciplined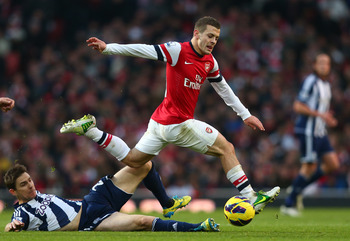 Arsenal need a disciplined showing from their young midfielder
Clive Mason/Getty Images
We have all heard glowing reviews about Jack Wilshere's recent performances, but going up against this Bayern Munich midfield represents his biggest test since his return from injury.
Wilshere will probably operate on the left side of the double pivot, and as one of the two holding players he will be tasked with picking up the runs of Bayern creators Kroos, Muller and Ribery.
The tie will present the England international with a chance to showcase the defensive side of his game in addition to the devastating forward bursts we have seen from him in recent weeks.
He must produce a mature and disciplined performance in the middle of the pitch to negate Bayern's creative threat. His energy will be crucial in that area and he must make his forward bursts more sparingly, but with greater purpose. Otherwise, the Arsenal back four could be left exposed.
Expect him to shuffle across the pitch to help protect Thomas Vermaelen, who looks likely to operate as a makeshift left-back.
Arsenal Full-Backs Need to Be Protected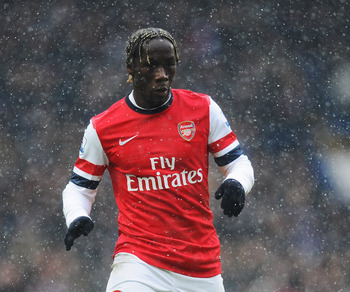 Sagna will need support to deal with Ribery and Alaba
Laurence Griffiths/Getty Images
Bayern's main attacking threat will come from wide areas, and I anticipate this is where Arsenal might struggle to cope with the Bavarians.
With Frank Ribery operating from the left and Thomas Muller from the right, Bayern have potent attacking threats on either side of the pitch.
Not to mention, each wide man will be joined regularly by their accompanying full-back. Lahm and Alaba both love to get forward and contribute in the attacking third, so the Arsenal full-backs will need support.
As I have already mentioned, the two Arsenal holding players will look to shuffle across the pitch to offer cover, but the main source of protection has to come from the left- and right-sided forward players, likely to be Lukas Podolski and Theo Walcott.
Bayern have far too much quality to leave either Bacary Sagna or Vermaelen two-on-one at the back.
With neither Podolski or Walcott renowned for their exceptional defensive work rate, they are going to have to put a real in shift in to halt the Bayern wide men.
Start Well and Get the Crowd Onside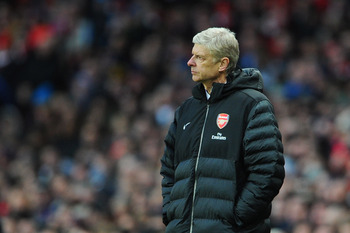 Wenger must send his side out with a high tempo
Michael Regan/Getty Images
Arsenal must get out of the blocks quickly. There is no doubt that the Arsenal supporters will get behind their team from the off. But the atmosphere at the Emirates will be in an extremely volatile condition following Saturday's shambles.
An early goal for Bayern could be trigger another negative environment. If this proves to be the case, then you fear for Arsenal. Despite all of the recent trials and tribulations, the players will need the fans to be onside.
But a fast start could well be the catalyst for a winning performance. If the Gunners can press Bayern, unsettle a few of their star names and maybe even nick an early goal, then the crowd could help drag them to a famous result. Despite a reputation that implies otherwise, the Emirates can be a real cauldron when the occasion is right. Barcelona will certainly testify to that after their defeat here in 2011.
For all of Arsenal's apparent woes, on the face of it their home record is still pretty damn exceptional in Europe. They have only lost once to foreign opposition and have triumphed in six of their seven last home ties against German opposition.
In contrast, Bayern have an extremely poor record in England. In their 15 games in England, they have only triumphed on two occasions.
What are you views going in to the game? Do you think Arsenal can pull off an upset? Let me know in the comments section or on Twitter @MattJFootball
Keep Reading