Picking a Potential 2016 Tottenham XI That Could Win the Premier League
Hugo Lloris is the man it is hoped will be Tottenham Hotspur's No. 1 for several years to come.
Shaun Botterill/Getty Images
Tottenham Hotspur are a club with lofty ambitions, and to a certain degree their future depends on how they finish this current season.
Champions League qualification could hasten the achievement of those aspirations, giving them the opportunity to prove themselves on Europe's biggest stage while attracting (and keeping) a calibre of players to succeed at home.
A failure to make the top four this year could set back the plans of manager Andre Villas-Boas, perhaps having more drastic implications in the long term.
Picking a potential Tottenham XI that could win the Premier League in 2016 is no exact science. They could be challenging for a title before that point or nowhere near doing so.
With the group of players currently at the club, there is reason to be optimistic about their prospects. Three years from now is a long time in football, though, so just who of the present squad will still be around then and possibly part of a team capable of winning the title?
The Frenchman Who Hopes to Be Spurs' Long-Term No. 1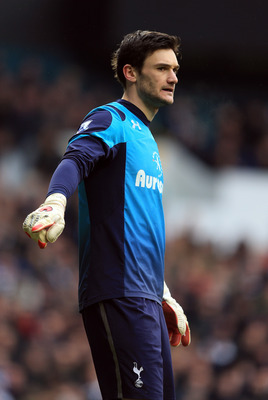 Hugo Lloris.
Richard Heathcote/Getty Images
Hugo Lloris was signed last summer with the explicit intention (or hope) he will be Tottenham's No. 1 goalkeeper for some time to come.
As France's first choice in the position, Lloris' class was known. That does not always translate into success in a new league, though, so it has been of relief to all concerned he has started off well in North London.
It is reasonable to assume that, all going well, Lloris will still be Spurs' main goalkeeper come 2016. He will only be 29 by then and will be approaching or already hitting his peak.
What is more intriguing is the kind of competition he will be facing for his place by then. Brad Friedel is likely to retire at the end of his contract in 2013-14, leaving Villas-Boas with the task of finding a capable deputy to Lloris.
A new arrival who is of sufficient quality will want to play (if such a player can be found). The competition for Lloris would be good, but such a move risks creating an unhealthy level of rivalry if not managed well.
A candidate might emerge from Tottenham's own youth system. Worth keeping an eye on is Jordan Archer, a 19-year-old Scottish youth international currently on loan at Wycombe Wanderers. Jonathan Miles, currently playing in the Under 21s team, is also doing well this year.
Vertonghen Plus One in Central Defense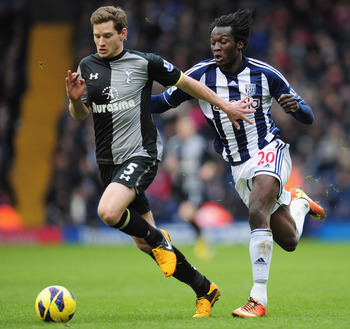 Jan Vertonghen.
Jamie McDonald/Getty Images
If Tottenham are to have any hope of challenging for a Premier League title in these next few years, then Jan Vertonghen will almost certainly be at the heart of their central defense.
The classy Belgian has brought a level of sophistication to Spurs' defensive play that has helped make up for Ledley King's retirement. Crucially, he has also shown himself capable of handling the physical aspects of English football.
By 2016 (and in his late 20s), Vertonghen will have honed these parts of his game. As a former Ajax captain, the intervening years could see him mature as a leader and be a key leader of an emerging force.
Just who might be playing besides him is less clear. Despite being injured for most of this season, Younes Kaboul still retains a lot of goodwill off the back of his performances in 2011-12. The anticipation will be the Frenchman takes up where he left off when he returns to fitness, but there is no guarantee.
The introduction of Steven Caulker to the first team this season has certainly been geared with an eye on the future. The 21-year-old is a work in progress with a great potential upside. He has youth on his side ahead of Kaboul, and it could prove an engaging battle to see who is the better center-back in three years' time.
Villas-Boas has said ideally he wants to work with four top central defenders at a time. The need for Michael Dawson may have receded by 2016, so long as others have stepped up in leadership roles. He will only be 32, so he may still be around depending on how his legs are still working.
More likely, though, Spurs will have invested in a younger model to compete with those mentioned already.
Full-Back Decisions to Make
Kyle Walker.
Shaun Botterill/Getty Images
It is a good bet that Tottenham's first-choice right-back come 2016 will be one of the ones already on their books. Promisingly, too, all are rather good.
Kyle Walker is the front-runner right now. After getting his chance and performing so well last season, it has been harder going for Walker this time out.
Opponents are more familiar with his game, and subsequently he is having to work harder to make an impact (particularly attacking). As a result, his defensive flaws have been more obvious without something else to masquerade them with.
Still, it should not be forgotten Walker is still only 22. His progress to a player knocking on the door of the national team has been so quick, but he is still learning. Should he carry on at this rate, Tottenham could have quite the full-back.
Kyle Naughton and Adam Smith (on loan at Millwall) are keeping Walker on his toes. If he is of the right character, that competition will spur him on to retain his place, knowing a substantial drop in form could cost him.
The future at left-back is a great deal more uncertain. Tottenham are good with Benoit Assou-Ekotto for now. If he can maintain the levels he has in recent seasons, by the time he is 31 in 2016, he would still be a very useful player to have around.
It is a position Villas-Boas might attempt to upgrade, however, if he can find a younger guy to come in. As well as Danny Rose has played at left-back on loan at Sunderland, based on what has been seen, he is not a title-winning calibre left-back.
The January arrival from Standard Liege, Zeki Fryers, is someone Spurs have hopes for, though. If nothing else the 20-year-old could be a good cover option.
In the Middle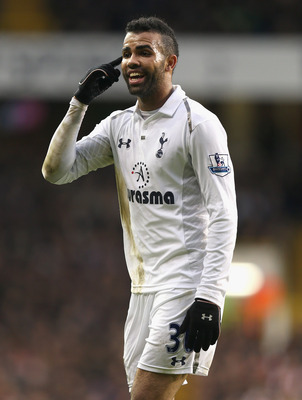 Sandro.
Bryn Lennon/Getty Images
The central midfield position is one of the unknowns for Tottenham beyond this season. Not so much the personnel that it might be made up of, but the configuration of the players.
A fit Sandro is just about guaranteed a place. Spurs will not find a better, affordable defensive midfielder than the Brazilian. So long as his knee injury has not detrimentally affected him, Sandro could likely be the rock of this team's midfield for years to come.
It is hard to see Clint Dempsey still being at Spurs in 2016. He is a fine and most useful stop-gap player for now, but Villas-Boas will hope to improve in attacking midfield if he can.
As for Mousa Dembele and Lewis Holtby, it is hard to nail down just what their roles might be in three years' time. Their quality is not in doubt, but their versatility is such Villas-Boas has the option to try a few things around them.
They (along with Sandro) might be the key figures of which a title-challenging Spurs midfield might be built. Whether one is used in a more advanced role or someone with a different kind of creativity and attacking flair is signed is not so certain.
The Wide-Men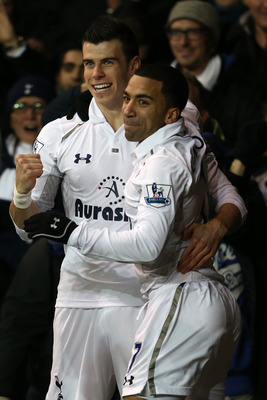 Gareth Bale and Aaron Lennon.
Julian Finney/Getty Images
The potential of Tottenham to challenge for a title in the next few years rests considerably on whether Gareth Bale remains at the club. The likelihood of them selling him and being able to use the money to bring in players of a quality they could still maintain a push for the Premier League crown is remote.
Bale alone will not win Spurs the league, but either on the wing or in some advanced role, he would undoubtedly be a key difference-maker in such a success. The club also needs him to remain as an advertising tool, someone who can work in attaching other similarly talented players to the club.
Aaron Lennon could well still be at White Hart Lane in three years' time. But for a player whose game so heavily relies on pace, it is difficult to see him still being as effective at the age of 28/29. He has the quality to still be a useful squad player, but it is less likely he will still be able to carry on as the main threat on the right flank.
This is a position Tottenham will probably need to invest in quite considerably. The signing would not have to necessarily be a speed-merchant like Lennon. But it could be an improvement on the already considerable talents of the England international and assists for his front-men would be a must for a title challenge.
Up Front Is the Key to a Spurs Title Challenge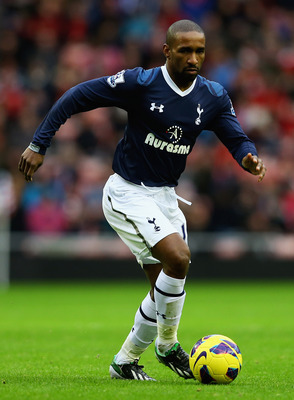 Jermain Defoe.
Matthew Lewis/Getty Images
The biggest area in need of work for Tottenham to get anywhere near challenging for a title is up front.
Jermain Defoe is good enough to still be playing a part in Spurs getting near that point, but he is not quite deadly (or young) enough to lead the way. Going by his form this season, it would be nothing but a huge surprise to see Emmanuel Adebayor still in North London come 2016.
Jonathan Obika and Harry Kane are still young enough that they might progress into fine strikers. Even if they are not going to become top-class players, Spurs could still do with having them around for numbers if they prove good enough at the Premier League level.
Undoubtedly though, Tottenham will need to invest heavily to bring in at least a couple of strikers capable of giving them the goals and all-round forward play to win the amount of games needed to win a title.
For those of us on the outside, it is hard to get a read of who Villas-Boas might like to bring in here. Who he is able to attract to the club will largely depend on his team's ability to achieve sustained Champions League qualification.
Which brings us back to square one—the fortunes of Tottenham this season having an enormous impact on what is to come for the club.
Keep Reading

Tottenham Hotspur: Like this team?