Seattle Mariners: Top Storylines at the Start of Spring Training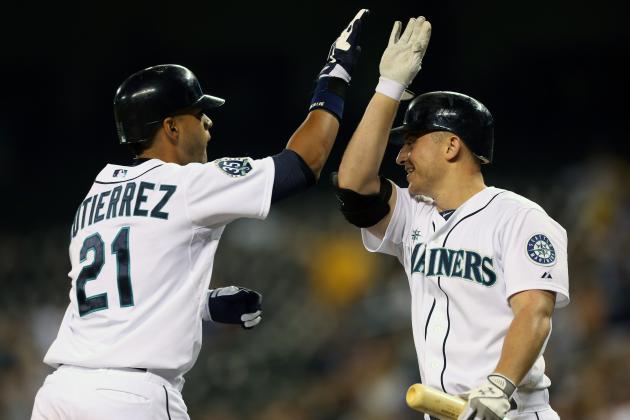 Otto Greule Jr/Getty Images

Baseball season is finally back. Players are starting their workouts, rehabbing from injuries and surgeries, and people like me are writing about the top storylines for spring training.
Even though the Mariners didn't sign Josh Hamilton or Michael Bourn, and Justin Upton rejected a trade to come to Seattle, there are still several interesting talking points regarding the start of the 2013 season.
Two players returned to Seattle (Raul Ibanez, Mike Morse), and no significant players were let go other than Jason Vargas. Which was interesting.
There are plenty of young, capable players waiting to get the call, but general manager Jack Zduriencik must have faith in the young players already in the majors, as he added parts that apply to a "win now"-type ballclub. Usually, adding those types of players requires letting go of top prospects, so Jack Z deserves a lot of credit for holding on to those players who are so vital to the Mariners' future.
Begin Slideshow

»
Otto Greule Jr/Getty Images

The Mariners already had position battles in the outfield before they added Morse, Ibanez and Jason Bay. The three of them plus incumbents Franklin Gutierrez, Michael Saunders, Casper Wells and Eric Thames will create an interesting seven-player battle for three spots.
Granted, Morse will likely platoon between left field, first base and DH, and Gutierrez and Saunders are pretty much locks. Ibanez and Bay will probably be used sparingly in the outfield and be pinch-hit specialists or designated hitters.
So where does that leave Wells and Thames?
They'll be playing for a roster spot. There's the possibility that Bay plays just as poorly as he has for the last few seasons in New York, and if he does he'll be cut. Wells and Thames will both likely start the season playing in Triple-A, but expect to see both of them up in the majors at some point during the season.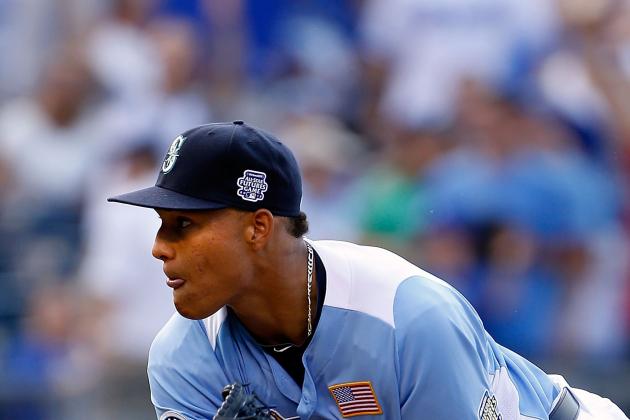 Jamie Squire/Getty Images

Felix Hernandez, Hisashi Iwakuma, Joe Saunders...Blake Beavan? Erasmo Ramirez? Hector Noesi? The first through third slots in Seattle's rotation are all but locked up, but the last two spots are up in the air heading into spring training.
Ramirez was impressive as a 21-year-old last season, finishing 2012 with a 3.36 ERA and a strikeout-to-walk ratio of four.
Beavan was solid but inconsistent and doesn't fan enough hitters to make 35 starts in a season.
Noesi is likely the odd man out. He went 2-12 with a 5.82 ERA last year, losing his last nine decisions. That's about all you need to know.
That still leaves plenty of question marks. Seattle also invited veterans Jeremy Bonderman and Jon Garland to spring training, and there's always the issue of when the young arms will make their first appearances at the major league level.
Taijuan Walker and James Paxton are listed officially as non-roster invitees, while Danny Hultzen and Brandon Maurer sit slightly more comfortably on the 40-man roster. I'm hoping one of these guys makes the Opening Day roster, but I'm not sure if Eric Wedge is willing to take that big of a risk. None of them have played at the major league level, so it'll all come down to how they pitch this spring.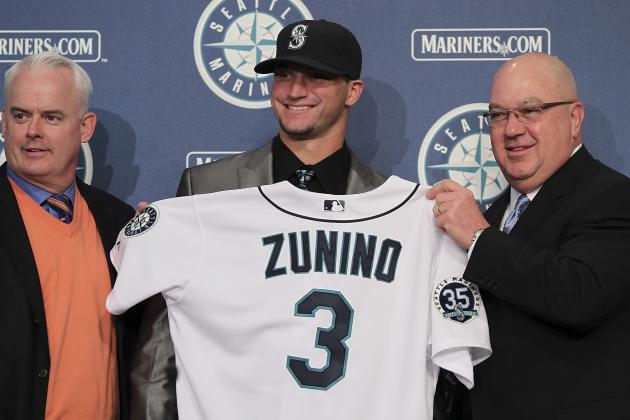 Otto Greule Jr/Getty Images

The projected Opening Day roster for the Mariners is very crowded, and it doesn't look like spots will be open for the likes of Mike Zunino, Nick Franklin, Stefen Romero or Brad Miller.
But all it takes is a good impression and a bad showing from the guy in front of you.
The problem with the Mariners is that they have so much talent seemingly all at the same few positions, which is why I'm worried about them being traded away for veterans.
Out of the aforementioned players, Franklin has the best chance to make the Opening Day roster. The infield is fairly thin, with only Robert Andino (and maybe Carlos Triunfel) as backup middle infielders.
Zunino is still very green, and Jesus Montero and Kelly Shoppach are clearly in front of him on the depth chart, and so may be non-roster invitee Ronny Paulino.
The spring is sure to be full of surprises; we'll see what happens.