Boston Red Sox 2013 Spring Training: 5 Most Intriguing Position Battles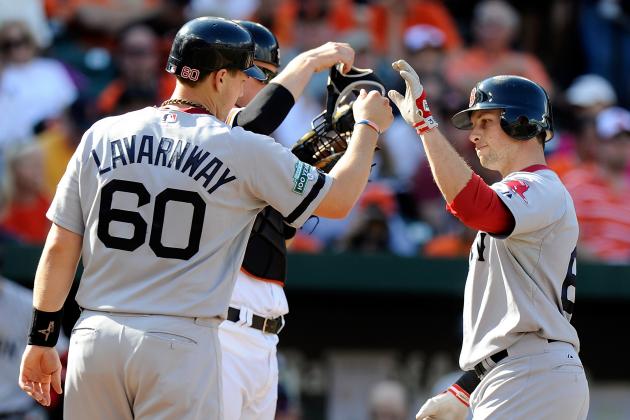 Greg Fiume/Getty Images
Ryan Lavarnway and Daniel Nava will both be battling for spots on the roster
A busy offseason in Boston has handed first-year manager John Farrell a crowded roster to sort out. Although most of the important starting spots have been locked down by obvious choices such as Dustin Pedroia and David Ortiz, there are still several questions on the roster that have thus far been left unanswered.
So, here now are the most intriguing position battles that we will see in Fort Myers this spring in preparation for the 2013 season.
Begin Slideshow

»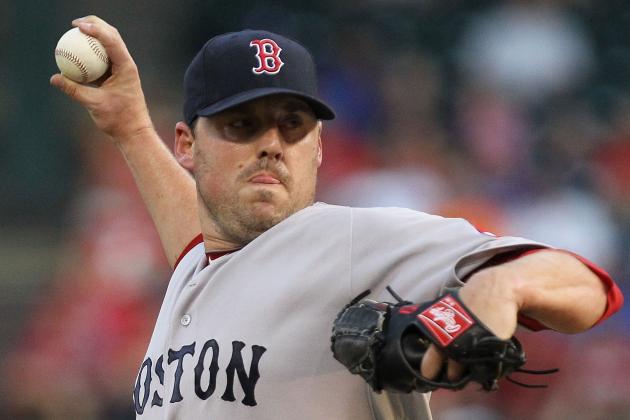 Ronald Martinez/Getty Images

Contenders: John Lackey RHP, Franklin Morales LHP
The top four spots in the Red Sox rotation are not up for discussion. John Lester, Clay Buchholz, Ryan Dempster and Felix Doubront have all earned spots in the rotation. The question remains: Who will pitch after them?
The terrifically terrible list of candidates includes one obvious front-runner: John Lackey. While he has not pitched in some time due to elbow surgery, Lackey is still a durable pitcher who has seen success when healthy.
In December, the Red Sox officially announced that they were planning to use Morales as a starter. A former starting pitcher prospect turned reliever, Morales showed some promise in the rotation in 2012. In nine starts, he averaged more than a strikeout per inning and posted a solid 4.14 ERA.
Although Morales has exhibited an ability to start and relieve, a healthy John Lackey may find success again in the Red Sox rotation. Furthermore, Lackey's expensive contract will likely force the Red Sox to use him as much as possible.
I expect Lackey to out-pitch Morales and win the starting job. Morales will see time in long relief and will serve as the team's primary swingman.
Projected Winner: Lackey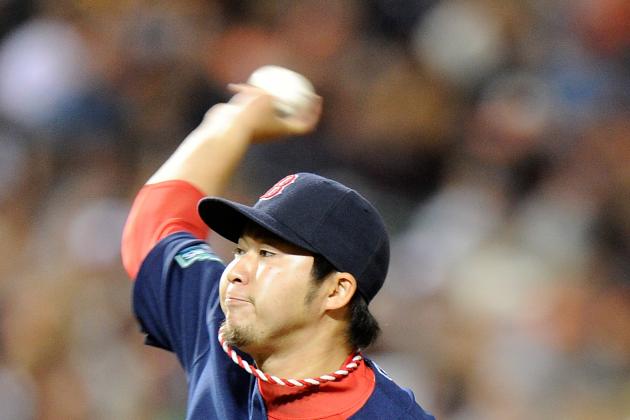 Greg Fiume/Getty Images

Contenders: Junichi Tazawa RHP, Clay Mortensen RHP, Andrew Miller LHP, Daniel Bard RHP, Alfredo Aceves, RHP
With Ben Cherington recently announcing that the team will only carry seven relievers instead of the anticipated eight, the already crowded bullpen will be squeezed even further.
Barring any unanticipated injuries, the first five spots in the bullpen are secured by: Joel Hanrahan, Andrew Bailey, Koji Uehara, Craig Breslow and Franklin Morales, assuming he doesn't win a rotation spot.
The five aforementioned pitchers are proven veterans, all of whom have extensive late-inning experience, and two of whom are All-Stars.
The question remains—of the five contenders—which pair of pitchers will land the final two bullpen spots?
Tazawa moved up the Red Sox system as a starter and was converted to relief work in 2012. After having huge success in Pawtucket, Tazawa was called up to the majors, where he performed even better. He posted a 1.43 ERA over 44 innings of work. Tazawa has proven to be a dominant force.
Mortensen was an up-and-down major league swingman before he was shipped to Boston in the Marco Scutaro deal. While his stuff is far from overpowering, his sinker has proven effective and his changeup should elicit the occasional swing and miss. However, Mortensen's alarming 4.1 walk rate and his very poor track record may make him expendable. He is out of options, however, so Boston would have to expose him to waivers to move him to the minors.
Former first round pick, Andrew Miller, finally found success in 2012. Routinely hitting the upper 90s on the radar gun, the lanky left-hander posted a 3.35 ERA last season and checked in a team leading 11.4 K/9 rate. Miller's recent discovery of his astronomical potential and his value as a lefty may earn him a roster spot.
Bard and Aceves are certainly the trickiest cases. After a failed transition to the rotation, Bard was unable to regain success as a reliever in the minors. He lost several ticks on his formerly explosive fastball in the process. He has two options remaining, so starting the season in Pawtucket to regain his former dominance is likely the best approach.
After the first half of the season, Aceves fell to pieces later in 2012, exposing not only his inconsistent pitching but also his fierce temper in the clubhouse. Furthermore, his recent altercation in spring training has manager John Farrel concerned. The limited space and the fact that Aceves has an option remaining suggests that he may be left off the roster. Who knows, maybe he can be groomed as a starter in Triple-A and serve as injury insurance to the rotation.
Projected Winners: Tazawa, Miller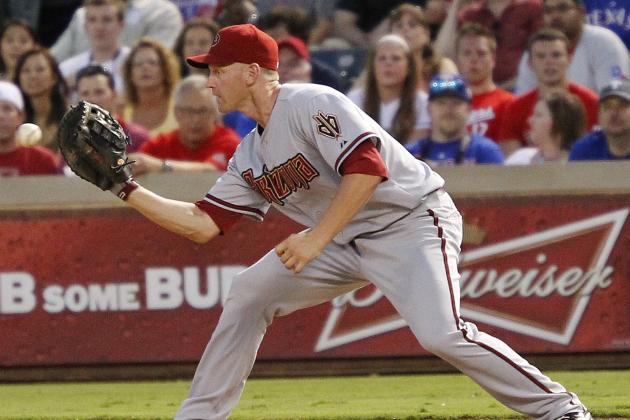 Rick Yeatts/Getty Images
Lyle Overbay recently joined the Red Sox
Contenders: Lyle Overbay, Daniel Nava, Mark Hamilton, Mauro Gomez
With Mike Napoli's recently-discovered hip condition, it has become abundantly clear that the Red Sox must have a viable backup option on the bench at all times. The question is: Who will that be?
The Red Sox signed Overbay as insurance shortly after learning of Napoli's condition. Overbay is on a minor league deal with an invitation to spring training, so he will not necessarily be on the roster. However, there is no reason to keep him off the roster, as he is still a capable major league ballplayer.
Overbay has had a solid—yet unspectacular—career, hitting for average and getting on base, while occasionally reaching the 20 home-run plateau. Overbay is 36, and his best years are most decidedly past, but he certainly has enough left in the tank to be a left-handed platoon partner with Napoli and even to fill in for stretches in case of an injury.
His competition for the position is limited. Nava is an outfielder by trade and has only recently started taking grounders at first as an insurance policy against Napoli's hip condition. Nava's remaining minor league option makes him a likely candidate to begin the year in the minors and be called up as needed.
As for Hamilton and Gomez, they are both minor league journeymen who may see some time in a limited big league role. However, Overbay and Nava are much better options in comparison to both in terms of talent and proven track records.
Projected Winner: Overbay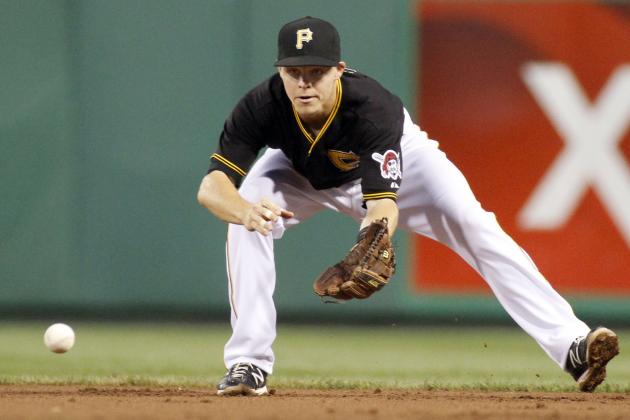 Justin K. Aller/Getty Images
Brock Holt is a new face in Boston
Contenders: Jose Iglesias, Pedro Ciriaco, Brock Holt
With Nick Punto being thrown into the last year's mega deal with the Dodgers, the Red Sox are in need of a reliable utility infielder who can fill in for stretches in case any injuries arise.
Iglesias is certainly a long shot, but as long as he remains a defensive superstar, he will always have a shot at a big league role. The Red Sox would likely prefer to have him developing in Triple-A, but in the unlikely event that he learns to hit above the Mendoza line in spring training, I'm sure John Farrell would jump at the chance to have Iglesias' glove available on the bench.
That leaves Ciriaco and Holt. No doubt, most fans will be clamoring for Ciriaco to be included on the roster after his admirable performance late last season, especially against the Yankees. However, I believe that Brock Holt will outperform Ciriaco in spring training and earn the utility spot. Here's why.
Ciriaco is a strong defender and a more than competent baserunner, but his offensive ability is still very questionable.
In 76 games with Boston in 2012, Ciriaco posted a strong .293 batting average, but his horrendous 2.9 percent walk rate led him to a meager .315 On-Base Percentage (OBP). What's more is that his .353 Batting Average on Balls in Play (BABIP) suggests that his solid batting average may have been the result of good luck. While it is true that many hitters can maintain a high BABIP, Ciriaco's impatient approach at the plate will make doing so quite impossible in the long run.
Holt had a similar first season in the majors last year, posting a .292/.329/.354 batting line. However, his minor league numbers tell a different story than Ciriaco's.
Unlike Ciriaco, Holt has managed to maintain a high batting average and a very strong OBP because he takes walks at about a nine percent rate, vastly greater than Ciriaco's. Furthermore, Holt has consistently shown a knack for making good contact throughout his career, whereas Ciriaco's ability to hit for average is a recent revelation that may not continue.
Also, from a practical standpoint, Holt is left handed, and three of the four Boston infielders he would potentially pinch hit for are right-handed hitters. He makes more sense as a backup.
Projected Winner: Holt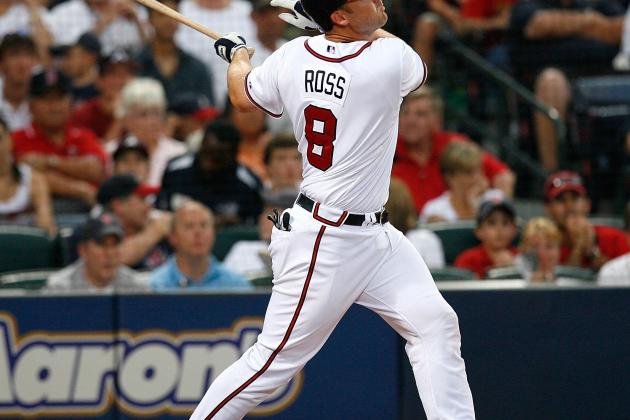 Kevin C. Cox/Getty Images

Contenders: David Ross, Ryan Lavarnway
The Red Sox have a good problem behind the plate. They have three major league capable backstops, but can only carry two catchers on the roster at any given time.
Acting under the assumption that Jarrod Saltalamacchia will be Boston's primary catcher in 2013 after his 25 home-run season last year, the jury is still out on who will back him up.
David Ross was the Red Sox's first move of the offseason, agreeing to a two-year/$6.2 million deal back in early November. Ross is often considered one of the best backup catchers in baseball for his defensive prowess and his power bat. Not only is he known for his excellent game calling ability, but he can also hit enough to shoulder a significant portion of the catching workload. Ross just finished up a four year stay with the Braves, during which time he managed a very solid .268/.353/.463 batting line.
Ryan Lavarnway has nothing left to prove in the minors, but his performance in the majors thus far has been disappointing. In 63 games in Boston, Lavarnway hasn't even hit his weight, posting a dreadful .172/.230/.286 slash line. His defense has left much to be desired as well. While the potential is still there for him to develop into a viable offensive-minded catcher, he may need more time in Triple-A to get there.
Projected Winner: Ross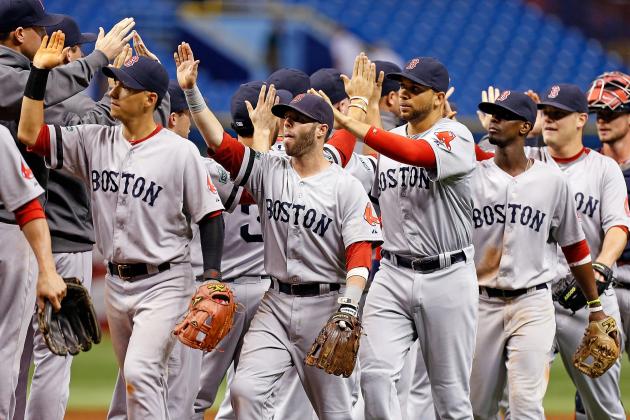 J. Meric/Getty Images

Just to piece it all together, here's my projected final roster based on the previous slides. Don't hesitate to drop me a line in the comments section if you have some thoughts.
Starting Nine:
C: Jarrod Saltalamacchia
1B: Mike Napoli
2B: Dustin Pedroia
3B: Will Middlebrooks
SS: Stephen Drew
LF: Jonny Gomes
CF: Jacoby Ellsbury
RF: Shane Victorino
DH: David Ortiz
Reserves:
C: David Ross
IB: Lyle Overbay
IF: Brock Holt
OF: Ryan Sweeney
Rotation:
Jon Lester, LHP
Clay Buchholz, RHP
Ryan Dempster, RHP
Felix Doubront, LHP
John Lackey, RHP
Bullpen:
Joel Hanrahan, RHP
Andrew Bailey, RHP
Koji Uehara, RHP
Franklin Morales, LHP
Craig Breslow, LHP
Junichi Tazawa, RHP
Andrew Miller, LHP
All Statistical data obtained from Fangraphs.com