WWE Elimination Chamber 2013 Results: Post-Event Power Rankings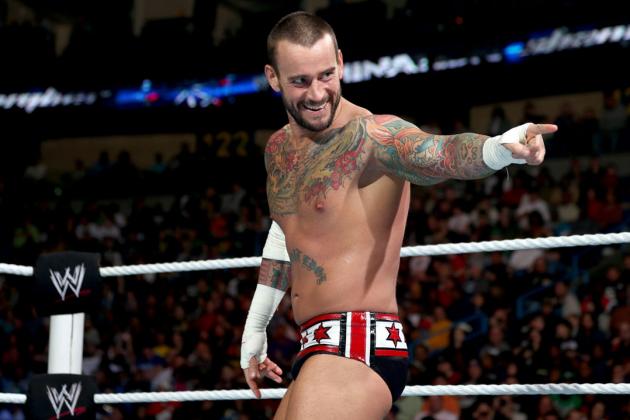 Photo Credit: WWE.com
Sunday's Elimination Chamber was the final pay-per-view stop on the road to WrestleMania 29 and the sports-entertainment spectacle's major championship bouts came into focus, even if just slightly.
The Rock defeated CM Punk to retain the WWE Championship while Alberto Del Rio held onto his World Heavyweight Championship despite tough opposition from The Big Show. The Shield upset WWE's version of the Super Friends in John Cena, Sheamus, and Ryback. Jack Swagger capped an impressive return with an improbable Elimination Chamber victory, pinning Randy Orton to pick up the win.
With the annual February extravaganza in the books, all eyes turn toward April 7 and East Rutherford, N.J. The top stars in the sport will descend upon Met Life Stadium for the biggest show of the year. Some of those stars are in great position to make a huge impact at WrestleMania while others will have much work to do if they want to experience the business' grandest stage.
These are the post-Elimination Chamber power rankings.
Begin Slideshow

»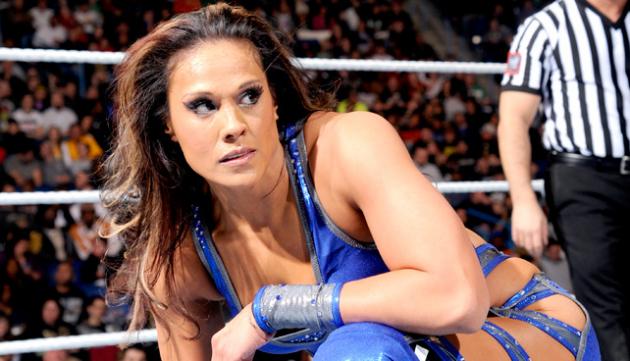 Photo Credit: WWE.com
Impressive in the short amount of time given to the Divas Championship match, Tamina came out on the losing end of her bout with Kaitlyn following a spear and it now appears that any chance of a push or title reign may have to wait until after WrestleMania.
A solid performance in her second year as challenger at the February pay-per-view.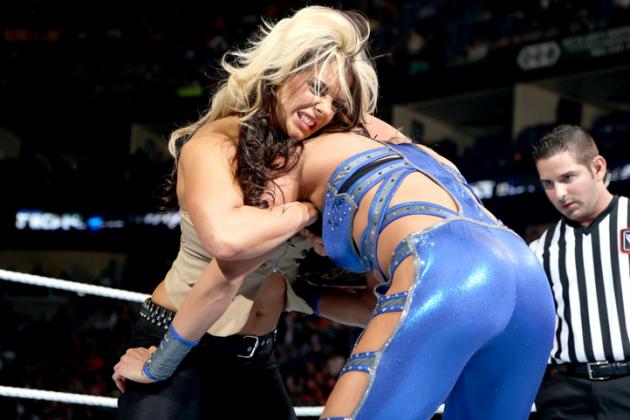 Photo Credit: WWE.com
The current Divas Champion continues her roll with a hard-fought victory over Tamina at Elimination Chamber. With little focus being paid attention to the Divas title at this point, one has to wonder what awaits Kaitlyn over the next few weeks. Could a showdown with former best friend and fellow NXT alum AJ Lee be on the horizon?
After a not-so-subtle dig during her recorded pre-match promo, that may very well be the case.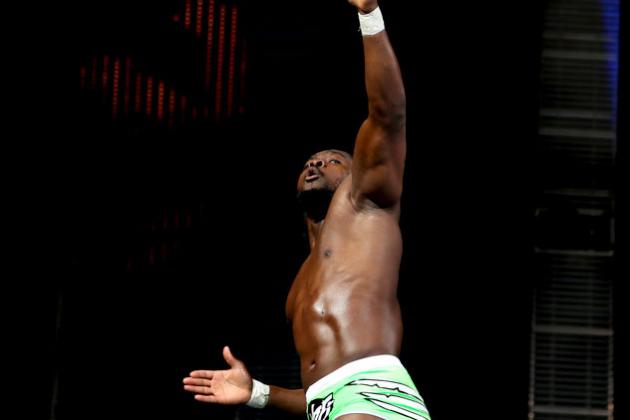 Photo Credit: WWE.com
It is difficult to find a single Superstar who has lost as much momentum as Kofi Kingston has of late. A former Intercontinental Champion, Kofi has made little in the way of impact thus far in 2013.
At Elimination Chamber, Kofi was impressive in the roughly four-minute match he had with Dolph Ziggler but he once again fell in defeat to a Superstar heading up the card. Post-match, Kingston was the recipient of a beatdown at the hands of the impressive rookie Big E. Langston.
With only an inventive use of a commentator chair during the Royal Rumble match on this year's highlight reel, one has to wonder if the self-proclaimed "wildcat" will even earn a spot on this year's WrestleMania card.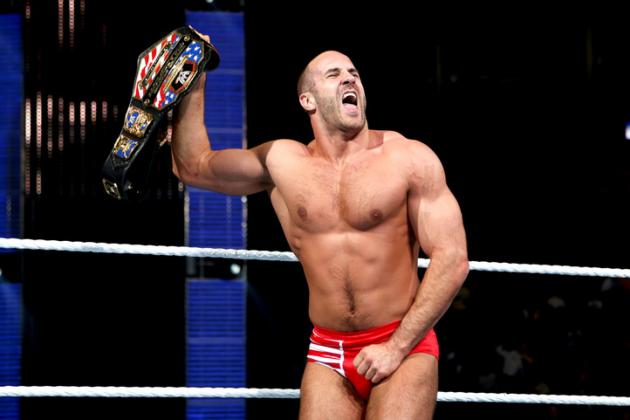 Photo Credit: WWE.com
The United States Champion escaped Elimination Chamber with his title due to an accidental low blow that got his opponent, The Miz, disqualified.
An after-match assault by Miz left the Swiss-born titleholder limping to the back, his title barely within his grasp. An impending rematch with Miz, perhaps at WrestleMania, should spell the end of his impressive US Championship reign.
Should Cesaro not find himself across the ring from The Miz on April 7, expect him to be involved in some sort of mid-card bout, perhaps a huge tag team match, the likes of which are typically used to get as many Superstars on the card as possible.
Regardless of his spot on the card, it is clear that management within WWE has big plans for the former Ring of Honor standout. His upcoming appearance at WrestleMania 29 will likely be the first of many from the Swiss Superstar.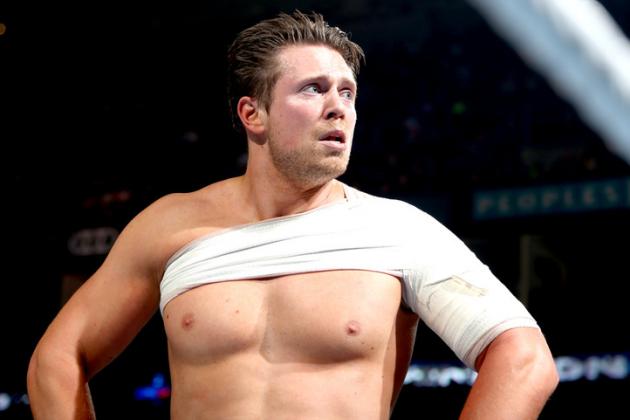 Photo Credit: WWE.com
Unimpressive in his US Championship opportunity at Elimination Chamber, Miz continues to struggle to be accepted by the audience as a legitimate babyface. Luckily for him, it does not appear as though management is second-guessing their decision at this point.
With only seven weeks until World Wrestling Entertainment invades Met Life Stadium, WrestleMania could very well be a turning point for The Miz and his face turn. If the fans in attendance fail to get behind him or, worse, turn on him, it could spell the end for the character change.
It would be a colossal failure that would call into question just what kind of future the former WWE Champion has with ahead of him.
A positive response from the die-hard fans that typically make up the WrestleMania audience, however, and the Cleveland native may have another opportunity to prove himself as one of the company's valued heroes.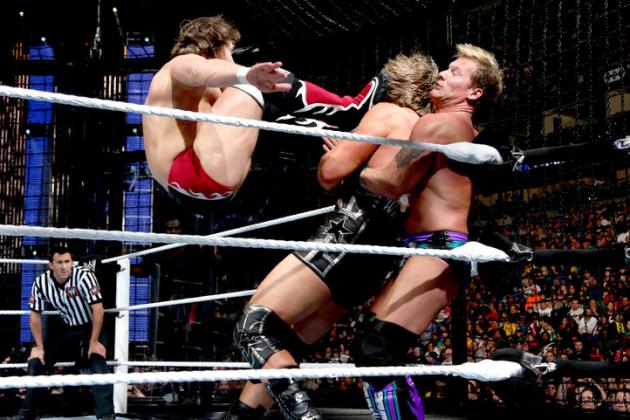 Photo Credit: WWE.com
Heading into Sunday's Elimination Chamber match, Bryan was riding a wave of momentum following a tremendous match with Chris Jericho on Monday Night Raw.
With the end nearing for his team with Kane, as well as his tag team title reign, he made little impact inside the Chamber and was ultimately, and effortlessly, eliminated by "World's Strongest Man" Mark Henry.
Bryan appears headed towards a showdown with his tag team partner Kane at WrestleMania but, if the company decides to extend the tag team championship-winning duo for another month, do not be surprised to see Team Hell No revisit their never-ending rivalry with Team Rhodes Scholars.
For the sake of Bryan, who has become somewhat of a caricature in recent months, the breakup with Kane could not come soon enough. After all, he has to regain some credibility soon or risk becoming a comedy act in the same vein as Santino Marella, even if he can be found higher up the card.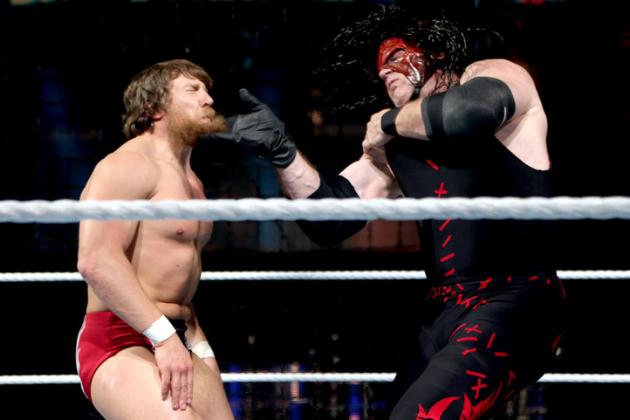 Photo Credit: WWE.com
"The Big Red Monster" finds himself in the same boat as his Team Hell No partner, Daniel Bryan. There was no expectation that he would leave the Elimination Chamber with a WrestleMania title match in his future.
With his Tag Team Championship team dissolving on a weekly basis, and the year's biggest show just around the corner, it appears as though his road will only lead to one destination: a one-on-one showdown with Daniel Bryan.
If not, expect to see Team Hell No defend their titles against Team Rhodes Scholars or, in a long shot, the Prime Time Players.
What lies in the future for Kane after he and Bryan go their separate ways is a mystery. Perhaps he once again embraces his inner monster and dominates the WWE landscape. Perhaps he is happy occupying the mid-card. Only time can tell exactly what the company has in store for one of its most lasting performers.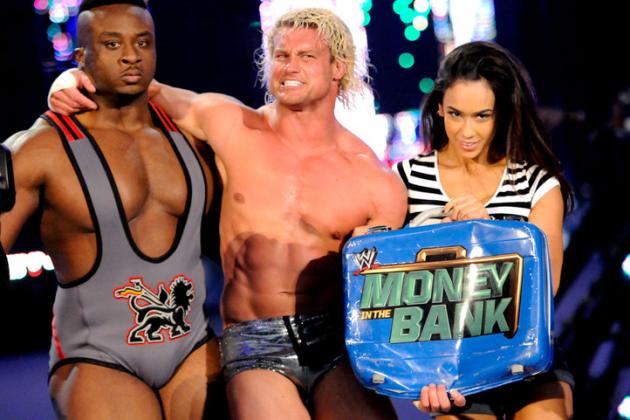 Photo Credit: WWE.com
The holder of the Money in the Bank briefcase, Ziggler found himself thrown onto the Elimination Chamber match at the last minute. A solid, if short, match with Kofi Kingston gave Dolph the opportunity to pick up a fairly clean win, and a pre-match promo allowed him the opportunity to show off his underrated microphone abilities.
It is hard to say he has great momentum heading into WrestleMania but that can all change with the cashing in of his prized briefcase. Expect Ziggler to be involved in a high-profile match at the "Show of Shows," even if championship gold is not involved.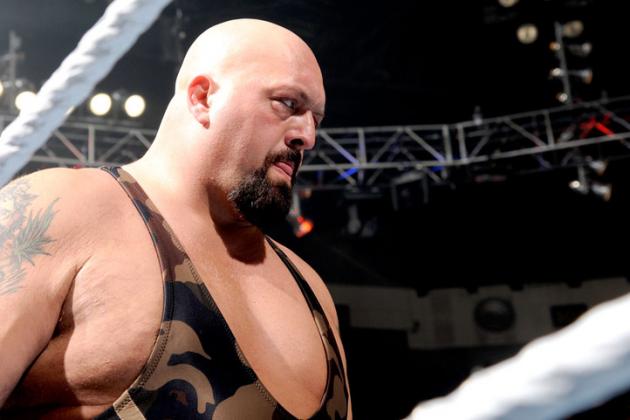 Photo Credit: WWE.com
"The World's Largest Athlete" continued the hottest streak of his in-ring career with another solid performance, in a losing effort, against World Heavyweight Champion Alberto Del Rio.
After a submission loss, however, Show's role at WrestleMania is the most unclear of any top-level Superstar. Will he remain in the title picture, an addition to a possible Triple Threat or Fatal Four Way match? Perhaps he will compete against another top star with nothing else better to do in some sort of special attraction match.
Whatever the case, it would be disappointing for Big Show not to be rewarded with some sort of meaningful match after a six-month span that saw him perform at the highest level of his career.
Photo Credit: WWE.com
Speaking of performers on a major roll between the ropes, Chris Jericho has wasted little time in reminding fans of why he is one of the most talented in-ring performers in sports-entertainment history.
One of the final three performers inside the Elimination Chamber, Y2J's exchange with Randy Orton near the conclusion of the match provided fans with a glimpse at what would be a tremendous rivalry should the company go in that direction.
That does not appear to be the direction Jericho is headed, however. Whatever he is involved with come April 7 and WrestleMania 29, expect the first-ever Undisputed Champion to do everything possible to steal the show.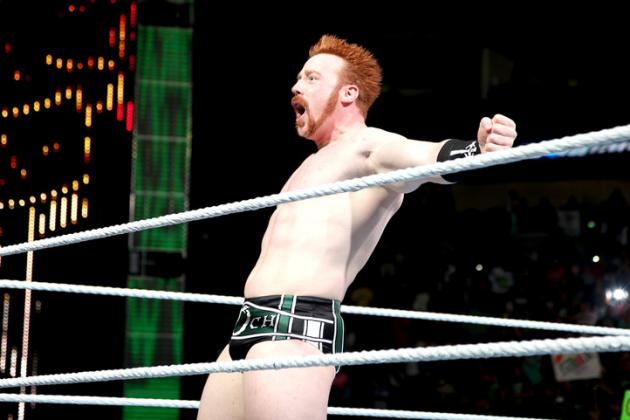 Photo Credit: WWE.com
At Elimination Chamber, Sheamus teamed with John Cena and Ryback in a losing effort against The Shield. Continuing his string of quality pay-per-view bouts, Sheamus was involved in one of the match's more memorable moments when he was speared through the timekeeper area by Roman Reigns.
As WrestleMania approaches, Sheamus finds himself in the same position Randy Orton did a year ago. A performer who reigned as World Heavyweight Champion for much of the year prior, it is difficult to predict exactly where the "Celtic Warrior" will find himself on the most important card of the year.
One thing is for certain: it is unlikely Sheamus will leave Met Life Stadium with championship gold around his waist.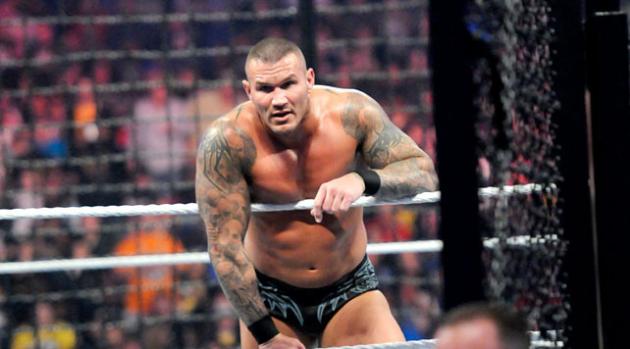 Photo Credit: WWE.com
After a disappointing few months that saw Randy wandering around Raw and Smackdown with no real direction and a visible lack of interest in what he was doing, "the Viper" came alive during Sunday's Elimination Chamber match, delivering his best performance of 2013 thus far.
The post-match staredown between he and winner Jack Swagger indicates there may be issues between the two that could bleed over onto WWE television as soon as this week. At the very least, Orton should not be discounted as a potential participant in a multi-man World Heavyweight Championship match on April 7.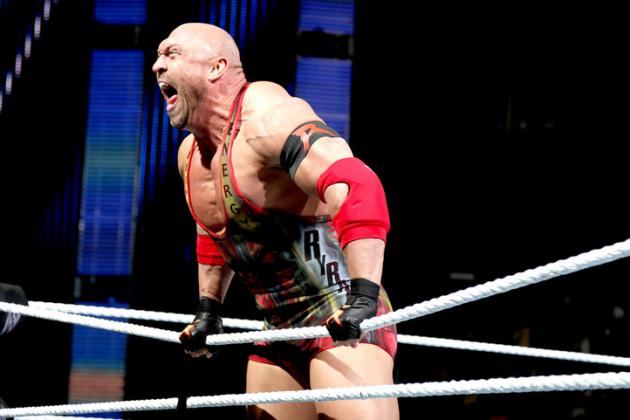 Photo Credit: WWE.com
During Sunday's high-profile six-man tag team match, Ryback delivered a high impact, hard-hitting performance that saw him explode into the ring and destroy the members of The Shield.
Chants of "Feed Me More" fueled him as he prepared to, finally, gain a measure of revenge against the trio that had repeatedly cost him the WWE Championship. Unfortunately, a spear from out of nowhere by Roman Reigns led to Ryback's shoulders being pinned to the mat by Seth Rollins.
Perhaps most importantly was a hint of dissension between the team of Ryback, Sheamus, and John Cena when Ryback walked out on his partners, a look a frustration clearly evident in his facial and body expressions. Could a heel turn be in the works in the coming weeks?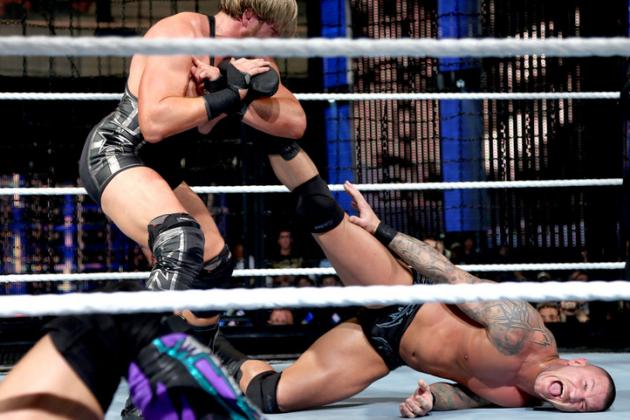 Photo Credit: WWE.com
The former World Heavyweight Champion erased two very disappointing years in one night by defeating five top Superstars inside the Elimination Chamber to earn a shot at the World Heavyweight Championship at WrestleMania 29.
With a new look, a character tweak and a renewed energy, Swagger enters the final stretch towards the pro wrestling extravaganza with momentum on his side.
Can he capitalize on his latest opportunity by winning his second title and erasing the bad taste left in his mouth by his first?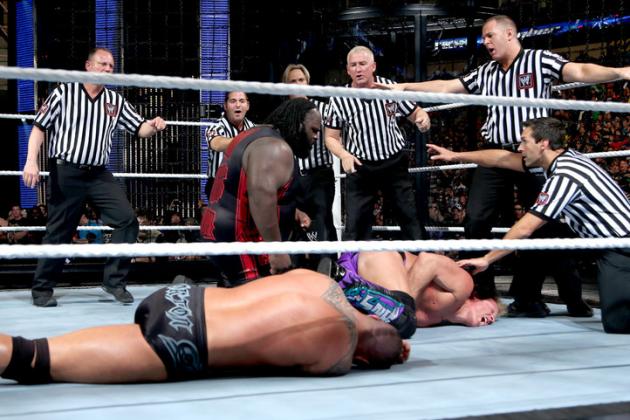 Photo Credit: WWE.com
Yes, Mark Henry lost the Elimination Chamber match. Yes, he is ranked ahead of Jack Swagger.
It is hard to deny the sheer dominance Mark Henry has exhibited since returning from injury just a few weeks ago.
From his man-handling of Rey Mysterio, Sin Cara, Great Khali, Hornswoggle and Randy Orton, to his impressive performance on Sunday night, Henry has garnered a surprising amount of fan support for his no-nonsense, brute-force assaults on anyone standing in his way.
Never has it been more fun to watch one man demolish the opposition than it is watching Henry.
Do not rule out a babyface turn sometime after WrestleMania.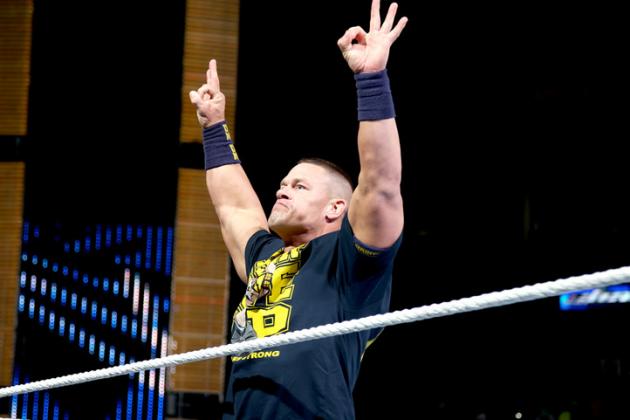 Photo Credit: WWE.com
Sure, John Cena was a part of the losing team at Elimination Chamber, but can anyone argue the success he has had since the calendar changed over from 2012 to 2013?
With a bout against The Rock poised to headline WrestleMania for the second year in a row, this time for the WWE Championship, it is difficult to imagine a loss in a six-man tag team match, in which he was not the Superstar pinned, to have much effect on him.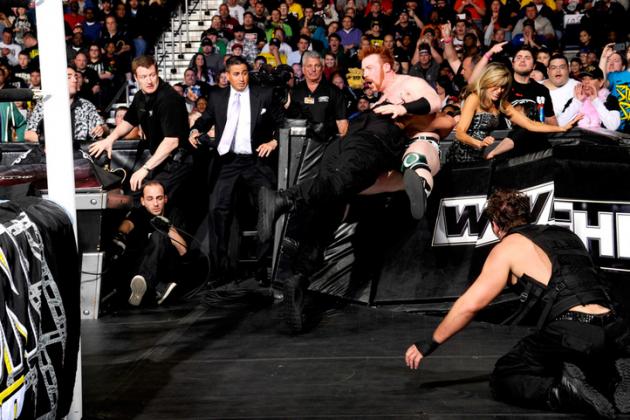 Photo Credit: WWE.com
The refreshing trio of young stars picked up its second impressive pay-per-view victory, this time defeating the three top babyfaces in World Wrestling Entertainment.
With a pair of near show-stealing performances under their collective belt, Dean Ambrose, Seth Rollins and Roman Reigns have proven to the world that the bright lights and big stage of WWE are not too big and not too bright for them.
The only question remains is whether or not they will compete at WrestleMania, where the stage cannot be bigger and the lights no brighter, or if they will simply appear in another fashion.
If they do compete, expect it to be in a match involving Ryback, who has yet to fully pay them back for attacking him on a number of occasions and keeping him from capturing the WWE title.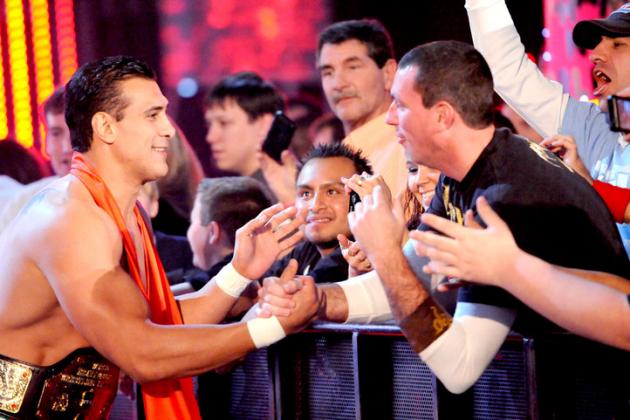 Photo Credit: WWE.com
Even a terribly missed enzuigiri kick could not derail the momentum of Alberto Del Rio as he forced a submission out of the Big Show en route to retaining the World Heavyweight Championship.
A babyface turn in December has completely rejuvenated Del Rio and has him on course to be one of the headliners at WrestleMania, the World Heavyweight Champion defending his title against challenger Jack Swagger.
Does WWE have enough faith in ADR to carry the load of the match himself or will other Superstars be added to make the match a multi-Superstar affair?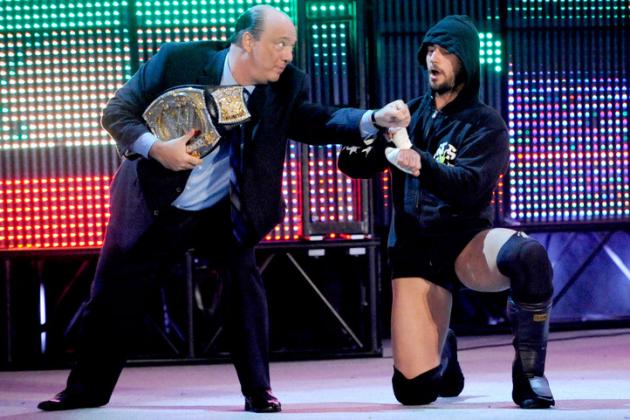 Photo Credit: WWE.com
Heading into the Elimination Chamber as the challenger to the WWE Championship for the first time since November 2011, CM Punk arguably left the pay-per-view looking better than his movie star, Hall of Fame-worthy opponent.
Kicking out of the Rock Bottom and People's Elbow, Punk proved he was a worthy challenger to The Rock and leaves the New Orleans Arena looking every bit as strong as the champion.
With the status of his expected match against The Undertaker potentially up in the air, one has to wonder if CM Punk's performance at Elimination Chamber did enough to warrant him consideration for a potential entry into WrestleMania's WWE title match.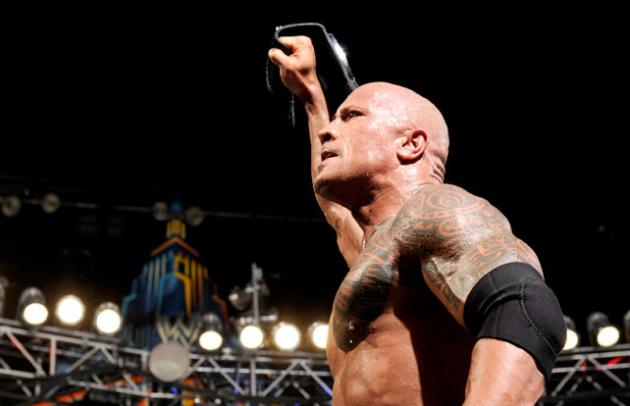 Photo Credit: WWE.com
For the second consecutive month, The Rock defeated the self-proclaimed "Best in the World," CM Punk, on WWE pay-per-view.
Despite the victory, the current WWE Champion tops the list largely due to the fact that he is the champion and he has capped off two pay-per-view events with the title held high overhead.
Having not competed at all between his title victory and first defense, few knew if the titleholder had improved what can best be considered questionable cardio.
While appearing to be in better shape than he was in January at the Royal Rumble, The Rock will likely have to work much harder to improve his stamina if he hopes to defeat John Cena for a second year in a row come April 7.
His physical state still in question, The Rock has competed in, and won, two major main-event matches and that fact cannot be overlooked, nor can it knock him out of the No. 1 spot in the post-Elimination Chamber power rankings.