Grading Every Player in the 2013 NBA All-Star Game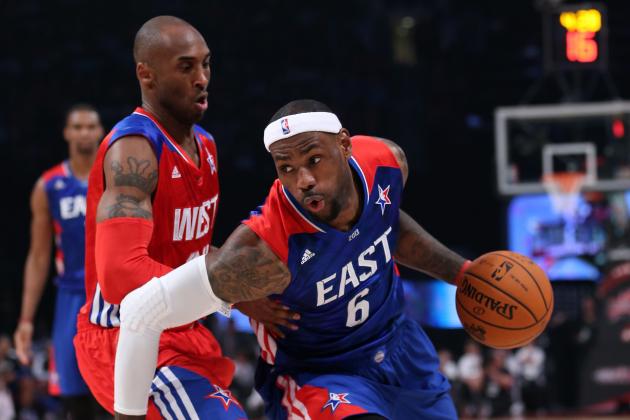 Ronald Martinez/Getty Images

The Western Conference All-Stars left Houston with their third consecutive win over their Eastern Conference counterparts on Sunday night, taking the 2013 NBA All-Star Game by a final score of 143-138.
Chris Paul garnered MVP honors and Kevin Durant put up a game-high 30 points. Yet the lasting image from the NBA's 62nd annual exhibition will be of Kobe Bryant swatting away a pair of LeBron James shot attempts in a surprisingly heated fourth quarter.
There was plenty of gravity defiance, a shocking amount of unselfish play and even some serious effort from a select few players. All of that combined to make this year's star-studded contest more memorable than most.
Just because the All-Star Game is typically a casual affair, don't think there's no room for a little judgment. After all, if the league's best players took the game (well, the fourth quarter anyway) seriously enough to start personal vendettas and dole out a bloody lip, there's certainly good reason to hand out some grades.
And if some of this year's participants thought they'd get a pass just for showing up, they've got another thing coming.
Here are the grades for each player that participated in the 2013 NBA All-Star Game.
Begin Slideshow

»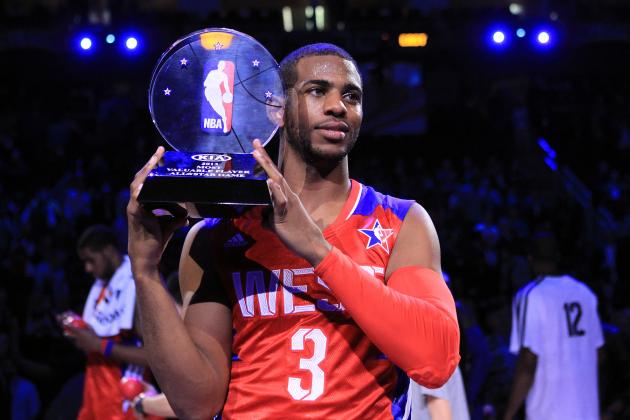 Ronald Martinez/Getty Images

Here's a new rule: If you're named the 2013 All-Star Game MVP, you get an "A." Any objections? No? Good, we're done here.
Oh, all right. Fine. There are plenty of objective justifications for CP3's high marks.
For starters, Paul essentially controlled the offense for the Western Conference when he was on the floor. He wove through traffic, started the break and found his buddy Blake Griffin for plenty of signature lobs.
And he even did a pretty good impression of his own regular season shtick—by which I mean he facilitated for three quarters before taking over on his own in the fourth. Paul's step-back three over Joakim Noah helped give the West an insurmountable cushion down the stretch.
Because of all that (and my new rule), Paul gets the game's best grade.
Final Grade: A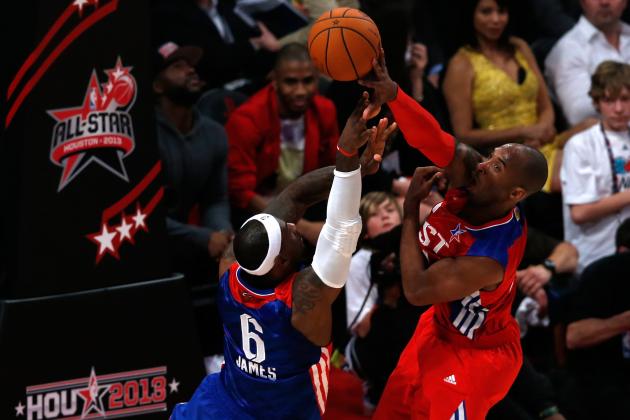 Scott Halleran/Getty Images

Kobe Bryant went through pregame warmups looking like a highly-decorated general thanks to the league's decision to chronicle each player's career achievements in patch form on their sweatsuits.
And then he went to war.
Well, to be totally accurate, Bryant spent the early part of the game doing typical All-Star things, i.e., casually jogging around and tossing the occasional alley-oop. But when the fourth quarter rolled around and he matched up with LeBron James, he took things to DEFCON 1.
Apparently irked by James' clear status as the league's alpha dog, Bryant went after him. Two blocks later, Kobe had sent his message and created the game's primary storyline.
I'll salute that.
Final Grade: A-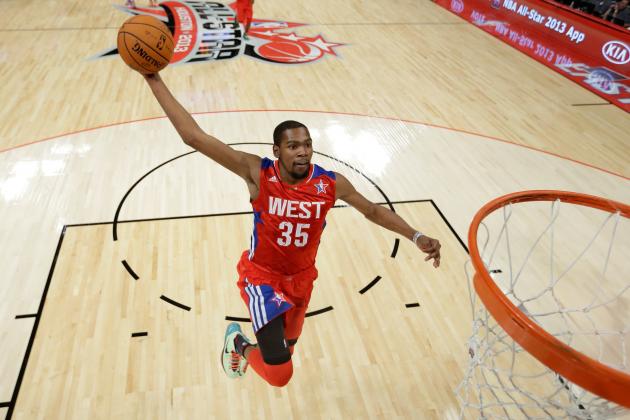 Pool/Getty Images

All Kevin Durant did in this year's All-Star Game was become the first player to ever register at least 30 points in three straight years of February exhibitions.
KD scored from long range and in close, mixing up plenty of pull-up triples with thunderous slams. And he wasn't shy about it either, hoisting up a game-high 24 shots.
If not for CP3's big night, Durant would almost certainly have left Houston with some hardware. Still, he played a terrific game.
Final Grade: A-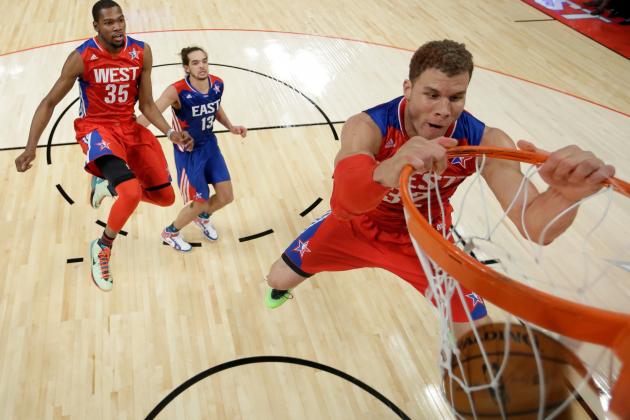 Pool/Getty Images

Blake Griffin slammed home 19 points on 9-of-11 shooting, and if you suspect he was so accurate from the field because he got most of his looks from above the rim, you'd be correct.
Proving that he truly believed in his Kia commercial edict that dunking was all he needed to do, Griffin soared for lobs from Paul—and even Bryant—on his way to a handful of rim-rattling highlights.
All you did was dunk in this game, Blake.
Final Grade: B+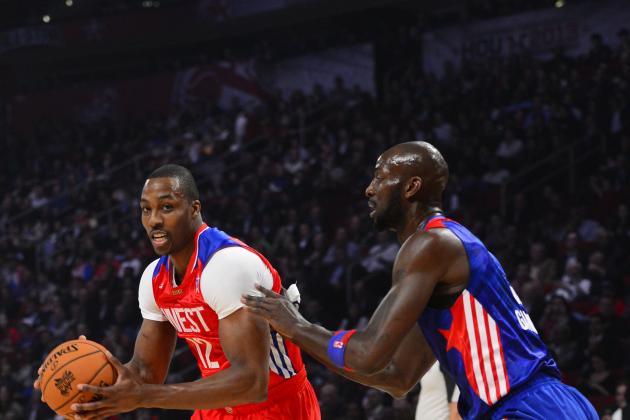 Bob Donnan-USA TODAY Sports

When Dwight Howard hit a three from the left wing, I like to think a tiny light bulb illuminated above Mike D'Antoni's head.
"Eureka!" he probably shouted.
Hey, the Lakers have tried everything else to get their offense going this year, and D'Antoni loves big men who stretch the floor. So if you're willing to rule out Howard as the league's unlikeliest stretch 5, go right ahead. I think Mike D.'s crazy enough to try it.
In 14 minutes, D12 goofed around, smiled and even scored nine points. But his triple was definitely his most notable contribution.
Let's just hope we don't see too many more of those attempts from him this season.
Final Grade: B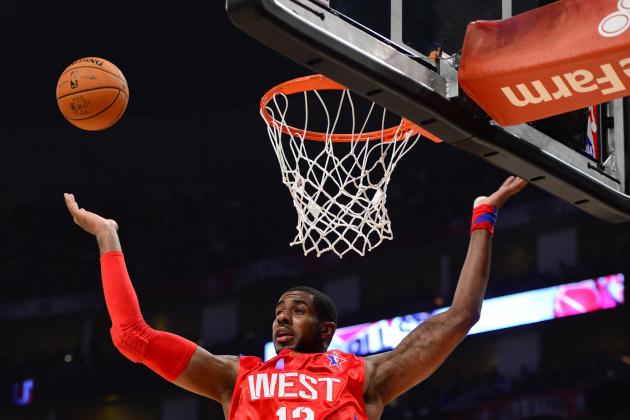 Bob Donnan-USA TODAY Sports
I don't know what's happening here, but it's definitely not basket.
LaMarcus Aldridge was the only Western Conference All-Star who failed to score. As Charles Barkley would (and probably did) say: "Come on, man!"
I mean, there were 281 points scored between the two teams. Couldn't he have just sashayed through the lane for a layup like everyone else? It's not like anyone was going to get in his way during the game's first 40 minutes.
Tim Duncan only played eight minutes, and he registered four shots.
Aldridge made an effort to help out in other ways, registering four rebounds and two blocks. But nobody cares about that.
And besides, it's tough to find a reasonable justification for giving any of these guys an "F." So I'm jumping at the chance.
Final Grade: F
Brett Davis-USA TODAY Sports

If you hadn't been watching the game closely, it's likely you missed David Lee.
The Golden State Warriors' first All-Star since Latrell Sprewell played just 13 minutes, but managed to hit 3-of-4 shots from the field en route to a respectable six points. Lee also pulled down a pair of defensive rebounds and snagged two steals.
If he ends up choking his coach, beaching a yacht in Wisconsin and owing massive amounts of back taxes, we'll know there's some kind of Warriors-related All-Star curse. That's looking ahead, though.
For now, Lee gets solid marks for his decent production.
Final Grade: B-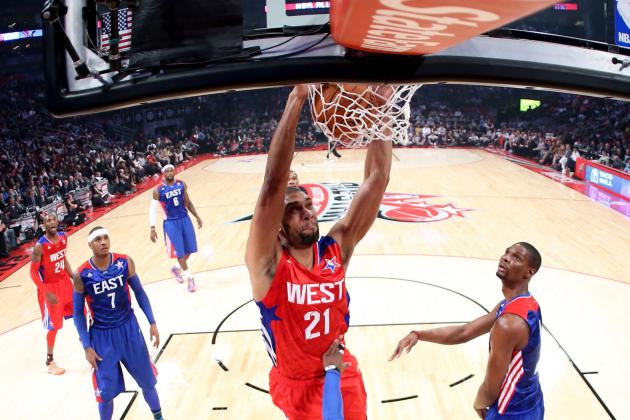 Pool Photo-USA TODAY Sports

Normally, Tim Duncan is all business. But according to what Dwight Howard told David Aldridge during an in-game interview, TD had some kind of wager going with D12 about which one would hit a three in the All-Star Game.
Duncan missed his only long-range attempt, much to the amusement of the typically salty Gregg Popovich, so he clearly lost whatever bet he made with the Los Angeles Lakers big man.
Nobody on the West's roster played fewer minutes than Duncan, who logged just eight in total. But hey, at least Popovich didn't send him home without explanation. Imagine the fine David Stern would have levied against the Spurs if that had happened.
Final Grade: C-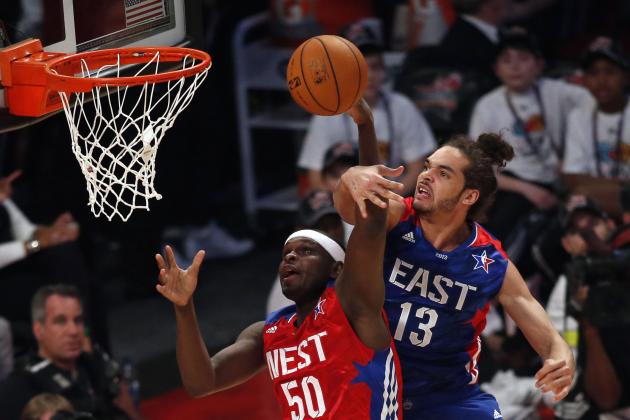 Brett Davis-USA TODAY Sports

I watched the entire All-Star game pretty vigilantly, and the only plays that I remember Zach Randolph being involved in featured Joakim Noah blocking his shot on one end and crossing him up on the other.
He had six points and five rebounds, but the only enduring images from his 2013 performance weren't good ones.
I'll bravely give Randolph a harsh grade in the comfort of cyberspace, but if ever confronted by him in person, it'll be "A's" all around.
Final Grade: D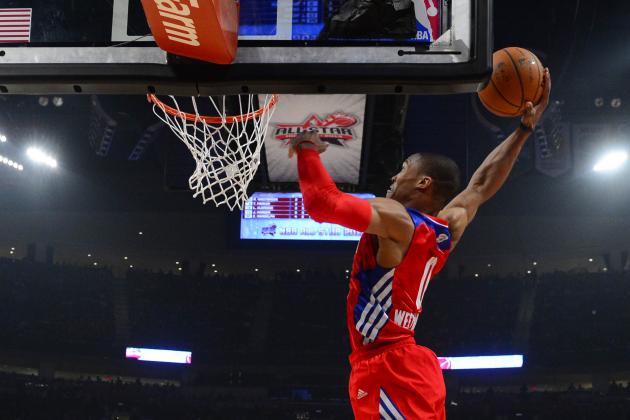 Bob Donnan-USA TODAY Sports

Russell Westbrook had an excellent 14 points and three assists on 7-of-13 shooting, but his biggest moments ironically involved teaming up with former mate James Harden.
In one instance, Westbrook left a nice dropback pass to a trailing Harden that resulted in a buried three.
In another, Harden tossed up a pretty lob on the break, which Westbrook was more than happy to viciously rifle through the rim.
OKC fans everywhere must have thought—if only for a moment—that it might have been nice to have that tandem still together.
Nostalgia aside, Westbrook had a good game.
Final Grade: B+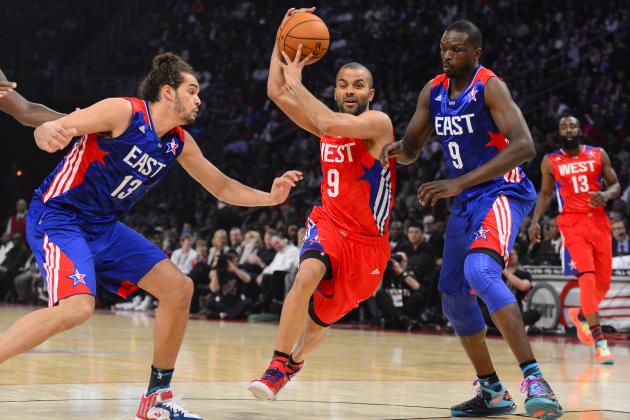 Bob Donnan-USA TODAY Sports

Tony Parker extended his career-best season right into this year's All-Star game, putting up 13 points and five assists in 22 minutes for the West.
Most notably, the San Antonio Spurs point guard was the second player to embarrass Chris Bosh with a nutmeg. You'd think Bosh would have learned after Paul dribbled the ball through his legs the first time, but Parker proved that there's always room for seconds.
Still, he gets a slight ding on his report card for copying off of Paul.
Final Grade: B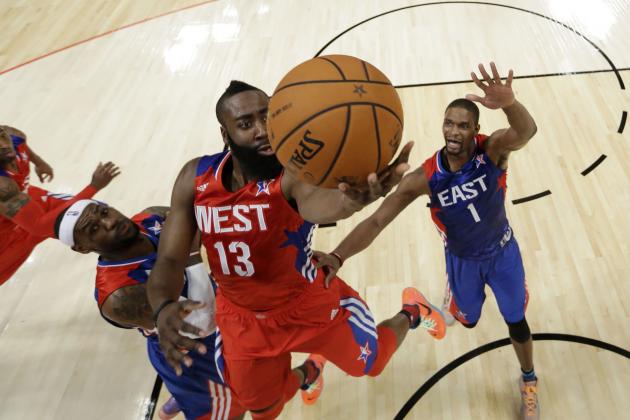 Pool Photo-USA TODAY Sports

Houston's hometown player certainly didn't disappoint, Eurostepping his way to 15 points on 13 shots.
James Harden might have been an early favorite to take home MVP honors, but his teammates didn't uphold the tradition of trying to boost the scoring total of the player from the game's host city.
Nonetheless, the threes rained down, the floater was as soft as ever and the Beard was glorious.
If anything, Harden would have been justified in hoisting up a few more shots in his home gym.
Final Grade: B+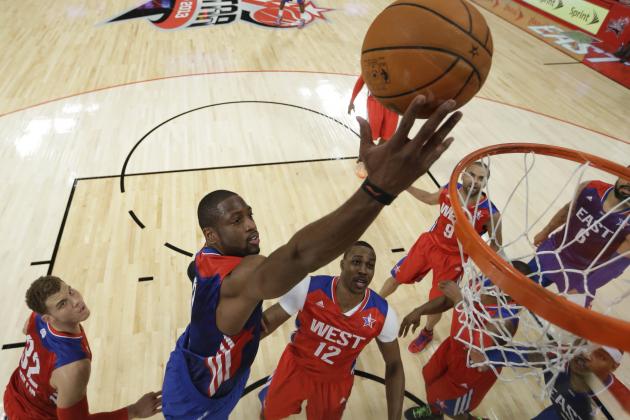 Pool Photo-USA TODAY Sports

Moving on to the East, Dwyane Wade had an ultra-efficient evening, pouring in 21 points on 10-of-13 shooting.
But I have to admit, I had a real issue with the way D-Wade went about finishing many of his plays on Sunday. Are you sitting down?
Wade laid the ball up way too often.
Come on, Dwyane; this is the All-Star Game. Throw it down. Nobody wants to see boring old layups.
Efficiency aside, there's no room for fundamental plays in the league's annual dunk-fest.
Final Grade: D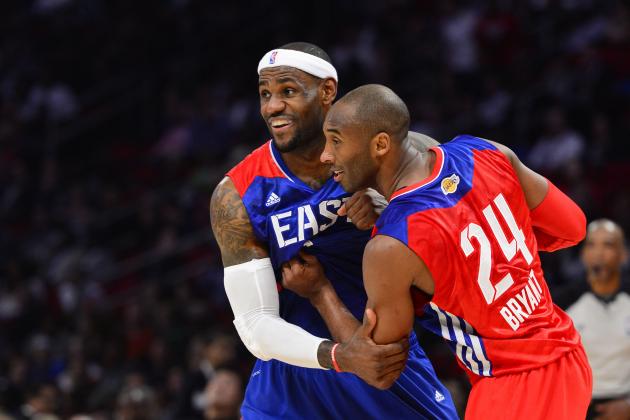 Bob Donnan-USA TODAY Sports

If LeBron James had put up these kinds of numbers in a regular season game, he definitely would have been disappointed.
After all, the guy's been logging 30-point games on 60 percent shooting on a nightly basis for weeks now.
But the historically hot James cooled off in Houston, scoring 19 points on 7-of-18 shooting and dishing out just five assists.
And of course, everyone's talking about how Bryant swatted away a pair of James' shots in the fourth quarter.
Instead of putting his stamp on the game, LBJ allowed Kobe to stomp him out. By any objective measure, King James is still the league's best player, but he sure didn't look like it in this year's All-Star Game.
Only his dunks in the first half help James avoid an average grade.
Final Grade: B-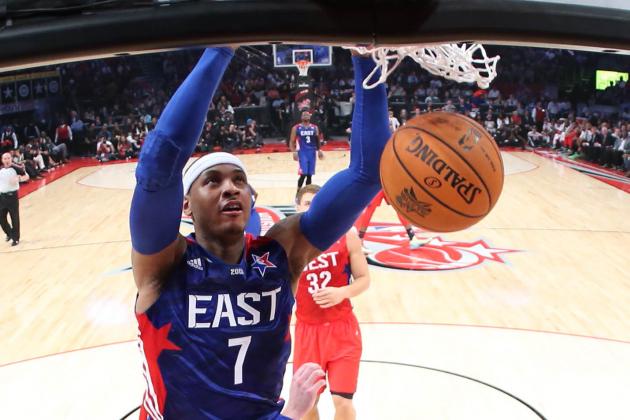 Pool Photo-USA TODAY Sports

You can bet Carmelo Anthony was just itching for the All-Star Game to tip off.
After all, what's more comfortable for him than a game where quick shots are lauded and defense is strongly discouraged?
Melo put up a team-high 26 points on 8-of-14 shooting, so there's no justifiable way to criticize his shot selection. And his 12 rebounds showed that he was actually putting forth some real effort.
Of course, he was probably doing that in hopes of winning the game's MVP trophy. Nonetheless, Anthony did exactly what you're supposed to do in the All-Star Game: score.
Final Grade: A-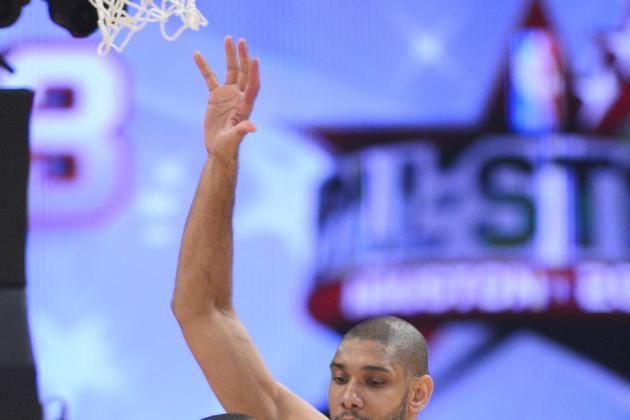 Bob Donnan-USA TODAY Sports

Poor Chris Bosh. He'll be forever remembered as the only player ever to suffer through the ignominy of being nutmegged twice in the same All-Star Game.
Bosh also had one of the East's worst stat lines, scoring just six points on 3-of-9 shooting. So it's not like the embarrassment stopped with the lowlights that he'll be living down on YouTube forever.
This was a night to forget for Bosh.
Final Grade: F
Bob Donnan-USA TODAY Sports

Kevin Garnett hardly broke a sweat in his 15th All-Star Game. But that's fine; he spent most of his time busting Craig Sager's chops.
After logging just six minutes, the creaky-kneed vet hit the bench, only to be greeted by the inimitably clothed sideline reporter.
KG smartly assessed Sager's jacket as resembling a "Christmas ornament" and then covered his eyes, impersonating how TNT's worst dresser picks out his clothes.
For all that, Garnett deserves an "A."
Hey, nobody said grades were limited to on-court achievements.
Final Grade: A
Bob Donnan-USA TODAY Sports

Luol Deng was boring in this year's All-Star Game, and we don't take kindly to boring around here.
All-Star Games are supposed to be about streaking downcourt for dunks and flipping lobs off the backboard. Deng opted to toss up a bunch of perimeter shots without hitting many (he was 4-of-10 overall and 1-of-5 from three), so it's hard to be kind to him in the grade department.
Because he was probably exhausted from leading the NBA in minutes per game, he'll avoid an "F." But just barely.
Final Grade: D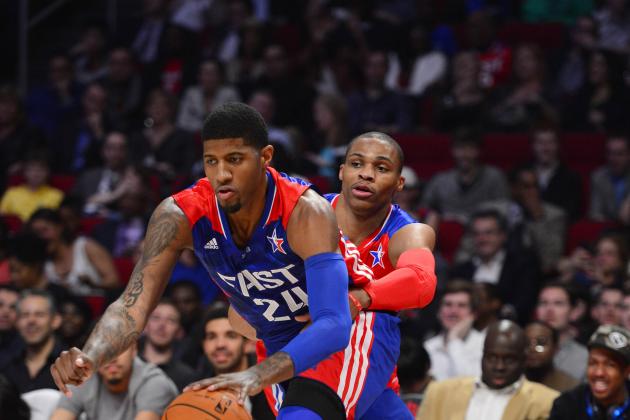 Bob Donnan-USA TODAY Sports

In an interesting twist, Paul George actually did a fair amount of ball-handling for Erik Spoelstra's East squad. Granted, it would have been a lot more interesting if there were any plays for him to run, but it was still enjoyable to see one of the league's emerging stars showcase some point guard skills.
George was exceptionally efficient in his first All-Star Game, scoring 17 points, hitting three triples and dishing out four assists (against zero turnovers).
The future is blindingly bright for this guy, and he stood out among the very best players in the world in Houston.
Final Grade: A-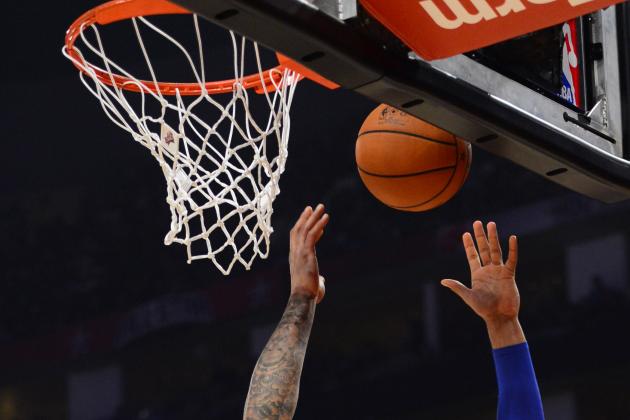 Bob Donnan-USA TODAY Sports

A true "dirty work" guy, Tyson Chandler isn't really cut out for run-and-gun exhibitions like the All-Star Game. Still, the New York Knicks defensive ace slammed home a lob and went to work on the boards, so he ended up comporting himself adequately.
Games like this are fine, but you can be sure that Chandler is really just waiting until his next chance to muscle real opponents down low.
Sound defensive positioning and good help aren't exactly huge components of games like this, so Chandler's skills were a little out of place.
Final Grade: C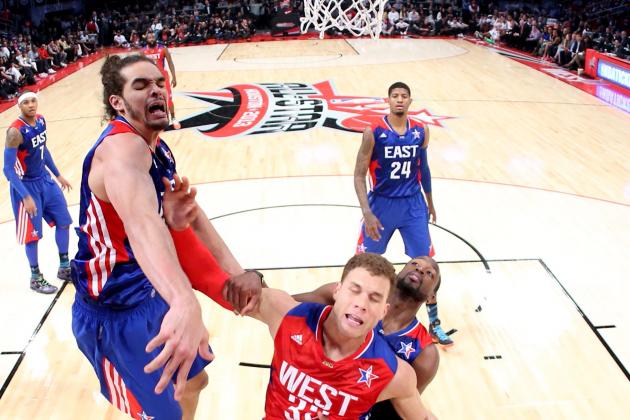 Pool Photo-USA TODAY Sports

There's no other way to say it: Joakim Noah was the funniest player on the court during the 2013 All-Star Game.
Unfortunately, he probably wasn't trying to be.
Noah's relentless effort and hustle made him stick out like a sore thumb. He sprinted back on defense, contested shots and battled on the boards. All that added up to eight points and 10 rebounds in only 16 minutes, but his most notable contribution was an inadvertent elbow to Paul's mouth.
The play came after Paul had buried a step-back jumper in Noah's face, so there might have been a moment where it seemed like Noah threw the 'bow on purpose. But he was really just hustling up the floor at maximum speed. It was a mistake of pure aggression.
Because of his comic relief and awesome hustle, the Chicago Bulls' wild-eyed center gets a never-before-seen grade.
Final Grade: A (for effort)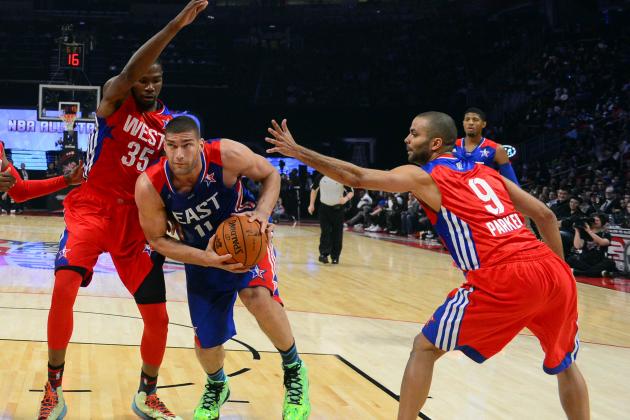 Bob Donnan-USA TODAY Sports

It's great that the injury to Rajon Rondo allowed Brook Lopez to make the All-Star Game as an alternate selection. He's been having a terrific year and totally deserved to be in Houston.
But big, lumbering centers just don't have a place in All-Star Games anymore.
Lopez was 0-of-1 from the field and scored just three points. He complemented his poor scoring with five rebounds and three assists, but really, the fans are only interested in highlights.
The Brooklyn Nets big man isn't in the business of providing those.
Final Grade: D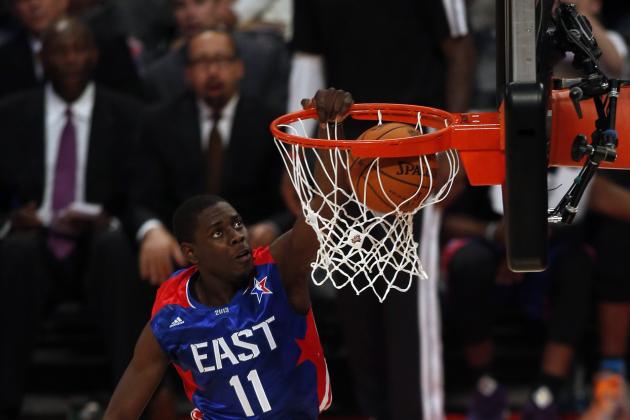 Brett Davis-USA TODAY Sports

Jrue Holiday had my favorite highlight of the night—a sneaky left-handed dunk on the break. It came out of nowhere and abruptly sent a jolt through the crowd.
The Philadelphia 76ers' first-time All-Star was among the most obviously excited and humbled participants this year, so it was great to see him generate one of the game's more memorable moments.
On the whole, Holiday scored just six points in 15 minutes, but he added two steals, an assist and two boards to his totals.
The highlight alone would have earned him a "B," but the efficiency and solid overall game are good enough for a little bonus from this biased judge.
Final Grade: B+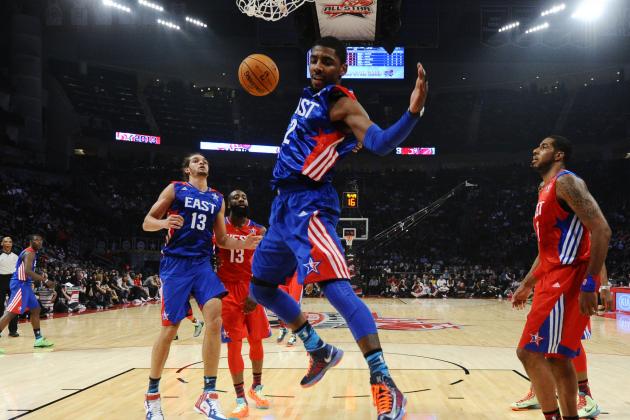 Pool Photo-USA TODAY Sports

If Kyrie Irving had been able to put together a big Sunday night, he would have been crowned the unofficial king of All-Star weekend.
After crossing up Brandon Knight in the Rising Stars Challenge and stunning everyone by winning the three-point shootout, Irving played a very good—but not great—All-Star Game.
With 15 points and four assists, the Cleveland Cavaliers' second-year man clearly showed he belonged among the game's elite. Heck, Spoelstra had him out there as part of his crunch-time lineup.
It just would have been exciting to see him really break out by taking things over on the big stage.
Oh well; I guess we'll just have to wait for him to do that in one of the next 15 All-Star Games he plays in.
Yeah, he's that good.
Final Grade: B+