Power Ranking the Best Rivalries in NHL History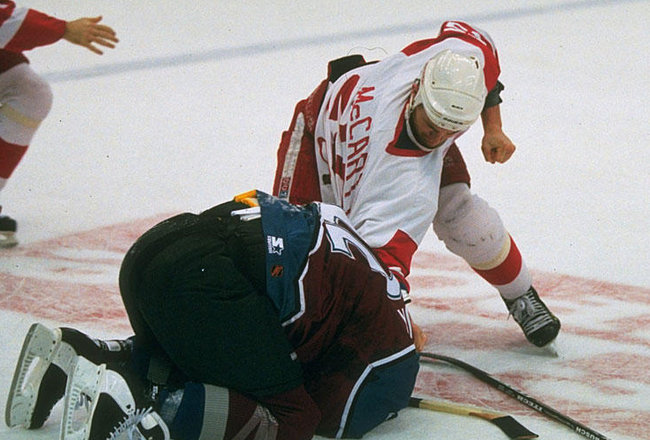 twicsy.com

The success of one team is directly correlated to the failure of another. Watching your neighbor enjoy the spoils of victory can build resentment and turn conventional competition into something that can be charged with emotion. A rivalry can be born from jealousy, bitterness, envy or just hatred.
The passion and commitment from fans and from teams make games more interesting. The crowds can be electric and almost lift their teams to another level. Friendly banter becomes vitriol and hate. The glass and netting surrounding the ice put in place to protect the fans often seems like a necessity to protect players from the borderline lunacy in the stands.
Rivalries in sports aren't always organic. Often times there is a trigger or a singular incident that can push competition to the next level. Though I believe that most rivalries are perpetuated by a particular fanbase, there is plenty of evidence to suggest that some players just don't like each other.
It is human nature to compete, and the athletes who are at the pinnacle of their sport have reached the top because of their drive to succeed. The best of the best don't often take kindly to defeat. Some work harder to get better, some drop their gloves and some just disappear.
Here is my power ranking of the best rivalries in NHL history. Enjoy now!
27. John Tortorella and the Media
As someone who used to play, I would love to have John Tortorella as my coach. I love his passion, frankness and raw emotion. Squirting fans aside, Tortorella cares about his team as much as any coach in the league.
I love that Tortorella always speaks his mind about anyone and anything at any time. I don't think that John Tortorella necessarily hates anyone in the media, but he won't pull any punches about calling someone out when he disagrees with them.
26. Anaheim Ducks and Los Angeles Kings
Fans in the East may not realize this, but the fans and teams in Southern California hate each other. For a while, the Anaheim Ducks could hold their heads just a little bit higher with their Stanley Cup win in 2007.
With a Los Angeles Kings title freshly hung in the Staples Center rafters, bragging rights in SoCal have become even more hostile.
25. Pierre McGuire and Personal Space
Okay, so maybe there isn't necessarily a "rivalry" between Pierre McGuire and personal space, but his creepy interactions with players and other members of the media are showcased in this video clip.
I hate to always rip on "Lucky" Pierre. He seems to be a hockey insider with a good bit of knowledge of the game. However, his callous disregard for personal space puts him on my list and potentially his name on a different kind of list.
24. Peter Laviolette and Dan Bylsma
Peter Laviolette seems to be a pretty unhappy guy most of the time, so it was hardly surprising to see him get this fired up at the Pittsburgh Penguins' bench last season.
I don't think that he wants to fight Pittsburgh coach Dan Bylsma, but I don't think that the two will be exchanging holiday cards anytime soon.
23. Dion Phaneuf and Sean Avery
Let's be honest here. Before he made the "sloppy seconds" comment, did you even know who Sean Avery was? Did Dion Phaneuf even know? I'm not really a fan of Dion Phaneuf either, but digging on another player's lady friend is low, even for a tool like Avery.
I'm definitely surprised that Phaneuf never really "went after" Avery. I suppose that's a testament to Phaneuf's character more than anything else, though most people look pretty good when you lump them next to Sean Avery.
22. Scott Hartnell and Gravity
This is one of the more one-sided rivalries in NHL history. No amount of training or practice seems to help the rugged Philadelphia winger against his biggest adversary.
Though he has been out with a broken foot lately, Hartnell should be back after it in a few more weeks. With such a formidable opponent and the laws of physics working against him, look for Hartnell to come crashing into an Eastern Conference arena near you.
21. New York Rangers and Philadelphia Flyers
There may not be the venom of the in-state rivalry, but the close proximity of Broad Street and Broadway make this rivalry huge. The working class of Philadelphia has a chip on their shoulder against most teams, but there seems to be a dislike from the fans to the rosters between these two teams.
There is a rivalry between New York and Philadelphia in almost every sport and hockey is no different. The two coaches are both American-born and are in direct competition for the most wins for that distinction. The renewed success of both teams lately means that there will be more playoff matchups between the two and that is a good thing for the NHL.
20. Detroit Red Wings and Toronto Maple Leafs
This Original Six rivalry has been termed the "Battle of the Windsor Corridor." With 23 playoff meetings and five Stanley Cup Final matchups, the Toronto-Detroit rivalry was one of the best in the NHL.
The division realignment diffused most of that. as Toronto was moved into the Eastern Conference. The relatively close proximity to one another and the blending of Detroit and Toronto fans in shared markets keeps some mutual hatred going, but it is far from what it once was.
19. Los Angeles Kings and Edmonton Oilers
If it were closer to 1988, this slide could be called the Los Angeles Kings vs. Canada. The trade of Wayne Gretzky from Edmonton to Los Angeles added some gasoline to a one-sided battle between the two former Smythe Division rivals. Division realignment has diffused the once-great rivalry.
The 1982 "Miracle on Manchester" was a major feather in the cap of the Los Angeles hockey club, and a last hurrah of sorts, as Edmonton would come back with a vengeance after its upset loss. Bringing Gretzky to Southern California gave Los Angeles instant credibility and re-established real competition between the two teams.
Gretzky's Kings would derail Edmonton's bid for a third-consecutive Stanley Cup in 1989, defeating them in seven games. The Oilers would exact revenge the following year with a four-game sweep in the conference semifinals on their way to a fifth Stanley Cup in seven years.
18. Don Cherry and Everyone Else
Often misogynistic, mildly racist and offensive to nationalities that aren't Canadian, Hockey Night in Canada personality Don Cherry has made a career out of being loud in fashion and with his mouth.
While he may be a national treasure to some, Don Cherry has insulted and/or alienated almost every type of human being on the planet at some point.
17. Bruce Boudreau and the Swear Jar (Warning: Explicit Language)
One of the best parts of the Winter Classic is the HBO programming that follows both teams prior to the game. It provides a very uncensored look behind the scenes to the locker rooms, coaches and the players.
The 2010 edition of 24/7 gave the world an introduction to the very "colorful" and outspoken coach of the Washington Capitals, Bruce Boudreau. He stole the spotlight with his expletive-laden tirades between periods and during practices and provided a stark contrast to his Pittsburgh counterpart Dan Bylsma
16. Sidney Crosby and Alexander Ovechkin
Once upon a time, there were two stars from different corners of the globe. Both were young and explosive, scoring at will and electrifying crowds in every NHL arena. People chose sides and rooted for one against the other.
There was no reason to believe that the two stars wouldn't or didn't like each other, but wouldn't it be great if they did?
Sidney Crosby and Alex Ovechkin are two completely different players and two distinct personalities. Their head-to-head matchups were manufactured by television and the NHL hype machine.
The games between the two were always competitive and exciting, and sometimes chippy. However, Crosby's injuries and Ovechkin's subsequent lost mojo has turned this tête-à-tête into a one-sided affair in favor of the Penguins' star.
15. New York Islanders and New York Rangers
Being a member of the "Original Six" comes with a certain amount of entitlement that some would say borders on arrogance. The New York Rangers and their fans are quick to pull that card when the "Battle for New York" is discussed.
The New York Islanders faithful are just as quick to point out that even though the Rangers are 46 years older, they have the same number of Stanley Cup titles. The Islanders have been non-competitive for the better part of the last 25 years, but have a solid foundation that is looking to get back to the playoffs.
The current rivalry exists more between the fanbases right now, but that will change in the next couple of years.
14. Quebec Nordiques and Montreal Canadiens
They are now the Colorado Avalanche, but they used to have an inferiority complex when they existed in Quebec City. The largest city in the province of Quebec is Montreal, home of the most storied franchise in all of sports. About two-and-a-half hours separated the two cities, and fanbases for the two certainly shared the same geography.
At one point, both teams were owned by rival breweries and were actually used as symbols for political sides in Canadian politics. The rivalry only existed for a short period of time, but the two sides met five times in the playoffs and featured the "Good Friday Massacre" in the sixth game of the 1984 playoff series.
13. Ron Hextall and Chris Chelios
Ron Hextall hated pretty much anyone that wasn't wearing the same uniform as him, so it isn't really fair to label Chris Chelios as the root of his ire. Granted, Chris Chelios made a point to be at the top of most people's lists of players to hate.
Chelios' dirty hit on Brian Propp during the 1989 Eastern Conference Finals left Hextall stewing in the Flyers' goal until the series had been decided. It is also worth noting that Patrick Roy was taunting Hextall as he was being escorted from the ice. It would have been nice to see those two throw a few haymakers at one another.
12. Scotty Bowman and Marc Crawford
Scotty Bowman has won more Stanley Cups than any coach in the history of the NHL. He has also won more games and gotten inside of more opposing coaches' heads than anyone. Include Marc Crawford in the list of coaches who have been taken out of their games by the legendary Bowman.
The pairing of the Detroit Red Wings and Colorado Avalanche ignited a powder keg of emotion on several occasions, with Crawford screaming at Bowman, who appeared to be more indifferent than anything else.
11. Jeremy Roenick and Patrick Roy
It is always entertaining when elite players talk trash to other elite players while the microphone is turned on. It always increases the stakes when the two players are scheduled to meet next.
Jeremy Roenick and Patrick Roy did just that when microphones were shoved in their faces during the 1993 Stanley Cup Playoffs. Never short on confidence or attention-seeking behavior, Roenick and Roy traded these insults during the 1996 Western Conference Semifinals.
10. Edmonton Oilers and Calgary Flames
The Battle of Alberta has lost some sexiness since both Calgary and Edmonton have failed to yield a legitimate contender over the past few years. However, the regular-season battles between these two still produce a playoff-type intensity for each passionate fanbase.
The Gretzky era in Edmonton was derailed by Calgary in 1986 in the midst of an Edmonton dynasty. The Oilers and Flames were the two most dominant teams in the Campbell (Western) Conference for the bulk of the 1980's, with one of the two representing the conference in the Stanley Cup Final in eight of 10 years.
9. Vancouver Canucks and Chicago Blackhawks
One of the best rivalries to (re)emerge in the past decade has been the Vancouver Canucks and the Chicago Blackhawks. The two teams don't share a division but have had some incredible playoff encounters since 2008 that have both sides chirping.
Each team has been to the Stanley Cup Final in the last five years, with Chicago lifting the cup in 2010. Between 2009 and 2011, they have met three times in the playoffs, with Chicago winning twice. There has been some name-calling from players, and even Vancouver's Alain Vigneault chimed in with some snide remarks.
Both teams boast elite talent and match up evenly, which makes for some incredibly intense hockey.
8. Detroit Red Wings and Chicago Blackhawks
These two Original Six teams are familiar foes, which certainly breeds contempt. The two teams have played each other a total of 722 times in the regular season, more than any two teams in the NHL.
The two legendary franchises have met 15 times in the playoffs, with Chicago holding an 8-7 advantage. The last postseason meeting was in 2009, with Detroit winning the Western Conference four games to one.
7. New Jersey Devils and New York Rangers
There is perhaps no team in the NHL with a greater inferiority complex than the New Jersey Devils. When they were an expansion team, Wayne Gretzky once referred to them as a "Mickey Mouse" organization. They play in the shadow of two New York franchises that are rich in tradition and well supported, with an uber-passionate Philadelphia fanbase to their left.
However, the New Jersey Devils have been one of the best teams in the NHL since the early 1990s, winning three Stanley Cups and reaching the final two other times. Their success has put them on the same level with their more glamorous neighbors on Broadway, even though they still maintain a chip on their collective shoulder.
6. Boston Bruins and the New York Rangers
The two Original Six franchises of the American Northeast don't like each other at all. New York and Boston maintain a hatred for one another that spreads across all sports, and the Bruins-Rangers rivalry is no different.
Boston has enjoyed more success in the Stanley Cup department (6-4) and both teams have taken turns being relevant in the Eastern Conference over the past 30 years. With both clubs as strong playoff contenders again, this rivalry could reach peak levels again.
5. Pittsburgh Penguins and Philadelphia Flyers
This is probably the best current rivalry in the NHL and has come about due to the success of both teams. The playoff atmosphere that exists in every game between the two in-state rivals perpetuates the animosity between the Keystone clubs.
Last season's antics seemed almost larger than life, as several of the games—including playoff games—degenerated into beer league donnybrooks. Purists may not like it, but most fans love it. The talent on both sides is young, world class and seems to legitimately dislike one another.
That is a beautiful combination for a long-term rivalry.
4. Montreal Canadiens and Toronto Maple Leafs
The oldest rivalry in the NHL might be getting some of its snarl back. Toronto's 6-0 pasting of the Canadiens on Montreal ice earlier in February was chippy and nasty and could signal a rebirth of sorts for this fabled stalemate.
The Canadiens and Maple Leafs are the two most successful franchises in NHL history and have met 15 times in the playoffs—five times in the Stanley Cup final. The battles between Canada's two largest cities are legendary and could certainly gather even more steam if both teams are relevant come playoff time.
3. Detroit Red Wings and Colorado Avalanche
Of all the rivalries in the NHL, none was ignited more by a singular incident than the Detroit Red Wings-Colorado Avalanche feud. Claude Lemieux took an already rough-and-tumble battle between two of the NHL's top teams and lit a bonfire of hate with his cheap shot on Detroit's Kris Draper in 1996.
The Avalanche would get past the Red Wings and win the Stanley Cup in 1996, but Detroit seemed galvanized by the play and finally stood up for itself collectively.
The Red Wings and Avalanche would go on to win five Stanley Cups combined between 1996 and 2002. They would meet in the playoffs five times, three times in the conference finals.
2. Toronto Maple Leafs and Ottawa Senators
The Battle of Ontario is one of the most bitter in all of sports and blends passion with a heavy dose of venom. I have friends in both Toronto and Ottawa and both agree that the teams they hate most exist in the other city. They hate every other NHL city and team as well, but have a special dark and awful place in their hearts for Toronto and Ottawa, respectively.
The division rivalry has been tempered lately with the struggles of the Maple Leafs, much to the infinite delight of Senators' fans. The resurgence of the Toronto franchise will hopefully spark more balance in the feud between the two sides.
1. Montreal Canadiens and Boston Bruins
With respect to all the other feuds and rivalries in hockey, Boston and Montreal has to be at the top. The natural rivalry between the two Original Six teams and the patriotism and heartfelt allegiance to both city and country dominate the storylines each time these two teams play.
These two teams have played more games combined, in the regular season and playoffs, than any other pair in league history. There have been 33 playoff series between Boston and Montreal, with eight of those series going the full seven games.
From the incident that sparked the "Richard Riots" to Zdeno Chara's hit on Max Pacioretty, the storied and violent history between these two franchises shows no signs of subsiding.
Keep Reading