Post All-Star Break Predictions for the Oklahoma City Thunder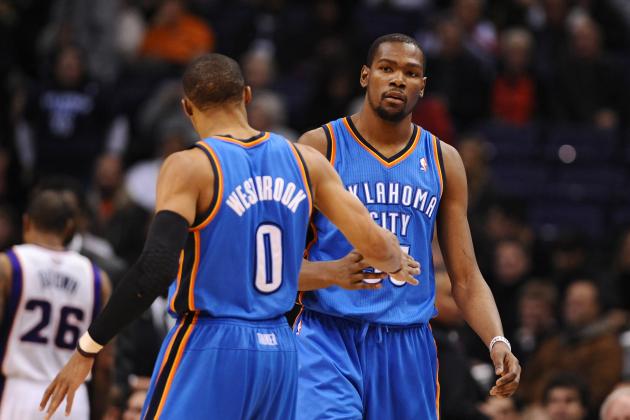 Jennifer Stewart-USA TODAY Sports

With the fun and games of the All-Star break all wrapped up for the Oklahoma City Thunder, it's time to get refocused on the rest of the season and the challenges that lay ahead.
The second half will be starting up and the games will become that much more important, and the battle for positioning in the standings will be crucial as well.
It can be a wild ride and very unpredictable during the home stretch of the NBA season, but I'm going to give it my best shot and make some predictions anyway for what's going to happen with the Thunder from here till the end of the season.
Begin Slideshow

»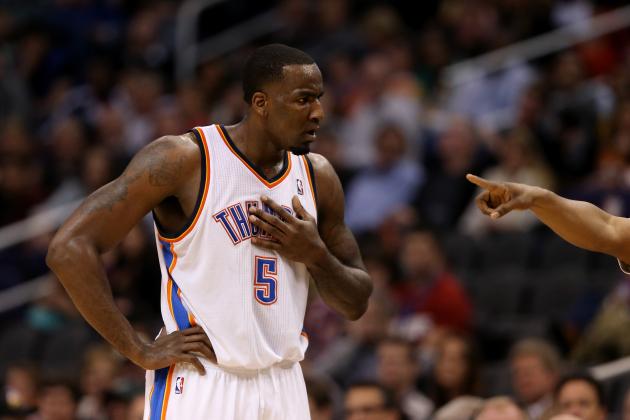 Mark J. Rebilas-USA TODAY Sports

While there haven't been a substantial amount of actual trade rumors around veteran center Kendrick Perkins, there has been plenty of speculation as to whether or not the Thunder should look to ship him out before the trade deadline.
Perkins was brought in as part of a deadline deal a couple seasons back, but his production has been hampered by constant injuries. As a result, the idea of dealing for a different center has been tantalizing for OKC, but for the time being, Perkins is its guy.
I also believe it will continue to be that way through the trade deadline as well. Thunder GM Sam Presti made the deal for Perkins to be an enforcer and to give the young team an edge and an attitude. Perkins has done pretty well in that regard, and he has a lot of intangible value that is often pushed aside when people look at his lowly statistics.
With that being said, I don't believe OKC will be dealing Perk, but that doesn't necessarily mean it will be a quiet trade deadline for the team.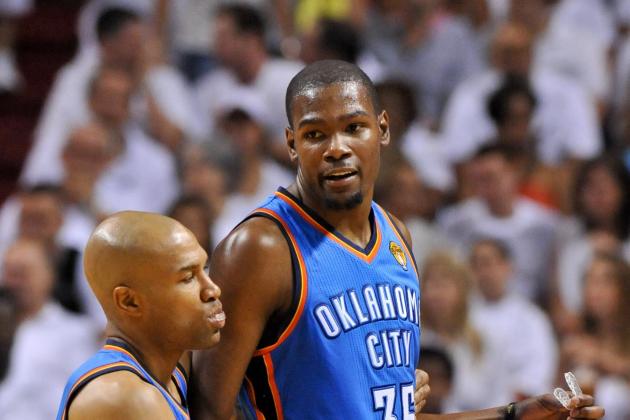 Derick E. Hingle-USA TODAY Sports

Last season before the playoffs started, the Thunder brought in some point guard help with Derek Fisher, who had been recently traded and then waived.
This was a necessary move with regular reserve guard Eric Maynor out with an ACL injury and rookie Reggie Jackson struggling to fill in the role. The move ended up working out pretty nicely for Oklahoma City, who got some good play out of the seasoned veteran Fisher, especially in the postseason.
This season, I believe the Thunder will make a similar move before the playoffs start. Signing a solid veteran with the chance at a NBA title run will make for some inspired play, especially if that player has been sitting by the phone and waiting to be signed all year.
In terms of what position or whose spot this veteran would take, that's something I wouldn't be able to make a call on with all that can happen between now and April. What I do know is that the Thunder are a young team, and having a little age on the bench and in the locker room can certainly help out in many ways.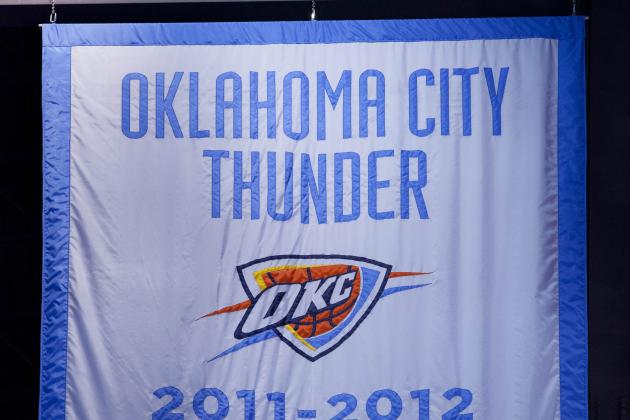 Richard Rowe-USA TODAY Sports

This isn't the most bold claim, but it's a prediction that I feel really comfortable in. Oklahoma City has a respectable 6.5-game lead ahead of Denver in the standings, and there's reason to believe that the lead won't diminish.
The Nuggets are pretty much the only legitimate threat to the Thunder's chance at a division title and even they shouldn't cause too much trouble as a team still searching for their true identity. Portland and Utah are basically nonfactors also, assuming they don't catch fire in the second half.
It's not always a huge deal to win the division, but it's certainly a good notch to have in your belt going into the postseason and could give the team a nice little confidence boost knowing that it has another banner to raise in OKC.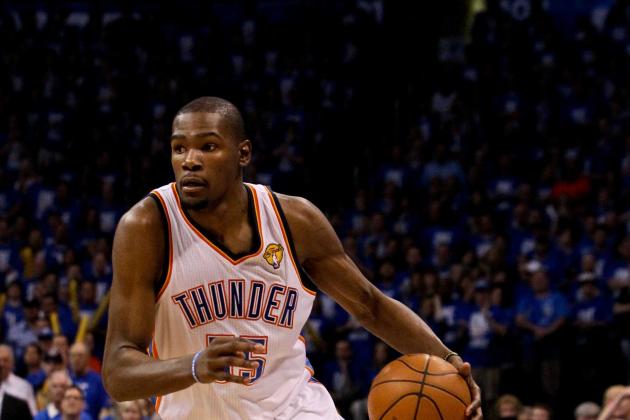 Derick E. Hingle-USA TODAY Sports

In the past three seasons, the Thunder have progressed more and more each time in the postseason. Last year, they made the jump to the NBA Finals for the first time since moving to OKC, and so through their gradual progression, they may just be due for the first NBA Championship as well.
The Miami Heat have handled the Thunder pretty well in their two regular-season meetings this season, and they look very much unopposed to cruise back to the finals this year. Having the bitter taste of defeat still in their mouths, the Thunder will be looking for revenge should a rematch of last year's series take place this summer.
Kevin Durant and Russell Westbrook have made some great strides in their individual games this year, and the team dynamic has adjusted well to James Harden's departure.
The stars are aligning for Oklahoma City to finally reach the pinnacle of NBA success, but there's definitely work to do in the meantime.