How Barcelona Should Set Up to Keep AC Milan at Bay at the San Siro
Jasper Juinen/Getty Images

Barcelona will travel to Italy on Wednesday to face off with AC Milan as their Champions League campaign picks back up again. With Milan now looking much stronger, Barcelona will certainly have a strong game plan in place.
As the Catalans look to win the treble this season, AC Milan will prove a strong opponent.
The Champions League is the greatest club competition in the world. Barcelona will have to field their strongest possible lineup to secure a victory on the road.
In this article we will take a look at how Barcelona should set up in order to finish victorious at the San Siro.
Begin Slideshow

»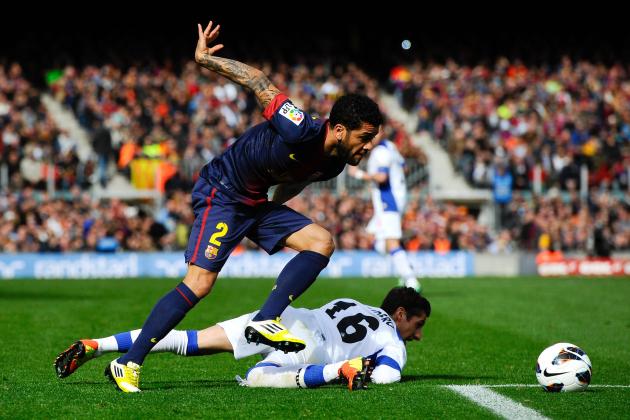 David Ramos/Getty Images

The Barcelona defense will face arguably the toughest task against AC Milan. With the attack of Milan now looking much stronger, the Blaugrana back line will have to be at its best.
Fans should expect the normal defensive lineup for Barcelona, which will likely frustrate the Milan attack.
Victor Valdes is a lock to start in goal while Gerard Pique and Carles Puyol will start in the center of defense. The center-back duo should hold the line well, but the most dangerous attackers will not be left up to their control.
It will be the full-backs of Barcelona who will need to put in the strongest performances. Dani Alves and Jordi Alba are both expected to start and must absolutely do so.
With Milan's attack being the strongest from the wings, Barcelona's attack-minded defenders must track back. If the full-backs get lost in attack, Barcelona will be left very vulnerable.
Fans should expect a very strong showing from the Barcelona defense. Every player is experienced and determined, but AC Milan will be ready to pounce on any mistake.
Luckily for Barcelona, Milan will be without Mario Balotelli and will be forced to rely on Stephen El-Shaarawy who is unproven in a game of this caliber.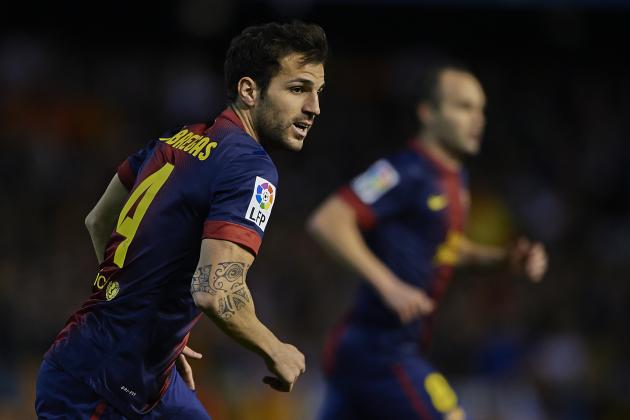 Manuel Queimadelos Alonso/Getty Images

Barcelona is known for having the strongest midfielder in the world of football. But against AC Milan, that midfield will have to perform its best and possibly without Xavi.
After picking up an injury recently, Xavi has been a doubt for the Champions League clash. Though Xavi has been given clearance and was included in the squad, there is still no word on whether or not he will start.
Fans will certainly be hoping that the midfield maestro features. But if Xavi does not see the pitch, Barcelona will have to rely on other players to control the middle of the pitch.
It will be up to young Thiago to pick up the slack, while he should be paired with Sergio Busquets and Cesc Fábregas.
Thiago and Cesc are very attack-minded midfielders who will look to help Lionel Messi around the box. While the duo is strong in possession, their heavy attacking may leave gaps for Milan to exploit.
The major factor for the Barcelona midfielder will rest on the shoulders of Sergio Busquets.
Busquets has been in stellar form as of late and will be expected to pick up the defensive slack left by Thiago and Cesc. The Catalan midfielder is the best in the world at his position, but he will certainly need to show that against Milan.
The key battle to watch in this game will absolutely be between Sergio Busquets and Riccardo Montolivo.
Cules everywhere will be putting their hopes in Busquets while also crossing their fingers that Xavi will be available for the match. On paper, Barcelona's midfielder should prove nearly unstoppable, but anything can happen in football.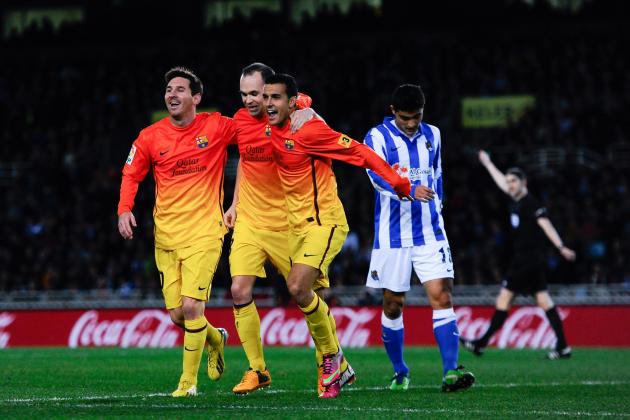 David Ramos/Getty Images

The world has finally grown accustomed to the fact that Barcelona's best attack consists of Andres Iniesta, Lionel Messi and Pedro. But these three must start for more reasons than just being the best players.
With David Villa missing the game due to injury, there is no other choice for the Barcelona trident.
While AC Milan is capable is starting various full-backs against Barcelona, it is absolutely necessary for Iniesta to be on the wing. The Spanish attack continues to cause headaches for opponents and is strong at getting behind the defense.
Lionel Messi is a lock to start in his customary "false nine" role, and his probable battle against Daniele Bonera will be one to watch. The two players have had great battles historically, which calls for excitement.
Pedro, however, may be Barcelona's key in this encounter.
Milan's defense is clearly the weakness of their squad. Barcelona has one of the strongest attacks in the world and will look to take advantage. But it is the left side of the defense that Barcelona will target.
The Italian club does not boast a very strong defense on the left side of the pitch and it will be up to Pedro to create chances. The Spanish winger will need to have a solid showing but will also need to track back to help out defensively.
Expect the Barcelona attack to be sharp against Milan's back line. La Blaugrana should score multiple goals, but Milan won't go down without a fight.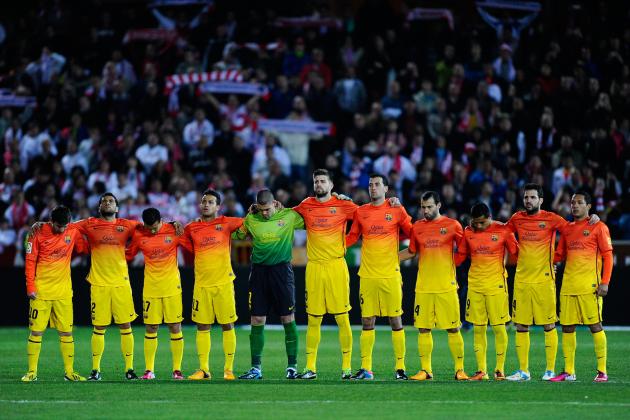 David Ramos/Getty Images

After looking at the tactical approach to this mouth-watering encounter, here is how Barcelona should set up.
Victor Valdes; Dani Alves, Gerard Pique, Carles Puyol, Jordi Alba; Thiago, Sergio Busquets, Cesc Fábregas; Pedro, Lionel Messi, Andres Iniesta.
Though this is clearly the strongest XI that Barcelona can start, it will be more important than ever for the group to perform at a high level. Each player will have a tough battle ahead of them and will need to pull their weight for Barcelona to walk away victorious.
AC Milan, though a very strong side, is not at the current level of Barcelona. They will look to take advantage of any mistakes, and are very good at doing so.
Barcelona will need to play at their very best to guarantee a victory at the San Siro.
How should Barcelona tactically tackle AC Milan? Which battles will be the most important? How will the match turn out?
Tre' Atkinson. Follow me on twitter for more discussions on Barcelona, AC Milan, and the Champions League.