2013 Atlanta Falcons Mock Draft: Final Pre-Combine Scenario Including Comp Picks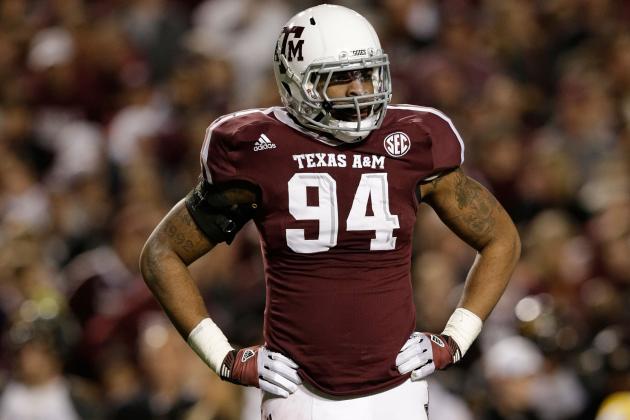 Scott Halleran/Getty Images

The Atlanta Falcons will have their full slate of draft picks and should be able to have a good bit of depth replenished on a team that barely missed the Super Bowl in 2012. Despite signing multiple free agents in the offseason, none of them affected the compensatory formula as they were all either minimum signings or players released from their former teams.
According to Blogging the Beast, the Falcons should receive four compensatory selections. They should get a fourth-round selection for the loss of linebacker Curtis Lofton. They should also receive three seventh-round selections for the losses of receiver/return specialist Eric Weems, cornerback Kelvin Hayden and safety James Sanders.
Follow along as we go over the scenario for the Falcons with their 11 projected picks this year and their various needs all around the team.
Begin Slideshow

»
Defensive end in 4-3 packages and outside linebacker in 3-4 packages were weak spots for the Falcons in 2012. They wouldn't be going forward with the selection of DaMontre Moore. He fits very well into the Falcons scheme and abilities on the field.
He's a great pass rusher who has had years of 8.5 and 12.5 sacks since earning the starting role right before his sophomore year. The only question about Moore is the arrest from right before his sophomore year for marijuana.
General manager Thomas Dimitroff has still yet to select a player with a prior arrest or suspension in the NFL draft. However, Moore seemed to have truly learned from the experience and grew from it, similar to the way Roddy White changed his ways during the 2007 season.
As Moore has matured, this could definitely be a case of a player becoming the character player that Comrade has wanted for the Falcons. Moore has the nastiness as a pass rusher to complement Kroy Biermann and John Abraham as well.
The sets that Mike Nolan runs will only get more interesting with another stand-out talent like Moore as he could have amoeba sets on the field with Biermann, Abraham, Moore and the other typical suspects.
Michael Turner is all but gone with his $6.9 million dollar salary and available cap space that he can free up. Not to mention his horrible fit in the new offense. So the Falcons will have to bring in someone who can complement Jacquizz Rodgers as an all-around back.
Jawan Jamison is an underrated player who can come right in and contribute in all facets of the offense. His pass-blocking is tremendous and his rushing is instinctual and natural. He's also highly productive despite having one of the worst offensive lines in college football at Rutgers.
Jamison's biggest strength is as a pass catcher, but he was primarily used as a blocker because the Rutgers line was so terrible. Atlanta will be a nice change for the Maurice Jones-Drew clone, as he will give Dirk Koetter another threat similar to the back he loved in Jacksonville.
With Tony Gonzalez unlikely to come back, the Falcons need to improve their all-around talent at slot receiver and tight end to help make up for the void. Kenny Stills is a great receiver who has been highly productive despite poor quarterback play from Landry Jones.
Watching the video, you can see that Stills bails Jones out on plenty of poor throws and mistimed passes. This will be useful for the Falcons who would put him on the outside of the formations and then put Roddy White and Julio Jones in the slot.
Bringing in Stills gives the Falcons a chance to create more matchup nightmares for defenses. That alone will help cut the losses from Gonzalez retiring.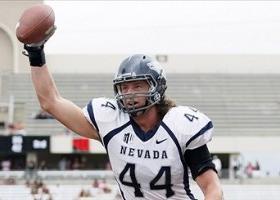 Courtesy NFLMocks.com
Part II of Operation: Tony Gonzalez Replacement is underway with the selection of Zach Sudfeld. Sudfeld is a tight end from Nevada who played basketball as well. His height and body control are scary good and watching his play on the field, he's very similar to Saints tight end Jimmy Graham.
Unfortunately, he has injury concerns. His first full season played in the college level wasn't until this season—as a redshirt senior. If Sudfeld can stay healthy and Chase Coffman can live up to the potential that got him drafted in the third round of the 2009 draft, the Falcons tight end situation would be all but settled.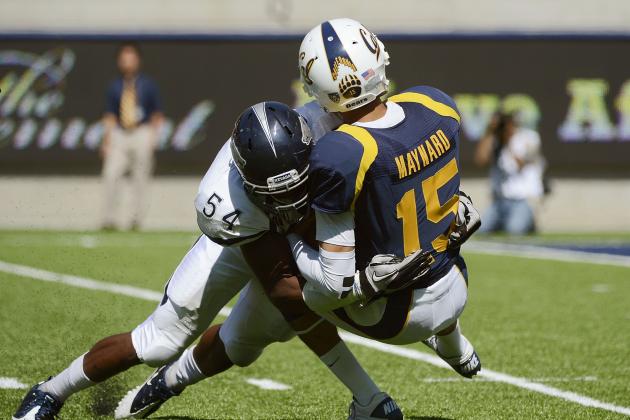 Thearon W. Henderson/Getty Images
Jeremiah Green on a blitz crushing Zach Maynard.
Atlanta had a ton of trouble with tight ends in 2012. The best way to counteract that is to add another linebacker who can cover anyone.
Jeremiah Green is an underrated player who will be a riser after pro days with his speed and athleticism. He has raw cover ability and would be an excellent sub-package linebacker for the Falcons sets.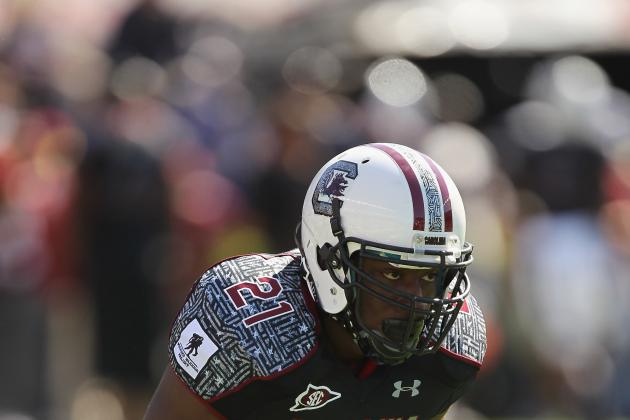 Streeter Lecka/Getty Images
Brewer (9) has more experience as a nickel than a starter.
Marcus Lattimore could go as early as the third or as late as this pick. Either way, he'd be more than worth it as a long-term solution for the primary back in the offense.
The three-headed monster of Lattimore, Jawan Jamison and Jacquizz Rodgers that this scenario leaves the Falcons with would be the best young combination in the league for years to come.
Courtesy ESPN.com
Atlanta could use someone who is a big, strong nose tackle for both short-yardage run situations and the 3-4 packages the team likes to run.
T.J. Barnes is a nose tackle who has played in Georgia Tech's pro-style 3-4 defense and can come in and contribute as the fourth man in the rotation right away. His size will be useful for the Falcons "Big Tackle Three" sets against the run.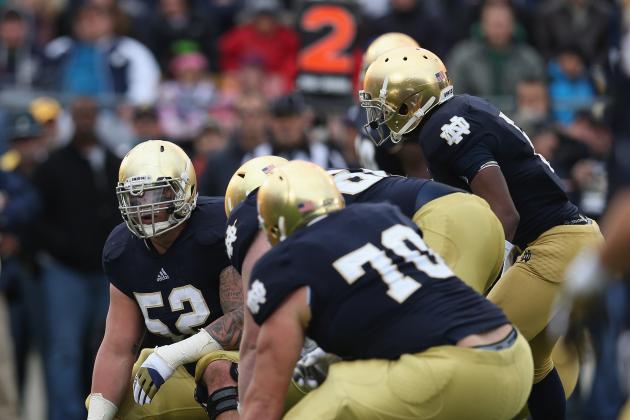 Jonathan Daniel/Getty Images
Cave (52) led the Notre Dame line for the past three years.
Assuming the Falcons are happy with Peter Konz at right guard and Joe Hawley at center as the roster would currently dictate, they need someone who can back up both spots on game day.
Braxston Cave can do that and more. He has the potential to challenge Hawley for the starting spot in the middle of the line.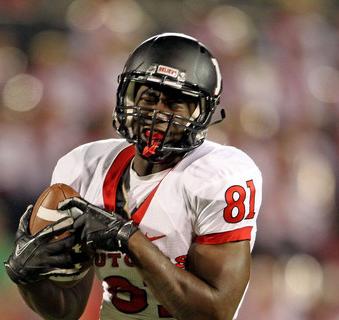 Courtesy Zimbio.com
How many guys who are 234 pounds run a 4.45 in the 40 and have great receiving skills?
Mark Harrison is a multi-year starter who can create mismatches in the slot, outside, at tight end and out of the backfield. He will be an excellent addition to a team who just needs an all-around weapon to help replace the great Tony Gonzalez.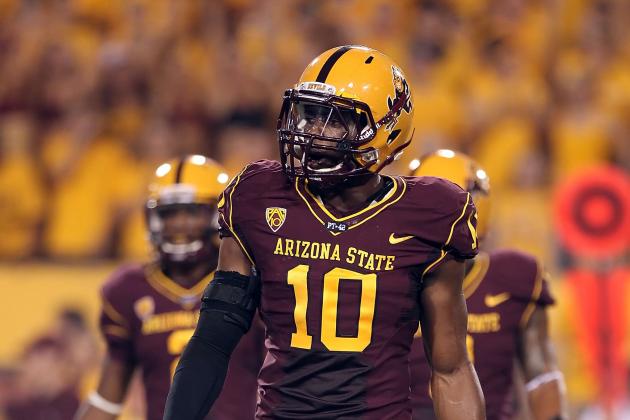 Christian Petersen/Getty Images

William Moore should re-sign, and Thomas DeCoud went to the Pro Bowl with Moore this year. However, there is little depth at safety outside of last year's sixth-round pick Charles Mitchell. Keelan Johnson is a similar player in that he can play free or strong safety and is a ball hawk.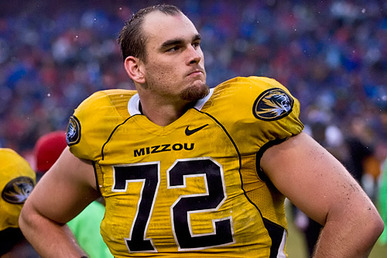 Courtesy PostModernMoron.com