NFL Scouting Combine 2013: 10 Players Who Could Really Improve Their Draft Stock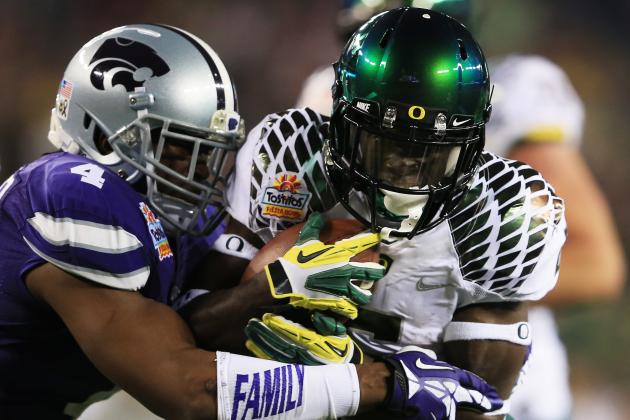 Doug Pensinger/Getty Images

The NFL Scouting Combine is, with the possible exception of pro day for quarterbacks, the most significant period between college football and draft day for the hundreds of players brought in to showcase themselves.
There are many hidden gems available in later rounds, and the combine can bring some of these players to the forefront. DeMarcus Van Dyke's 40-yard dash time in 2011 was likely the only reason he vaulted into the third round, after all.
These 10 players have the athleticism to make a huge splash at the combine. But more importantly, their weaknesses are not something the combine covers, and if there's a time for them to put it all on the line, it's now.
Players with high draft status, such as Barkevious Mingo and Ezekiel Ansah, won't be on the list, as their stock is already high; by default, they can't gain all that much.
Begin Slideshow

»
Scott Halleran/Getty Images

Many of the 10 on the list have a lot of flash to their games, and some have Olympic backgrounds. Texas wide receiver Marquise Goodwin is one of the latter who put up modest numbers.
But the combine looks at athleticism.
Needless to say, Goodwin has that in spades. He already made a splash at the Senior Bowl, and his literal world-class speed means that he could have one of the best 40 times in the draft. That will get scouts' attention.
If he can showcase great lateral speed to go with his 40 time, especially in this wide receiver class, he could vault into the second round; he's already gone from a Day 3 to a Day 2 prospect so far.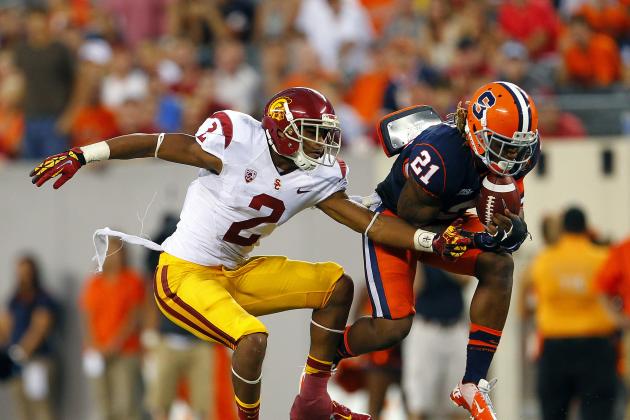 Rich Schultz/Getty Images

Every year, there's one player that puts up a mind-blowing 40-yard dash time out of nowhere and gets people talking. Last year it was Josh Robinson, and this year it's very likely to be Shamarko Thomas.
Currently a late-draft projection, Thomas is an aggressive playmaker who does make mental mistakes, but his raw speed may be the best in the draft, even with players like Goodwin in the mix.
If he can notch a sub-4.3 and put up big numbers in the other drills, then that could vault his stock into early day-three discussion. After all, you can't teach speed.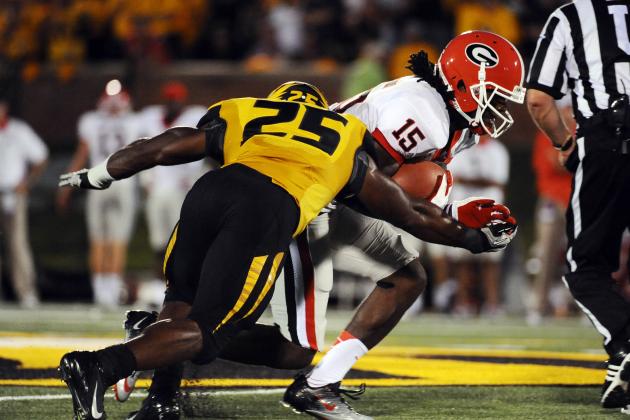 Dak Dillon-USA TODAY Sports

Like Thomas, Gooden is someone who is far under the radar, even to some draft experts. He's not the most polished athlete out there and is an early Day 3 pick after not exactly getting his name out there in the Senior Bowl.
The safety-turned-linebacker has one of the best motors in the class to go with a great frame that should hold up well to combine scrutiny. He's fluid and agile and could be a standout in the drills.
He's still raw and is far from the most physical linebacker, but that's not something the combine measures. If his drills are excellent, he could rise up the boards big time and convince a team to draft him on Day 2 as a project.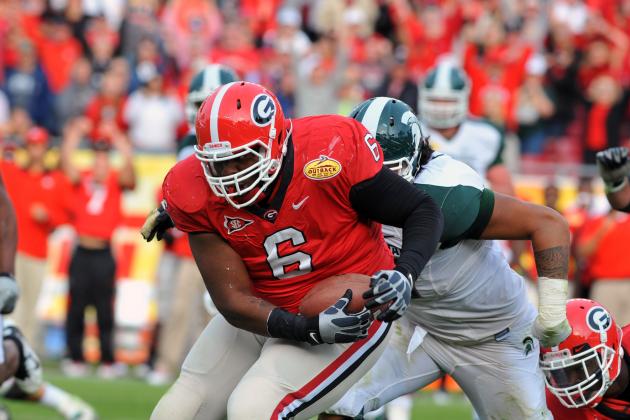 Al Messerschmidt/Getty Images

Unlike many of the players on this list who are a bit undersized but have a lot of athleticism, John Jenkins is one of the biggest players in the draft at 6'4" and over 350 pounds.
He has a huge frame, but more importantly, he somehow remains agile with speed and good lateral quickness. His numbers in a vacuum won't be eye-popping, but coming from a guy of his build, it'll cause scouts to take notice.
Jenkins is sliding his way late into the first round. A great combine, especially on the bench press to show off his strength, could mean that he slides into the mid-first round.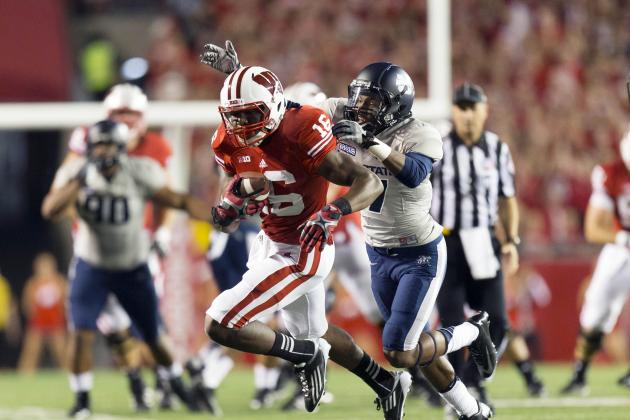 Jeff Hanisch-USA TODAY Sports

Many of the players on this list showcased their stuff well of late, but Will Davis may have had one of the worst Senior Bowls out of anyone, knocking him down to a third-round projection.
His athleticism and leaping ability is his strength, meaning he should have no trouble putting up great numbers on the vertical and broad jumps, as well as the 40.
His strengths are what the combine looks at. A great combine could put him right back in the mix as a second-tier cornerback, possibly a second-round pick.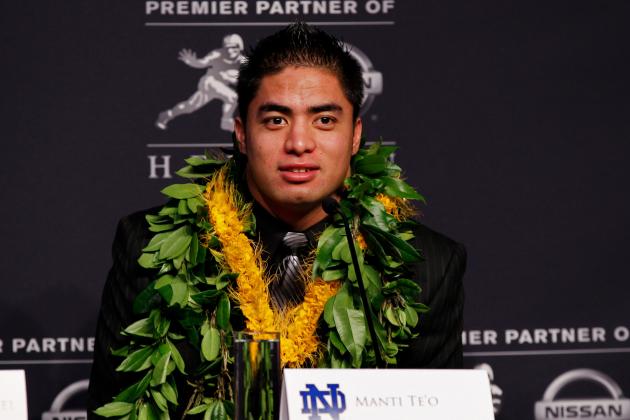 Mike Stobe/Getty Images

In the past three months, Manti Te'o has gone from being on top of the world to a guy trying to do damage control before April, especially in regards to his draft stock.
Once a no-brainer first-round pick, his stock has gradually fallen, and his combine performance will determine whether he continues to fall or if his stock bounces back.
He can fit on both the "most to gain" and "most to lose" sides of the equation, especially since everyone has an opinion on him. A great interview, as well as good enough times on the drills, could help him big time.
Unlike many on the list, Te'o shines more with what you see in practice rather than raw numbers in a vacuum, so the combine's not going to help him. As a result, he'll have to work twice as hard to stand out.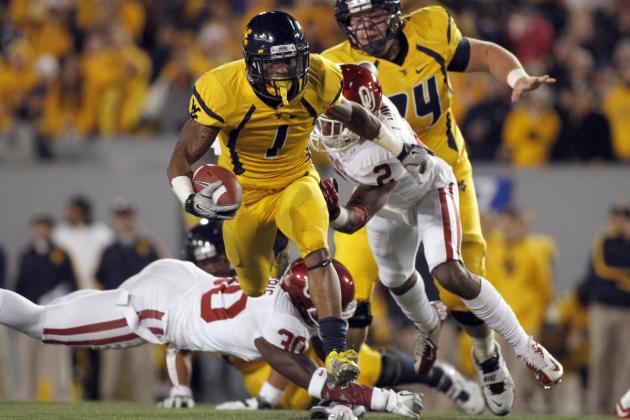 Justin K. Aller/Getty Images

Many of the top wide receivers in the draft have the abilities you want in a starter, but they lack one thing: breakaway straight-line speed. That's where Tavon Austin can leapfrog them all.
The West Virginia wideout has that in spades, and he should have the best 40-yard time out of the top wideouts. Beyond that, he can change direction with ease, meaning he should have no trouble with the cone drills.
A great combine would at least put him in the discussion as the possible first wide receiver taken, especially if Keenan Allen and Cordarrelle Patterson struggle.
Margus Hunt is a beast at 6'8", and with his build, you would think he's an offensive lineman. The native Estonian has immense athleticism and upside, and that is what the combine helps display.
As long as his height checks out, his bull-rushing ability will show up in the jumps and the 40-yard time.
He has a tendency to be inconsistent on film, and his three-cone drill performance is likely not going to be good, but the raw power he has will get his name going in draft circles, and a great combine could mean a team taking a chance on him in Round 2.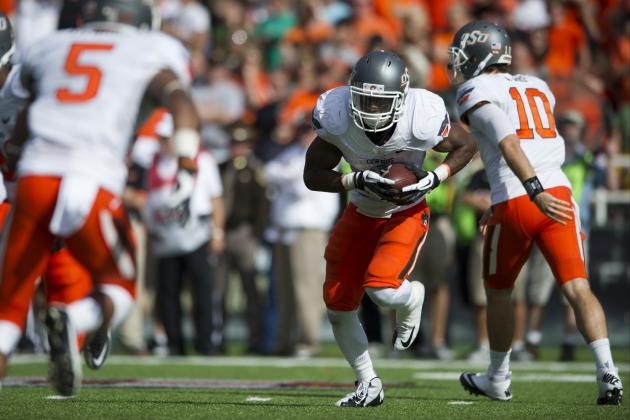 Cooper Neill/Getty Images

Alabama RB Eddie Lacy will most likely be the first running back taken, but after that, the depth is rather murky. No one seems like a clear-cut choice to even go in the second round, let alone make a push into Day 1.
Of the second group of backs, Joseph Randle has both the size and speed to put up great combine numbers. His lateral movement and footwork should showcase him well, and his only weakness (a lean frame) would not be as big an issue in the combine.
The combine would keep his weaknesses at bay while showcasing the good, allowing him to, at worst, perhaps solidify a claim on the No. 2 back spot and go early in the second round.
Factor in Eddie Lacy missing the combine due to injury, and Randle could end up being the talk of the town next week.
The top linebacker spot once 3-4 OLBs are taken out is not clear heading into the combine. Between Manti Te'o and the national championship game to forget and Alec Ogletree's DUI, Arthur Brown has climbed up draft boards as a potential late first-round or early second-round pick.
He lacks size but has the speed to make up for it. A great 40-yard time would be eye-popping and get scouting attention. His lateral quickness is his strong suit, and the combine is the perfect place to show off a skill like that.
He could very well have the best combine out of anyone, and because of what's measured, he can move from his current second-round status all the way up to the middle of the first round if everything goes just right.