5 Reasons to Believe Martin Brodeur Has One More Stanley Cup Run Left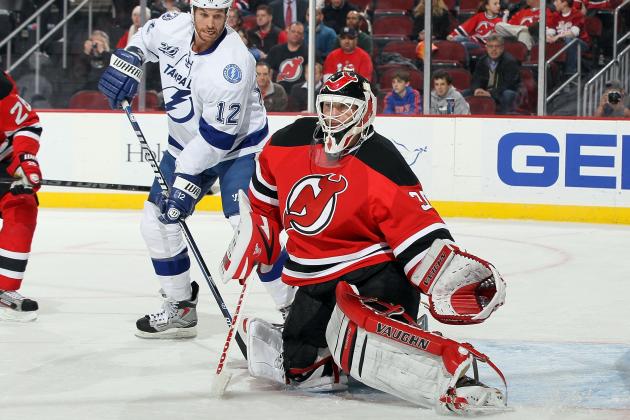 Jim McIsaac/Getty Images

Martin Brodeur refuses to let his Hall of Fame career end. And why should he? At age 40, he is still winning games for his team.
Brodeur holds the NHL records for most wins, most shutouts, most games played and most saves. He has three Stanley Cup championships, four Vezina Trophies and a slew of other accolades. He has nothing left to prove; nothing more could be asked of him.
Despite this, Brodeur refuses to quit. After hitting free agency at age 40—a prime opportunity to call it quits—Brodeur re-signed with the Devils for two more seasons.
But a season after helping the Devils to their fifth Stanley Cup Finals, Brodeur doesn't seem to be slowing down at all, and with the way the Devils are playing, he may be in for another deep playoff run.
Begin Slideshow

»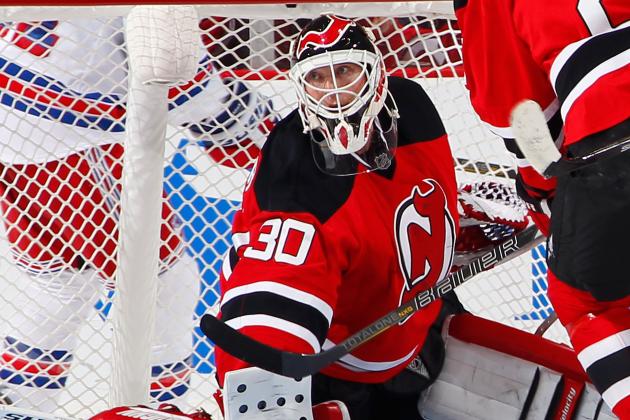 Paul Bereswill/Getty Images

It's been a few seasons since Martin Brodeur has put up dazzling statistics, it's true. But the fact is, Brodeur can still play alongside the best goalies in the world.
So far this season, Marty has an acceptable 2.42 goals-against average and .907 save-percentage, along with a shutout. And while those numbers don't scream "all-star," he's helped the Devils to an impressive 7-2-2 while in net.
He may make a few more mistakes than he used to, and his glove may have slowed a bit, but it's still the battle-hardened Brodeur underneath; in any given game, he can step up and play like a superstar.
Besides, he doesn't need to be the best goalie in the league, because...
Bruce Bennett/Getty Images

While the Devils' roster is not among the league's best on paper, the team has been able to play at an intensely high level all season.
Much like the run in last year's playoffs, the Devils are coming together to play a complete game, with every player buying into a system and seeing results.
Unlike last year's playoffs, the Devils are without Zach Parise. For now, though, that doesn't seem to matter. David Clarkson has stepped up his scoring to an elite level, scoring 10 goals through 15 games, leaving him tied for fourth in the league.
Alongside Clarkson, Patrik Elias is also enjoying a successful campaign: He is tied for third in the league with 15 assists. With Clarkson, Elias and Ilya Kovalchuk, the Devils have three point-per-game players in the top 16 in the league in points.
On defense, Marek Zidlicky, Anton Volchenkov and Bryce Salvador are all putting together solid seasons. Andy Greene is playing better than he has in years, and Adam Larsson looks to have dramatically improved from the awkward rookie he was last season.
Finally, there's Johan Hedberg, who re-upped alongside Brodeur. The league's oldest goalie tandem has proven successful once already, and Moose is still looking like a great option as backup goaltender.
With Hedberg there to share the load, Marty shouldn't be overwhelmed this season. Especially because...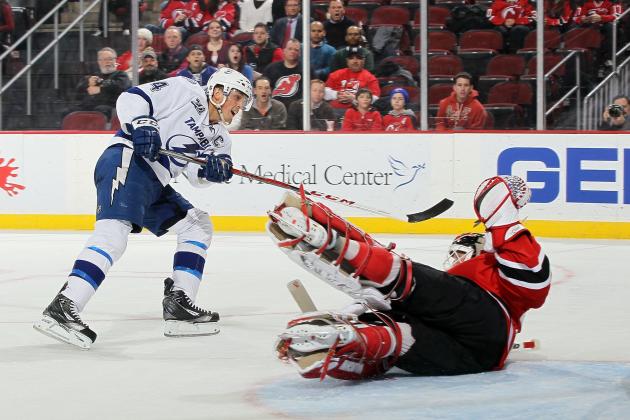 Jim McIsaac/Getty Images

Unlike many notable NHL players, Martin Brodeur did not find an alternative league to play in. Instead, Brodeur kept himself well-conditioned, but allowed himself to take a physical break.
At 40, Brodeur has got to be feeling his age creeping up behind him—especially after a deep playoff run extended his season by two months. But the lost time of the lockout also meant that much more recuperation for Brodeur.
So far, he certainly seems to be benefiting from the time off. If Brodeur can continue to play about two-thirds of the team's games, he should be primed for the playoffs to begin.
Part of what gives Brodeur's impressive career a bit of mystique is his unorthodox playing style. Rather than the traditional butterfly stance, Brodeur has always played his own hybrid stance, and the results have been remarkable.
Part of the benefit is that Marty's been much less prone to injury. Along with most wins and most games played, he also has the record for most losses. He has just played that much more than any other goalie has ever been able to.
But the main benefit of Marty's stance is that no other team is entirely prepared to face him. Younger players will probably have never faced a goalie who plays like Brodeur, and even veteran players only get a game here or there.
And it's not just his unorthodox stance; Brodeur is arguably the best puck-handling goalie the league has ever seen. While he may not hold the record for goalie assists, he was effective enough that some believe the trapezoid was put on the ice to stop him.
With his retro style of play and idiosyncratic tendencies, Brodeur can throw out occasional surprises—like the video above—and catch the opponent completely vulnerable.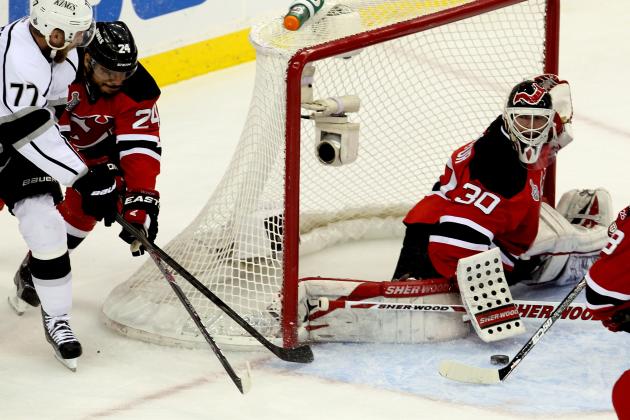 Jim McIsaac/Getty Images

Some people thought Brodeur should've retired before last season. Some were chirping for it even before that, and some were calling for it once the season ended. Marty ignored them.
And that's the thing about his career: Only he is gonna know when he's done. In 1995, Martin Brodeur led the Devils to the franchise's first Stanley Cup. He's started every season for the Devils since then. He won two more championships and made three Finals in a four-year span. Last year, he advanced to the Stanley Cup Finals for a fifth time.
It's amazing that he is able to keep going, but his body and spirit are holding up. As long as his skills remain, he makes the Devils an extremely formidable team.