Winners and Losers of Week 16 in College Basketball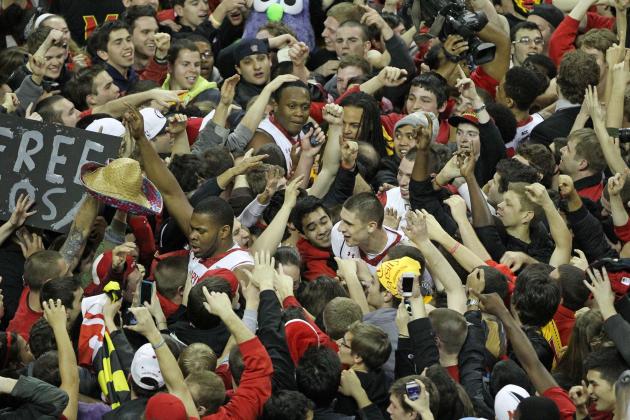 Mitch Stringer-USA TODAY Sports

Since there seemed to be some confusion on this point in last week's W/L column, let me reiterate: Just because your team doesn't appear on one of the following slides doesn't mean it didn't have a good/bad week. In fact, your team may well have had a better/worse week then some of the teams on our list.
But if we included every team/player/coach that had a good/bad week, this slideshow would run in the 100s.
So try not to take offense. I totally recognize that your team is good/bad.
And I swear I'll get to it the next week.
Until then, yell out your omissions in the comments section. And please play nice.
Begin Slideshow

»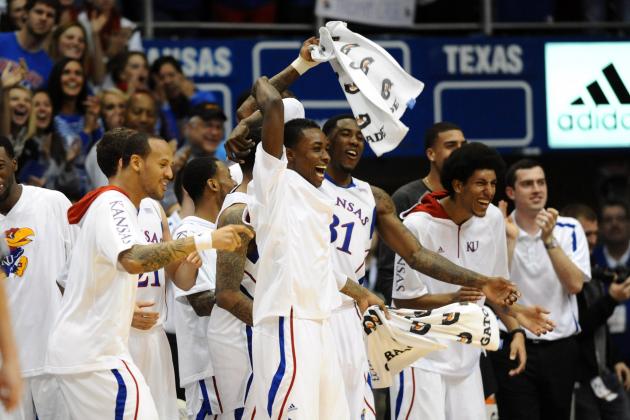 USA TODAY Sports

How's that for a response?
Coming off their first three-game losing streak since 2006, the Kansas Jayhawks reeled off blowout wins over Kansas State and Texas. By my count, the combined 47-point margin of victory is Kansas' largest in back-to-back conference games since a run in late February of 2011.
The next test for Bill Self's team comes on Wednesday at Oklahoma State, a game that could decide the Big 12 regular-season title.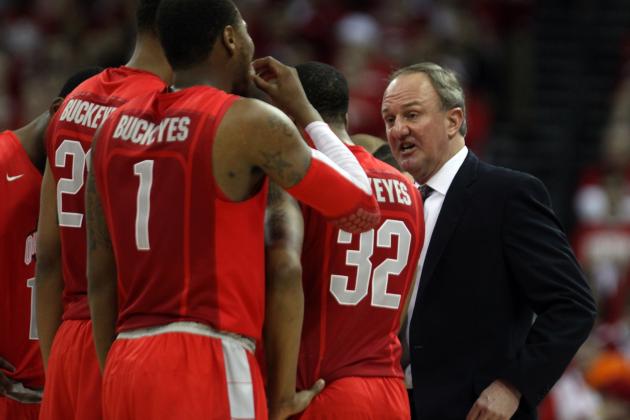 Mary Langenfeld-USA TODAY Sports

Ohio State has lost three of its last four in conference play, falling three games off the first-place pace in a loaded Big Ten.
And while all three L's came against ranked opponents, the last two (against Indiana and Wisconsin) have been startlingly noncompetitive. And the only win during that stretch came at home against Northwestern in a game that was much tighter than most would've expected.
Outside Deshaun Thomas, it's unclear who on this Buckeye team can score the ball. According to KenPom.com, Thomas takes a higher percentage of his team's shots than any other player in the Big Ten. Thad Matta has earned a reputation for making good in-season adjustments with his personnel, but so far the quest to turn up a reliable wing man hasn't yielded much.
On the bright side, the last time the Buckeyes lost three of four was during the 2009-10 campaign, and that group recovered to earn a No. 2 seed in the NCAA tournament. Fans in Columbus hope this year's squad shows similar resiliency in the coming weeks.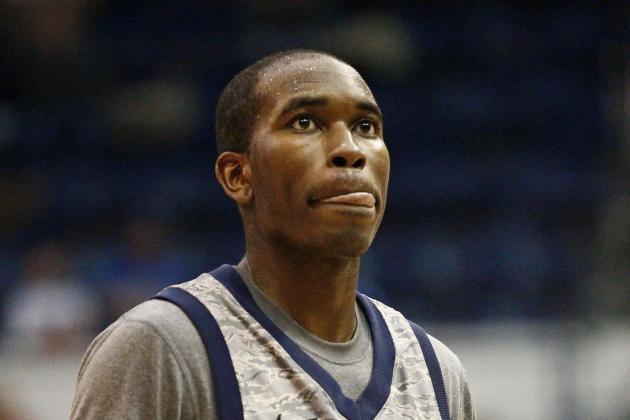 Isaiah J. Downing-USA TODAY Sports

Lyons, a senior, scored 45 points on 17 field goals for Air Force in a narrow road loss to No. 24 Colorado State.
And while it won't go down as the highest-scoring single-game performance of the season, the fact that Lyons did it on the road against a ranked team—and needed just eight free-throw attempts—might make his night the most impressive we've seen in college basketball this year.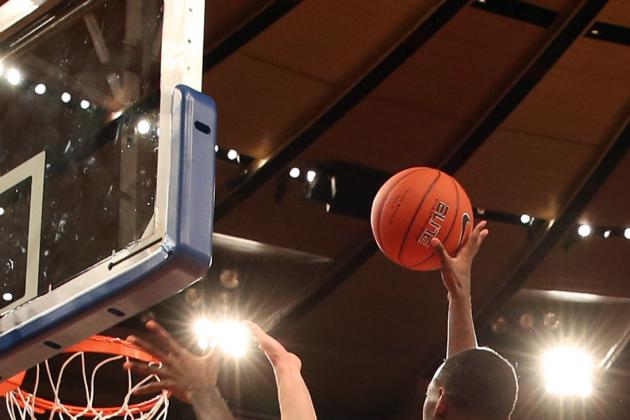 Anthony Gruppuso-USA TODAY Sport

The 7'1" Connecticut center hasn't played in a game since February 10.
Last Wednesday, Wolf was arraigned in court on what collegebasketballtalk.com describes as "charges stemming from a domestic dispute."
Certainly not what the Huskies needed in a season plagued by off-court drama, and a bit of a damper on their heartening win over sixth-ranked Syracuse later that day.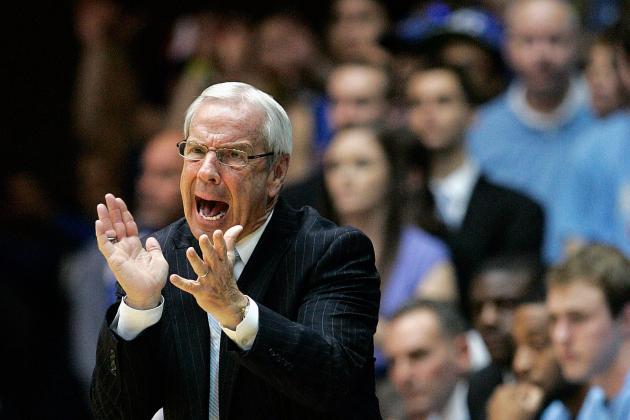 Mark Dolejs-USA TODAY Sports

After an embarrassing loss last week at Miami, North Carolina regained some traction with a close loss against Duke in Durham followed by a 93-81 win over Virginia in a game with major bubble implications.
No one will confuse this team with one of Roy Williams' best, but the Tar Heels look like a safe bet to make the NCAAs. From there, Carolina hopes its explosive offense can cook up some tournament magic.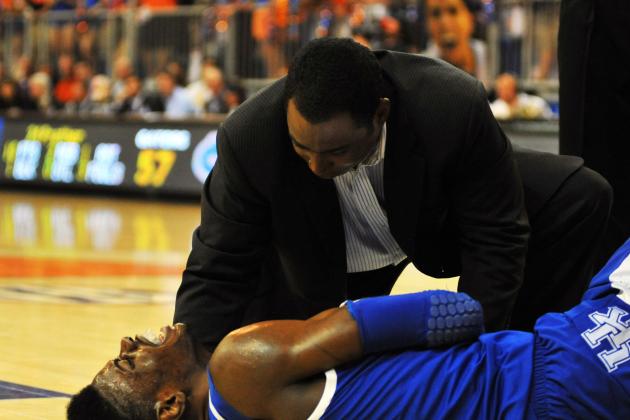 Al Messerschmidt/Getty Images

As one blue-blood rises, another falls—and hard.
Right when it appeared Kentucky was up-shifting from promising to scary, the Wildcats lose star freshman Nerlens Noel for the season to a knee injury. Big Blue followed with an 88-58 loss at Tennessee, prompting head coach John Calipari to lambaste his team in the postgame presser.
Without naming names, Calipari called some of his players "not really coachable," even suggesting that those unwilling to commit "shouldn't be at Kentucky."
And like that, a potential bracket-buster now looks NIT bound.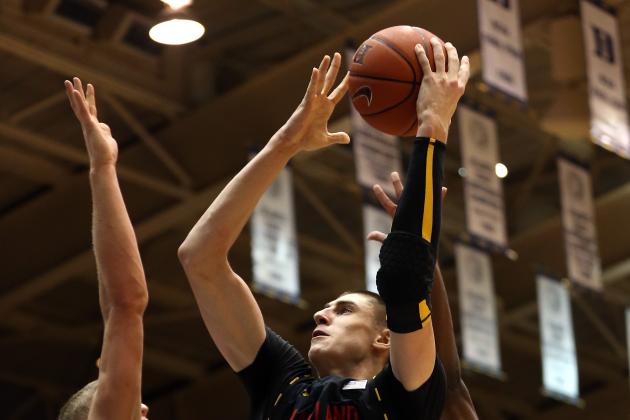 Streeter Lecka/Getty Images

For draft heads, this week's marquee matchup was an ACC showdown between Maryland center Alex Len and Duke forward Mason Plumlee, both of whom could go in the lottery this June.
Len seized the moment, scoring 19 points on 6-of-8 shooting in the Terps' upset win. It was the seven-footer's first game with over 15 points since January 22nd, and the image of him terrorizing Duke's frontcourt no doubt made a powerful impression on NBA scouts.
Len doesn't perform with the kind of consistency Maryland fans would like, but his next-level potential is obvious.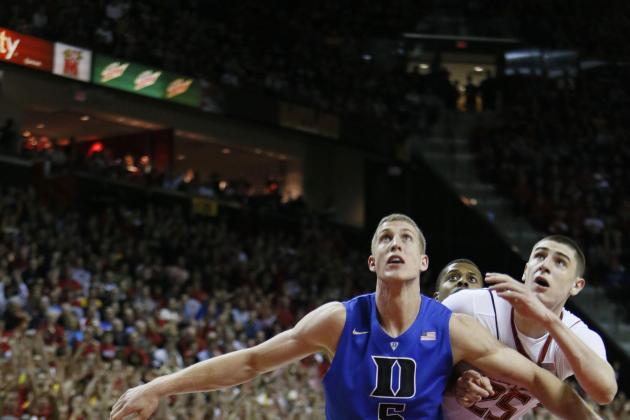 Mitch Stringer-USA TODAY Sports

I doubt Plumlee's four-point performance against the Terrapins on Saturday won't have much of an effect on his POY candidacy. He has, after all, been a remarkably dependable scorer up until this point.
But the imprint it might leave on his future earning potential is another question entirely. The knock on Plumlee has long been that he struggles against NBA-level talent. Matched up against Maryland's Alex Len (the No. 6 overall prospect according to ESPN's Chad Ford), the Indiana native looked lost.
Plumlee struggled on both ends of the floor, but his work on defense was particularly troublesome. A negative presence for most of the night, Plumlee's play turned downright ghastly when he entered foul trouble in the second half.
Eventually the Duke senior fouled out, and Len's team walked off the court with an upset win.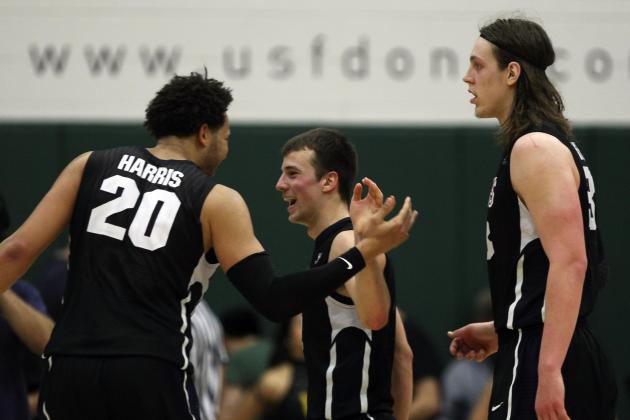 USA TODAY Sports

Expect this to be the week where Gonzaga, already the nation's winningest team, starts to merit serious consideration for the AP No. 1.
The Bulldogs passed two tough road tests this week, pummeling rival St. Mary's 77-60 and muscling past a San Francisco team that has always given them trouble.
For all of Mark Few's recent success, Gonzaga has never earned one of the top two spots in the AP poll. And the Bulldogs probably won't this week with Indiana and Miami keeping clean slates. But with Kelly Olynyk and company facing a relatively easy schedule from here on out, that elusive top ranking may only be a matter of time.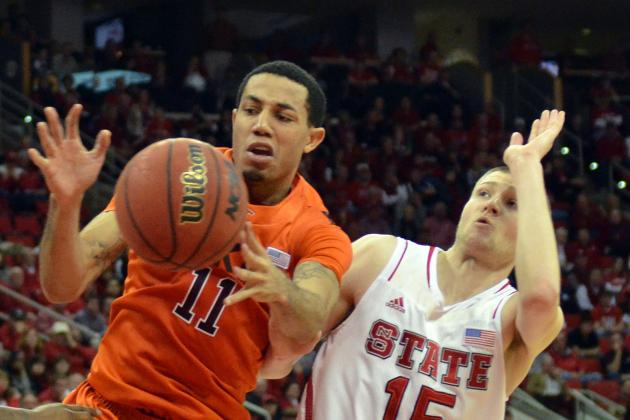 Rob Kinnan-USA TODAY Sports

I'm not sure you can have a worse 2-0 week than N.C. State had over these past seven days.
The Wolfpack needed late-game magic to hold off ACC bottom-feeders Clemson and Virginia Tech, and that was with point guard Lorenzo Brown back in the fold.
Any hope that this team might validate is lofty preseason expectations has all but vanished, and there should be plenty of concern heading into a Saturday showdown in Chapel Hill. Right now, Mark Gottfried's team, for all its offensive talent, is barely getting by.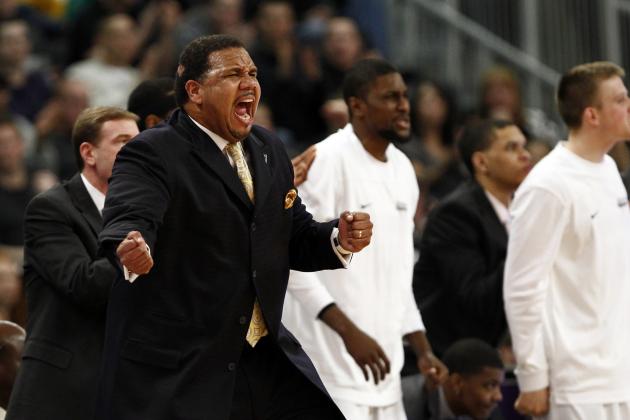 USA TODAY Sports

Though it's been obscured by a handful of brutal nonconference losses, the Providence Friars are making major strides under second-year head coach Ed Cooley.
With four straight Big East wins, the Friars have moved to 6-7 in league play and look like a dangerous draw in the upcoming conference tournament. Their 71-54 dismantling of No. 21 Notre Dame on Saturday was so thorough, it hardly felt like an upset by the time the final horn sounded.
It seem Cooley's stellar work on the recruiting trail is starting to pay dividends on the hardwood, and that's a scary thought for whatever teams join Providence in the fledgling Catholic Seven.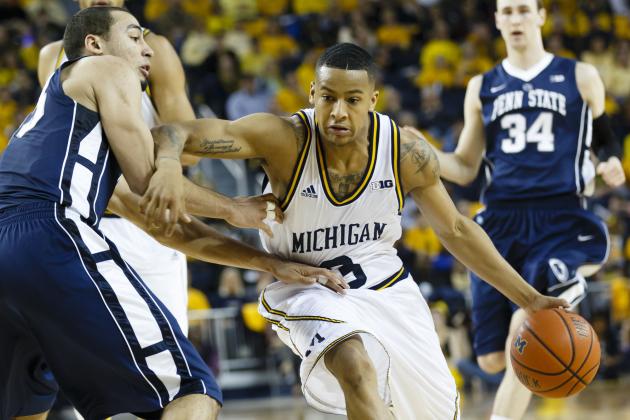 Rick Osentoski-USA TODAY Sports

Michigan fans knew the Big Ten would be tough on their Wolverines.
Even so, the folks in Ann Arbor probably expected a little less resistance for a team that went 13-0 nonconference against the likes of Pittsburgh, North Carolina State and Kansas State.
Michigan's 75-52 loss against Michigan State on Tuesday was the Wolverines' worst loss in East Lansing since 2002. Perhaps even more surprising, John Beilein's team struggled to put away lowly Penn State at home on Sunday.
Michigan remains a viable Final Four candidate, but one senses the Wolverines are stuck in a bit of a lull right now.