The BYU Cougars: A Terrible Fit for Long-Term Independence & WCC Membership
Use your ← → (arrow) keys to browse more stories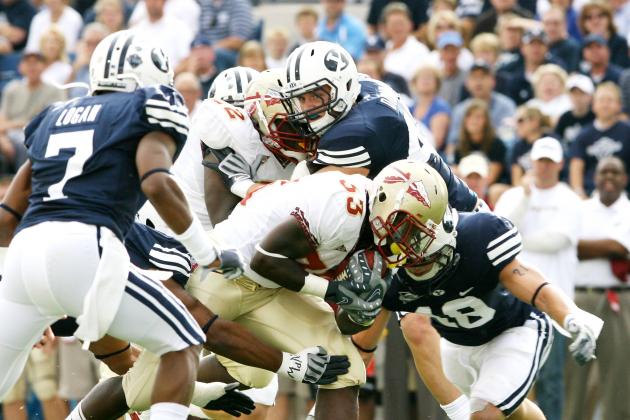 Melissa Majchrzak/Getty Images
Could Florida State along with BYU be added to the Big 12 by 2014?
Perhaps the strangest arrangement made in college athletics league alignment over the past tumultuous three years has been Brigham Young University's partnering with the West Coast Conference (WCC).
Common knowledge is this was done to give the football program more exposure than what the MWC media contract would allow, but many have to question this arrangement's long-term consequences for the entire BYU athletic program.
While the football situation shows some improvement over the first two years, some of the scheduling, particularly being stuck with yet another late season cupcake (this time FCS/Big Sky member Idaho State), presents issues that could be more difficult for BYU in the years ahead. More on football in a minute…
After two seasons in the WCC, this "marriage" (if you can call it that, to some of us fans we view it more as "cohabitation"), clearly shows more cracks than religious institution unity.
While head basketball coach Dave Rose has had his drawbacks losing two key senior players (Chris Collinsworth and Stephan Rogers) to career ending injuries and scholarship numbers issues forcing him to release a third (Damarcus Harrison to Clemson last summer), the fit and style of BYU on the court in this league couldn't be odder.
At the very least, it is like the now estranged relationship of Demi Moore and Ashton Kutcher where an even more oddball 16 year age difference looks like the would be Hollywood marriage of BYU and the WCC schools.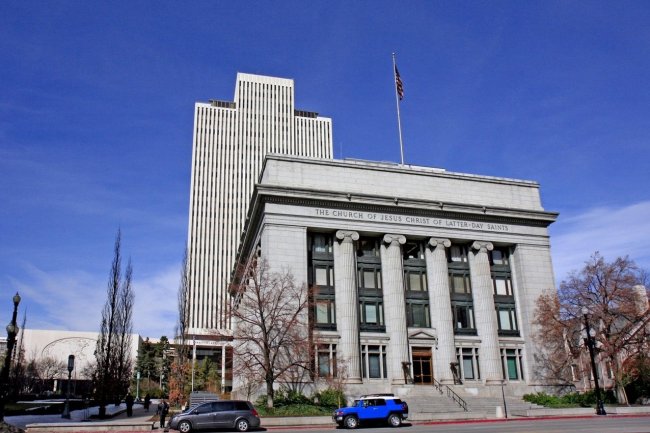 It is highly odd for BYU to go into substantially smaller "gymnasiums" and "field-houses" compared to the large 20,000+ size of the Marriott Center, not to mention the school enrollment sizes and alumni bases.
While BYU administrators tout how they like the "religious" affiliation commonality, an increasing number of fans are losing patience with this arrangement and are now questioning how much longer this will last.
While the basketball program has clearly trekked into a valley from its peak during the height of "Jimmer-Mania," being in the WCC clearly is showing an inhibition to grow the BYU brand nationally that might actually be more visible in the MWC with the likes of UNLV, San Diego State, New Mexico and resurgent programs at Wyoming, Colorado State and more recently Boise State.
While the broadcast contract that existed in the MWC in 2010 clearly dictated that BYU needed a better exposure deal particularly for football, the WCC for basketball has clearly demonstrated that it has a much more limited scope to give the Cougars the national presence they desire.
The bottom line is unless BYU has serious plans to drastically cut back their athletic presence (such as drop the football program…which I highly doubt will happen), as well as substantially curtail their enrollment figures in the immediate years ahead. Not to mention somehow magically reducing their alumni base numbers, BYU will NEVER, and I repeat NEVER be a strategic fit for the West Coast Conference.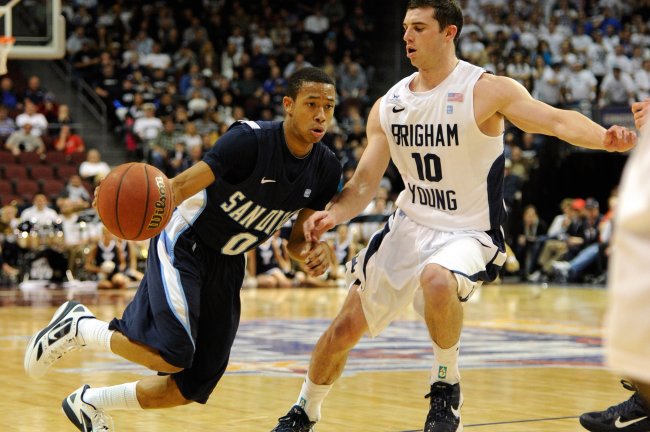 Ethan Miller/Getty Images
It will be simply a cohabitant relationship where one partner is suspicious of the other, and given the differences in demography and booster support, the situation is actually worse off than what BYU had in the MWC.
But is returning to the MWC in the best interests of BYU athletics on the whole?
BYU has bigger fish to fry than returning to a bunch of schools largely supported by student fees that lack the booster numbers that BYU has upholding its overall program…enough said!
The dominoes of conference realignment are still by most accounts far from settled, and despite what some national pundits have said; a BYU move to the Big 12 by 2014-15 cannot and should not be ruled out.
While the attempt to gain BYU as a replacement for Texas A&M in the fall of 2011 hit some serious snags, the most notable being the BYU demand for "no Sunday play," many have indicated BYU still is talking with Texas, Oklahoma and Baylor as well as established contacts with TCU.
The analysis of some is that this "peculiar" policy of BYU would not work in a league with 10 schools and wouldn't allow ESPN & FOX the wiggle room they felt comfortable with, and some have even suggested this is what contributed to strained relationships within the MWC, with San Diego State most notably (email #11) at least according to deputy AD Jenny Bramer.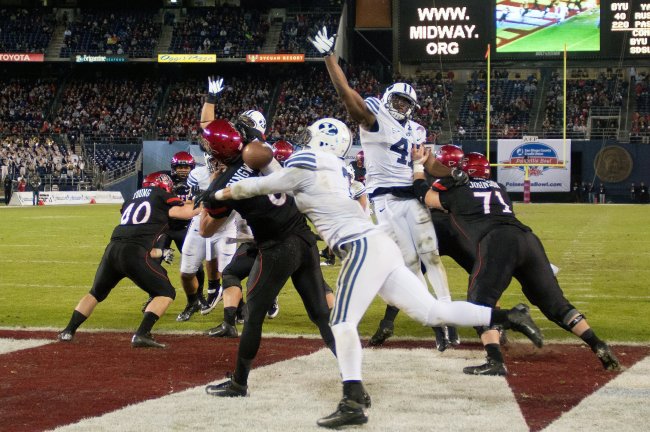 Kent Horner/Getty Images
Interestingly with the latest rounds of conference "decommits" after Boise State made it clear they would remain in the MWC, some league sources indicated gaining BYU back would be preferable to San Diego State.
In my analysis, there is little doubt this came from Utah State University which joined the MWC last May, and has long sought a league reunion with at least one of its in-state rivals. Utah went off the table when they were invited to the Pac-12 in June of 2010, but with strong political connections within the senior ranks of LDS Church leadership, many obviously now feel a reunion with BYU could happen, the sooner the better.
But many continue to suspect BYU is in no hurry given the continued fluid situation, particularly with the Big Ten's rumored expansion interests after adding both Maryland and Rutgers last November.
While it is unknown what could actually trigger the next significant athletic alignment movement, many speculate it could come with the deal for Maryland to leave the ACC, presently being negotiated or litigated…depending upon how you look at it!
If the terms are favorable, it could potentially spark a move to the Big 12 by Florida State given that the Seminoles, along with Maryland, were the only ACC schools to not support the new exit fee structure of $50 million when Notre Dame was brought into the league.
But the Big Ten represents an additional suitor, which could enter the picture that could trigger this given the Chicago based league pretty much gets who they want and if the school's academic program has Association of American Universities (AAU) attached to it, an expansion oriented "B1G" will go after it.
Which League Best Fits BYU for the Long-Term Future?
This scenario would give a North Carolina/Duke combination a highly desired expansion target, followed closely by a Virginia/Georgia Tech combination given that the Big Ten must expand south from its "Rust-Belt" geographical footprint if it seeks to gain market share and grow its brand into the future.
But that's all less likely than a Florida State desired move from the ACC to the Big 12, which would put Bob Bowlsby and his league's school presidents into expansion mode, and give the Big 12 some additional power in dealing with the "changing circumstances" clause Bowlsby eluded to when he announced a newly reworked deal with both ESPN and FOX for first and second tier media rights last September.
While many have speculated Clemson would be the other school that would move, that one is much less likely given the ties to the "Tobacco Row Mafia" that run the ACC. Florida State remains the most likely Big 12 School to jump ship with the ACC, given their shorter term membership in the league (since 1991).
Where BYU comes into the picture is now similar to how Utah factored into Pac-12 expansion back in 2010 after Texas along with Oklahoma decided against making such a move (which also impacted Oklahoma State and Texas Tech), which better defined means adding BYU to even out the numbers.
While the addition of West Virginia has clearly made many Big 12 administrators and fans less enthusiastic about the possible future addition of BYU due to geography, there also remains some opposition due to the perceived lack of commitment by BYU overseers to let them make the move even if the "no Sunday play" issue could be resolved. Many felt betrayed by BYU during the intense fall 2011 negotiations following two more league defections.
What could drive BYU back into the MWC is what I alluded to above and that is the relationship with Utah State where I also pointed out last spring in a Bleacher Report article that some in senior LDS Church leadership will undoubtedly be reluctant for BYU to move up in a league affiliation if it lessens the relevance of Utah State.
Given the WCC circumstances I described above, it is highly doubtful BYU will remain in the WCC past 2016, but the questions remain about the future amongst many of the Cougar faithful about the direction of BYU and where the Cougars will end up when the music stops in this realignment scenario, which has been the most intense in two decades now.