WWE Elimination Chamber on Sunday confirmed what most of us were fearing:
A Rock vs. John Cena WrestleMania rematch in two months at MetLife Stadium in New York/New Jersey.
In front of packed house at New Orleans Arena on Sunday night, The Rock ended Elimination Chamber by defeating CM Punk to retain the WWE Championship.
It's now officially official: The Rock vs. John Cena at WrestleMania 29.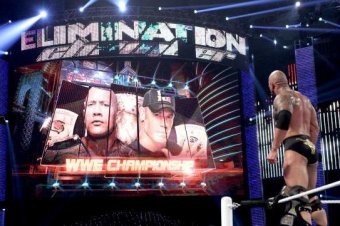 You can't blame the WWE. The Rock and John Cena are easily two of the biggest superstars in the business, and they could probably fight for the title in lingerie with Tensai as the guest referee, and the ratings for the biggest pay-per-view of the year would be off the charts.
Scheduling anything else, at least from a business standpoint, would be foolish.
But from the fan's standpoint, the predictable main event has the makings of a disappointing one.
These two already fought at last year's WrestleMania, where The Rock came out victorious. With Dwayne Johnson nearly as busy as Nicholas Cage on the acting scene, it's highly unlikely he beats Cena for the second time and remains the champ.
Therein lies the problem. Not only is this one-on-one singles match less compelling than the biggest main event of the year should be, but it is predictable.
We are still a long way from WrestleMania, but fans are already up in arms about the scheduled main event:
Boring. WrestleMania is shaping up to be the worst one in a long time. Rock vs. Cena. Again. Yawn. #WWEChamber

— David T. Hanmer (@DT_Hanmer) February 18, 2013
On a scale of 1 (I want to poke my eyeballs out because of boredom) to 10 (I can't wait!!!!), how excited are you for the Rock vs. Cena?
In the other confirmed match, we have World Heavyweight champion Alberto Del Rio defending his title against Jack Swagger, who won the Elimination Chamber match on Sunday.
While these two headlining matches aren't terrible, they are underwhelming, especially for an event as massive as WrestleMania.
The WWE is going to have to supply a stacked undercard to help propel the PPV back to the level it needs to be at.
Undertaker has to be there. HHH and Brock Lesnar should make appearances. Matches with unique stipulations should be set.
The main events for WrestleMania 29 appear very cookie-cutter. But don't worry, WWE Universe—there is still plenty of time and opportunity to improve the crucial event.