Kentucky Basketball: Predictions for Each of the Wildcats' Remaining Games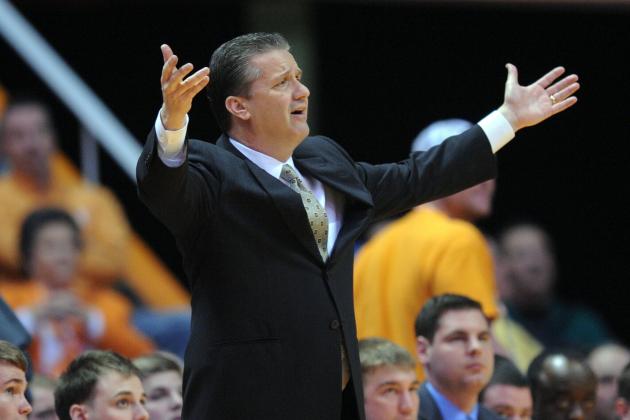 USA TODAY Sports

After losing Nerlens Noel to a season-ending injury and suffering their worst defeat under head coach John Calipari, to say that the Kentucky Wildcats are "reeling" would be a bit of an understatement.
Despite John Calipari's reassurance to the Big Blue Nation that this team can turn things around (which he posted on his website Sunday evening), his team is dangerously close to not making the NCAA tournament. The final six games on UK's regular season schedule are no longer just a chance to tune up before March; they have now become an audition for an at-large NCAA tournament bid.

The following are my predictions for Kentucky's final six conference games. Since Vegas odds have not been set on all of them, I won't be covering point spreads as much as breaking down how the Wildcats will fare in each matchup.

If I'm correct, then you can once again thank me for my peerless insight and expertise. If I am way off base, however, than it was likely due to a litany of unforeseen circumstances that even the sharpest of sports minds could not have predicted (but you are still welcome to mock me mercilessly in the comments section).


All stats via ESPN.com


Begin Slideshow

»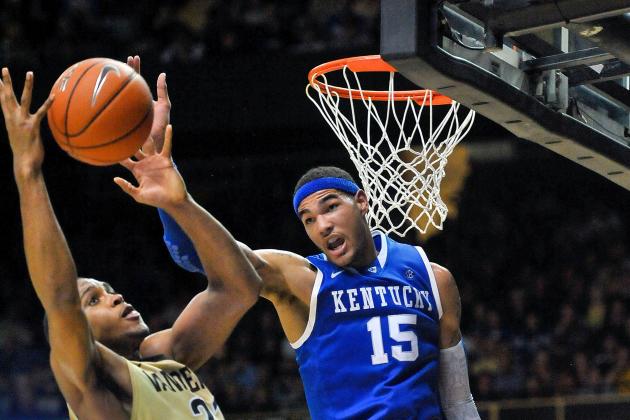 USA TODAY Sports

Outlook
Getting to play Vanderbilt at home is the best scenario the Wildcats could ask for to start off this six-game stretch.

The Commodores have been absolutely terrible this season, averaging a mere 59 points per game while also turning the ball over more than a bowling ball dispenser (13.3 turnovers per game). They are even managing to shoot worse from the line than Kentucky has this season (60.7 percent).

It's also worth noting that the last time the two teams played (which the Wildcats escaped with a 60-58 win), Kyle Wiltjer (2 points, 1-of-5 shooting) and Julius Mays (3 points, 1-of-5 shooting) were virtually non-existent. It's probably a pretty safe bet to assume they'll each have a much better outing this time given their recent (and much improved) offensive play.
Prediction
Kentucky 70, Vanderbilt 56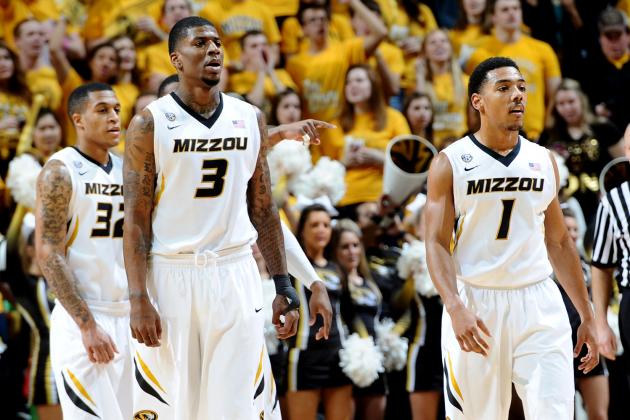 Dak Dillon-USA TODAY Sports

Outlook
The arrival of ESPN's College GameDay in Lexington won't quite have the same festive atmosphere as the Big Blue Nation hoped for at the start of the season (aside from getting the chance to make fun of Digger Phelps by constantly yelling LISTEN TO ME!).
Fortunately for the Cats, however, the excitement generated by ESPN coming to campus should help make sure that even with the dark cloud hanging over the Big Blue Nation at the moment a rowdy group will pack Rupp Arena to give UK the home-court edge.

Unfortunately for the Cats, however, is the fact that Mizzou simply looks like a better team right now. After a rough month of January, the Tigers have turned things around and look poised to make a good run in their first SEC tournament...and that without Laurence Bowers playing like he did before spraining his MCL on January 8 (per Sean Bielawski).
If Bowers finds his rhythm, it could be a very long day for the Wildcats. If he doesn't, it will probably be a close game, but one that they will find themselves on the losing end.
Prediction
Mizzou 68, Kentucky 62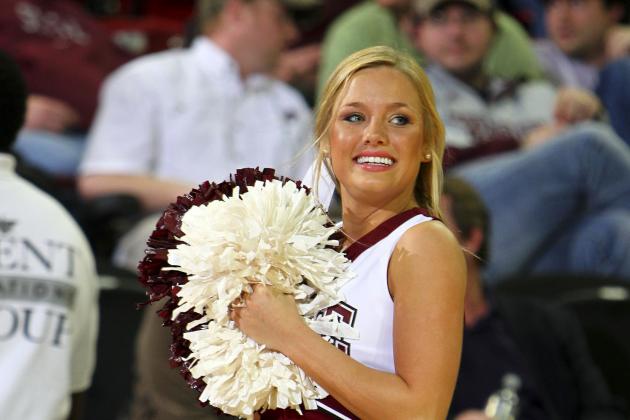 Spruce Derden-USA TODAY Sports
Pictured: One of the only good things about Mississippi State basketball
Outlook
If there is one team in the Wildcats' remaining SEC schedule that's worse than Vanderbilt, it's Mississippi State. At 7-17 and 2-10 in the SEC, the Bulldogs should provide the Wildcats with a much-needed win at home before they head out on a two-game road trip.
Prediction
Kentucky 82, Mississippi State 65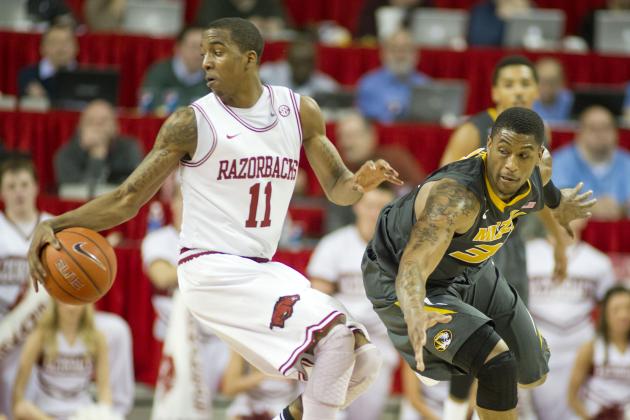 USA TODAY Sports

Outlook
When the Arkansas Razorbacks stunned Florida at home 80-69 on February 5 only to follow that up on February 9 with a 67-49 road loss to Vanderbilt, they proved two things:
1. The Hogs' quality of play is wildly inconsistent.
2. The Hogs play much better at home
Overall, however, Arkansas is still a decent team. BJ Young will be a handful for a UK team to defend against after already having some major defensive deficiencies before Noel went down.
Considering the fact that this game is on the road (and we've seen what can happen to UK on the road against less talented teams in the post-Nerlens Noel era), things look aligned just a little too perfectly for Arkansas to come away with a win and keep its NCAA tournament hopes alive.


Prediction
Arkansas 68, Kentucky 61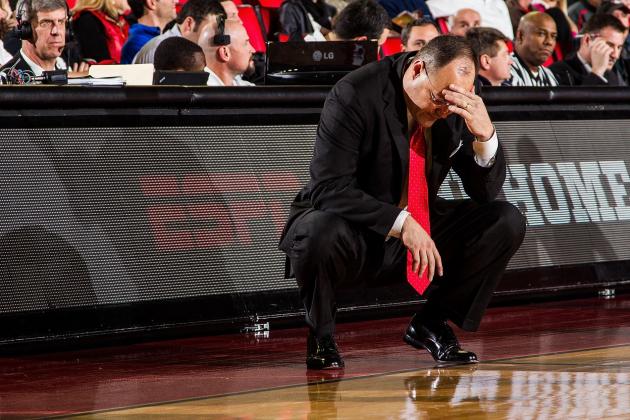 Daniel Shirey-USA TODAY Sports

Outlook
Georgia had a nice little five-game win streak going before dropping back-to-back games against Alabama and Ole Miss.
The Bulldogs still should provide the Wildcats with a challenge on the road, but they simply won't have the talent to beat them.
Prediction
Kentucky 77, Georgia 67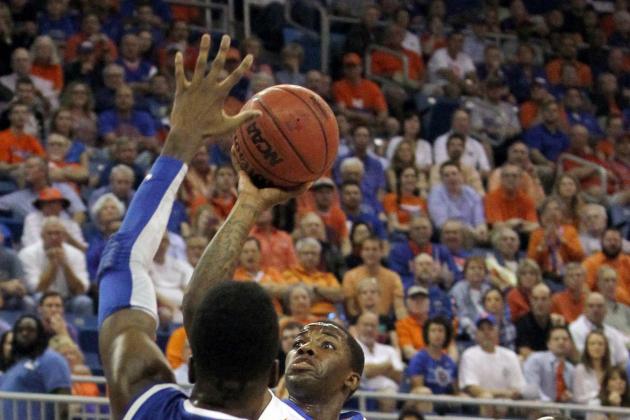 Kim Klement-USA TODAY Sports

Outlook
Here comes my craziest prediction.
Florida will have the top seed in the SEC tournament locked up, but will still be fighting hard to maintain NCAA tournament seeding and the pride of sweeping its season series against the Wildcats.

But spurred on by a Rupp Arena crowd desperate for signs of life before March Madness begins, the Wildcats will finally put together a complete game (aided by Billy Donovan pulling his starters a bit earlier than he normally would) and manage to improbably upset the (still) top-10-ranked Florida Gators.
If you think that doesn't make any sense, please tell me when anything the team has done this year has.
Prediction
Kentucky 81, Florida 74
Please feel free to leave a comment below. If you'd like to sing my praises or tell me how terrible I am more personally, I can also be found on Twitter.