Michigan State Basketball: Complete Guide to Surviving B1G Gauntlet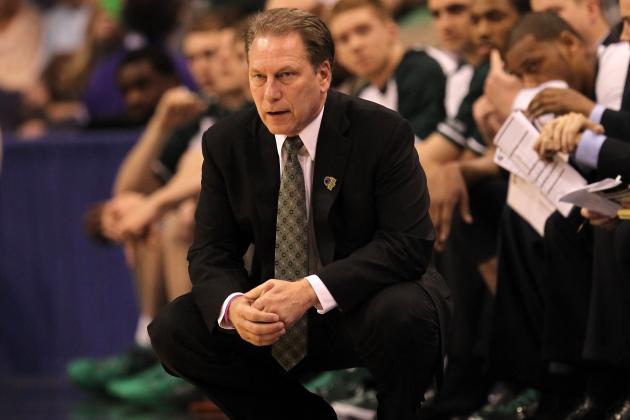 Jamie Squire/Getty Images
The next four games will test the mettle of coach Tom Izzo's team.
The Big Ten has been kind to Michigan State so far this season, something few other teams can say with just five games remaining.
The Spartans have suffered just two losses in conference play and sit tied atop the B1G with Indiana at 11-2.
Coach Tom Izzo's squad fattened up on the softer portion of their schedule but will now face the most grueling four-game stretch any conference in America has to offer: No. 1 Indiana on Tuesday, at No. 13 Ohio State next Sunday, at No. 4 Michigan on March 3 and home against No. 20 Wisconsin on March 7.
Collectively, those teams have lost 15 times in conference play—most of which came against each other.
Individually, each game presents a unique beast for Izzo, but can the Spartans run the gauntlet unscathed?
Begin Slideshow

»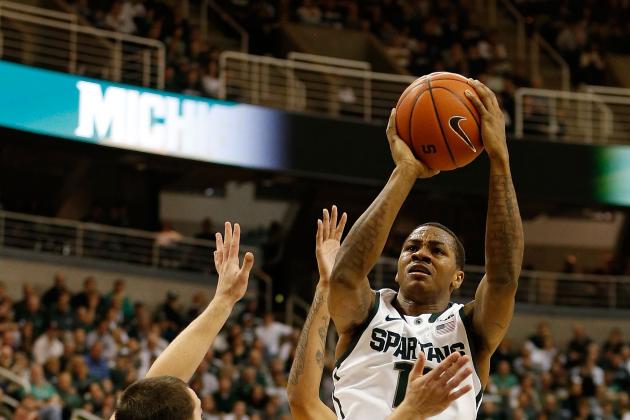 Gregory Shamus/Getty Images

If the Spartans are to win or share the Big Ten title for the fourth time in the last five seasons, they need this game as badly as they've needed any one this year.
Undoubtedly, their fans recognize this and will come out in droves as Hoosier nation did earlier this year.
Izzo is huge on respect, and in terms of the Big Ten's perception, it's Indiana and then everyone else. That doesn't fly in East Lansing. The Spartans lost to the Hoosiers 75-70 earlier this season in Bloomington, but only have themselves to blame after 18 turnovers dug a hole too deep.
This time around, with Indiana's best defender Victor Oladipo listed as day-to-day after he rolled an ankle in the win over Purdue, expect Izzo to ride his backcourt and expose the Hoosiers' potential weakness.
Freshman Gary Harris, with Oladipo guarding him, had one off his career-high with 21 points, including 5-of-10 from the three-point line. Point guard Keith Appling played arguably his worst game of the season, fouling out in just 19 minutes of action.
If Michigan State does indeed take down the No. 1 team in the country, bank on a big game from the guards.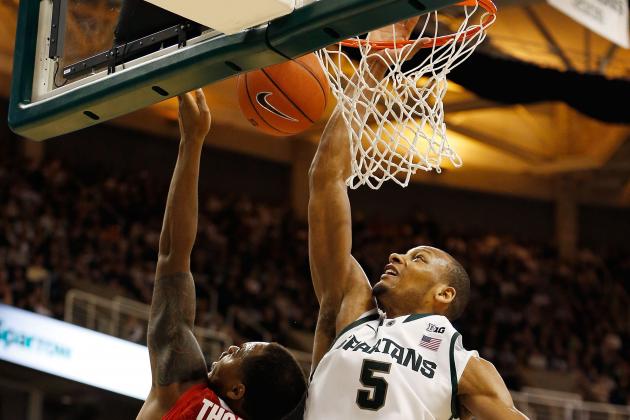 Gregory Shamus/Getty Images

If any team can speak to the pain of "The Gauntlet" it's Ohio State. They have lost three of their last four games, including defeats to Michigan, Indiana, and Wisconsin.
The formula for dispatching Ohio State shouldn't be too complicated, even though Deshaun Thomas (28 points) went berserk the last time these two teams met.
The Buckeyes' inside depth is severely lacking, and that just so happens to be Michigan State's strong suit. Adreian Payne, Derrick Nix, and 6'6'' Branden Dawson collected nearly as many rebounds (19) as the entire Buckeyes team did (22) in Michigan State's 59-56 win in East Lansing.
Ohio State center Amir Williams is nowhere near as physical as either of the Spartans' postmen, and Buckeye forward Evan Ravenel was battered for four personal fouls in 21 minutes in the first meeting.
On defense, if Dawson, or any defender for that matter, can neutralize the Big Ten's leading scorer, the Buckeyes have no one else to turn to.
As evidence, Ohio State's second-leading scorer that night was Lenzelle Smith Jr., who finished with six points.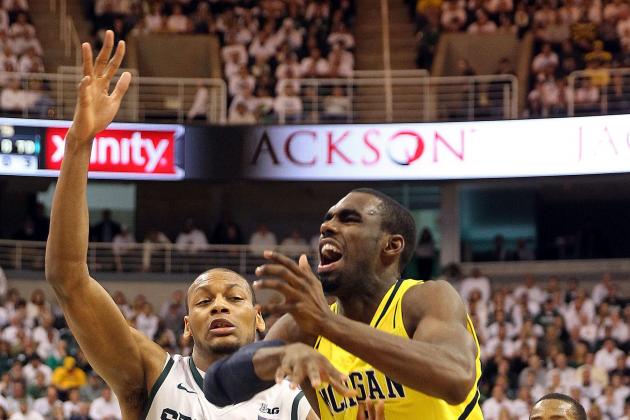 Mike Carter-USA TODAY Sports

Of all the games throughout the gauntlet, this re-match figures to be the most grueling for the Spartans.
While it's obviously not a given that Michigan State goes 2-0 against Indiana and Ohio State, those affairs lack the bitterness that is sure to engulf this rivalry to be renewed on March 2.
The initial installment on Feb. 12 marked the first time the in-state rivals had met while ranked in the AP's Top 10, but the Spartans embarrassed the Wolverines on national television, in turn making voters question the validity of Michigan's No. 4 ranking.
The Spartans were plus-eight in turnover margin and plus-twelve in both rebounds and assists. Izzo called it the "perfect storm," via ESPN. If the Spartans are to survive this trip to Ann Arbor, it's going to take another herculean-type effort on defense.
Michigan State forced the lowest-rated turnover team in the country (according to KenPom) into 16 miscues and bullied Tim Hardaway Jr. and Glenn Robinson III to a combined 2-of-15 shooting.
It's doubtful that that type of cold streak will happen again, and unlike the supportive crowd that clearly rattled Michigan's young team, the Spartans will have to deal with a rowdy Crisler Center keen on repaying Michigan State for their crushing defeat.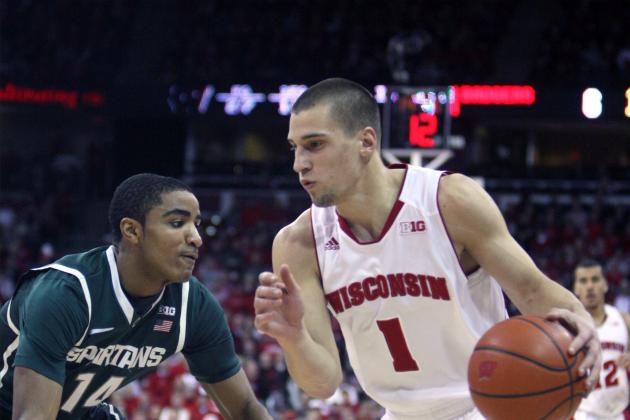 USA TODAY Sports

The most difficult part about playing the Badgers is that they force you to play at their pace.
In the Spartans' first game against Wisconsin, a 49-47 win in the Kohl Center, Michigan State had the ball for a season-low 55 possessions, via KenPom. Expecting a close game with so few possessions, limiting turnovers is beyond imperative. The Spartans had just 10 in the first meeting.
The Badgers will rarely run you out of a game—blowout against Ohio State aside—but they will consistently wear you out on defense by milking the entire 35-second shot clock. It's any team's worst nightmare when Wisconsin gets the offensive rebound because it could mean more than a minute of defense on their terms.
To beat Wisconsin again, Michigan State will need to defend the three-point line as well as it did the first time (8-of-27) and force-feed the ball in the post on offense.
Payne and Nix combined for four points and eight rebounds, an aggregate that simply won't cut it against the surging Badgers, who still have an outside chance at the Big Ten crown.