6 Things We Learned in Real Madrid's 2-0 Victory over Rayo Vallecano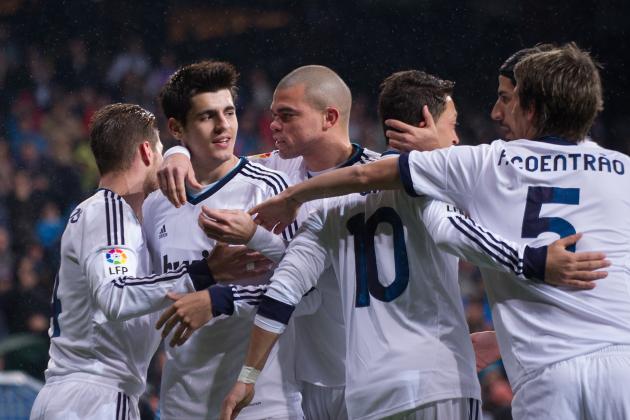 Denis Doyle/Getty Images

Real Madrid hosted cross-town rivals Rayo Vallecano in La Liga action on Sunday night. Los Blancos jumped out to an early 2-0 lead, but drama then took the game over.
Sergio Ramos was sent off after accumulating two yellow cards in just over a minute.
The rest of the encounter was back and forth action, though it was evident that no other goals would be coming on the night.
Despite the loss, Rayo Vallecano has much to be proud of. But for Real Madrid, the win will only be seen as three points gained and nothing else.
In this article we will take a look at six things we learned from the dramatic match at the Bernabeu.
Begin Slideshow

»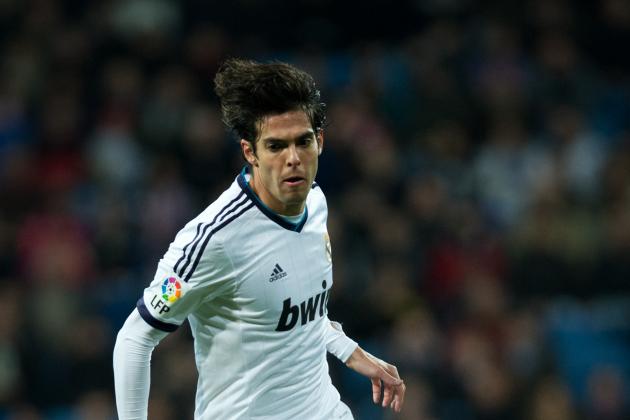 Jasper Juinen/Getty Images

Despite practically falling off the face of the football world, Kaka has proven that he still has a lot of game left. In fact, against Rayo Vallecano, Kaka was arguably the best player on the pitch.
With 86 percent passing on the night and a total of 44 touches, Kaka was very involved with the play (via WhoScored). The Brazilian pulled the strings in attack and was the orchestrator of everything Real Madrid did.
Though he may very well be on his way out of the club, Kaka has given hope to many Madridistas. Kaka can give Real Madrid another option late in the season if the 30-year-old midfielder can continue to play like he did against Rayo.
Madridistas everywhere should be proud of Kaka. The Brazilian may not be back to his old ways, but he has shown that he is not gone entirely.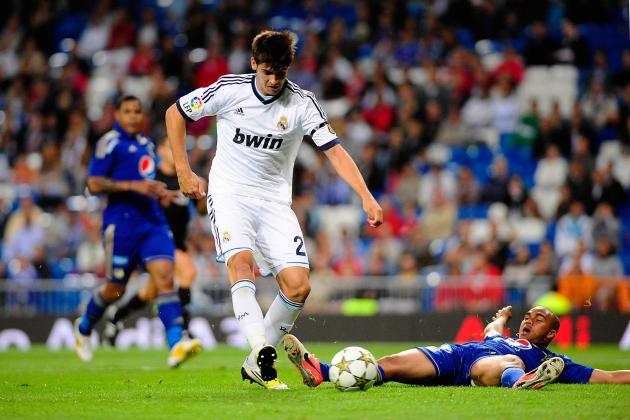 Gonzalo Arroyo Moreno/Getty Images

When it was announced that youngster Alvaro Morata would be starting for Real Madrid, there were definitely questions being asked (via Goal). But the Spanish striker silenced critics as soon as the game began.
Morata found the back of the net after just three minutes of play. In fact, the first 15 minutes of the game was arguably a two-man show between Morata and Kaka.
The 20-year-old continues to shine when he is in the Real Madrid lineup. The only problem is that Morata rarely sees the pitch for Jose Mourinho's club.
With Karim Benzema and Gonzalo Higuain both suffering shaky seasons to this point, it is clear that Morata deserves more chances than he is getting.
Not only does young Morata deserve more time on the pitch, he has earned it.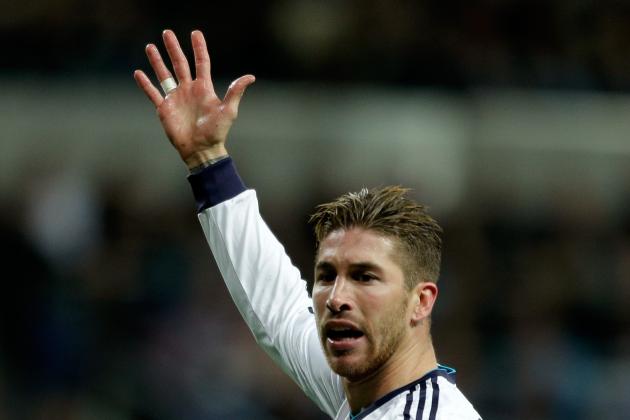 Gonzalo Arroyo Moreno/Getty Images

There has been a glaring problem with referees in Spain this season. They continue to not only make bad calls, but decisions that change the outcome of games. This was yet again proven at the Bernabeu.
Sergio Ramos was shockingly given two consecutive yellow cards with just over one minute between each other. Not only was the quick sending off surprising, but it was not deserved at all.
The first card given to Ramos was arguably not deserving of a booking—the second card was even more surprising. Though the ball struck the hand of Ramos, there was clearly no intent.
Red cards always change the course of the game and it clearly did just that for Real Madrid.
Los Blancos were dominating the game until Ramos was sent off. After the second card was shown, almost all of the energy in the Madrid squad immediately left.
The referee made other terrible decisions late in the match.
Rayo Vallecano also played the ball with their hands in one instance that only warranted a warning from the referee. Jose Mourinho was understandably upset as consistency is something that does not appear to exist with La Liga referees.
How much longer will Spain allow referees to control games in such a way? The recent string of unimaginable calls are becoming inexcusable.
Denis Doyle/Getty Images

Rayo Vallecano entered the Bernabeu sitting in the sixth spot of the La Liga table. Never before has the Madrid-based club been so high in the standings, but their performance against Real Madrid suggests that they can continue this run of form.
The European spots in the La Liga table are very valuable. With the big three of Spain clear favorites for the top three spots, every other club will be gunning for the last three openings in Europe.
Los Vallecanos have now dropped out of the desired zone due to their loss to Real Madrid. But, the ability and desire they displayed in the Bernabeu shows that they have a very good chance of finishing in the top six.
There are still a lot of games left to play. Rayo Vallecano will have a very tough test ahead of them. However, with a relatively easy season left to go, they are in prime position for their best finish in history.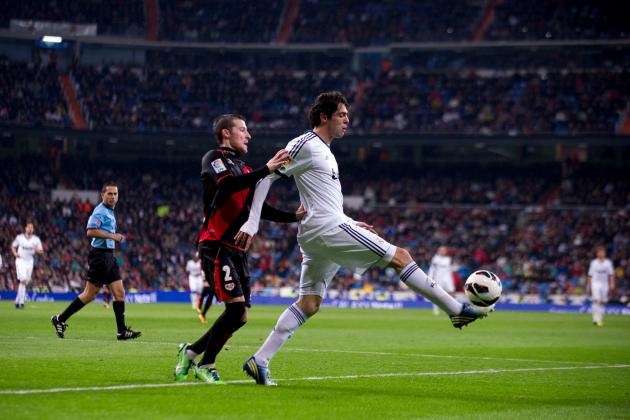 Denis Doyle/Getty Images

Simply looking at the final score will make most fans proud of Real Madrid's victory at home. However, the overall attack of Los Blancos was very dismal—their finishing was not up to par.
On multiple occasions, Los Blancos found themselves rounding the keeper with an open net available. In these cases, shots were missed and passes were left wanting.
Real Madrid also hit Rayo Vallecano hard on the counter, though nothing ever came to show of these attacks.
This season, Real Madrid has battled the ongoing struggle of finishing off solid chances. With 14 shots fired and only six finding the target, Real Madrid must improve quickly (via WhoScored).
In much bigger games, the poor finishing could cost Los Blancos greatly. With Barcelona and Manchester United coming up soon, Mourinho will certainly be looking to fix this problem quickly.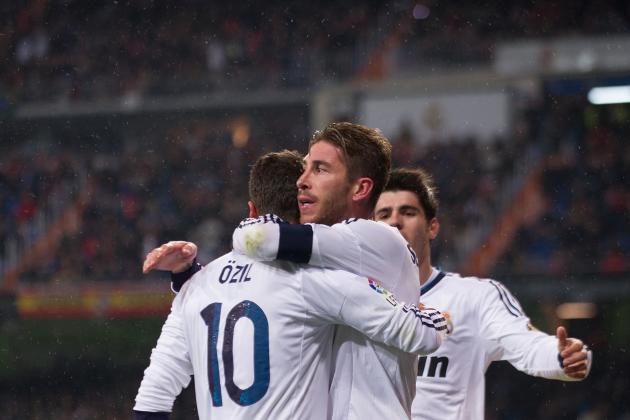 Denis Doyle/Getty Images

Real Madrid has spent nearly the entire season chasing both Barcelona and Atletico Madrid in the table. Though catching Barcelona looks impossible, the four-point gap behind Atletico can be made up.
Things definitely changed after Sergio Ramos was sent off, but fans should be focusing on how the game was going before the red card. Real Madrid was in total control and looked like the same team from last year.
If we are now seeing the true form of Real Madrid, Atletico better watch out.
Los Blancos certainly have the depth and ability to surpass their rivals in the table. If Mourinho can get all of his players back to their best, everyone should expect Real Madrid to finish second in La Liga.
The football world would be turned upside down if the duopoly in Spain was tampered with. Even more astonishing would be to see this Real Madrid squad finish outside of the top two.
With things starting to look up for Real Madrid, the chase for second place is officially on.
What did you find important from Real Madrid's victory? What does the final mean for both teams? Don't forget to leave your thoughts and comments below.
Tre' Atkinson. Follow me on twitter for more discussions on Real Madrid, Rayo Vallecano and La Liga.