Detroit Red Wings vs. Minnesota Wild: Live Score, Updates and Analysis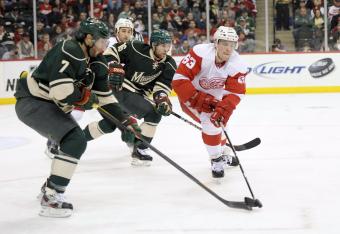 Hannah Foslien/Getty Images
Minnesota Wild 3, Detroit Red Wings 2. Final.
Damien Brunner had a first period goal for Detroit. Brunner batted the puck out of mid-air into the goal.
Pavel Datsyuk scored just 20 seconds into the second period to make it 2-0 for Detroit.
Dany Heatley scored on a knuckle puck to make it 2-1.
Jason Zucker scored his first career NHL goal and Torrey Mitchell scored just 32 seconds later.
Minnesota had three goals in just 4:10 of clock time.
Detroit finished the game 0-3 on the power play (including a double-minor power play in the second period), moving them to 0-26 on the season on the road power play.
Minnesota won the 5-on-5 battle in this game with all five goals coming via even strength.
The Red Wings have now lost three in a row for the first time this season and have one point in their last three games.
The Minnesota Wild move into a tentative tie for eighth place in the Western Conference despite being out-shot 31-24.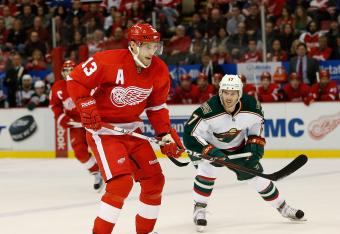 Detroit has now gone six road games without a power play goal. Fox Sports Detroit just announced that the Red Wings have not gone that long without a road power play goal since 1938-39 when they went nine road power play games without a power play goal.
The Red Wings got dominated in the faceoff circle tonight 28-20, as Pavel Datsyuk took only one faceoff because of his shoulder injury that he was playing through.
Datsyuk, sixth in the league in faceoff winning percentage at 60.6 percent, still had an effect in the game with two points on two Red Wings' goals, but he was not able to help Detroit in the faceoff circle.
Henrik Zetterberg, who replaced Datsyuk at center, was just 42 percent in the faceoff circle, and that time of possession for the Wild was ultimately the difference as the Red Wings had to continue to pursue the puck when the Wild dumped the puck down the ice.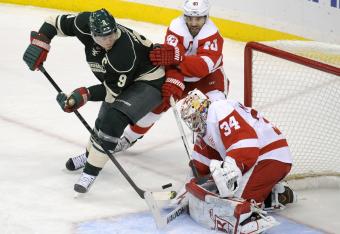 Final score, Minnesota Wild 3, Detroit Red Wings 2.
While fans and analysts want to blame this game on the 4:10 span that they fell apart defensively, the Red Wings just did not capitalize on enough of their scoring chances.
Additionally, the Red Wings were held to one line on offense.
That line was the Zetterberg-Datsyuk-Brunner line.
Zetterberg and Datsyuk each had two points, but Minnesota got some timely goals from their other lines.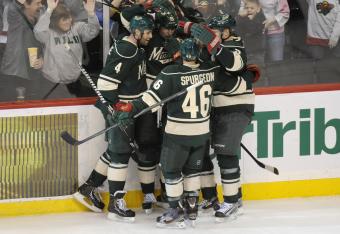 Final score, Minnesota Wild 3, Detroit Red Wings 2.
Detroit has now dropped three games in a row, while Minnesota tentatively moves into a tie for eighth place with the Red Wings.
The final shot totals were 30-24.
These shots though were not indicative of the actual scoring chances.
The Red Wings played sound defensively for the first half of the game, but saw their two-goal lead go by the wayside when the Wild scored three goals in 4:10.
In the third period, Detroit just couldn't get it going offensively, putting up only two shots in the first 13 minutes of the period.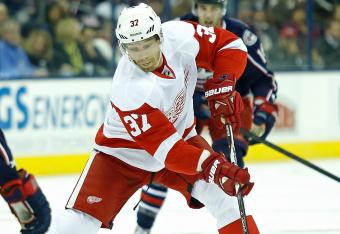 No shots on that power play for Detroit. 0-for-26 now on the season on the road power play.
Positives on that power play for Detroit were that Mikael Samuelsson can play the right point.
That right point had been a problem for Detroit on previous power plays, as Damien Brunner was playing it (unsuccessfully) for a while.
Samuelsson has a huge shot and although he didn't hit the net with the three attempts he had on that power play, Samuelsson will be a big asset going forward in the season for Detroit.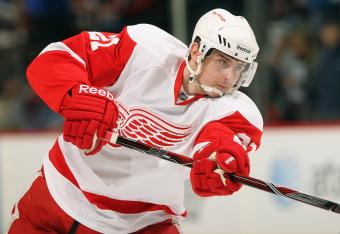 Just two shots in this third period for the Red Wings.
The Wild have been doing an excellent job carrying the play and keeping the puck away from their young net-minder.
Just seven minutes to go in this game.
Tomas Tatar with a huge scoring chance, draws a tripping penalty against Minnesota.
Needless to say, if ever the Red Wings needed their first road power play goal of the season, it is now.
Red Wings kill the power play, back to full strength.
10 minutes to go in the regulation.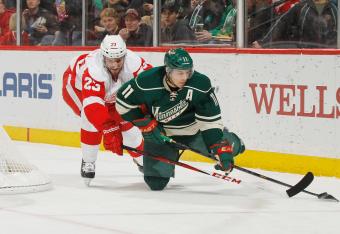 Brian Lashoff takes a holding penalty for taking down his man in the corner.
He gets up, trying to plead innocence.
Somewhat amusing as he full on bear-hugged him down to the ice.
Wild to the power play for a chance to put this game away.
Start of the third period, 3-2 Wild.
Red Wings still without a power play goal on the road this season.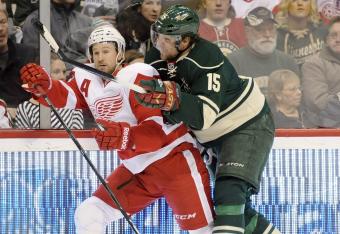 Couple of interesting statistics to keep an eye on.
The Red Wings were up 9-0 in scoring chances before the Minnesota Wild put up eight straight scoring chances.
This is the third consecutive game that the Red Wings have been up 2-1 at one point during a game and ended up down 3-2.
The Red Wings scored the first two goals against St. Louis two games ago, but lost in overtime 4-3.
Against Anaheim, the Red Wings had leads of 1-0 and 2-1, but lost 5-2.
End of the second period here in Minnesota.
Wild lead the Red Wings 3-2.
Minnesota really got the cycle going late in the period and alternated scoring chances between the cycle and those two-on-one rushes.
Detroit still out-shooting Minnesota 24-19, but the Wild had some gigantic scoring chances in that later part of the second period.
The Red Wings' defensemen got caught up ice a few times too many, and it cost Detroit on the scoreboard.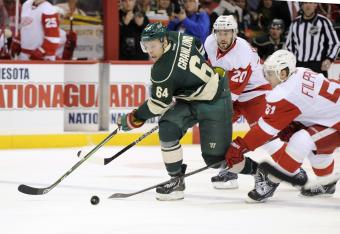 This Red Wings' power play is something else.
That's another excellent scoring chance on a two-on-one for Minnesota, Cal Clutterbuck just barely misses a shot over the cross bar.
Red Wings' fans are sweating because they're on the power play and have a tendency to give up shorthanded goals, but Wild fans are sweating this double-minor power play.
Minnesota Wild 3, Detroit Red Wings 2.
Kyle Quincey gets highsticked pretty violently when Devin Setoguchi reacts to Quincey appearing out of nowhere as Setoguchi is starting the breakout.
Four minutes for high-sticking for Setoguchi.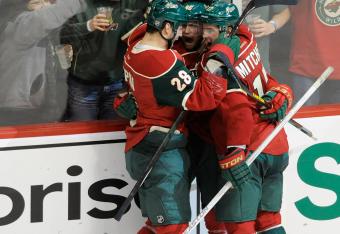 Minnesota Wild 3, Detroit Red Wings 2.
Torrey Mitchell scores to give the Minnesota Wild the lead.
Mitchell took a backhand shot off of a scrum draw and scored just 32 seconds after Zucker's goal.
Red Wings' head coach, Mike Babcock looks hesitantly towards Petr Mrazek, but Mrazek remains in the game.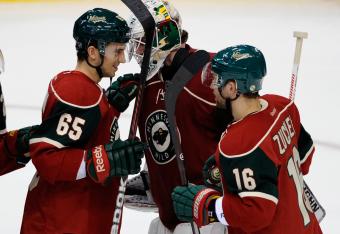 Detroit Red Wings 2, Minnesota Wild 2.
Jason Zucker scores his first NHL goal.
In on a two-on-one, Zucker was really looking "shot" all the way and put it over the far side as Zucker was streaking down the right side of the ice.
First real defensive lapse there for the Red Wings in this game.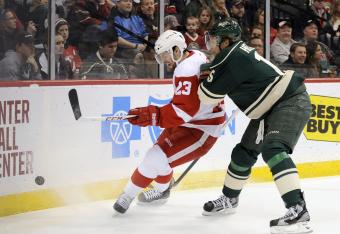 Detroit Red Wings 2, Minnesota Wild 1.
Dany Heatley scores on a knuckle puck right along the ice after a mad scramble in front of the net.
Goaltender Petr Mrazek never saw the puck and was still standing up as the puck squirted through his feet along the ice.
Good to see Minnesota has finally woken up offensively, as it will make this game more interesting.
Let's see how young Red Wings' goaltender Petr Mrazek responds.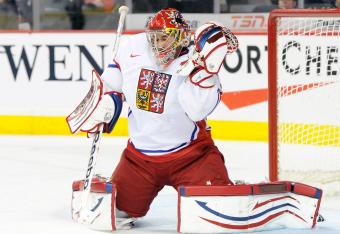 Detroit Red Wings 2, Minnesota Wild 0.
Detroit goaltender Petr Mrazek broke his stick about a third of the way from the top of the stick and was left to play with his shortened stick for over six minutes as their wasn't a stoppage in play from the time Datsyuk scored til almost seven minutes into the second period.
Shots are now 15-12 for Detroit.
Detroit is winning the five-on-five battle with two five-on-five goals.
It will be critical for Minnesota to draw some power plays to expose the Red Wings sub-par power play if the Wild want to get back into this game.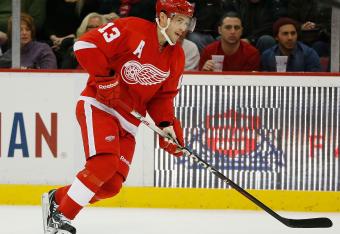 Detroit Red Wings 2, Minnesota Wild 0.
Second period.
Pavel Datsyuk pots a wrister over the glove hand of Darcy Kuemper just 20 seconds into the second period.
No pressure on Datsyuk at all.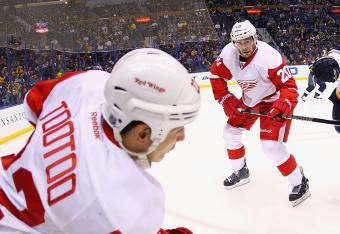 With the second period starting shortly, the Wild have to make a fundamental change in their offensive intensity.
That intensity will be measured in shots on goal, or attempted shots on goal.
Including blocked shots, Detroit outshot Minnesota 20-10 in the first period.
After about the first five minutes of the game, the Wild seemed to go for almost 10 minutes without a quality shot on goal.
The Red Wings coaching staff must be breathing a sigh of relief because in the previous two games, the Red Wings gave up 14 shots on goal in the first period of the last game against the Anaheim Ducks.
End of the first period.
Detroit Red Wings 1, Minnesota Wild 0.
Damien Brunner with the interesting goal that he batted out of mid-air.
The Red Wings are 6-2-1 when leading after the first period, while the Minnesota Wild have now gone seven straight games without a first-period goal.
The Wild looked flat out disinterested in that first period, getting outshot 14-8 and out-hit 9-4.
Detroit did an excellent job getting pucks in deep in the first period and they did not turn the puck over.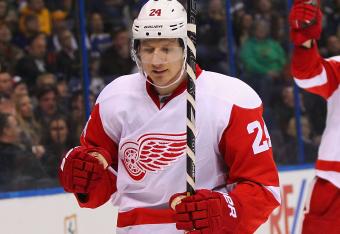 Detroit has six scoring chances and Minnesota has zero with a couple minutes remaining in the period.
The Red Wings just avoided a goaltender interference penalty, when Darcy Kuemper was run over on a breakaway.
Detroit now leads in shots, 12-8.
Detroit Red Wings 1, Minnesota Wild 0.
Tomas Tatar thought he had a goal off a one-timer in the low slot, but video review shows that the puck never came close to crossing the goal line as Darcy Kuemper stopped him cold.
See if that play marks a turning point in this game as the Wild have looked flat thus far.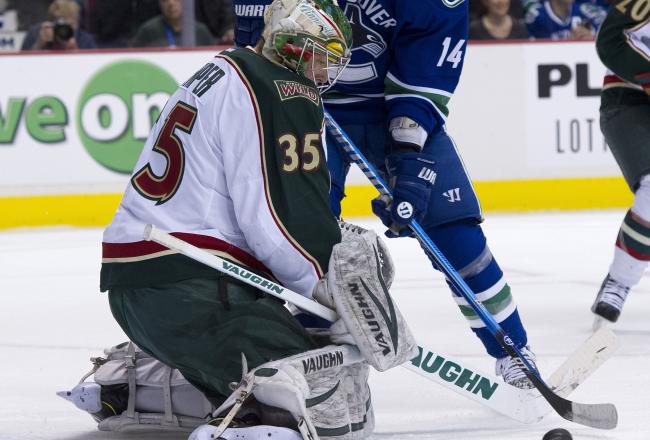 For both teams, jumping out early offensively was key.
Not just for the sake of scoring first, but because each team is starting a rookie goaltender.
Petr Mrazek has a ton of confidence from playing in the AHL, and he has continued to manifest that confidence in his first NHL game.
Darcy Kuemper looks confident as well, despite giving up the fluke goal to Damien Brunner. Kuemper has been fielding the puck well on shots and holding on to each shot that he has faced thus far.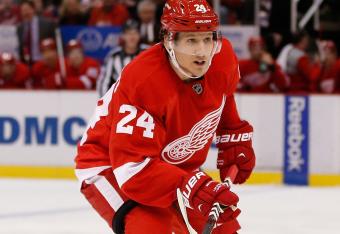 Detroit Red Wings 1, Minnesota Wild 0.
Damien Brunner puts in a rebound out of mid-air. That looked like a big time broken play because the first rebound on the shot by Henrik Zetterberg saw it go through two pairs of Minnesota Wild defenders after it hit the pads of Darcy Kuemper.
Either way, the big line for Detroit producing early.
Detroit Red Wings, 0. Minnesota Wild, 0.
Red Wings and Wild exchange scoring chances.
No real offensive zone time for either team as no team can penetrate the blue line for more than ten seconds at a time.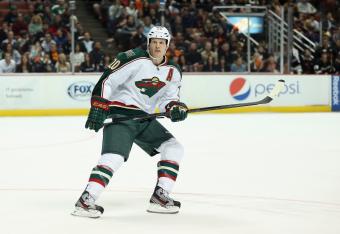 Detroit kills the Minnesota power play, Ryan Suter looked pretty sloppy on the point while trying to hold the puck in on multiple occasions on that power play.
This article is
What is the duplicate article?
Why is this article offensive?
Where is this article plagiarized from?
Why is this article poorly edited?