Arizona State Football: Way Too Early Game-by-Game Schedule Predictions for 2013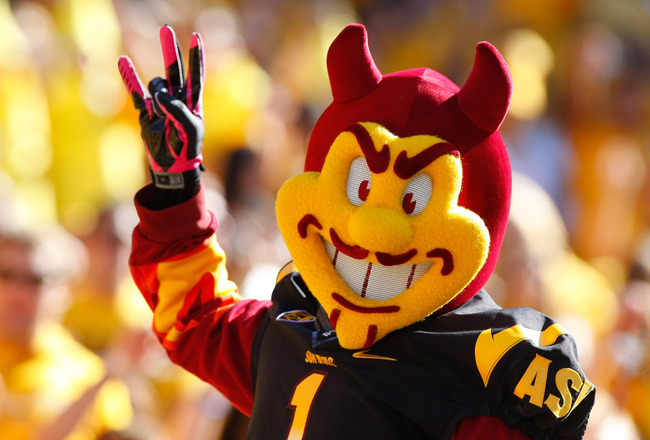 Rick Scuteri-USA TODAY Sports
The 2013 schedule for Arizona State football looks daunting.
The Sun Devils will face three teams that were featured in BCS bowl games last year, including both Rose Bowl teams and the National Championship runner-up.
Long gone are the days of two to three light games to ease into the schedule, as the Sun Devils welcome Wisconsin to Sun Devil Stadium in Week 2 and then travel to take on the Pac-12 Champion Stanford Cardinal in Week 3.
The buzz around head coach Todd Graham and the future of the Sun Devil program is huge. It begins with the Pat Tillman Pac-12 Defensive Player of the Year, Will Sutton, returning to play his senior year, and it continues with the solid National Signing Day class of 27 new recruits, including three early enrollees that will participate in the Maroon and Gold Spring Game on April 13.
If the Devils are going to be the best, they are going to have to beat the best, and ASU Vice President for University Athletics Steve Patterson couldn't be happier:
With the loaded non-conference schedule and the always tough Pac-12, I think our football team has one of the marquee schedules in the nation. I'm looking forward to the chance to prove ourselves against some of the toughest teams in the country, and this is yet another reason for Sun Devil fans to be excited about the 2013 season.
Here is my breakdown of the 2013 schedule for the Arizona State Sun Devils along with predictions for each contest.
Week 1: Sacramento State Hornets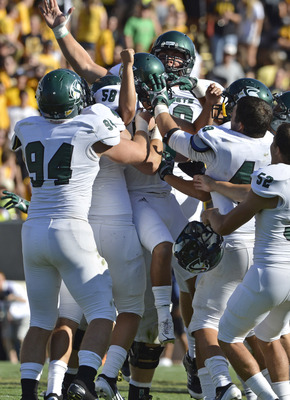 Ron Chenoy-USA TODAY Sports
Date: Sept. 5, 2013
Location: Sun Devil Stadium, Tempe, Ariz.
Opponent 2012 Record: 6-5, 4-4 Big Sky
Arizona State and Stanford will start the 2013 season later than the rest of the country by having the dreaded Week 1 bye. The Sun Devils have started their season on Thursday night a couple times over the past decade and next year's opening game seems slightly off.
One benefit is that it allows the Devils more time to practice for their upcoming matchup. Arizona State's traditional opening game foe, Northern Arizona, will open up the year at Arizona in 2013.
Sacramento State finished fifth in the Big Sky Conference in 2012, behind a Northern Arizona team that the Sun Devils walloped, 63-6. The Hornets' big win last year was a 30-28 victory over the Colorado Buffaloes.
I don't see the Hornets being able to keep up with the speed and high-octane offense of the Sun Devils.
Final Score Prediction: Arizona State 56, Sacramento State 10

Week 2: Wisconsin Badgers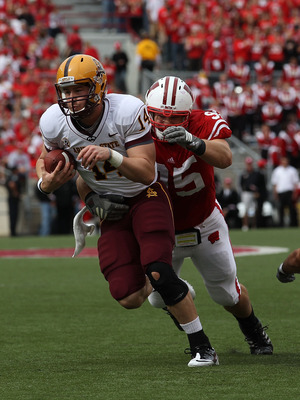 Jonathan Daniel/Getty Images
Date: Sept. 14, 2013
Location: Sun Devil Stadium, Tempe, Ariz.
Opponent 2012 Record: 8-6, 4-4 Big Ten
The Badgers will head to Tempe after the Badgers escaped with a narrow victory over the Sun Devils in Camp Randall during the 2010 season.
This will be a much different team than the one they faced on that day; it will even be different than the one that played in the Rose Bowl on New Year's Day.
New head coach Gary Andersen has taken the reigns in Wisconsin, and Doak Walker Award winner Montee Ball will be noticeably absent from the backfield. Offensive lineman Ray Ball will go against his younger brother Marcus Ball for the first time in their careers.
I believe that the Badgers are in for a tough game in Tempe, and it will only get tougher for them in Big Ten play.
Final Score Prediction: Arizona State 38, Wisconsin 21

Week 3: Stanford Cardinal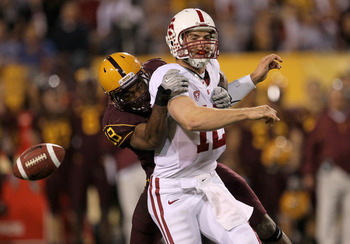 Stephen Dunn/Getty Images
Date: Sept. 21, 2013
Location: Stanford Stadium, Stanford, Calif.
Opponent 2012 Record: 12-2, 8-1 Pac-12
This game scares me. The Sun Devils missed out on playing the Pac-12 and Rose Bowl Champion the past two years, but they will travel to Stanford for the second game of the Pac-12 season in 2013.
Stanford head coach David Shaw is building a dynasty in Stanford, and he will be returning with several starters for the 2013 season.
A couple of big time players that will not be returning to the Cardinal are the two tight ends that were two of the team's top three receivers in 2012.
I like the Devils chances in this game, but I believe they will not get past the Cardinal.
Final Score Prediction: Stanford 35, Arizona St. 21

Week 4: USC Trojans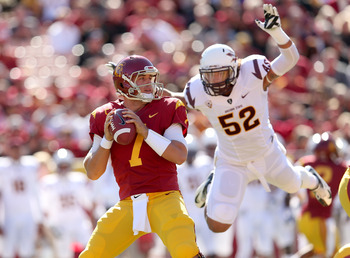 Stephen Dunn/Getty Images
Date: Sept. 28, 2013
Location: Sun Devil Stadium, Tempe, Ariz.
Opponent 2012 Record: 7-6, 5-4 Pac-12
The biggest question that needs to be answered here is which USC team is going to show up in the desert? Will it be the preseason AP No. 1 team that won six of their first seven games in 2012 or will it be the one that finished the season losing five of their last six contests?
The only solace for coach Lane Kiffin and the Trojans is that this Sun Devils team is the only team that they beat in that miserable nose-dive last season.
The team is just different than it was last year. Kiffin has been doing all he can to rectify the situation and to bring the Trojans back to respectability. The most important piece of the puzzle is recruiting, in which he has done extremely well.
According to Scout.com, the Trojans signed the second-most 5-star recruits with five and the second most Top 100 recruits with eight.
I still like the Devils in this one at home in a nail-biter.
Final Score Prediction: Arizona State 45, USC 42

Week 5: Notre Dame Fighting Irish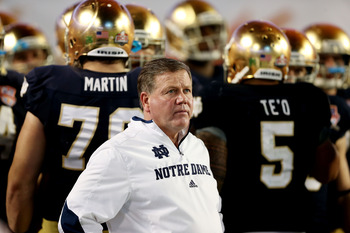 Streeter Lecka/Getty Images
Date: Oct. 5, 2013
Location: Cowboys Stadium, Arlington, Tex.
Opponent 2012 Record: 12-1, 2-0 vs. Pac-12
Wow, the hits keep on coming. The runner-up to the National Championship game in arguably the best football stadium in America?
This is going to be a game!
The Devils and Irish will battle for the first time since they did a home-and-home in 1998 and 1999. The Irish won both games handily, and the Devils will be looking for redemption.
This will be the next installment of Notre Dame's Shamrock Series, wherein the Irish play a home game away from South Bend to appease their fans nationwide who can't attend home games.
This game will be interesting to watch from several different angles, the biggest being how well the Irish fare in their first five games prior to the game. They will face traditional Big Ten foes in Purdue, Michigan and Michigan State, along with Oklahoma.
If the Irish are rolling after wins over those teams, it will be difficult to stop the momentum. If they lose any or all of them, they will be looking to rebound for the lean part of their schedule.
Their 2013 recruiting class ranks No. 4, according to Scout.com, and it includes seven Top 100 recruits, including two 5-star players and 18 4-star players.
Final Score Prediction: Notre Dame 41, Arizona State 28

Week 6: Colorado Buffaloes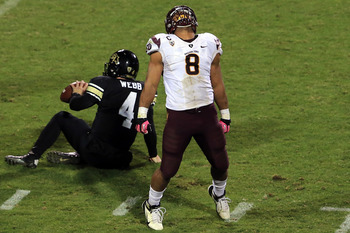 Doug Pensinger/Getty Images
Date: Oct. 12, 2013
Location: Sun Devil Stadium, Tempe, Ariz.
Opponent 2012 Record: 1-11, 1-8 Pac-12
If the Devils make it through the difficult beginning of the season with only two losses, as predicted, they could very likely win out with the only foreseeable obstacle being at UCLA. The remaining Pac-12 teams that went to bowl games will all be at home for the Devils.
The game against Colorado should be a big win for the Sun Devils, as they embark on their winning streak with momentum.
Final Score Prediction: Arizona State 48, Colorado 9

Week 7: Washington Huskies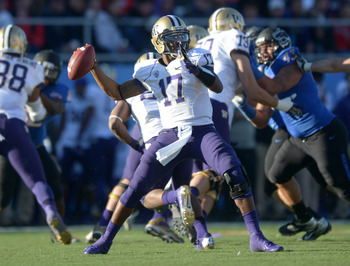 USA TODAY Sports
Date: Oct. 19, 2013
Location: Sun Devil Stadium, Tempe, Ariz.
Opponent 2012 Record: 7-6, 5-4 Pac-12
Steve Sarkisian took the Husky faithful on a wild roller coaster ride in 2012. They won three of their first four games, including a 17-13 victory over then No. 8 Stanford.
They followed up that big win with three straight losses. Just when all hope was lost, the 3-4 Huskies won four straight, including another big win over then No. 7 Oregon State.
No roller coaster ride would be complete without the season ending nosedive, including an embarrassing loss to Washington State, who was winless in the conference. They lost another close one to Boise State in Las Vegas and ended the season on a down note.
The Huskies are another team that the Sun Devils haven't seen in two years, but don't expect any surprises.
Final Score Prediction: Arizona State 42, Washington 24

Week 9: Washington St. Cougars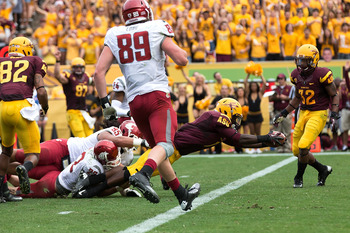 Allan Henry-USA TODAY Sports
Date: Oct. 31, 2013
Location: Martin Stadium, Pullman, Wash.
Opponent 2012 Record: 3-9, 1-8 Pac-12
Halloween is scary enough, and playing in Pullman makes it monumentally scarier. The Sun Devils lost the last time they visited Pullman in freezing, blizzard conditions.
The Cougars were bad in 2012; they even lost to Colorado—at home. They did pull out the upset over Washington, but this isn't a rivalry game, so look for the Sun Devils to escape Pullman with the W.
All treat and no tricks this year.
Final Score Prediction: Arizona State 48, Washington State 28
Week 10: Utah Utes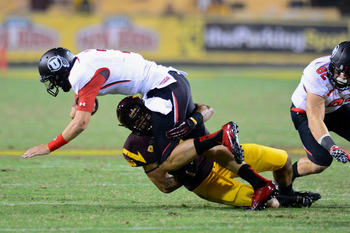 Matt Kartozian-USA TODAY Sports
Date: Nov. 9, 2013
Location: Rice-Eccles Stadium, Salt Lake City, Utah
Opponent 2012 Record: 5-7, 3-6 Pac-12
The Utes weren't bad in 2012, but they weren't good either. Arizona State has beaten the Utes both times since they entered the Pac-12 Conference, and I don't see that trend changing in 2013.
They were 1-1 in Utah rivalry games, losing to a bad Utah State team but beating then-ranked No. 25 Brigham Young. After the BYU upset, they only achieved victories over the Pac-12 bottom feeders.
They are nowhere to be found on the recruiting scene with the third lowest average grade in the conference.
Final Score Prediction: Arizona St. 45, Utah 14
Week 11: Oregon St. Beavers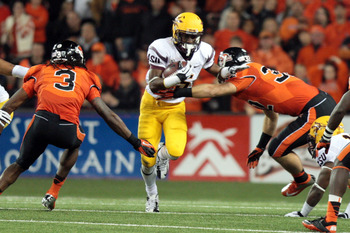 Scott Olmos-USA TODAY Sports
Date: Nov. 16, 2013
Location: Sun Devil Stadium, Tempe, Ariz.
Opponent 2012 Record: 5-7, 3-6 Pac-12
The quarterback controversy is alive and well in Corvallis. If it weren't for the rescheduled Nicholls State game to end last season, the Beavers would have lost two straight and four of their last six.
The Beavers won their first six games and reached a ranking as high as No. 7 before losing to Washington.
They never expected to win their first six games last year, including wins over ranked Wisconsin and UCLA, but they did. They are the perennial underdogs and will enter 2013 much the same way as they did the 2012 season—as underdogs.
The Pac-12 North division is tough, and unfortunately for the Beavers, their shot at the Pac-12 title game is far, far away.
Final Score Prediction: Arizona State 34, Oregon State 28

Week 12: UCLA Bruins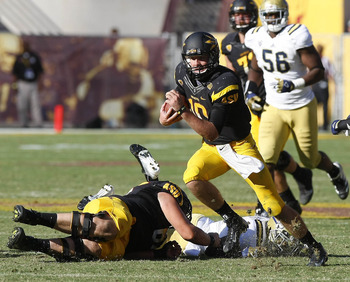 Rick Scuteri-USA TODAY Sports
Date: Nov. 23, 2013
Location: Rose Bowl, Pasadena, Calif.
Opponent 2012 Record: 9-5, 6-3 Pac-12
Talk about taking the wind out of your sails.
Last season, the UCLA Bruins had everything going in their favor—they were on a five-game win streak, they won the Pac-12 South division (on their own merits) and they had just beaten their cross-town rival, USC Trojans—and then the wheels came off.
The Bruins lost to the Stanford Cardinal in consecutive weeks, at home and then at Stanford. They went on to get humiliated by Baylor in the Holiday Bowl. What was considered to be an extremely successful season for Jim Mora, Jr. at 9-2, quickly turned to mediocre and pedestrian.
The recruiting class is looking good, however. Scout.com has the Bruins' class ranked as the best in the conference and No. 5 overall in the country, with one 5-star and 18 4-star commits.
The Sun Devils lost at home to the Bruins in 2012 on a last second field goal, but I don't see it being that close in 2013.
Final Score Prediction: UCLA 35, Arizona State 28

Week 13: Arizona Wildcats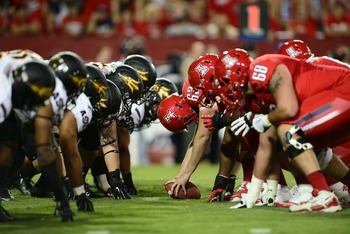 Mark J. Rebilas-USA TODAY Sports
Date: Nov. 30, 2013
Location: Sun Devil Stadium, Tempe, Ariz.
Opponent 2012 Record: 8-5, 4-5 Pac-12
Why isn't this game scheduled for the traditional day after Thanksgiving in 2013? I am a little more than perturbed by this, as both the Civil War and Apple Cup are still on that day.
The Wildcats flirted with greatness last year but ended up with a losing conference record—again.
Every time the Wildcats appeared to be on a roll, they would stumble. They dropped 59 points on No. 18 Oklahoma St. then got shut out, 49-0 to Oregon. They beat USC in a shootout for the ages, 39-36, then lost 66-10 to UCLA.
Their last minute heroics in the New Mexico Bowl vs. Nevada propelled them to eight wins and saved their season.
The traditional rivalry against Arizona State will be played in Tempe in 2013, and that isn't necessarily good news for the Sun Devils. The home team has only won six times in the past 20 years.
There is no amount of research or empirical data that can predict this game, as it is a rivalry game. The Wildcats have picked up three 4-star recruits and are ranked as the No. 27 class in the country, according to Scout.com, but their returning offense is in disarray.
Final Score Prediction: Arizona State 17, Arizona 14

Final Analysis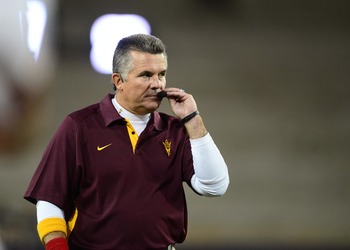 Mark J. Rebilas-USA TODAY Sports
The Pac-12 Championship game will be played on Dec. 7 at the home of the team with the best overall conference record.
I don't think I am putting the cart in front of the horse by saying that the Sun Devils will win the Pac-12 South division, as long as they can keep their heads about them in the brutal Week 2-5 stretch.
I am predicting that they will finish 9-3 and, even with the loss to UCLA, I see them representing the South in the conference championship game.
Who knows who will take the North division? The favorites are Stanford and Oregon, but the possibilities are endless.
Let's just hope it will be a good game and that the Pac-12 sends their best to the Rose Bowl or even to the national championship.
Keep Reading

Arizona State Football: Like this team?