Why the 2013 NBA Slam Dunk Contest Was One of the Best of All Time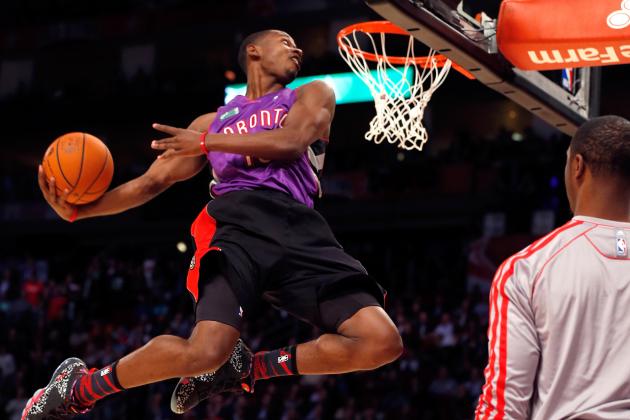 Scott Halleran/Getty Images

The past few Slam Dunk Contests have been mediocre to say the least. They have had an over-abundance of props and have had minimal creativity. The 2013 Slam Dunk Contest, however, featured an exceptional blend of mid-air creativity, high-flying leapers and only modest use of props.
Terrence Ross, the eventual winner of the contest, brought back the feel of an early 2000s Slam Dunk Contest. His dunks were simple, yet creative and celebrated. The other contestants also performed a variety of incredible dunks, and sometimes we don't realize how difficult they are because the expectations are so high.
Even TNT analyst Kenny Smith predicted beforehand that this Slam Dunk Contest might be one of the 10 best of all time.
Now that the contest is over, we're the judges who will determine if this was truly one of the best of all time.
Begin Slideshow

»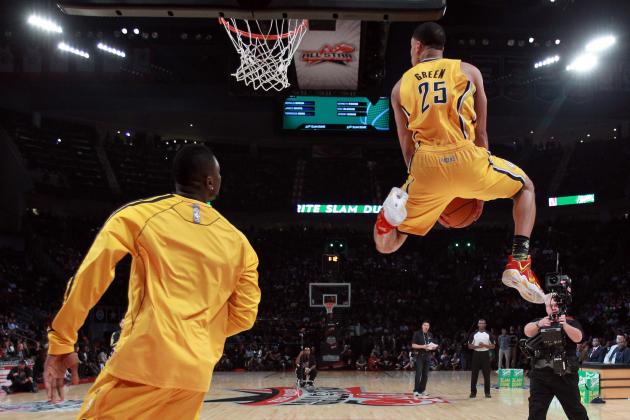 Ronald Martinez/Getty Images

We've seen dunkers perform a double-pump reverse dunk off of a pass before.
But we've never seen a player catch a pass off the side of the backboard with one hand, double-pump the ball and slam it with such ferocity, all whilst his body is contorted sideways as he's jumping from behind the backboard.
Gerald Green's first dunk was just that.
James White's and Terrence Ross' first dunks were also very unique. "Flight" White is a YouTube sensation because of his unbelievable dunks from the free-throw line, but his two-handed tomahawk from nearly the free-throw line was very smooth and effortless.
On the other hand, Ross' 360-behind-the-back dunk was simply incredible. It took him a few tries to get it down, but when he did score it, it was a beauty to watch.
Although the introduction of props in previous years was meant to bring more creativity to the competition, they actually resulted in less sensational dunks. Other than Jeremy Evans' dunk over the painting—which was pretty good, even without the painting—the mid-air creativity of every dunker this year was a pleasure to watch.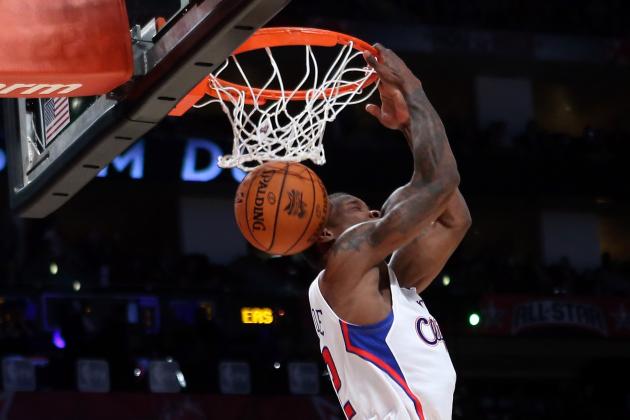 Ronald Martinez/Getty Images

Yes, I'm aware of the fact that White and Green blundered their second attempts in the first round, and Eric Bledsoe slammed home an unconvincing first attempt after many tries.
But the most impressive dunks of the night came after just one or two attempts. I'm a big fan of Bledsoe, and his second attempt awoke the crowd when they seemed to be falling asleep.
Out of nowhere, the 6'1" athletic freak of nature pulled off a spectacular self alley-oop reverse underhanded windmill dunk on the first try. On top of that, he slammed it so hard the rim sounded like it shattered.
When a contestant takes 10-15 attempts at a single dunk, the crowd already loses the surprise-factor, so if they finally make the dunk, it won't be as exciting.
The Bledsoe dunk, Green's first dunk and Ross' Vince Carter imitation dunk were the ones that brought everyone on their feet strictly because they only took one or two tries to complete them. They were also probably the best dunks of the night.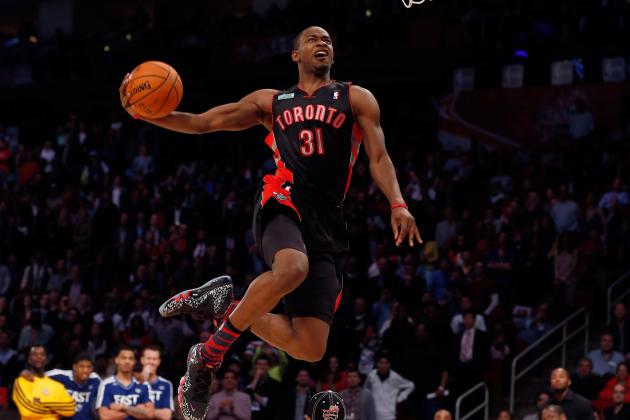 Scott Halleran/Getty Images

Only four contestants have been allowed to compete in the last 11 Slam Dunk Contests. Although we've seen some great dunks from those individuals, it definitely limits the options that fans could vote for.
Not only that, but if some of the four contestants continuously mess up their dunks, it won't be as exciting affair to watch.
Although I'm not a huge fan of the East vs. West, since I would've liked to see multiple East dunkers in the final round, the six player format allows for more versatility and each player brings something different to the table.
This year's competition featured a nice mix of power-dunkers like Kenneth Faried and Bledsoe, along with high-flyers in White and Green. It also included a finesse dunker in Ross and a unique, thrilling dunker in Evans.
The variety of different dunking styles from all six contestants made this contest incredibly fun to watch. It would be better if there weren't as many mistakes (i.e. Gerald Green's second attempt) and if they didn't get too fancy.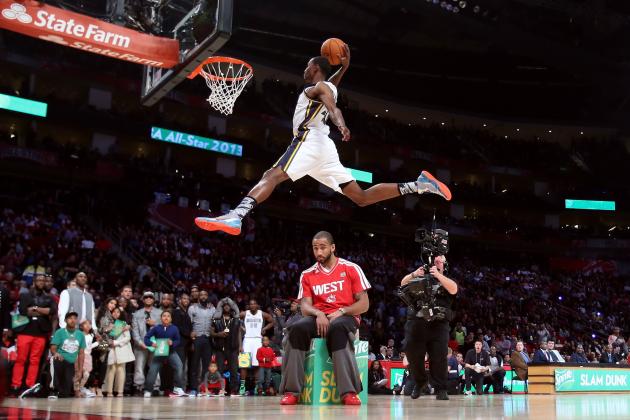 Ronald Martinez/Getty Images

Although I would've liked to see someone else in the final round, there's no denying that Jeremy Evans' charisma and creative use of props made the final round worth watching.
Not only was the dunk over the painting of himself hilarious, but it showed that he could get innovative with props without getting carried away. I'm all for using props in a dunk contest, but using them excessively would take away from the greatness of the dunk itself.
It was a showdown between the new generation of dunkers and the old one. Even though Ross is a rookie, his dunks represented that of an older era, which was focused on the windmills and reverses of the 1990s. What made it even more edgy was that Ross took a shot at Evans for using props before the final round started.
The final was nowhere near as exciting and dramatic as the Michael Jordan-Dominque Wilkins Slam Dunk Contest in 1988, but it was still one of the best contests of the past decade.