Kentucky Basketball: 10 Things Learned in the Loss to Tennessee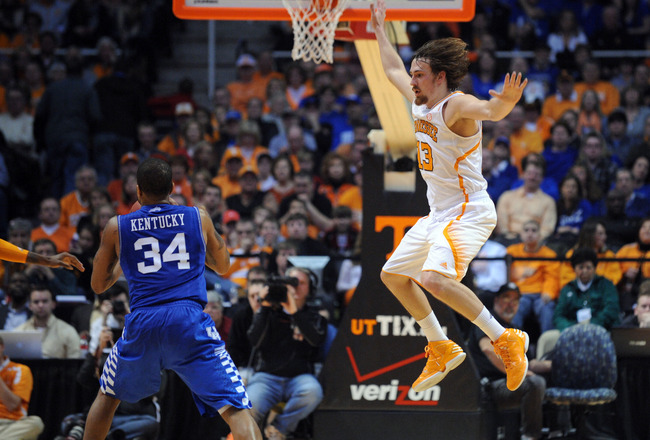 USA TODAY Sports
Kentucky's first game without star freshman Nerlens Noel didn't go the Wildcats' way. Tennessee used sharp shooting from behind the arc as well as getting to the free-throw line to dominate Kentucky 88-58 on Saturday.
Instead of coming out and fighting for its lost brother, Kentucky looked like a team that was defeated from the start. The Wildcats showed no energy and Willie Cauley-Stein, who took the place of Noel, was hardly a factor to say the least.
With its tournament fate squarely on the line, Kentucky enters a tough stretch to close the season, including games against Missouri and Florida. With the first game without Noel under the Wildcats' belt, let's take a look at 10 takeaways from the blowout loss to Tennessee.
Ryan Harrow Isn't a Factor the Rest of the Season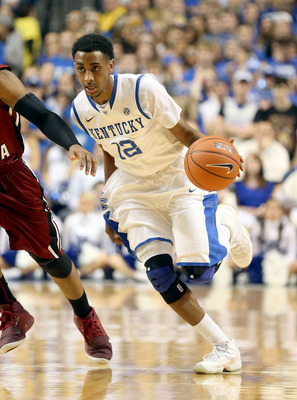 Andy Lyons/Getty Images
Ryan Harrow might as well shut down for the rest of the season. After being replaced in the starting lineup by Jarrod Polson, Harrow did not respond the way John Calipari wanted him to.
Zero points.
Zero assists.
Fouled out in 18 minutes.
Harrow has been an erratic player all season, with the highs being great and lows being terrible. But, it looks like Harrow is a weak-minded player who could never handle the pressure of playing point guard at Kentucky.
Nerlens Noel Is That Good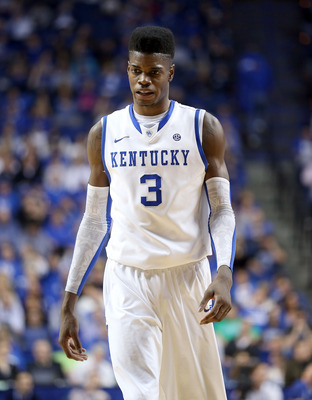 Andy Lyons/Getty Images
It was plausible to think Kentucky would come out against Tennessee and blow the game out of the water from the emotions of losing Nerlens Noel.
However, the opposite happened, and now you are wondering just how good Noel was.
The answer is he's worth about 30 points. With Noel in the game, Kentucky does not get blown out by 30. His mere presence on the defensive end changes about 15 points per game.
Noel is the best defensive player in the country. With all respect to Jeff Withey from Kansas and Aaron Craft from Ohio State, Noel does more on the defensive end than either of those two players. Without him in the game, Kentucky just looks lost defensively.
Count on Mays and Wiltjer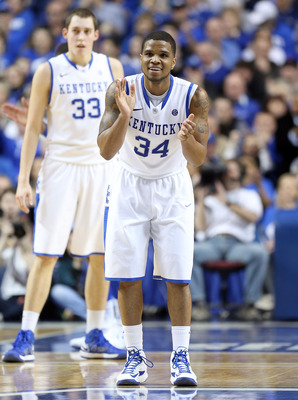 Andy Lyons/Getty Images
Watching the game on Saturday against Tennessee, it's fairly obvious that Kentucky players just don't have any heart this season.
That is, except for Julius Mays and Kyle Wiltjer.
The two combined for 30 points and only committed one foul a piece. Neither of the players lost their cool during the game, but rather competed for all 40 minutes, making sure it wasn't their fault for the blowout.
With the younger players pressing by combining for 11 turnovers, Wiltjer and Mays slowed the ball down and worked for better shots.
Jarrod Polson Is Your Starting Point Guard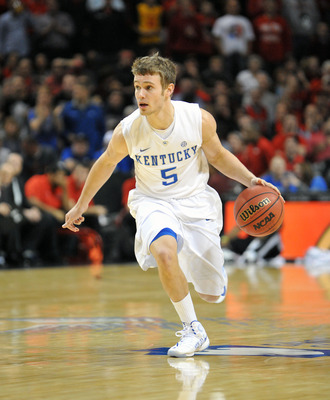 Jason Szenes/Getty Images
Remember the loveable guy at the end of the bench that would only play in games during blowouts?
You know the guy. The one that makes fans at Rupp Arena yell 'SHOOOOOOOOOOOOOOOOT!' every time he touched the ball.
That guy was Jarrod Polson.
Polson is now the starting point guard for your Kentucky Wildcats.
Bizarre, I know. But, that's the way the season has gone for Kentucky.
After starting the season ranked No. 3, the Wildcats are fighting for their tournament lives and a lot of it will rest of Polson's shoulders.
With Harrow struggling this season and Polson providing solid minutes off the bench, Calipari made the switch before the Tennessee game by inserting Polson to the starting lineup.
He responded by chipping in 11 points while only committing one turnover.
Polson shouldn't have a problem competing due to the fact he spent the last two years going against Marquis Teague and Brandon Knight in practice.
Willie Cauley-Stein Is Not Leaving for the Pros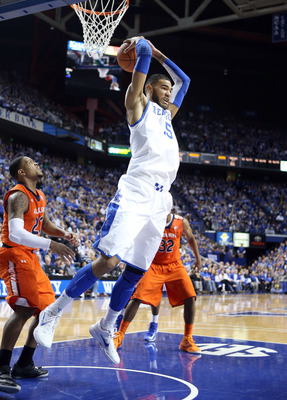 Andy Lyons/Getty Images
With Noel out for the season, it was Cauley-Stein's turn to step up and show his worth.
However, in his first game he was a disaster. Cauley-Stein's box score was two points, two rebounds, two blocks and four turnovers before fouling out in 23 minutes of action.
Playing against Tennessee without Noel was a good measuring stick for Cauley-Stein, due to the Volunteers having Jarnell Stokes (who is an NBA prospect).
The con of this performance was obviously the ugly outcome and questions going forward for both the Wildcats and Cauley-Stein.
There is a pro to take out of it for Kentucky fans, though. Cauley-Stein isn't ready for the NBA. He will be back next season joining a loaded recruiting class.
It will be a struggle the rest of the season for the freshman, but come next year, he will be a force and Kentucky fans can live with that.
Kentucky's Defense Was Exposed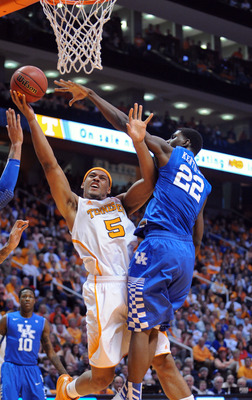 USA TODAY Sports
Kentucky became lazy this season knowing they had the best shot blocker in the country protecting the rim.
Tennessee took advantage of that on Saturday.
The Volunteers shot 58 percent from the field, including a perfect 5-5 from behind the arc. Too often players like Alex Poythress and Archie Goodwin are lazy on defense and get beat to the lane. This can't happen as Poythress is 6'7" and Goodwin is 6'5".
Wiltjer, while not the best defender, has improved dramatically over the season to the point where it's not a mismatch putting him on a power forward anymore. However, giving up 24 points to Trae Goldon in 29 minutes of play, is unacceptable in any game.
Polson isn't a bad defender, but lacks great quickness. Without Noel to protect the rim, help-side defense is even more of a necessity. Too often Kentucky's wing defenders get caught not watching the ball and that allowed for open driving lanes to the rim.
Archie Goodwin Is Hard to Watch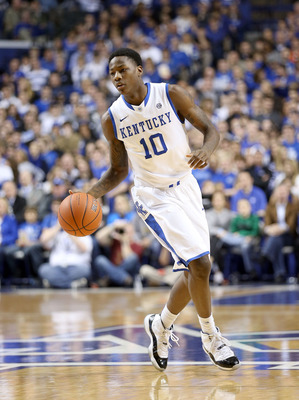 Andy Lyons/Getty Images
Goodwin is made to play in the NBA. That being said, he's painful to watch in an NCAA game.
Too many times Goodwin is out of control driving to the lane and with no outside shot it usually results in a charge or turnover.
With Noel out for the season now, Goodwin is the highest-rated freshman on Kentucky and often plays like he needs to be 'the man.'
Against Tennessee, Goodwin shot 2-9 from the field and committed four turnovers.
Also in the boxscore is the technical foul Goodwin received for shoving a Tennessee player after a hard foul in the second half. Instead of just going to the free throw line to knock down two shots, Goodwin decided a shove in the back was the best option.
This just shows Goodwin's immaturity and even more so it is wearing out his welcome in Lexington. Don't get me wrong Goodwin has the talent to be a star, the problem is more mental for him.
John Calipari Has Had Enough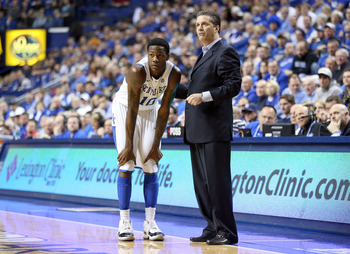 Andy Lyons/Getty Images
Players on this team just aren't coachable.
Hey, I didn't say it.
Kentucky head coach John Calipari did. And when your head coach is saying that, you can just throw this season in the trash.
Especially when Calipari is your coach.
Calipari, most familiar with coaching a new team every season due to the early-entry rule, usually has the most patience when it comes to his team. However, this year has been a different story.
Again, this goes back to players like Harrow and Goodwin who just aren't mentally tough or willing to listen to Calipari and what he preaches.
If Calipari is starting to mentally check out on this team you have to figure the games down the stretch will be just as ugly as the Tennessee game.
The NCAA Tournament Is Going to Be a Stretch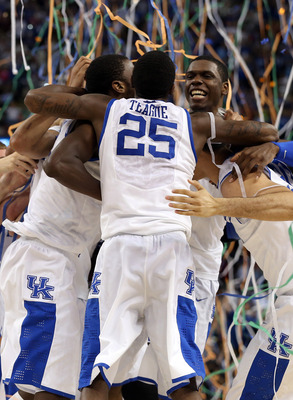 Jeff Gross/Getty Images
That picture from the National Championship game—when Kentucky and Calipari won it all with a young squad—seems so long ago.
However, this year it will be a small miracle for Kentucky to win even one game in the NCAA Tournament. In fact, it will be a challenge for the Wildcats to even make the tournament this year.
The 30-point loss to Tennessee did nothing but destroy the resume for Kentucky. The Wildcats will need to win the rest of their regular season games and make a run in the SEC Tournament in order for Kentucky to hear its name called on Selection Sunday.
Watching the game on Saturday, Kentucky just did not look like a tournament team. No matter how bad the loss was during the game you could just tell this team isn't that good. Mistakes from early in the season are still being made and there is no development from most of its players.
What Big Blue Nation Is Thinking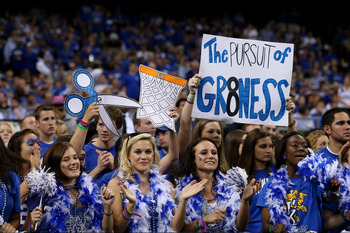 Jeff Gross/Getty Images
This one is plain and simple.
Next year is the year.
With arguably the best recruiting class of all time coming into Lexington and players like Wiltjer and Cauley-Stein returning, there is a chance Kentucky starts the season ranked No. 1 no matter what happens this season.
Don't go off the cliff just yet Big Blue Nation.
There's always next year.
Keep Reading

Kentucky Wildcats Basketball: Like this team?