NHL Week 4: Who's Hot, Who's Not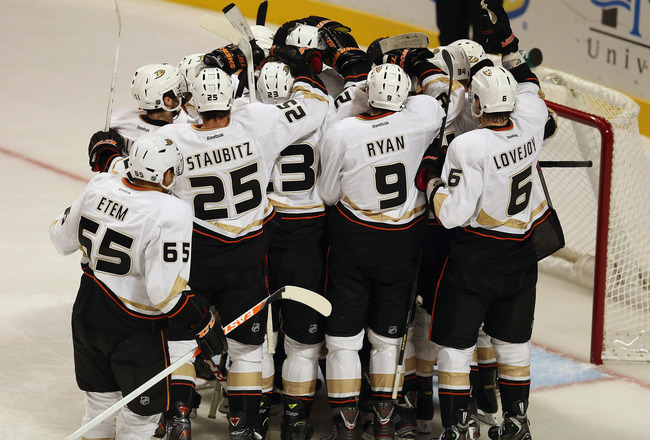 The Ducks are one of the hottest teams in the league. They even beat Chicago—just not in regulation.
Jonathan Daniel/Getty Images
It's Hockey Weekend Across America and another week gone in this 2013 NHL season. For some teams this has been a week to forget while others are hoping to finish the month out on a high note.
One team is on the verge of breaking an already incredible record, while other teams are just trying to something positive going for the final couple months of the season.
Here is who's hot and who's not from Week 4.
Hot: Chicago Blackhawks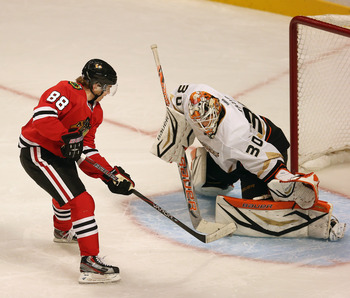 Patrick Kane's personality drew him some criticism. No one is saying anything with the Hawks and Kane off to this start.
Jonathan Daniel/Getty Images
Last week, the Chicago Blackhawks were held out of this section because their success has become so routine.
Fan 1: "The Blackhawks play tonight?"
Fan 2: "Yep."
Fan 1: "We already know how that one ends. Is there a different game to watch?"
It's a hypothetical conversation but one that could very well have happened at some point in the first four weeks of the season. The Blackhawks simply don't lose—at least they haven't yet.
Chicago is 11-0-3 and are approaching a record for consecutive games with a point to start a season. Anaheim had 16 straight games to start the 2006-07 season.
Things look good in Chicago even with the injury bug taking a bite this week.
Hot: Vancouver Canucks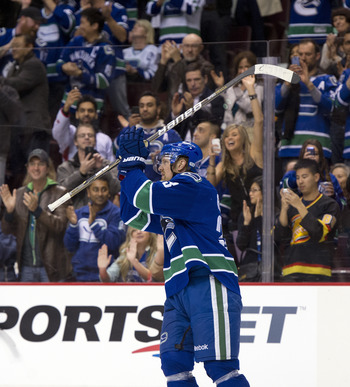 A two-assist night propelled Henrik Sedin to the top of the Canucks' all-time scoring list.
Rich Lam/Getty Images
For the second straight week, the Vancouver Canucks are trending up. The Canucks had a six-game winning streak snapped by the Dallas Stars on Friday night. But even with that loss, things still look good in Vancouver.
There is also a lot to celebrate as Henrik Sedin has just passed Markus Naslund to become the franchise's all-time points leader.
The Canucks have one more home game (Sunday against St. Louis) on the home stand, before a four-game road trip against the Central Division.
Ryan Kesler—one of the best centers in the game—returned against in the game against Dallas. He should provide a huge boost just in time for a tough stretch of schedule.
Hot: Anaheim Ducks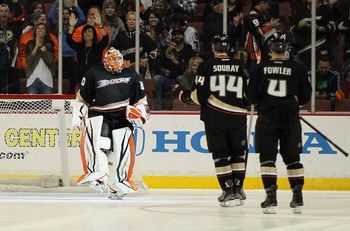 All eyes in Anaheim are on Victor Fasth—the 30-year-old rookie, soon-to-be superstar.
Victor Decolongon/Getty Images
Anaheim has won eight of nine games in February—that includes a six-game road trip where the Ducks knocked off St. Louis, Nashville, and Chicago in shootouts.
The Pacific Division has been the focus of countless stories in the early season. While the San Jose Sharks have fallen off after a fast start, the Ducks just keep on rolling.
Rookie goaltender Victor Fasth is undefeated in his eight starts and has created a bit of a goalie controversy in Anaheim.
Corey Perry is starting to produce—that makes the Ducks even more dangerous going forward.
Hot: Carolina Hurricanes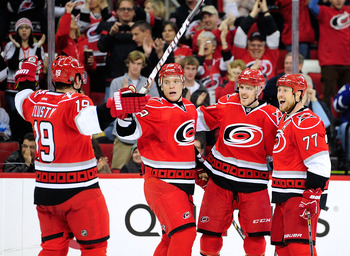 Offseason acquisitions are getting comfortable and the Hurricanes are settling in atop the Southeast Division.
Grant Halverson/Getty Images
The Southeast Division is back from a brief stint in the American Hockey League. After the Tampa Bay Lightning cooled off, it seemed like no one in the division knew what it took to win. Carolina has changed that.
The Hurricanes were undefeated this week. They beat the Islanders, Devils and Maple Leafs all by two goals. After a 1-2-0 start, the Hurricanes are 7-2-1 in their last 10.
The Southeast Division leaders are clicking in February.
Cold: San Jose Sharks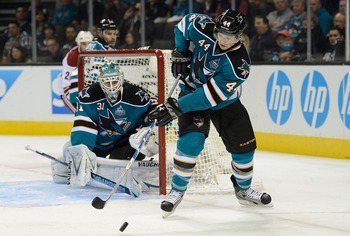 What has happened to San Jose?
Thearon W. Henderson/Getty Images
The San Jose Sharks haven't won a game the entire month of February. They are 0-2-1 this week with the only point coming in an overtime loss to Nashville.
When the Columbus Blue Jackets run you out of the building, things aren't going well. Columbus won 6-2 on February 11. With three games left on the six-game road swing, the Sharks could be reeling a little longer.
San Jose travels to St. Louis, Chicago and Dallas before returning home to host the Avalanche.
Cold: Tampa Bay Lightning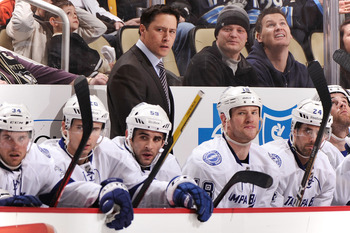 Even after a 6-5 overtime win over Florida, the Lightning are far from in sync.
Jamie Sabau/Getty Images
Two of the warmest hockey climates boast the coldest teams in the league. From San Jose to Tampa Bay, wins are hard to come by. The Lightning—like the Sharks—started the year off strong and looked like the surprise team in their respective conferences.
The Lightning have fallen from the top of the Eastern Conference to out of the playoffs. The Lightning won the first game of the month by dominating the Winnipeg Jets 8-3. It has been anything but domination since.
The rest of February doesn't look good with games against the Rangers, Penguins, Bruins, Maple Leafs and red-hot Hurricanes. The Lightning better get things figured out quickly before they dig into a hole too deep for the offense to get out of.
An overtime win over the Florida Panthers doesn't inspire much confidence.
Warming Up: Washington Capitals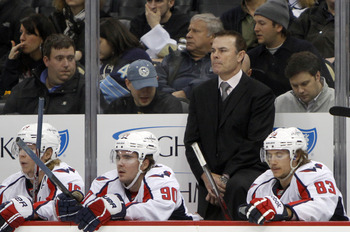 It's a big hole but the Capitals might be ready to snap out of the slump. They have won three straight.
Justin K. Aller/Getty Images
The Washington Capitals went 2-0 last week including back-to-back one-goal wins over Southeast Division rivals. The undefeated week is a good place to start for the Capitals—a team that has underachieved this season.
Temper expectations because these wins weren't pretty and they certainly played the Florida Panthers and Tampa Bay Lightning at the right time. Still, a win is a win.
We will see if this week will provide the Capitals with a foundation to build on or just a small bit of brightness in an otherwise dull season.
Hot Forwards: Alex Steen, Ilya Kovalchuk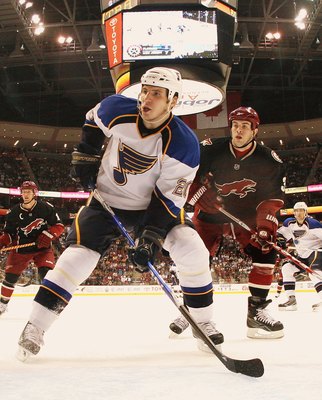 The Blues aren't known for offensive explosions but Alex Steen had one this week.
Bruce Bennett/Getty Images
Alex Steen (St. Louis Blues) put together a surprising offensive outburst for the defensive-minded Blues. Steen has scored all four of his goals in the last week and is coming off a three-point outing against Calgary on Friday. For a team that doesn't pack a solid offensive punch, an eight-point week is a big deal.
Ilya Kovalchuk (New Jersey Devils) was held off the score sheet for five straight games and had just five points in over a month. A game against the Tampa Bay Lightning snapped Kovy out of his cold streak and into his current hot streak. Kovalchuk has points in five straight contests and helped on three goals against Philadelphia Friday.
Cold Forwards: Joe Thornton, Ryan Nugent-Hopkins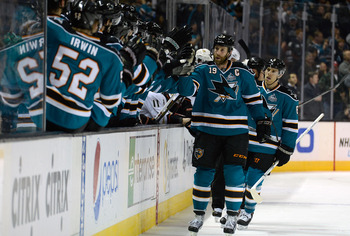 Joe Thornton hasn't been doing much celebrating in the last month.
Thearon W. Henderson/Getty Images
Joe Thornton (San Jose Sharks) started the year with 14 points in the first six games. He has one point since. The Columbus Blue Jackets ran the Sharks off the ice on February 11. That was also the last time Thornton put a point up. Games against Chicago and Nashville kept him off the scoreboard. Things are extremely cold in San Jose.
Ryan Nugent-Hopkins (Edmonton Oilers) is off to an extremely slow start this season. He has two points in the last month, is barely an even rating and has just 10 shots on goal in February. Not only is Nugent-Hopkins not producing, he isn't getting opportunities. It's a rough go for the second-year center.
Hot Defenseman: Dion Phaneuf
The captain of the Maple Leafs is playing like one this week.
Abelimages/Getty Images
Dion Phaneuf is finding his stride in Toronto and has been a big part of the Maple Leafs' recent success. Not only is Phaneuf producing offensively, he is providing quality minutes on defense and an emotional lift with his physical play.
Phaneuf has points in each of his last four games including games against Canadian rivals Ottawa and Montreal. He is one of the best hitters in the game and has been making his presence felt in every aspect this week.
Cold Defenseman: Mark Streit
Things have hit the skids for the Islanders and Mark Streit is slumping.
Al Bello/Getty Images
The entire New York Islanders defense could be on the cold list but Mark Streit is the captain of the Islanders. As the captain, he needs to find a way to stop the bleeding in New York.
The Isles have given up at least three goals in all but one game this month. Streit has had a negative rating in three games this week including a minus-3 rating against Carolina.
With only two points this month, things aren't going well for the captain.
Hot Goaltender: Jonathan Bernier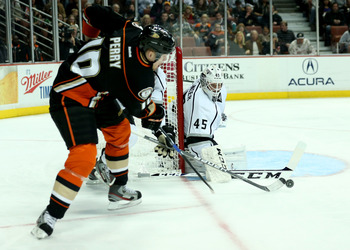 Jonathan Bernier has the hot hand in Los Angeles.
Stephen Dunn/Getty Images
Jonathan Bernier (Los Angeles Kings) was the focus of trade talks this offseason. As a capable backup to Jonathan Quick, Bernier's opportunities seemed slim in Los Angeles. Then, the struggles came for the Kings.
Bernier has earned the nod for back-to-back games and won both. He held Columbus and St. Louis to one goal and has his defense to thank for those.
In his last two starts, he has seen just 35 total shots. With the Kings struggling, the hot hand in goal should see a good amount of starts—right now that means Bernier.
Cold Goaltender: Jonathan Quick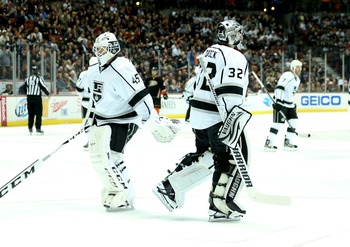 Things aren't going well for Jonathan Quick in February.
Stephen Dunn/Getty Images
Jonathan Quick (Los Angeles Kings) is the cold goaltender this week as his teammate Jonathan Bernier is stealing starts and finding success. Quick, the goaltender behind the Kings' improbable Stanley Cup Championship, has fallen out of favor in Los Angeles.
Quick had just one start in the week and gave up three goals to Detroit in a 3-2 loss. Quick is 3-4-2 with a 2.70 goals-against average and a 20.63 GAA in February.
Maybe Bernier's success will motivate Quick to get back to form.
Keep Reading