Terrence Ross' Thrilling Victory Proves NBA Dunk Contest Is Still Worth Watching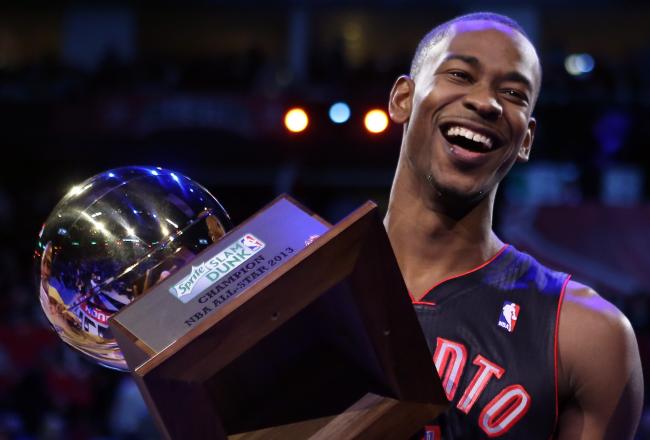 Ronald Martinez/Getty Images
#LetRossDunk.
That's what people were saying before the 2013 Sprite Slam Dunk Contest in Houston, and after watching the Toronto Raptors star fly, now we know why.
Ross threw down some menacing dunks to take an incredible victory in the 2013 competition—beating out defending champion from 2012 Jeremy Evans and perennial crowd favorite Gerald Green en route to the dunk crown this year.
The rookie's victory in the competition is no doubt exciting and the talk of the town at the moment, but what it proved could be far greater than a legacy for just this week.
Ross' win proved that the NBA Slam Dunk Contest is still enthralling and it's still worth watching. It proved that it still has it's place at the All-Star weekend, and regardless of the criticisms that it may carry with it, it's still a exciting thing for the NBA.
For starters, Ross' success showed again the innate ability that rookie players have to thrive in the Dunk Contest—becoming the 12th rookie to win the title. Considering that the competition only started in 1984, that's a pretty good strike rate.
But perhaps more importantly was the fact that a guy who barely even came up in discussions prior to the Dunk Contest is now suddenly the most talked-about man in town. A man who averages just a handful of points and minutes per game in this league has suddenly shot himself to stardom and fandom—all because of his success in the competition this year.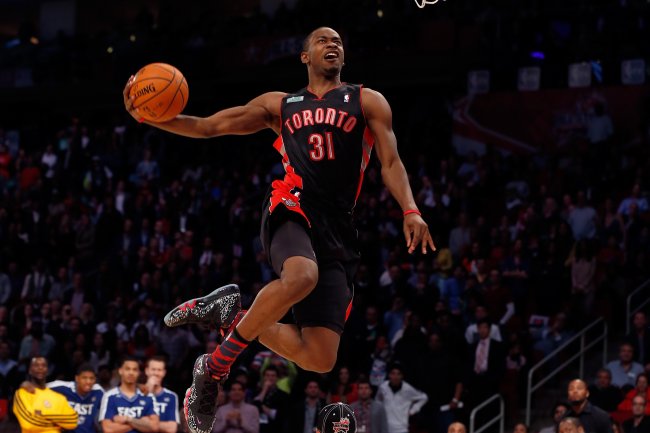 Scott Halleran/Getty Images
Ross hasn't started a game for the Raptors all of this season, and yet, somehow, he's the most talked-about man on Twitter around the world at the moment.
The guard has netted just 10 points and three rebounds in his last five NBA games, yet his name and scoring ability are all the world seemingly wants to talk about.
And it's all because of the 2013 Slam Dunk Contest.
The contest opened with Ross rattling home a very sweet dunk in the opening round, and it closed with him going over the kid and between the legs en route to the ring.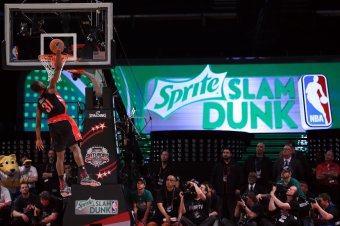 Ronald Martinez/Getty Images
He outshone the backboard antics of Green and the high-flying skills of Evans, and finished up as not only the 2013 Slam Dunk Contest champion, but also a crowd favorite. Ross finished with people watching and talking about the NBA All-Star break and the 2013 Dunk Contest.
Sure, the competition this year might not have had the same pizazz as the late 1990s and early 2000s did when guys like Vince Carter were establishing their name in NBA history forever with their iconic dunks and clinical finishes.
But to suggest that the 2013 contest was any less worth watching is not right. To suggest that the tournament isn't worth anything anymore is just wrong:
Charles Barkley: "We got to seriously work on this slam dunk contest..I'm sick of it."

— Beyond The Buzzer(@BeyondTheBuzzer) February 17, 2013
The Slam Dunk Contest can generate celebrity-like status for otherwise no-name players—giving a great feel-good feeling right across the entire league.
It allows unheralded players like Ross to showcase their skills and get the recognition that they deserve but would otherwise not have received. After all, few people are going to tune into the waning minutes of a Raptors game to watch some rookie guard try and show off, but they'll happily engage with him and laud him as incredible when the Dunk Contest is taking place.
Outside of Toronto, nobody was talking about Terrence Ross heading into the All-Star break. At least not in the same volume that they are now, anyway, with the kid the most talked-about and praised man in basketball at the moment.
Pool/Getty Images
There's no talk about LeBron James' seven straight games of 30-plus points Saturday night. There's no talk about Kobe Bryant's passing skills either, and whether he and Dwight Howard can finally get on the same page for the Los Angeles Lakers.
Saturday night is about a second-year kid in Cleveland who can shoot the three ball and a no-name rookie in Toronto who can fly higher than them all.
Perhaps it's our perception of the Dunk Contest that needs to change.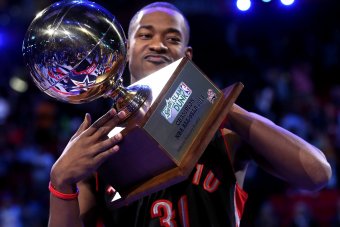 Ronald Martinez/Getty Images
Rather than wishing and dreaming for Vince Carter-esque dunks once again, perhaps we need to anticipate and look forward to the new stories that the Dunk Contest is creating. The All-Star weekend just wrote a young man into NBA history forever Saturday night, and yet many missed it because they were waiting for Blake Griffin to jump over a car once again.
That, or they never made it past the YouTube highlight reels.
Either way, they're missing out. They're not necessarily missing out on the greatest dunks in the history of the game; rather, they're missing out on the buzz of the Slam Dunk Contest and the good vibes that have shot out from it.
Few events in the world continue to get talked about and watched like the Slam Dunk Contest does—especially given the fact it's supposedly on the way out in terms of popularity and how excited people get about the competition.
If that's the case, then it seems someone not only forgot to tell Terrence Ross that, but they also forgot to tell some of the league's best players.
Because right after Ross' incredible moment to clinch the 2013 title, NBA stars clamored to Twitter to express their interest in getting on board for next year's tournament: DeAndre Jordan from the Los Angeles Clippers, John Wall from the Washington Wizards—both have shown their interest in competition next year:
ok, count me in for next year.

— DeAndre Jordan (@deandrejordan) February 17, 2013
Thinkin bout Dunk Contest for nxt yr!?!

— John Wall (@John_Wall) February 17, 2013
Whether they actually go through with it and compete is secondary; what it shows is that discussion and excitement are still generated from the Dunk Contest.
Will you watch the 2014 Slam Dunk Contest?
From an online blogger's Twitter hashtag to the qualifying rounds of the NBA Slam Dunk Contest, Ross' journey has been a truly remarkable achievement.
For him to be crowned the 2013 dunk champion—well, it's simply a story for the ages and one that will no doubt be talked about for many weeks to come. After all, the contest turned a no-name rookie into an NBA legend Saturday night, and it took less than five minutes to do so.
Good luck convincing me that isn't worth watching anymore.
Do you think that the Slam Dunk Contest still worth watching?
Comment below or hit me up on Twitter: @dantalintyre.
This article is
What is the duplicate article?
Why is this article offensive?
Where is this article plagiarized from?
Why is this article poorly edited?

Toronto Raptors: Like this team?