Where Did the 2013 NBA Slam Dunk Contest Rank All Time?
Use your ← → (arrow) keys to browse more stories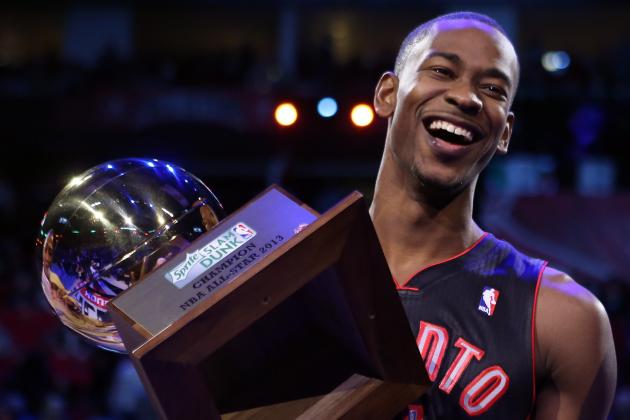 Ronald Martinez/Getty Images

It's not how you start, but how you finish.
At least, that's what the NBA has to hope fans were thinking after watching what was, on the whole, another subpar Slam Dunk Contest to conclude All-Star Saturday.
Toronto Raptors rookie Terrence Ross ultimately beat out defending champion Jeremy Evans with 58 percent of the fan vote in what was a thrilling final round, but not before the West and the East took turns stinking up the Toyota Center.
Gerald Green, who last participated in (and won) the Dunk Contest in 2007 with his infamous "Cupcake Slam," got things off to a rousing start with a two-handed reverse jam off a side-of-the-backboard lob that earned him a perfect 50.
But Green failed to properly execute his second-rounder—in which he attempted to dunk the ball twice on one ascent—on the way to earning a 32 from the judges.
James White, the 30-year-old benchwarmer for the New York Knicks, delivered on the hype with a spectacular leaping dunk from a step inside the free-throw line. However, his throwdown was overshadowed by the full flight crew he brought out to form a takeoff strip.
No score could've withstood the damage "Flight" did to his candidacy in the second round, when he failed to send the ball in while trying several different dunks.
That turned White's performance from potentially spectacular to patently mediocre, which is disappointing (to say the least) for a guy with this on his highlight reel.
Kenneth Faried and Eric Bledsoe both fell flat in the first round before lighting up the arena with their second dunks. For his follow-up, the Manimal tossed the ball off the backboard and went up for a between-the-legs windmill dunk—an impressive feat for a 6'8" forward.
Bledsoe subsequently matched Faried's 50 with one of his own, courtesy of a two-handed reverse slam off a 180-degree spin.
But, again, because Faried and Bledsoe fumbled their first tries, neither managed to challenge for the final round.
Fittingly enough, Ross and Evans, arguably the two least-heralded members of this group, moved on thanks to relatively consistent displays. Ross needed five attempts to pull off his first dunk, but it was a doozy—a 360-degree, ball-around-the-back dunk.
That earned him a 50, which he nearly matched with his second dunk of the night before moving on to represent the Eastern Conference in the final round.
Evans worked his way back to a title defense first by dunking over a (seated) Mark Eaton.
And then, by repeating the two-ball-dunk trick from last year, except with a 360-degree spin added in.
Both dunkers turned in a pair of creative show-stoppers in their battle for the trophy. Evans started things off with a left-handed windmill dunk over what turned out to be a painting of himself—dunking with his left hand—that he painted all by his lonesome.
Ross entered the fray with a jaw-dropping ode to former Raptors legend Vince Carter, with a helping hand from fellow rookie and former AAU teammate Terrence Jones.
The two finalists ended the evening by trading off leaps over live humans—Evans over Dallas Mavericks swingman Dahntay Jones, and Ross over a kid whose dad is the "owner of Twitter"—before the people awarded the prize to the Raptors youngster.
The ending of the competition itself was spectacular, but on the whole, this year's Slam Dunk Contest doesn't compare well to those of years past.
The 2013 edition can't so much as sniff the most memorable ones (Michael Jordan's first in 1987, 1988 with Michael Jordan and Dominique Wilkins, Vince Carter's shining moment in 2000, Dwight Howard vs. Gerald Green Part 2 in 2008, 2011's entire event, etc.).
And realistically, it doesn't measure up to those in the middle tier (Dee Brown with the no-look in 1991, Kobe Bryant brings it home in 1997, Jason Richardson goes nuts in 2003, etc.).
If anything, the latest Slam Dunk Contest is on par with some of the less-inspired competitions from the mid-1990s and mid-2000s, back when the likes of Harold Miner, Brent Barry and Fred Jones reigned supreme in the air.
Which is to say, it doesn't stack up so well overall. The intrigue provided by three former champions (Gerald Green and Jeremy Evans in the NBA, James White nearly everywhere else) and the excitement of the finale couldn't quite erase the damage wrought by the lack of recognizable star power and poor execution during the preliminary rounds.
Better luck next year, I suppose.