NHL Rapid Reaction: New Jersey Devils Fall to New York Islanders 5-1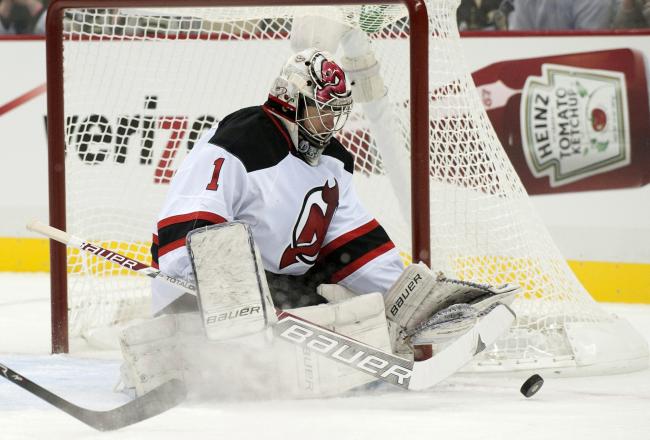 Moose Hedberg: Started phenomenally, finished abysmally
Vincent Pugliese/Getty Images
The Devils barely even put up a fight after falling into a three-game slump at the end of the second period. It was a game that showed promise. The keyword is showed. This is one of those games where the Devils need to put it on the back-burner and just not think about it.
Very little of it was pretty aside form the rare cycling that ultimately produced just one goal (on the power play). Let's take a look at the Devils' three biggest problems in that game.
Penalty Kill
This game is more than just the penalty kill's fault, although they do deserve a bulk of the blame. First of all, those were some of the worst penalties I've ever seen the Devils take. They are becoming an undisciplined team very quickly.
First and foremost, the team has to keep its composure, even when it's down. Henrik Tallinder's boarding was the definition of a stupid penalty: it was unnecessary and costly.
The defensemen on the penalty kill (especially the second one, which featured Anton Volchenkov and Bryce Salvador) looked overtired, not to mention that they were both standing behind the net leaving Matt Moulson and John Tavares right next to Johan "Moose" Hedberg, which leads me to my next problem.
Johan Hedberg
It's hard to really call the backup goalie a problem when this is his first subpar game of the season, but his performance was rather costly. The penalty shot was not his fault and he deserves credit for getting a finger on that puck, but the rest of his game was very lackluster.
Should the Devils keep Jacob Josefson?
Two of the goals should have been saved (Tavares's second goal and Moulson's goal). Furthermore (and this really irked me watching it on TV), Moose went all the way up to the blue line to help out his forwards. Not only is that overly aggressive, but there were two defenders right next to him. Even worse, there was an Anaheim forward in heavy pursuit of the puck. That type of carelessness with the puck will make Peter DeBoer think twice when he decides whether to start Moose.
The Defense
There were actually a few positives on the defensive side. For example, I am starting to like Adam Larsson more and more every game because of his smart two-way play (although he is much more geared towards the offensive side).
There were, however, multiple defensemen who played a terrible game, namely Tallinder. He had bad penalties, and finished at a -1. He truly is becoming a liability on defense and must be shipped this season.
Similarly, Salvador had a very underwhelming performance, also taking a stupid penalty. He has not risen to the call this season and it is starting to seem like his playoff success was just a fluke.
Bonus: Jacob Josefson
He may be the worst player on the entire team. He does not belong in the NHL. He finished -2 tonight (the only player to do so) and is now -8 on the season (by far the worst of all Devils). Put him back on Albany so he can learn to play two-way hockey.
In the meantime, bring any center up: Andrei Loktionov, Darcy Zajac or Kelly Zajac. Josefson is just not getting the job done.
After a game like this, the Devils have to put the result behind themselves and focus on the positives and negatives from the game (and yes, there were positives).
What do you think of the game? Leave a comment with your opinion!
This article is
What is the duplicate article?
Why is this article offensive?
Where is this article plagiarized from?
Why is this article poorly edited?

New Jersey Devils: Like this team?