The biggest stars, including LeBron James will not participate in the NBA's 2013 Dunk Contest. Gerald Green (a former Dunk Contest champ) and others skilled at the slam dunk will be, though.
There's no reason not to tune into the Saturday night's main event. If you like basketball you'll love the creative and dynamic performances these six individuals will have on display.
Green, 27, who is making his return after a five-year hiatus, won the 2007 competition, but failed to defend in 2008, in spite of demonstrating great creativity. He was trumped by the antics of the much more popular Dwight Howard.
Back during those two competitions, Green showed true originality, though, while getting the fans and judges involved in the action. Selling dunks and getting people into the charade is part of the deal. That buildup only added to the hype for his slams, as he followed through and executed them perfectly.
There were an awful lot of "10's" after Green was done throwing down, including a perfect score on his final leaping windmill that brought the crowd and judges to their feet.
Yahoo! Sports' Dan Devine spoke with Green on Friday and the former champ had some surprising news to report:
I think I want to do something different. I want to try to do something that … obviously, you know, I think this is going to be my last dunk contest, so I want to do something that everybody will remember.
With Green likely set to retire for good from the competition, he will likely come out guns blazing.
In Green's likely last hurrah in the contest, will we see another display like in 2007, a mixed bag like in 2008 or an epic finale that people will be talking about for years to come?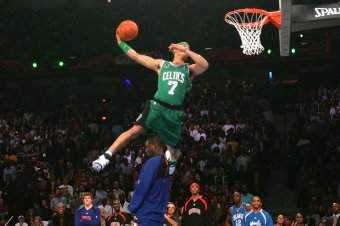 Jed Jacobsohn/Getty Images
Only Green knows what he's going to unleash and we'll have to wait to find out.
It's true that the other five competitors are no slouches, but Green's looking to go out with a bang. There's no doubt he'll have something unbelievable in his bag of tricks to win the event and leave a statement that will not soon be forgotten.