Grading Every Skills Competition Contestant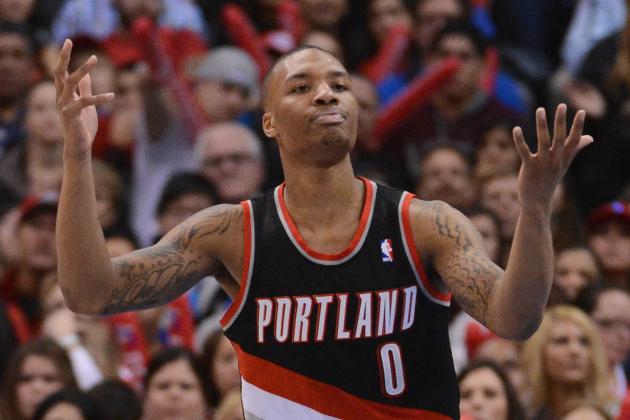 Harry How/Getty Images

Six of the NBA's slickest point guards converged in Houston on Friday night for the Taco Bell Skills Challenge, the second event on a packed All-Star Saturday slate.
Jrue Holiday, Brandon Knight, Jeff Teague, Tony Parker, Damian Lillard and Jeremy Lin all gave the now-familiar obstacle course a shot.
First introduced in 2003, the Skills Competition requires a few key ingredients for success.
Players have got to be quick and comfortable with a variety of passes and able to knock down a mid-range jumper. You wouldn't think elite NBA athletes would struggle in those areas, but in years past, that pesky 15-footer has deflated the hopes of more than one competitor.
This time around, a rookie slalomed his way to the title, but it wasn't easy.
There were missed shots, and many of the competitors suffered from an apparent desire to finish the course without the ball, but in the end, speed killed.
Here's a breakdown, complete with grades, for every participant in the 2013 Skills Challenge.
Begin Slideshow

»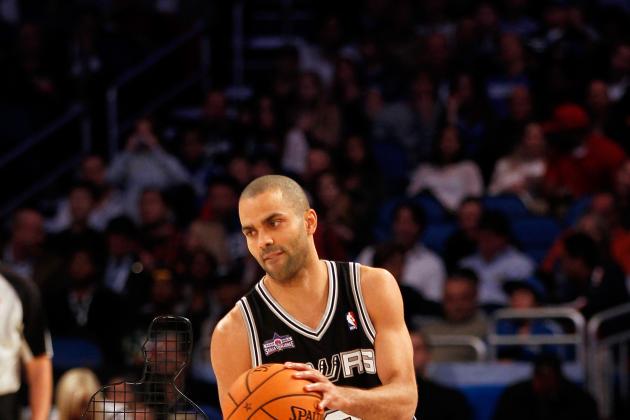 Mike Ehrmann/Getty Images

Parker won the Taco Bell Skills Challenge last year, and here's a fun fact: He still hasn't even made a dent in that lifetime supply of chalupas he got as a prize. Note that I'm only assuming free food was as a reward for winning.
The San Antonio Spurs guard sported some slick socks and a snazzy pair of silver shoes. And that's where the positives ended for Parker.
The dreaded mid-range jumper totally derailed any chances of a repeat, as Parker comically ran out of balls to shoot. Apparently, nobody thought an NBA player (especially one with as solid a mid-range jumper as Parker) could possibly miss five straight jumpers from the top of the key.
Expect a backup emergency rack next year.
Parker finished with a horrible time of 48.7 seconds. But on the bright side, he might still be shooting if running out of balls hadn't meant he got to advance to the next phase.
Grade: F-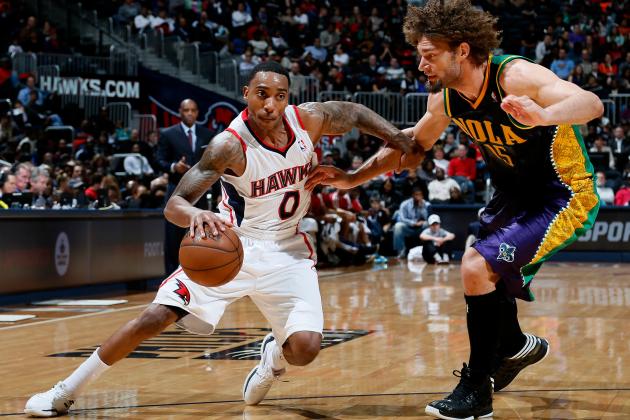 Kevin C. Cox/Getty Images

Atlanta Hawks point guard Jeff Teague put up a first-round performance that might serve as an instructional video for what not to do in future editions of the Skills Competition.
He came out of the gates nonchalantly, moseying through the initial set of pylons. A leisurely pace wouldn't necessarily have killed Teague's chances on its own, but his subsequent goofs sure did.
Teague missed his first chest pass, winging the ball off the side of the target. Then he missed his first bounce pass. Worse still, he needed four tries to hit a top-of-the-key jumper.
At least Parker wasn't the only guy to embarrass himself with his jumper.
After that, things continued to go downhill, as Teague missed his next chest pass twice before casually taking the ball to the rim to finish the round.
Of course, he also missed the layup. You read that right.
Teague's first-round score of 49.4 seconds wasn't even close to cutting it. He took a seat to watch the final round, forever shamed by his performance in this illustrious and important competition.
There would be no free chalupas for Teague.
Grade: F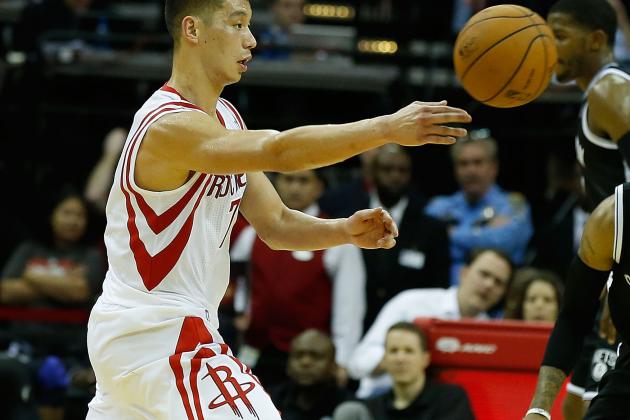 Scott Halleran/Getty Images

You'd have thought the hometown player would have gone all out to impress an arena full of his fans. Instead, Jeremy Lin must also have been bitten by the "casual bug," as he loped through the course with unspectacular urgency.
He missed his first chest pass, a pair of jumpers and finished with a first-round time of 35.8 seconds. Both the crowd and TNT's commentating duo of Kenny Smith and Reggie Miller were clamoring for a dunk to end the round, but Lin didn't oblige. He laid the ball over the front of the rim instead.
Lin wasn't terrible, but he didn't exactly wow anyone either. As such, he receives an average grade.
Grade: C
Ronald Martinez/Getty Images

Brandon Knight moved a bit quicker than Teague did, which helped compensate for a pair of back-to-back missed passes. Don't these guys practice this stuff?
In the first instance of an inexplicably continuing trend, Knight somehow forgot to take the basketball off of the pedestal before starting his weave for the home stretch. Fortunately, he only took about a step and a half before recognizing his mistake.
Ball in hand, Knight sped through the slalom and finished with a nice dunk. If not for a pair of missed jumpers, he would have had a shot to make the finals.
Unfortunately, his time of 32.2 seconds fell just short of two players we'll get to momentarily.
Grade: B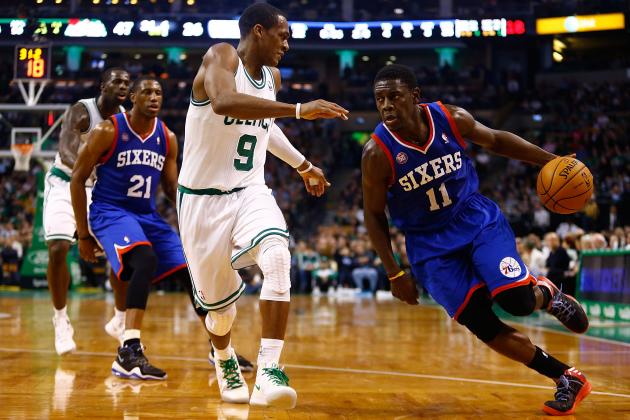 Jared Wickerham/Getty Images

Round 1
Holiday was the competition's smoothest operator, and his casual style was good, but not good enough to win.
In the first round, the UCLA product made his first two passes on the first try and missed the straight-on jumper just once. Commentator Reggie Miller couldn't contain his Bruin bias, as he openly rooted for Holiday to pick up the pace.
He made all of his subsequent first-round passes, but like Knight before him, ran right past the ball he'd need to take through the stationary slalom defenders. How does this happen? Aren't these guys used to using a basketball?
Clearly, I have a lot of unresolved questions.
Anyway, Holiday continued his trend of never sprinting, finishing his first round with a silky bucket at the rim. His initial time of 29.3 seconds was good enough to push him into the final round.
Round 2
Those long strides returned in the second round, but a couple of missed passes and two missed jumpers meant the Philadelphia 76ers' first-time All-Star fell just short. His time of 35.6 seconds earned him a second-place finish.
Oh, and he gets a slight bonus for actually hustling to dunk the ball in the waning seconds of his final-round attempt. We reward effort around here.
Grade: B+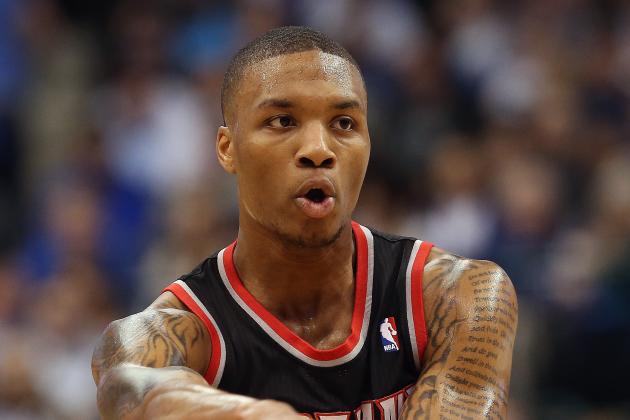 Ronald Martinez/Getty Images

Round 1
Lillard played a careful game, moving at about 75 percent, but doing things with a confidence that none of the other players featured.
The current favorite for this season's Rookie of the Year award drilled every one of his first-round passes on his initial tries and missed only one jumper.
Broken record alert: Lillard also forgot the ball as he started the second weave portion of the course. That makes three competitors—half the field!—that seemed to want to run toward the rim sans Spalding.
When he did gather up the rock, he finished with an easy dunk. Fortunately, travel wasn't called on his four-step approach. Lillard's time of 28.8 seconds was the best of the round, though, and he easily made the finals.
Round 2
In the second round, Lillard did the impossible: He made his first jumper. Amazingly, no other competitor put forth a one-and-done effort in that area.
Lillard's novel approach (making the first shot) clearly got him excited, as he banged his very next pass off the side of the target, nearly missing the thing entirely. He settled down, strolling home with a final time of 29.8 seconds and a comfortable win.
Grade: A