Power Ranking the UFC on Fuel 7 Main Card Bouts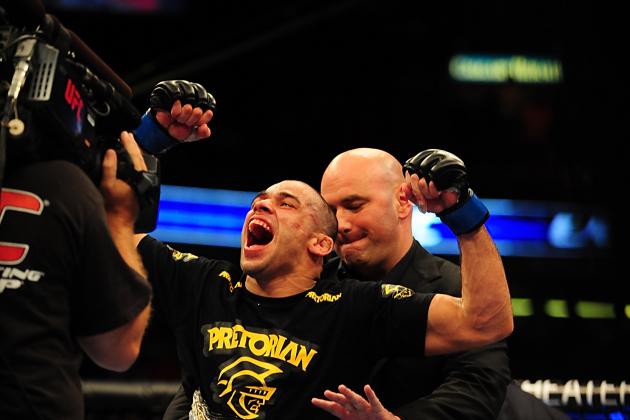 Anne-Marie Sorvin-USA TODAY Sports

UFC on Fuel TV 7 is officially in the books. The event, more or less followed script with Gunnar Nelson continuing his progression, Cub Swanson besting Dustin Poirier and Renan Barao outduelling Michael McDonald to retain his interim bantamweight strap.
The lack of surprise featured on the card was exceeded only by the lack of excitement it produced, several of its bouts functioning as good reasons to take a snack break.
At least the co-main and main events delivered some decent action, saving the event from catastrophe.
Check out which matches completely fell flat and which provided some entertainment by browsing the following six slides.
Begin Slideshow

»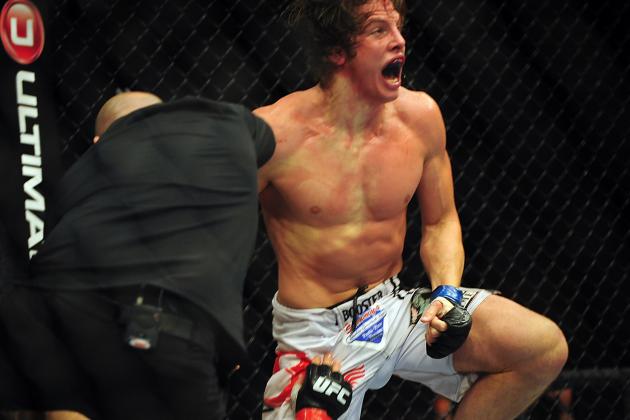 Anne-Marie Sorvin-USA TODAY Sports

Matt Riddle defeats Che Mills via unanimous decision
The UFC on Fuel TV 7 main card got started with a welterweight contest between Che Mills and Matt Riddle.
The fight was largely characterized by Riddle's superior wrestling and ground control, which made for a one-sided affair featuring limited action.
It was an outstanding performance from Riddle, but in terms of entertainment value, it wasn't particularly thrilling. The outcome was written on the wall from the get-go, and there were no moments when either fighter was in serious danger of being finished.
That one judge who scored the action for Mills nearly made me vomit.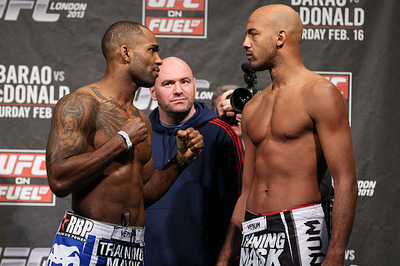 Photo by sherdog.com (Dave Mandel)
Jimi Manuwa defeats Cyrille Diabate via TKO (injury), Round 1
A light heavyweight bout between Jimi Manuwa and Cyrille Diabate was cut short after just one round because Diabate suffered a leg injury.
It's disappointing to see any match decided that way, especially one that had been solidly entertaining through five minutes.
Even though it was brief, and was stopped by an unfortunate incident, it was still better than a couple of the other bouts on the UFC on Fuel TV 7 main card.
It ranks fifth as a result of balancing the first round and the injury that ended it.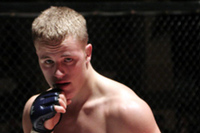 Photo by bloodyelbow.com
Gunnar Nelson defeats Jorge Santiago via unanimous decision
MMA veteran Jorge Santiago faced off with the highly regarded up-and-coming Gunnar Nelson in a welterweight affair that went the distance.
The action was fairly competitive, though Nelson controlled the majority of the action, dominating when it hit the mat.
The fight had a decent pace to it, making it at least mildly entertaining, though certainly not spectacular.
On some cards, this would have been the least impressive bout of the night. For UFC on Fuel TV 7, it ranks near the middle.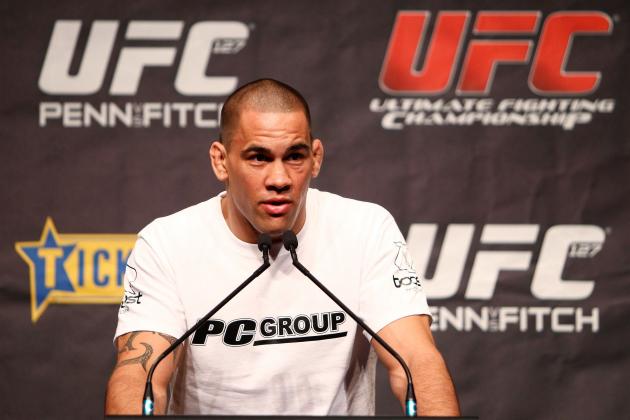 Mark Nolan/Getty Images

James Te-Huna defeats Ryan Jimmo via unanimous decision
The second bout on the main card saw New Zealand's James Te-Huna mix it up with Canada's Ryan Jimmo.
It was Te-Huna who entered the Octagon with the reputation of a knockout artist, but it was Jimmo who opened the action with a big strike. An early head kick floored, and nearly stopped, Te Huna, but Jimmo was just barely unable to finish him off.
It was unfortunate for Jimmo that he couldn't end things in Round 1. His opponent controlled the remainder of the action, ultimately scoring a unanimous-decision victory.
The fight featured an exciting opening frame, but the remaining two rounds were unspectacular. Te-Huna's comeback was certainly impressive, even if he relied on less-than-exhilarating ground control to clinch the "W."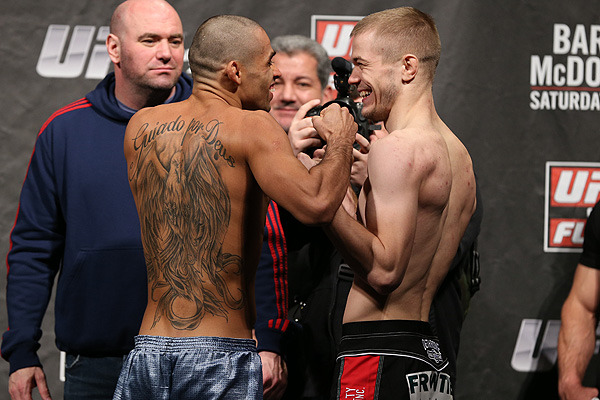 Photo by sherdog.com (Dave Mandel)
Renan Barao defeats Michael McDonald via submission, Round 4
The event's main attraction delivered, as Michael McDonald and Renan Barao set a quick pace and stuck to it for the majority of their three-and-a-half-round contest.
The fight's first two frames were quite competitive, McDonald continually looking to blitz his opponent and Barao willing to stand in the pocket and search for the counter.
By Round 3, McDonald began to fade a bit but kept it close until midway through the fourth, when he could no longer deny Barao's takedown attempts.
The Brazilian displayed excellent ground work in transitioning from McDonald's back to an arm triangle and squeezed until he felt his opponent tap.
It was a solid way to end a relatively dull main card.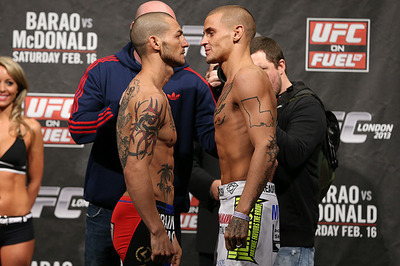 Photo by sherdog.com (Dave Mandel)
Cub Swanson defeats Dustin Poirier via unanimous decision
The penultimate fight of UFC on Fuel TV 7's main card provided the day's most memorable action.
Featherweights Cub Swanson and Dustin Poirier put in an exciting 15-minute co-main event that featured several offensive outbursts from both guys.
The combination of an electric pace, action in all areas of the game and competitiveness from start to finish made this one an outstanding match on an otherwise ordinary card.