Messi #300: 3 Takeaways from Barca's Win at Granada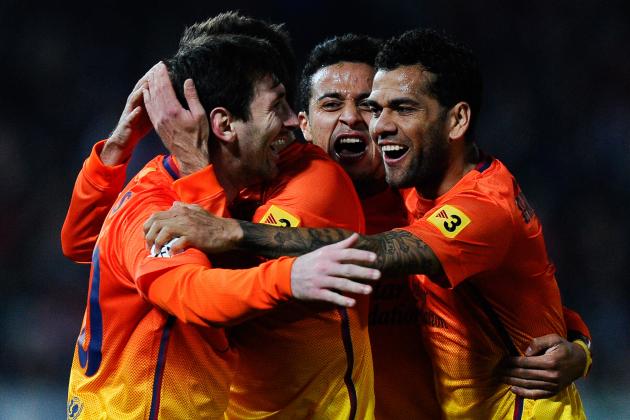 David Ramos/Getty Images

Lionel Messi scored his 300th and 301st goal as a member of FC Barcelona as Leo lead Barça back from a 0-1 halftime deficit to a 2-1 win over Granada on Saturday.
In the fourth minute, Messi sent a cutting pass to Alexis Sanchez, who was nearly in the goal, but Granada goalkeeper Toño came up and grabbed the ball before the Chilean could slap it into the net. Nolito's shot was nicely saved by Victor Valdes two minutes later.
Cesc Fabregas was brought down inside the box in the 21st minute, but the referee did not make a call on the play.
Barcelona had a break in the 25th minute. Alexis hesitated taking the shot, and Toño was able to make the save. Granada came quickly back to push it forward. Carlos Aranda crossed it into the box, and Nolito made the pass to Ighalo who made it 1-0.
There was a great cross by Dani Alves to Thiago inside the box, who then scooped it to Messi for the shot, but Tono was there for the great stop on Leo.
In the second half, Messi equalized in the 50th minute as Cesc shot a bullet Toño's way. The keeper could not get a handle on the ball, and Leo ran in and knocked in his 300th goal as a member of FC Barcelona.
Messi also extended his own Liga record with 14 straight games with a goal.
Pedro hit the post in the 66th minute. What looked like a clear goal for Pedro a few seconds later was called offside. From the replay, it looked like Pedro was, in fact, onside.
Lionel Messi gave Barcelona the lead in the 73rd minute via the set piece. A foul on Thiago set up the free kick, and Leo took the kick and hit a beauty of a golazo! Toño could not do anything about it.
In stoppage time, a fabulous save by Victor Valdes on Yacine Brahimi's shot kept Barcelona's win in tact.
FINAL: Granada CF 1 - 2 FC Barcelona
Let's look at three takeaways "From The Mind of Xoel" as we look back at FC Barcelona's 2-1 win over Granada on Saturday.
Vamos!
Begin Slideshow

»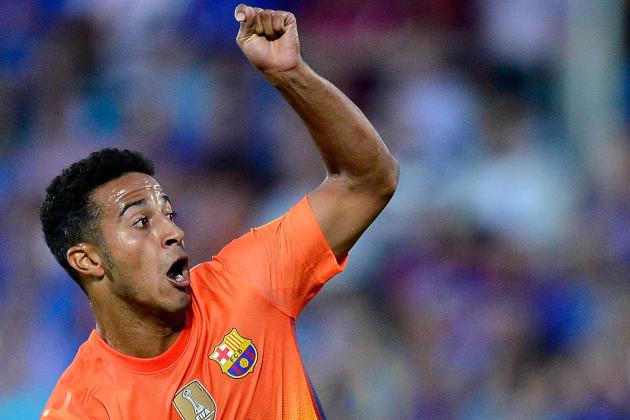 Gonzalo Arroyo Moreno/Getty Images

All Barcelona fans know that Thiago Alcantara is the heir to Xavi's midfielding throne.
Thiago's style of play, passing ability and role on the pitch is similar to Xavi's, and this season Thiago has been solid when in games.
That being said, Thiago has a long way to go to become one a great midfielder.
Now, I don't expect Thiago to be just like Xavi, but what I do expect is to see much more maturity in his game. And that is something that was not seen in the Granada game.
Many bad passes.
Gave away the ball in the second half, which lead to a Granada shot on goal.
Yellow card late in the game.
A bad game for Thiago.
I was glad that Thiago got his second straight start in Liga action. I do see the immaturity and the lack of rhythm in his game. Given that he needs more time on the pitch, Thiago lacks a bit of mental discipline as well. But I'm not worried about that. He will gain that as time goes on.
Thiago Alcantara is the future of the Barcelona midfield.
But the future still has a bit more growing pains to go through before he will be fully ready to take over Xavi's throne.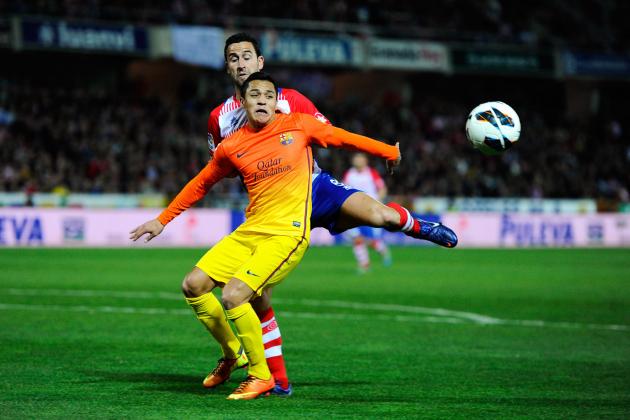 David Ramos/Getty Images

As great as Barcelona has been this season, the Catalans continue to struggle when it comes to finishing.
It appeared that Alexis Sanchez had bounced back from his struggles when he scored a goal and played well against Getafe last week.
Well, Alexis fooled us all.
Sanchez struggled terribly in the Granada game. He had two great chances to get a goal, but Alexis could not finish. One of this chances ended up turning into a Granada break, which lead to a goal for the home team.
Every game that passes by, Alexis Sanchez gets closer to becoming loan material.
But it wasn't just Sanchez that couldn't finish. Cristian Tello came in as a substitute and couldn't finish or make the pass in a few key plays late in the game. Both Andres Iniesta and Leo Messi barked that Tello when he did not pass the ball in the final minutes of the game. Pedro had one good shot in the game, as his shot hit the post, but other than that, there was not much from the Canarian. Even Andres Iniesta missed a good chance late in the game as well.
While missed shots will happen, Barcelona will regret missed opportunities in Champions League and Copa del Rey action. I'm not worried about La Liga, but Barcelona cannot continue to not finish against AC Milan in Champions League action this coming week. Given that this Milan side is not as strong as in previous year—and I don't expect Barca to have any problems moving on in the tournament—if Barcelona do not execute the finish against Milan, Barcelona could head back for the second leg with a closer aggregate scoreline then they expected.
Real Madrid are always a threat. And as we saw in the first leg, Barcelona could end up looking back at those missed chances at the Bernabeu if el blaugrana are eliminated from the tournament.
As great as Lionel Messi is, he can't always save the team from disaster (see last year's CL semis).
If FC Barcelona wants to make it to Wembley Stadium for the UEFA Champions League Final, as well as the Copa del Rey final, they must execute the finish.
Finish, finish and finish!
David Ramos/Getty Images

As we do every week, here are the stats of, and records made by, Lionel Messi:
Lionel Messi has scored in his last 14 Liga games for Barcelona, and continues to improve the all-time Spanish league record (h/t Barcastuff).
Messi has now scored at least one goal at the stadium of each of the 20 current Liga teams (via @messistuff).
Messi is the first player in the history of La Liga to score a goal in 10 straight road games (via @2010MisterChip).
Messi is the youngest player to ever score 300 goals in the history of La Liga (h/t @InfoLigaBBVA).
Messi has now scored 20 away goals in Liga this season (h/t @AllThingMessi).
With his 37 Liga goals so far this season, Messi would have been season Liga top scorer in all but 3 previous seasons in the history of the Spanish league (via@allthingsmessi)
Real Madrid (58) and Atletico (44) are the two Liga teams, not counting Barcelona, who scored more Liga goals than Messi (37) (h/t @dsaura).
Breakdown of Messi 301 goals: 243 with left foot - 44 right foot - 12 by head - 1 with his hand - 1 with his body (h/t @MessiStats).
Lionel Messi has scored his 2nd direct free-kick goal from 23 shots in this league - Cristiano Ronaldo has scored two from 32 shots (via @OptaJose).
Messi for Barcelona in league matches outside Camp Nou: 120 matches, 94 goals (via @MessiStats).
With Messi's two goals, Leo helped FC Barcelona equalized Real Madrid's record (last season) of 80 goals scored in first 24 games of the Spanish league (via @pedritonumeros).
Lionel Messi has scored 332 goals in 441 games with club and country. C. Ronaldo has scored 344 in 604 games. (h/t @Barcastuff)
300 goal club: Lionel Messi has reached 300 club goals aged 25. Raul Gonzalez Blanco (Real Madrid) reached it at age 31. Cristiano Ronaldo reached it age 28. Zlatan Ibrahimovic, age 31, hasn't yet to reach 300 (h/t @JesusRuano).
Lionel Messi scored his 300th career club goal in his 365th game. Cristiano Ronaldo netted his 300th on Jan. 27, in his 499th game (h/t @SportsCenter).
It continues to be am honor and a privilege to watch Lionel Messi play the beautiful game.
Grande Messi!
Histórico Messi!
Bring on AC Milan.
Vamos!
Xoel, The Voice of FC Barcelona