Early Projections for Cincinnati Reds' Final 25-Man Roster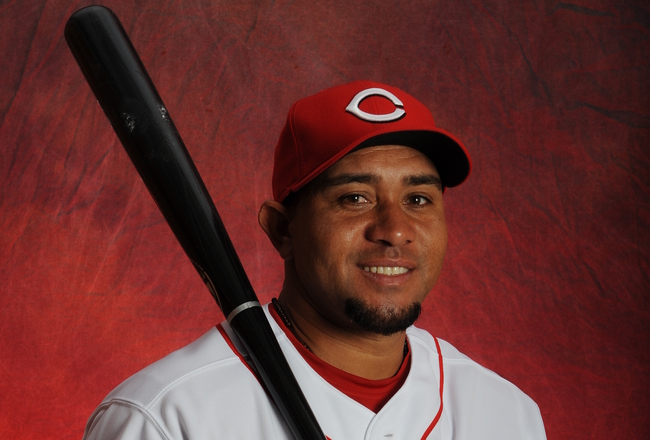 Will Miguel Olivo make the final cut in Cincinnati?
Rich Pilling/Getty Images
The Cincinnati Reds have once again put together a talented roster, capable of making a run at a World Series Championship.
As expected from a team of this caliber, competition for remaining roster spots is tight.
Although the starting jobs are pretty well locked down, there are some important battles in the Reds' starting rotation and bullpen to go along with fights for remaining bench spots.
Position players like Miguel Olivo, Cesar Izturis, Jason Donald and Jack Hannahan will be looking to prove their worth as reserves.
Meanwhile, pitchers Aroldis Chapman, Mike Leake and J.J. Hoover will look to solidify themselves as members of the starting rotation or bullpen.
With that said, I invite you to look at the Reds' active roster as well as their non-roster invitees to get a gauge as to who will be at camp.
This article will look only at players who have a legitimate shot to round out the Reds' 25-man roster.
Let's begin with a look at the catcher's position.
All stats courtesy of Baseball-Reference.com unless otherwise noted
Catchers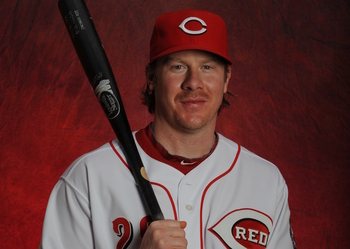 Rich Pilling/Getty Images
Candidates for 25-Man Roster: Ryan Hanigan, Devin Mesoraco, Miguel Olivo
Two catchers will make the trip back to Cincinnati from the Reds' spring training complex in Goodyear, Ariz.
Barring serious injury, Ryan Hanigan is the only lock for a spot at this position after serving as the Reds' starter for 98 of his 112 games played last season.
In that time, Hanigan managed to lead the majors in throwing out base runners (per ESPN.com).
With a relatively secure hold on the starter's job, there is little doubt that Ryan Hanigan will make the team out of spring training.
The fight for the backup position is a little more fierce this season and it features former top prospect Devin Mesoraco, and 11-year-veteran Miguel Olivo.
Mesoraco disappointed in his 2012 debut slashing just .212/.288/.352 with five HR and 14 RBI in only 54 games played. After not being able to secure the starting catching job, Mesoraco was relegated to bench duty.
Following a suspension for bumping an umpire and a concussion, the 24-year-old backstop received little to no playing time and was even left off the Reds' postseason roster.
Mesoraco does have potential though, as indicated by both his minor league numbers and his rankings on Baseball America's Top 100 Prospects list in 2011 and 2012.
Olivo on the other hand, has enjoyed moderate success over his 11-year-career.
Though his career .275 OBP may not indicate it, Olivo is a competent backup who can operate a a sufficient defensive replacement (if needed) or as a replacement on Hanigan's off days.
The bottom line is that if the Reds are sold on Mesoraco being their catcher of the future, then allowing him to play in just 54 games isn't the way to go about developing him.
Allowing him to start the year at Triple-A will serve him, and the Reds, better in the long-term.
Final Prediction for MLB roster: Ryan Hanigan (MLB Starter), Miguel Olivo (MLB Bench)
First Basemen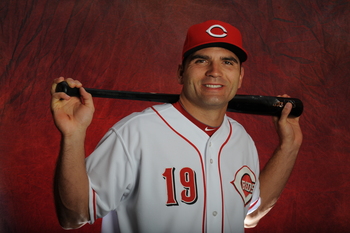 Rich Pilling/Getty Images
Candidates for 25-Man Roster: Joey Votto, Neftali Soto, Donald Lutz
Joey Votto is fresh off a knee injury which caused him to miss 49 straight games during the 2012 season.
While there is some concern surrounding his post-injury power outage (zero HR following return to lineup), there is no doubting that he will be the team's starting first baseman entering the 2013 season.
Even if he never returns to being a 30 HR hitter, Votto is the best player on the Reds roster. Votto is easily one of the top 10 players in Major League Baseball.
For those who don't believe that Votto will return to his pre-injury form, check out John Fay's new article.
Neftali Soto is one of the more intriguing prospects in the Reds farm system.
A career .272/.320/.458 hitter in the minors, Soto has shown flashes of plus power and low strikeout totals, but his 2012 season was a relative disappointment.
Soto is still just 23 years old and 2012 was his first full season at Triple-A, but in that season he played 122 games and slashed .245/.313/.400 with 14 HR, 59 RBI and 55 runs scored in 465 at bats.
Despite the disappointing 2012 campaign Soto is still one of the best prospects in the Reds system.
24-year-old Donald Lutz has also created a bit of noise in the minors and is fresh off his second straight solid showing in the minors.
In 2012, Lutz played 107 games between High-A Bakersfield, Double-A Pensacola and a brief rehab stint with the Reds' rookie team in Arizona.
Over the course of those 107 games, Lutz managed a .269/.336/.517 slash line with 22 HR, 25 doubles, 71 RBI and 62 runs scored.
Lutz's 6'3", 250-pound frame projects power, and the Reds seem committed to his development, facilitating a move to left field in order to avoid the positional roadblock that is Joey Votto.
Final Prediction for 25-Man Roster: Joey Votto (MLB Starter)
Second Basemen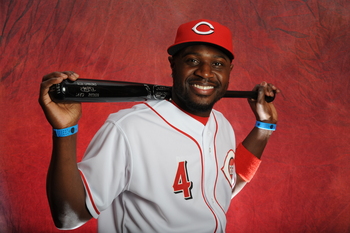 Rich Pilling/Getty Images
Candidates for 25-Man Roster: Brandon Phillips, Henry Rodriguez, Emmanuel Burriss
Like Joey Votto, only a severe injury can keep Brandon Phillips from being the Reds Opening Day starter at second base.
Phillips is one of baseball's premier second basemen, and his role on this team cannot be overstated.
With Phillips out of the way, focus shifts to two players who could be battling it out for a position as one of the Reds' key role players.
First, prospect Henry Rodriguez.
Rodriguez is a 23-year-old prospect who has flown through the Reds minor league system.
Rodriguez signed with the Reds as an international free agent in 2007 and has since played six seasons in the minors en-route to a September call-up to Cincinnati.
Throughout the minors Rodriguez has played no more than 124 games at any level, so he's a bit of a fast riser.
Rodriguez is a switch-hitting, middle-infielder with a career .303/.350/.431 slash line and 162 game averages of 12 HR, 39 doubles, 85 RBI, 91 runs scored and 34 stolen bases.
Rodriguez is still young, and his game needs a little polishing. Additionally, there is a log jam in the middle-infield right now, so his path to the majors seems to be at a standstill for the time being.
The Reds signed Emmanuel Burriss this past offseason to a minor-league deal with an invite to spring training.
Burris is a a 28-year-old middle-infielder capable of playing both second base and shortstop.
Like Rodriguez, Burriss is also a switch hitter and that certainly helps his case.
Unfortunately for Burriss, he is a career .243 hitter with an OBP barely over .300 (.304 to be exact) and, besides Zack Cozart, players who flirt with sub-300 OBPs don't have much of a place on the Reds roster anymore.
Final Prediction for 25-Man Roster: Brandon Phillips (MLB Starter)
Third Basemen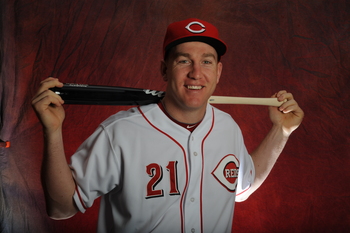 Rich Pilling/Getty Images
Candidates for 25-Man Roster: Todd Frazier, Jack Hannahan, Jason Donald
With the departure of Scott Rolen, Todd Frazier seems to have a firm hold on the Reds starting job at third base.
Last season, Frazier made big strides while filling in for the oft-injured Rolen, and also for Joey Votto.
Frazier finished the 2012 season with a .273/.331/.498 slash line, 19 HR, 26 doubles, 67 RBI and 55 runs scored. Frazier rode that success to a third place finish in Rookie of the Year voting.
Frazier is unlikely to be supplanted by any of his fellow teammates and, barring injury, he will break camp as the team's starting third baseman.
Jack Hannahan and Jason Donald are two offseason additions—both former members of the Cleveland Indians.
Jack Hannahan arrived in Cincinnati via free agency and he will likely make the big league club out of spring training.
Although his .234/.314/.355 slash line isn't indicative of a great player, it is an upgrade over the likes of Willie Harris and Wilson Valdez in their 2012 forms.
Hannahan also gives the Reds a sufficient defensive replacement for late game situations and versatility given his ability to play both corner infield positions.
The Reds lacked a sufficient left-handed bench bat for much of the 2012 season, but Hannahan fills that void.
As for Jason Donald, he too looks like a sure thing for the Reds 25-man roster.
Donald is still just 28 years old and has only played 170 games in his three-year career.
With just over a full season's worth of games under his belt, Donald is still very raw in terms of big league experience.
If Donald can offer numbers anywhere near those of his 2011 campaign (.318/.364/.402 in 39 games played) he should be very valuable for the Reds in 2013.
Donald's ability to play third base, shortstop and second base gives the Reds added versatility off the bench, and that's exactly what the team will be looking for when rounding out its roster.
Final Prediction for 25-Man Roster: Todd Frazier (MLB starter), Jack Hannahan (MLB Bench), Jason Donald (MLB Bench)
Shortstops
Rich Pilling/Getty Images
Candidates for 25-Man Roster: Zack Cozart, Cesar Izturis
As noted in the intro, the Reds starting jobs are pretty well locked up.
Following the departure of Didi Gregorius this offseason, Zack Cozart is a shoe-in to be the Reds' starting shortstop.
Cozart finished 2012 with a disappointing slash line (.246/.288/.399) but he did pop 15 HR, with 35 RBI and 72 runs scored.
Cozart has some pop, but unfortunately, his OBP will continue to be attached to his batting average unless he can increase his walk rate (5.2 percent in 2012).
Given the Reds' lack of depth at shortstop, there is a chance that Cesar Izturis could make the team's Opening Day roster.
Izturis is a career .255/.294/.323 hitter with very little pop. Izturis is a former All-Star and Gold Glove winner but given his age (33) and recent performances, those days look to be long gone.
Izturis hasn't turned in an OBP over .300 since the 2008 season and he's finished below his career OBP in each of the last three seasons.
The only thing working in Izturis' favor at this point is the fact that he is an above average fielder. In his 12 seasons, Izturis has a fielding percentage of .981 compared to the league average .973 in the same time.
Unless he shows up to camp and significantly outperforms the younger and arguably more talented Jason Donald, Izturis will fall short of the the Reds 25-man roster.
Final Prediction for 25-Man Roster: Zack Cozart (MLB Starter)
Outfielders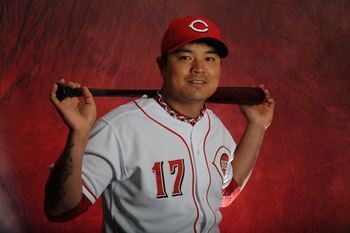 Rich Pilling/Getty Images
Candidates for 25-Man Roster: Ryan Ludwick, Shin-Soo Choo, Jay Bruce, Chris Heisey, Xavier Paul, Denis Phipps,
The Reds' outfield features stiff competition this season.
Ryan Ludwick and Jay Bruce, both starters from last season, will return to their starting roles again this season. Newcomer Shin-Soo Choo is slated to start in center field.
For Choo, there are uncertainties surrounding his ability to play center field, but one way or the other, he will be starting in Cincinnati.
The Reds will likely carry five outfielders and with the starting slots already filled, that leaves Chris Heisey, Xavier Paul and Denis Phipps to fight it out for the last two spots.
After clobbering 18 home runs in 279 at-bats during the 2011 season, Chris Heisey seemed like he would become the everyday starter in left field.
That plan was put on hold in 2012.
Heisey couldn't claim the starting job for himself in the season's early goings and was relegated to a fourth outfielder/pinch hitting role for the rest of the year.
Heisey still made 120 appearances in 2012 and finished the year with 347 at bats. However, the power that fans and management had come to expect from Heisey was nearly non existent.
By year's end, Heisey managed only seven home runs.
The real problem for Heisey though, is his inability to hit left-handed pitching with any sort of consistency.
Over the course of his career, Heisey has slashed .214/.272/.376 against lefties (per ESPN.com).
Heisey is valuable coming off the bench, but a slash line like that is indicative of a platoon player, not a starter.
Xavier Paul and Denis Phipps should be fighting for the final outfielder's spot.
Paul, a 24-year-old left-handed hitter, holds the advantage in this matchup.
The Reds lacked viable left handed-bench bat for most of the 2012 season but Paul stepped up and filled took control of that role by the end of the year.
In 55 games Paul logged 86 at bats with a .314/.379/.465 slash line with two HR, seven RBI and eight runs scored.
Phipps is a 27-year-old prospect with just 10 major league at bats. Although he has shown some pop in the minors (17 HR last season), he has yet to crack the big league roster in any significant way.
The fact that Phipps is a right-handed batter doesn't help his case and it looks as though he will miss the cut again in 2012.
Final Prediction for 25-Man Roster: Ryan Ludwick (MLB LF), Shin-Soo Choo (MLB CF), Jay Bruce (MLB RF), Chris Heisey (MLB Bench), Xavier Paul (MLB Bench)
Starting Pitchers
Rich Pilling/Getty Images
Candidates for 25-Man Roster: Johnny Cueto, Mat Latos, Bronson Arroyo, Homer Bailey, Aroldis Chapman, Mike Leake
The Reds starting rotation last year was one of the best in baseball.
After finishing the season with the fourth best ERA in the National League (3.64), the Reds decided to shake things up by moving Aroldis Chapman into the starting rotation.
With Chapman vying for a starting spot, it looks as though he and 25-year-old Mike Leake will be competing for the fifth spot in this year's incarnation of the Reds' starting rotation.
Chapman's early season role is still undecided and the Reds front office has been tight lipped on the situation.
The Reds could opt to start Chapman in the bullpen this season much like the Braves did with Kris Medlen last season.
There is also the possibility that the Reds could simply start Chapman in the rotation and work around his innings limitations.
Much of the Reds' decision is likely to be based upon the performances by Leake and Chapman during spring training.
Should Chapman struggle mightily, management may elect to move him back to the bullpen where he would become the Reds closer again.
However, given Chapman's extreme talent and the re-signing of Jonathan Broxton, it's unlikely that he will miss out on the starting rotation this year.
That leaves Mike Leake as the team's sixth starter with a likely trip to Triple-A Louisville.
Final Prediction for 25-Man Roster: Johnny Cueto (MLB No. 1), Mat Latos (MLB No. 2), Bronson Arroyo (MLB No. 3), Homer Bailey (MLB No. 4), Aroldis Chapman (MLB No. 5),
Relief Pitchers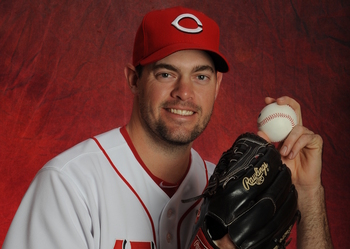 Rich Pilling/Getty Images
Candidates for 25-Man Roster: Jonathan Broxton, Sean Marshall, Jose Arredondo, Logan Ondrusek, Sam LeCure, Alfredo Simon, Manny Parra, J.J. Hoover
Much like the starting rotation, the Reds bullpen is loaded with high quality arms. Last year's version combined for the best bullpen ERA in baseball at 2.65 (per ESPN.com).
This year, Aroldis Chapman will move to the starting rotation and while it will undoubtedly cause the bullpen to take a step back, this is still a dominant group of relievers.
Jonathn Broxton, Sean Marshall, Jose Arredondo, Logan Ondrusek, Sam LeCure and Alfredo Simon are all virtual locks for the 25-man roster leaving newcomer Manny Parra and J.J. Hoover to duke it out for the final spot.
Parra is left-handed and that certainly works to his advantage. With the departure of Aroldis Chapman, the Reds bullpen features one lefty (Sean Marshall), and that leaves the team in a less than ideal situation.
Though Parra struggled through much of his career (5.12 ERA and 1.65 WHIP), the Reds need another left-handed arm in the bullpen. With Tony Cingrani working as a starter, the Reds are flush out of options.
Hoover was fantastic in his big league debut last season making 28 appearances allowing a 2.05 ERA and a 0.98 WHIP, with ratios of 9.1 K/9, 3.8 BB/9 and 2.38 K/BB.
At just 25 years old, Hoover has a bright future ahead of him and profiles well as a future closer for the Reds. However, it looks as though he will start the season in Triple-A.
Final Prediction for 25-Man Roster: Jonathan Broxton (MLB Closer), Sean Marshall (MLB SU), Jose Arredondo (MLB SU), Logan Ondrusek (MLB MR), Sam LeCure (MLB MR), Manny Parra (MLB MR), Alfredo Simon (MLB MR)
Final 25-Man Roster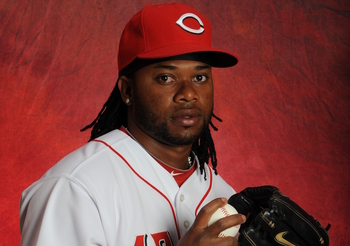 Rich Pilling/Getty Images
Starting Infielders:
Ryan Hanigan (C)
Joey Votto (1B)
Brandon Phillips (2B)
Todd Frazier (3B)
Zack Cozart (SS)
Starting Outfielders:
Ryan Ludwick (LF)
Shin-Soo Choo (CF)
Jay Bruce (RF)
Bench:
Miguel Olivo (C)
Jack Hannahan (3B/1B)
Jason Donald (SS/2B/3B)
Chris Heisey (OF)
Xavier Paul (OF)
Starting Pitching
Johnny Cueto
Mat Latos
Bronson Arroyo
Homer Bailey
Aroldis Chapman
Relievers
Alfredo Simon (LR)
Sam LeCure (MR)
Manny Parra (MR)
Logan Ondrusek (MR)
Jose Arredondo (SU)
Sean Marshall (SU)
Jonathan Broxton (CP)
Keep Reading

Cincinnati Reds: Like this team?