8 Spring Practice Drills Players Hate the Most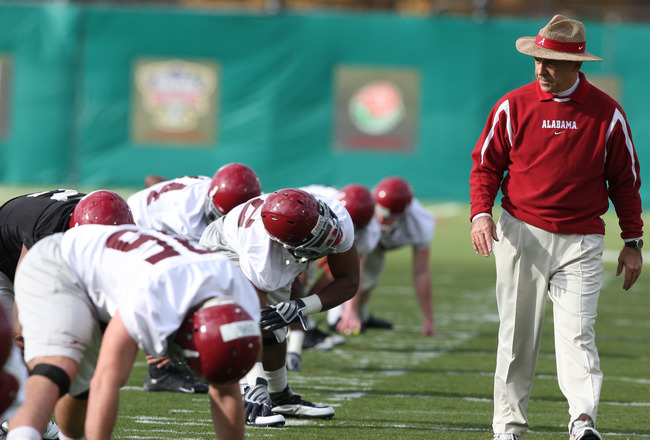 Courtesy capstonereport.com

Football practice has so many different facets to it that, to the uninitiated, it can seem a tad overwhelming.
For the purposes of this list, we have selected the drills used during football practice that every football player dreads having to perform during the offseason.
College football spring practice is just around the corner, and football coaches across the country will feel their sadistic side kick in as they invent new ways to help players build endurance—and feel pain.
If we missed one, feel free to let us know which drills you hated in practice.
8. Bear Crawls

Courtesy of YouTube

Crawling on all fours is not natural to a human being.
Not at all.
Apparently football coaches have decided to disregard this little detail in their quest for football excellence.
Bear crawls are a standard drill in football practice at just about every level of the game.
And not just a quick little five-yard crawl.
The most sadistic coaches will make their team crawl the length of the football field multiple times.
7. 40, 60, 80, 100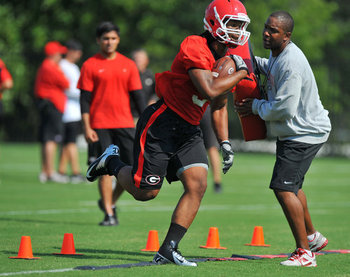 Courtesy coxnewsweb.com
This one is another running drill, but the key piece of this drill is the sprinting.
Running such long distances at a jog is difficult, but not terrible.
Sprinting is absolutely brutal.
Start on one goal line and mark off 40 yards and sprint the distance 6 times.
Mark off 60 yards and sprint the distance 4 times.
Mark off 80 yards and sprint the distance 2 times.
On the last set, run 100 yards from goal line to goal line, 1 time.
Rest one minute between sprints.
And, between that many sprints, a one minute rest is not nearly enough.
6. Burpees

Video courtesy of YouTube

Some call them burpees.
Others call them up-downs.
And still others call them squat thrusts.
Whatever the name, this move sometimes feels more like a form of medieval torture than a football drill.
There are a ton of possible variations to this drill, all of which create different levels of pain, but the basic premise goes something like this:
Player begins standing up (not realizing the intense pain that is awaiting)
Player drops into squat position with hands on ground
Player extends legs behind body until in plank position
Player jumps back to squat position in one quick motion
Player returns to standing position
One or two are not that bad, but when asked to do 25, 50 or 100, these are absolutely brutal—and quite possibly inhumane.
Hopefully my old coach doesn't see this or he will tell me what a "pansy" I have turned into.
5. Gut-Busters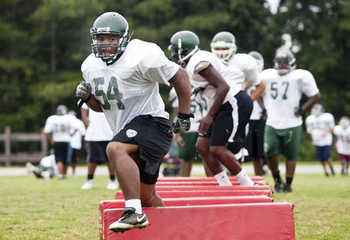 Courtesy Dailynews.com
This drill has many different variations and names.
We called it "gut-buster" but others call it "Commando Kelly" or just circuit training.
It's brutal, and includes everything from sprints, to bear crawls to running in place.
Here is one variation:
Align players across the goal line
On the whistle, the players high knee while running in place
On the next whistle, the players perform up-downs (falling to the ground flat, stomach and chest first)
On the next whistle, the players run 10-yards and continue to run-in-place
On the next whistle, the players drop and do push-ups
On the next whistle, the players run down field 10-yards and continue to run-in-place
On the next whistle, the players drop to the ground and do sit-ups
On the next whistle, the players run 30-yards to mid-field and continue to run-in-place
The sequence is repeated until the players reach the other goal line
Different exercises/drills can be substituted or added, but however this one is done, it's not a favorite drill.
4. Train Run

Video courtesy of YouTube

This one also goes by several different names. The most common is "Indian Runs," but also ''switcheroo'' and "catch me if you can."
Most of these drills involve running but this is the mother of all conditioning exercises.
The main reason it's so brutal is that it depends on an entire team—not just your conditioning.
The team lines up in groups of 15-20, and starts jogging at a brisk pace around the field.
At the coach's whistle, the player at the back of the line must take off, sprinting around the field until he catches up with the head of the line, and then take his place leading the team.
At the whistle, the next player takes off, and so on all the way down the line.
With a really sadistic coach (show me one who isn't to some degree) he finds ways to make it worse.
He could make the line speed up when the biggest offensive lineman is trying to lumber around the field. Or make the player running around the field run backwards.
It's great for conditioning, but this one sure hurts.
3. Snakes

Video courtesy of YouTube

The only thing worse than running during two-a-days might be running backwards or shuffling sideways.
This drill combines all three, making it one of the least anticipated drills of the off-season.
Here's how it goes:
Players line up at the sideline of the goal line.
Players run forward the width of the field.
When reaching far sideline, players will shuffle to the five-yard line.
At the five-yard line, players will back pedal width of the field.
Players repeat these steps until reaching the far end zone
So starting at one endzone, players alternately run, shuffle and backpedal their way down the field.
Over use of this drill may help explain why Big Ten offenses seem to be so pedestrian at times.
2. Lines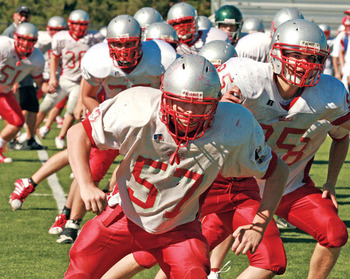 Courtesy snovalleystar.com
The most basic of conditioning drills and it is used by coaches who (A) are extremely dedicated to conditioning (B) hate their players.
Starting at the end zone, players run to the five yard line, touch the ground, then run back.
After touching the ground there, they run to the ten yard line, touch the ground, then run back.
This is repeated all the way down the field.
Afterward, there are guys cramping, vomiting and gasping for air all over the field.
Known by some as "gassers" or "suicides," this method of conditioning is effective but extremely painful.
1. Mat Drills

Video courtesy of YouTube

Matt drills are different wherever you go.
They vary depending on whether training takes place indoors or outdoors, and which drills the coach feels like utilizing on a particular day.
Usually, a space about 15 yards by 15 yards is set aside using cones (if outside) or wrestling mats (if inside).
Lines of players move from station to station, doing different drills—burpees, high-knees, push-ups or whatever other diabolical drill the coach decides the team needs to perform.
This drill is no joke.
Bleacher Report's own Michael Felder gives an excellent summary of winter conditioning drills, including mat drills, in this piece. It should give an extremely accurate picture of the difficulty of this drill.
Keep Reading