5 Reasons Cal Will Take Pac-12 Conference and Go Dancing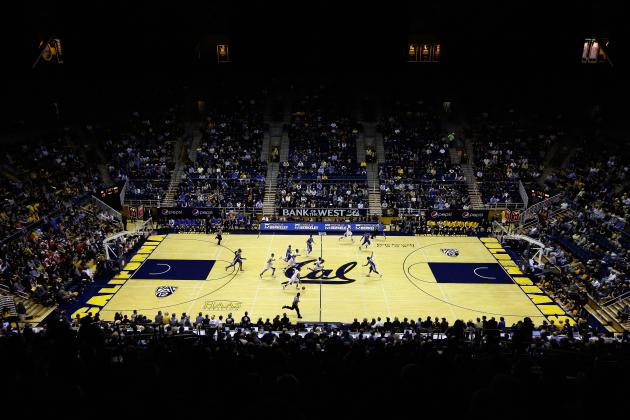 Ezra Shaw/Getty Images

The California Golden Bears have become one of the most dangerous teams in college basketball.
They completed a huge comeback against USC Sunday night and ended up pulling off a 76-68 win to extend their three-game winning streak in Pac-12 conference play.
In the Golden Bears' past three games they have defeated Arizona, UCLA and USC, putting them back in the hunt to win the Pac-12 regular-season title. Cal is currently 8-5 in the Pac-12 and just two games behind conference leader Oregon.
With one of the hottest scorers in college basketball, Allen Crabbe, and a great supporting cast, this Cal team is in the hunt to win the Pac-12 and also make the NCAA Tournament for the second-straight year.
Will the Golden Bears keep the momentum going and find themselves dancing in March?
Here are five reasons why Cal will take the Pac-12 and make the NCAA Tournament:
Begin Slideshow

»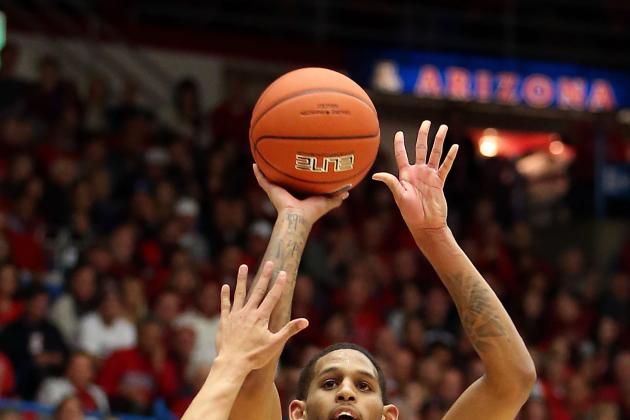 Christian Petersen/Getty Images
Junior guard Allen Crabbe
There has been no player in the Pac-12 (or in the country) as lethal as junior guard Allen Crabbe. Crabbe currently leads the Pac-12 in scoring with 19.7 points per game.
In the Golden Bears' last three wins, Crabbe has been nothing but sensational—averaging 23.3 points, 3.6 assists and 7.3 rebounds.
It's not how he puts up these numbers, it's the way in which he does it.
If the Golden Bears are down at any point in the game, he puts the team on his shoulders to change the game.
When the Golden Bears were down at Arizona on February 10 by the score of 38-33 at the half, Crabbe came out in the second half and scored 11 points in the first five minutes to give Cal the lead.
When it was all said and done, the Golden Bears had pulled off the upset and Crabbe had finished with 19 points in the second half and 31 points for the game.
He did it again on Sunday night against USC, when his team was down late in the game. Crabbe dropped 10 points in a matter of 4.5 minutes on the Trojans and ended up leading the Golden Bears to a 76-68 win. He finished with the game with 23 points.
For Cal to accomplish its goal of winning the Pac-12 and getting into the NCAA tournament, Crabbe needs to continue to put on these types of gutsy performances where he drops at least 19 points and makes clutch three-pointers.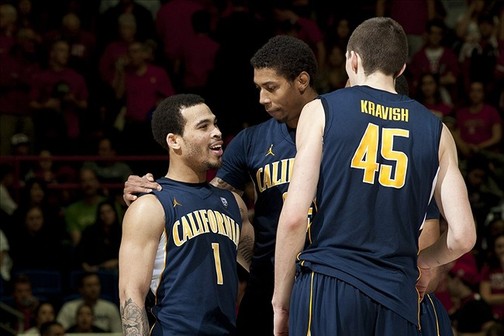 J. Cobbs, left, R. Solomon, middle, and D. Kravish, right. Credit: Casey Sapio-USA TODAY Sports
Allen Crabbe is the clear floor leader of this Cal team, but he needs a supporting cast to get the job done.
Junior guard Justin Cobbs, Junior forward Richard Solomon and sophomore forward David Kravish have all been crucial in the Golden Bears' latest surge.
Cobbs has been stellar at the point guard position and is dangerous in the backcourt with Crabbe.
He has played an important role in Cal's offense by averaging 14.8 points per game and 4.5 assists per game.
Solomon has stepped up this season and is becoming more of a leader on the court. He has played especially well in the Golden Bears' past two games—averaging 15.5 points and 7.5 rebounds.
If Solomon can keep up these types of performances, it's not only going to be Crabbe and Cobbs that teams are going to have nightmares stopping, it will be Solomon as well.
Kravish is the last element of the supporting cast, as he leads the team in rebounds with 176.
He is a force on the glass and will be a player who fights for the ball every time there is a rebound on the offensive or defensive end of the floor. Scoring has also been another aspect with which he has helped this Cal team.
Kravish has averaged 12.0 points and 9.3 rebounds in the Golden Bears' past three wins.
If Cobbs, Solomon and Kravish continue to produce and become the game-changing players they are capable of being, there is no doubt they find themselves in the Pac-12 Championship discussion and in the NCAA tournament.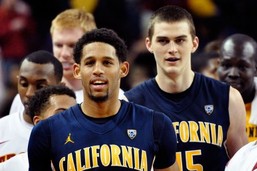 Allen Crabbe (front) and David Kravish (back). MICHAEL GETHERS/FILE
With a win against USC on Sunday night, the Golden Bears will have a chance to cause some more havoc within the Pac-12 conference standings.
On Thursday, the Golden Bears will travel to Oregon in a critical game that could give them another important RPI win and a chance to move up in the Pac-12 conference standings.
Cal has had Oregon's number, as they have defeated the Ducks in the past ten meetings.
Oregon has not defeated Cal since February 9, 2008.
The Golden Bears will then take on an Oregon State Beaver team that has shown improvement but overall has struggled the entire season. Cal cannot afford to be upset in this one, because it could hurt its chances of making the NCAA Tournament.
Cal finishes the season with three straight home games, which will be very beneficial. They should be able to take down Utah, but Colorado and Stanford will be tough.
Colorado has been improving every week, and a rivalry game against Stanford is always tough.
The Golden Bears suffered two of their five conference losses to Colorado and Stanford, so they will be looking to get revenge.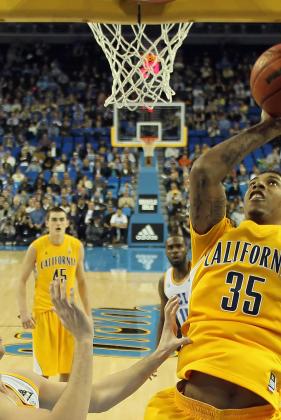 Jeff Gross/Getty Images
Junior forward Richard Solomon again UCLA.
Cal is now known to have dangerous scoring sprees, where in a blink of an eye they are either dismantling a team or suddenly back in a game they weren't in just minutes before.
On Sunday night, Cal was down 15 points in the second half but made a comeback led by Allen Crabbe, going on a 25-7 run to take down USC.
The same type of scoring sprees happened when the Bears traveled to Arizona on February 10, and when they hosted UCLA last Thursday.
Cal was down by five points after the first half but opened up the second half by going on a 17-2 run against Arizona. They ended up defeating the Wildcats 77-69.
Last Thursday, the game was supposed to be all about UCLA star freshman Shabazz Muhammad.
That ended up not being the case. Muhammad was held to just two points in the first half, and the Cal offense shot lights out.
Cal was already up 47-22 after the first half and ended up shooting 47.4 percent from beyond the arc as a team. The Golden Bears took the game 76-63.
When Crabbe, Cobbs, Solomon and Kravish are all in on the action, it is difficult for any team to stop them.
The Ducks may not have an answer offensively if Cal decides to go on another one of these offensive runs during the game. If Cal goes into Oregon on Thursday and puts up a scoring spree against the Ducks, the Golden Bears could find themselves tied for first place at the end of the weekend.
This Cal team means business and will be a dangerous team down the stretch. Opponents are going to have to find ways to prevent this offense from going on big scoring runs.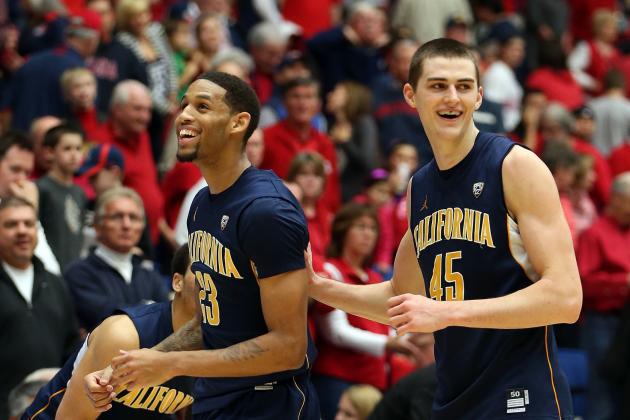 Christian Petersen/Getty Images
Allen Crabbe (left) and David Kravish (right).
After starting 3-4 in conference play, the Golden Bears have since gone 5-1 in their last six games.
With solid play on both ends of the court, this Cal squad has all the motivation it needs going into the last five games of the regular season.
The boost from the big comeback against USC will give this team momentum when it plays on the road at Oregon on Thursday.
Allen Crabbe has been the catalyst for this team, but it seems like every game, the other starters are making strides and making more of an impact on the game.
If there is a time for a team to have momentum, this is the time to do it.
Cal has to impress the selection committee, so the Bears can be chosen to play in the NCAA tournament.
They also are in a position to win the always-up-for-grabs Pac-12 conference regular season and tournament titles.
A hot streak in mid-February gives Cal good momentum heading into the critical games it will be playing in March.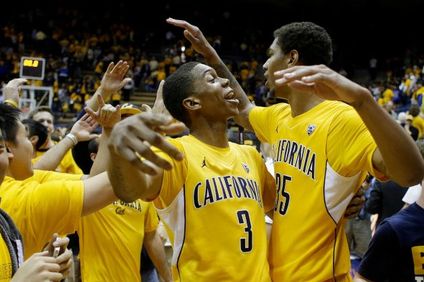 Cal players celebrate after win against Oregon. Photo: Eric Risberg
I don't see the whole Mike Montgomery shoving Allen Crabbe during the USC game being any problem going forward.
Montgomery is a good coach and was in this position last season, as his team was one of the last teams to make the NCAA Tournament.
According to ESPN's Joe Lunardi, Cal is currently one of the last four teams in to make the NCAA tournament.
The Golden Bears head to Eugene on Thursday to face the Ducks. If they can win that game, they will go 2-0 in their Oregon trip.
Cal gets their last three games at Haas Pavilion, which has suddenly become hostile for opposing teams. The energy in the building is going to make it harder for Utah, Colorado and rival Stanford to pull off a win.
The Golden Bears need to win their last five regular season games to win the regular season title (giving them a 13-5 conference record). They cannot afford one more loss in Pac-12 play, because the chances of Oregon losing three games and Arizona and UCLA dropping two games are very slim.
A regular season record of 21-9 or 20-10, if they happen to drop a game, will put them in decent shape to make the NCAA tournament.
Cal's key wins over Oregon, Arizona and UCLA already help its RPI. Another win over Oregon and a win over Colorado could put the Golden Bears in even better shape to be selected for the NCAA tournament.
Cal is going to find themselves dancing when it's all said and done. They should be a lock to at least hit the Sweet 16.