Bleacher Report's Definitive NBA All-Dunker Team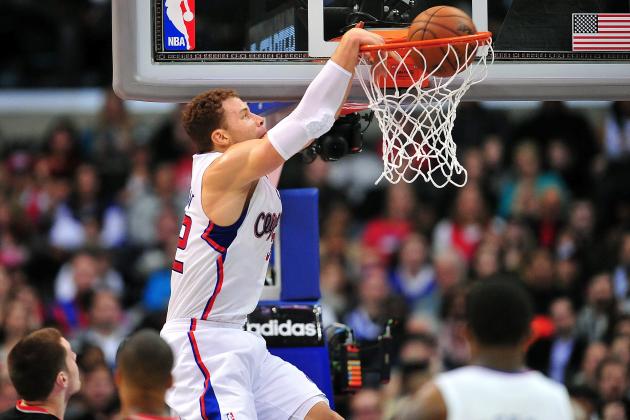 Gary A. Vasquez-USA TODAY Sports
Los Angeles Clippers' Blake Griffin
Bleacher Report's definitive NBA All-Dunker team includes the best dunkers in the league this season. This team features a 12-man roster with at least two players at every position.
While including at least two players from each position, a number of high-flying finishers narrowly missed the cut.
At the small forward spot, specifically, Rudy Gay, Alonzo Gee, Jeremy Evans and Josh Smith were among the final cuts. DeMar DeRozan was similarly considered at the shooting guard spot but narrowly missed making this team as well.
The prolific dunkers who were included on the NBA All-Dunker team were listed as reserves or starters at their respective position.
Begin Slideshow

»
Reserve
Dwight Howard is still a threat to break anything attached to the rim with every finish.
While injuries have slowed him to an extent this season, the 107 dunks Howard has connected on currently rank fourth in the NBA.
More than his frequency of game dunks, however, the sheer power and ferocity with which Howard slams the basketball through the rim earns him a place on this team.
There isn't anybody stronger in this league, and rims around the Association noticeably wince with fear every time Howard takes off for the basket.
Starter
JaVale McGee once dunked two basketballs on two hoops at the same time.
Earlier this season, he also turned his game against the Chicago Bulls into a personal dunk montage with a trio of monster finishes.
He makes his share of boneheaded mistakes on the basketball court, but there is simply no denying McGee's ability to dunk the basketball.
Despite coming off the Denver Nuggets bench to average only 18.7 minutes per game this season, McGee is tied for third in the league with 116 dunks at the All-Star break.
He finishes with creativity, athleticism and power on a regular basis—all of which combines to make McGee the NBA's best dunker at the center position.
Reserve
The MVP of Friday's Rising Stars Challenge was also a participant in the dunk contest Saturday night.
Though the dunk contest may not have been one for the history books, Faried brought a needed "power" element to the event.
The first two points of Faried's NBA career came on a dunk against the Sacramento Kings last year, and he's made numerous trips back to the rim since.
This season, specifically, Faried is sixth in the league with 90 dunks at the break.
Starter
Blake Griffin is the name I most associate with the word "dunk."
Maybe that's because he did this to Kendrick Perkins last year, or maybe it's because he once leapt over a car with a single bound—I'm not entirely sure.
Whatever the reason, Griffin's explosive finishes have left me pondering the general principles of physics ever since he first broke into the league.
There isn't anyone on the planet who Griffin isn't capable of dunking on.
More than that, though, he also has the ability to style those power dunks in a manner by which we haven't seen since Shawn Kemp was making it "reign" for the Seattle SuperSonics.
Reserve
Kevin Durant is not a nice person on his way to the rim. We didn't need a series of ads from Nike to tell us that.
What Durant is doing to people like Phoenix Suns center Marcin Gortat this season is evidence enough of the force by which he's dunking the basketball.
For as good of a player as Durant is, he's underrated as a high-flying finisher.
With his long arms extended, Durant is able to get to the rim and finish with authority.
Reserve
The only team LeBron James will ever be a reserve on is this year's NBA All-Dunker team.
While on course for his fourth MVP this season, James doesn't appear to be the best dunker since Vince Carter, but he still deserves recognition.
James would also make the Slam Dunk Contest must-see television if he ever decides to lace up a pair of LeBron X's and jump into the festivities.
But you already knew that.
Starter
The case for Gerald Green as the top small forward dunker in the NBA begins with a play he made last season as a member of the New Jersey Nets.
It's a moment in dunking history where Green catches a lob pass in midair before deciding to windmill the basketball through a rim that's never been the same since.
For further support of this claim, I'd present a dunk Green had this season as a member of the Indiana Pacers in the video above.
There wouldn't be any reason to present a third to a jury of his dunking peers, but Green has provided plenty more to chose from if necessary.
Reserve
Before Paul George became the All-Star he is now, he was dunking like this last season for the Indiana Pacers.
Those are double-clutch, reverse dunks in transition, if you need them.
While becoming rapidly more known for his all-around game this year, the "Paul Star" can still get up as high as anyone in the Association.
Don't let his maturing defense and rebounding overshadow the dynamic ability George has to dunk the basketball.
Reserve
Though he disappointed in the Sprite Slam Dunk Contest, James "Flight" White is still a dunking legend thanks to YouTube.
In an overseas contest five years ago, White completed this between-the-legs dunk from the free-throw line.
He'd later earn a perfect score of 100 for another free-throw line dunk during the 2009 D-League contest.
Perhaps his age (30) played a part in his less-than-stellar outing on the biggest stage. Maybe the moment was just too big for him. Regardless, it cost him a starting spot on this squad.
Starter
Terrence Ross is a high-flying rookie who dunks the basketball as explosively as anyone in the NBA.
Just ask the Orlando Magic and Jeremy Evans to confirm.
Anyone unaware of Ross' above-the-rim play this season for the Toronto Raptors got a chance to see how talented he was during the dunk contest.
Once he refines his game, it's scary to think how good he could be.
Reserve
There is something special about a little guy getting up off the floor for a monster finish.
At 6'1'', Eric Bledsoe has reminded us of that this season.
While backing up Chris Paul for the Los Angeles Clippers, Bledsoe has emerged as one of the NBA's most exciting players this year. He can also fill a stat sheet.
He's even caught lob passes like this one from his fellow point guard and done horrible things with the basketball from there.
Starter
The confidence bordering on cockiness combines elegantly with his raw athleticism to make Russell Westbrook the best dunking point guard in the NBA. It also helps his cause with Derrick Rose being injured.
He's dunked on centers like Omer Asik in the past and will slam on the heads of many more guys before his playing days are over.
He is the best athlete playing the point guard position in the NBA this season.