Favorite Jersey Day: The Best Uniform Clash for Each NHL Team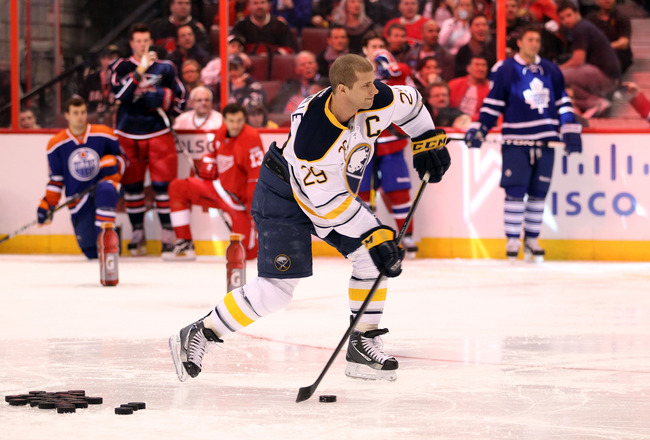 Christian Petersen/Getty Images
In case you didn't know, today is Wear Your Favorite Jersey Day, which kicks off Hockey Weekend Across America.
Unfortunately, I was stubborn enough not to bring one of my very many NHL jerseys up to college, so I'm sitting here without wearing my favorite sweater and feeling like I need to do something to make up for it.
There have been a lot of articles about jerseys in the NHL, but most are the cliched "Ugliest NHL Jerseys of All Time" and whatnot. We are going to go in a different direction today.
Basically, a uniform clash is just what its name suggests—how well uniforms clash with one another. Usually, these will be between teams of different colors, as red vs. red or blue vs. blue often does not contain much of a variety in color.
Which opponent creates the most aesthetically-pleasing or best-looking game for each NHL team? Click through the slides and find out.
Anaheim Ducks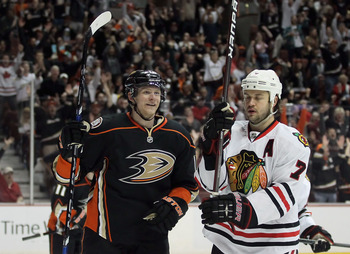 Jeff Gross/Getty Images
Anaheim third jersey vs. Chicago road jersey
Anaheim has worn its alternate threads several times against the Blackhawks, and for good reason. The jerseys are obviously very easy to differentiate no matter how bad your sight is, and they also combine for a good-looking contrast in color.
Think of any color (besides purple or blue) and see if you can't find it in this matchup.
Boston Bruins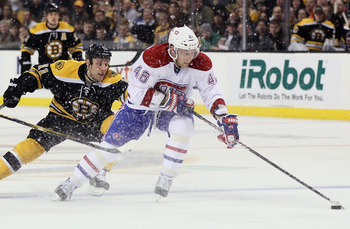 Elsa/Getty Images
Boston home jersey vs. Montreal road jersey
There are so many good things about every game between these two. Most importantly, it is arguably the greatest rivalry in the NHL and it is an old-school Original Six battle every time the two teams step on the same ice surface.
Also, these are two of the best-looking jerseys in hockey, and they look even better when matched up against each other. Both have classic designs, and the intimidating black and gold scheme of Boston clashes great with the cool red, white and blue of the Canadians.
Buffalo Sabres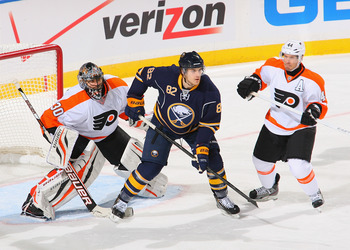 Rick Stewart/Getty Images
Buffalo home jersey vs. Philadelphia road jersey
Both of these teams revamped their uniforms a few years back, and they both took on a vintage feel. Every time the Flyers visit Buffalo, the game looks like something out of the '70s.
Well, it would if the Sabres would just get rid of those chest numbers and the silver piping around the arms.
Calgary Flames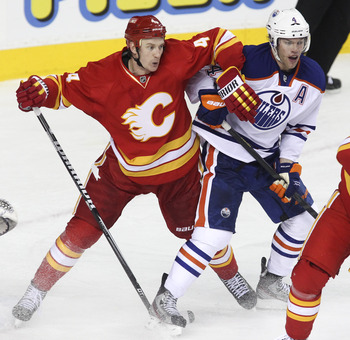 Mike Ridewood/Getty Images
Calgary third jersey vs. Edmonton road jersey
Both of these teams brought back their beloved jerseys from the '70s and '80s a few years back. The Flames installed their classic look as an alternate to be worn a few times a year, but Edmonton restored its Gretzky-era uniforms full-time with a white and blue set.
Whenever these jerseys are worn during the Battle of Alberta, the game takes on a vintage look, reminiscent of the exciting history of this great rivalry.
Carolina Hurricanes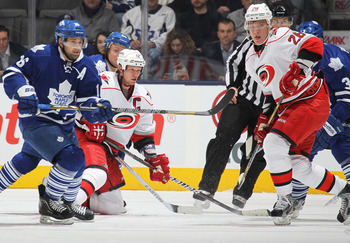 Claus Andersen/Getty Images
Carolina road jersey vs. Toronto home jersey
Like so many other Eastern Conference teams, the Carolina hurricanes are primarily red. Obviously a clash with one of the many other red teams often results in too much red on the TV screen.
Toronto has some of the best blue uniforms in the league, with a classic look and the perfect balance of blue and white.
When these teams meet in Toronto, it is always a pretty good-looking game.
Chicago Blackhawks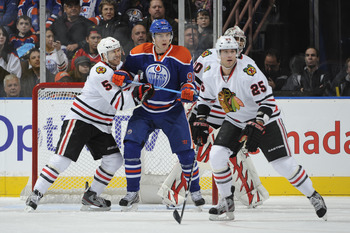 Dale MacMillan/Getty Images
Chicago road jersey vs. Edmonton home jersey
The white Blackhawks jersey looks great no matter which team it is worn against thanks to the vintage design and beautiful plethora of colors.
The Oilers were chosen for this slide since they, too, have a very colorful jersey and an extremely similar striping pattern that seems to suggest that these teams were meant to play against each other.
Colorado Avalanche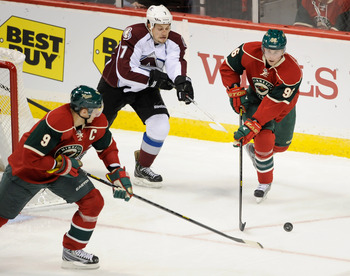 Hannah Foslien/Getty Images
Colorado road jersey vs. Minnesota home jersey
It always reminds me of nature every time these two teams play. Obviously, the Minnesota Wild's team name is supposed to evoke that anyway, but something about the maroon and turquoise matching up against red and green has a natural feel to it.
Columbus Blue Jackets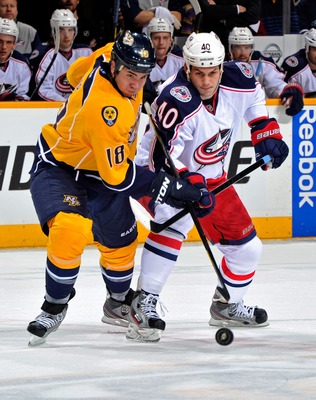 Frederick Breedon/Getty Images
Columbus road jersey vs. Nashville home jersey
With a red, white and blue color scheme, it is tough to find a jersey that clashes well with Columbus's since most teams are either primarily red or blue.
Thankfully, Columbus's division rival Nashville switched to primarily yellow jerseys last season, providing viewers with a very bright and colorful matchup every time they play.
Dallas Stars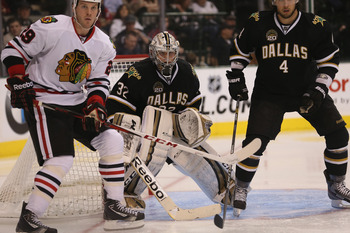 Ronald Martinez/Getty Images
Dallas home jersey vs. Chicago road jersey
When all else fails, Chicago's white sweaters always provide for an excellent clash among teams that do not have much of a variety of colors.
Dallas has some of the most boring jerseys in the league, but they usually look decent when worn against any team with red in its color scheme.
Detroit Red Wings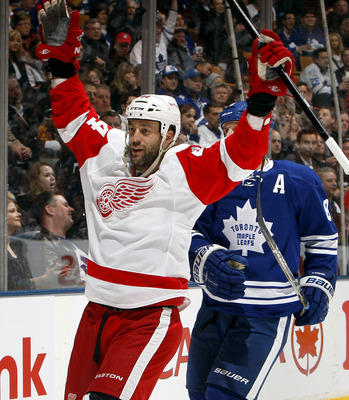 Abelimages/Getty Images
Detroit road jersey vs. Toronto third jersey
Every time the Wings and Leafs get together, they usually provide one of the best-looking hockey games of the year.
They each have classic designs and the two simplest color schemes in the NHL, providing some of the most iconic looks in sports history.
I can't wait to see what each of these two come up with for next year's Winter Classic.
Edmonton Oilers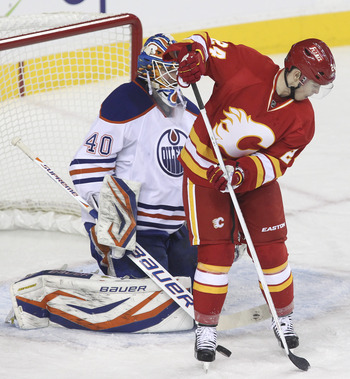 Mike Ridewood/Getty Images
Edmonton road jersey vs. Calgary third jersey
Yes, there will be some repeats in this slideshow, but can you blame me for this one?
Again, Edmonton and Calgary have vintage looks that provide for a throwback-looking game when worn against each other.
Florida Panthers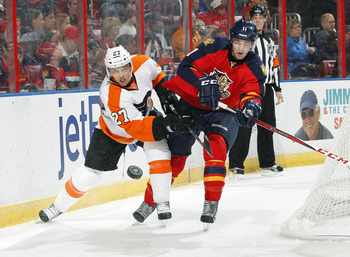 Joel Auerbach/Getty Images
Florida home jersey vs. Philadelphia road jersey
Florida is primarily red with a decent amount of dark blue and a slight amount of gold. These colors happen to clash great with Philadelphia's vintage-style orange and white uniforms, as these games provide a good amount of colors and two jerseys with clean, simple templates.
Los Angeles Kings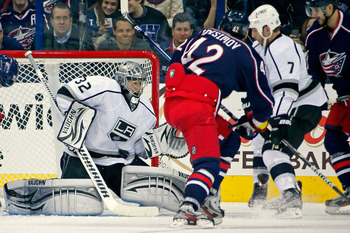 Kirk Irwin/Getty Images
Los Angeles road jersey vs. Columbus home jersey
The Kings' jerseys can look a little dull, but they look great when matched up against the patriotic color scheme of the Columbus Blue Jackets.
It's tough to explain, but red, white and blue just happen to look great against black and silver.
Minnesota Wild
Hannah Foslien/Getty Images
Minnesota home jersey vs. St. Louis road jersey
This is one of the most underrated rivalries in the game, and the jerseys make it even better to watch. At first glance, it looks like a typical red vs. blue matchup—which always looks good, but Minnesota also has a decent amount of green in its uniform to add a unique edge to this uniform clash.
Montreal Canadiens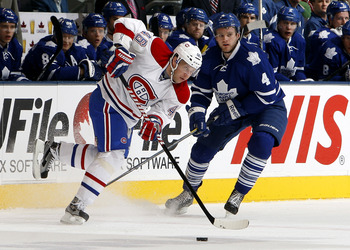 Abelimages/Getty Images
Montreal road jersey vs. Toronto home jersey
Toronto and Montreal create not only one of the best rivalries in hockey history, but one of the best rivalries in the history of sports.
The jerseys play their part in the rivalry too, as Montreal's red and Toronto's blue collide to create games that screams hockey, Canada and the Original Six just by looking at them visually.
Nashville Predators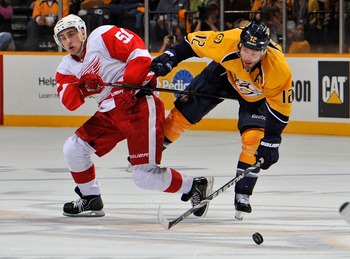 Frederick Breedon/Getty Images
Nashville home jersey vs. Detroit road jersey
This is becoming one of the better rivalries in hockey, as Nashville finally knocked off the hated Red Wings in last year's playoffs.
When these two teams play each other, it is obviously extremely clear to tell them apart, as Detroit's brilliant red and white clash with Nashville's Michigan Wolverine-esque colors.
New Jersey Devils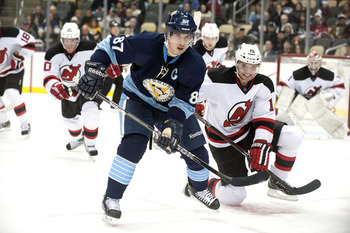 Vincent Pugliese/Getty Images
New Jersey road jersey vs. Pittsburgh third jersey
Any team with a good amount of red in its color scheme looks great on the ice against Pittsburgh's two-tone blue throwbacks.
The mix of dark blue with light blue seems to cause the red on the Devils' uniforms to jump out and be very noticeable.
New York Islanders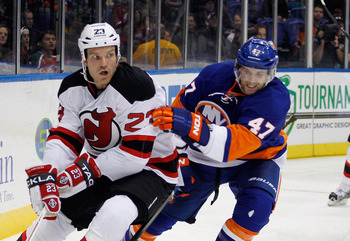 Andy Marlin/Getty Images
New York Islanders home jersey vs. New Jersey road jersey
The Islanders have some great uniforms, reminiscent of the days where the team brought home four-consecutive Stanley Cups.
Just like the previous slide: The beautiful shade of blue on the Islanders jerseys causes the red on New Jersey's uniforms to jump out, which in turn makes the blue seem even more vibrant.
New York Rangers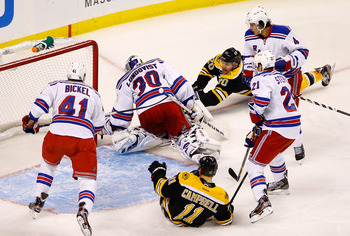 Jared Wickerham/Getty Images
New York Rangers road jersey vs. Boston Bruins home jersey
New York and Boston have so much history when it comes to sports, and hockey is no exception. These two Original Six rivals are two of the better teams in the Eastern Conference, and they provide for one of the best rivalries in the league.
Boston's black and gold threads clash very well with New York's red, white and blue sweaters, creating contests that are very easy on the eyes.
Ottawa Senators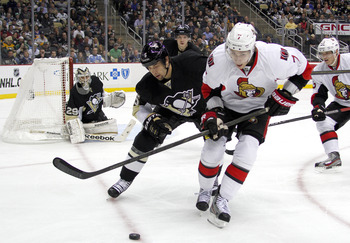 Justin K. Aller/Getty Images
Ottawa road jersey vs. Pittsburgh home jersey
Both of these jerseys are pretty boring, but they create a decent clash because they have nearly identical templates and clashing colors.
Both teams have a decent amount of black, but Ottawa's subtle amount of red stands out because of Pittsburgh's subtle amount of gold.
Philadelphia Flyers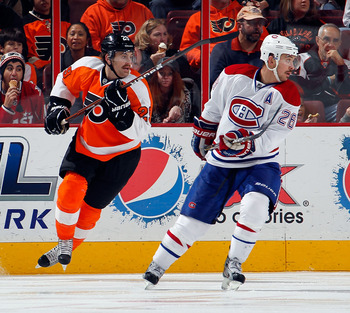 Paul Bereswill/Getty Images
Philadelphia home jersey vs. Montreal road jersey
Philadelphia's jerseys create a good-looking clash with most opponents, as the Flyers are the only primarily orange team in the league.
Montreal's beautiful shades of red and blue stand out against the Flyer orange and black, resulting in a great-looking hockey game with a vintage feel.
Phoenix Coyotes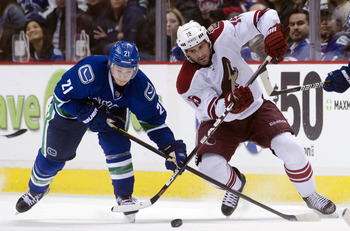 Rich Lam/Getty Images
Phoenix road jersey vs. Vancouver home jersey
The Coyotes have some of the nicer jerseys in the league, as they are very simplistic and have a clean yet unique template.
They look great when worn against the Vancouver Canucks because Vancouver's cool shades of blue and green make Phoenix's dark red hue stand out.
Pittsburgh Penguins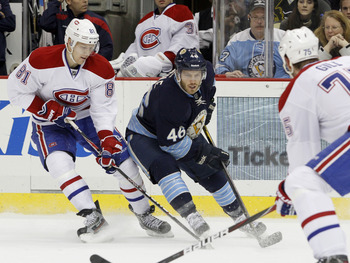 Justin K. Aller/Getty Images
Pittsburgh third jersey vs. Montreal road jersey
These jerseys look beautiful when worn against each other. The dark and light blue of Pittsburgh always make opponents' red hues stand out, but something about Montreal's looks extra special.
Both uniforms also have a throwback feel, which is always a good thing.
San Jose Sharks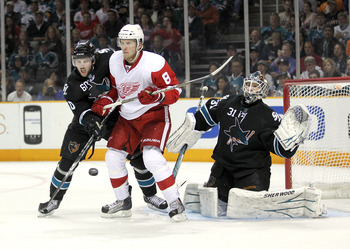 Ezra Shaw/Getty Images
San Jose third jersey vs. Detroit road jersey
We saw these uniforms collide four times in the spring of 2011, as the Red Wings and Sharks competed in one of the most exciting playoff series of all time.
This is always a good-looking game because red and teal are basically exact opposites of each other and San Jose's template used for its BlackArmor third jerseys is fairly similar to the template that the Red Wings have used for years.
St. Louis Blues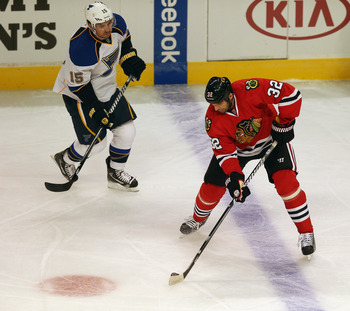 Jonathan Daniel/Getty Images
St. Louis road jersey vs. Chicago home jersey
St. Louis and Chicago have been rivals for a very long time. Now, they are among the Western Conference's better teams and their meetings matter even more.
When the Blues travel to Chicago, the Blackhawks' brilliant red uniforms look great against St. Louis's white and blue duds.
Tampa Bay Lightning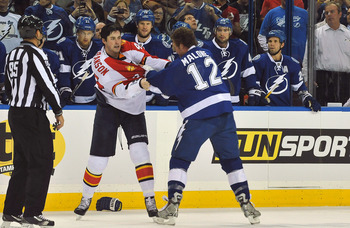 Al Messerschmidt/Getty Images
Tampa Bay home jersey vs. Florida road jersey
These in-state rivals always look good while playing one another. Both underwent uniform changes in the summer of 2011 (Tampa Bay's were much more drastic), and now both teams look great on the ice.
Tampa Bay's classic-looking blue uniforms look great against Florida's white uniforms, which have a deep red stripe over the top.
Toronto Maple Leafs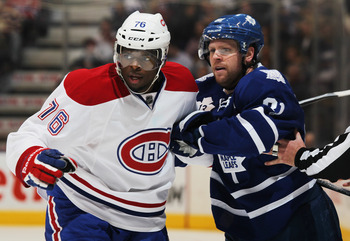 Claus Andersen/Getty Images
Toronto home jersey vs. Montreal road jersey
I've tried to stay away from repeats, but this one has to be on here twice, being possibly the greatest clash of jerseys in the NHL.
The looks of each of the NHL's two most-storied franchises are only a small part of what makes this rivalry so great.
Vancouver Canucks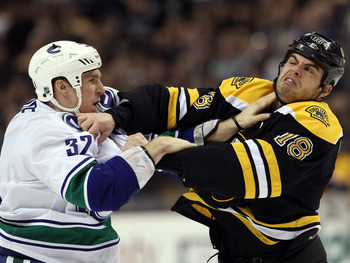 Elsa/Getty Images
Vancouver road jersey vs. Boston home jersey
This is currently the biggest inter-conference rivalry in hockey, thanks to the 2011 Stanley Cup Final.
Both of these jerseys have so much color to them. The picture doesn't do justice to Vancouver's beautiful shade of green and how it looks against the black and gold of Boston.
Washington Capitals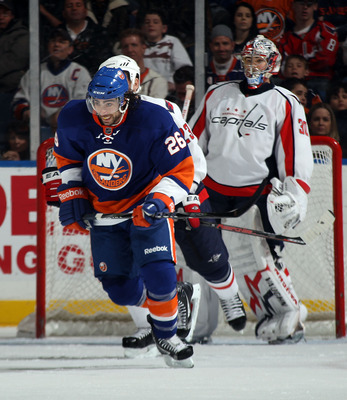 Bruce Bennett/Getty Images
Washington road jersey vs. New York Islanders home jersey
It is very tough to come up with a jersey that clashes well with Washington's home uniforms since there is so much red but also a decent amount of dark blue. Washington's white jersey, however, looks great against several teams.
The Islanders' blue home uniforms clash best with these white Caps jerseys because of how the royal blue and bright orange look against the subtle amount of deep red on Washington's sweaters.
Winnipeg Jets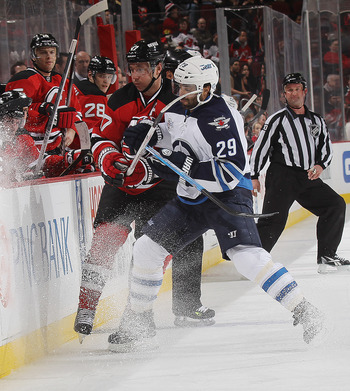 Bruce Bennett/Getty Images
Winnipeg road jersey vs. New Jersey home jersey
When Winnipeg was welcomed back to the NHL, the Jets unveiled some very cool jerseys. Since they are two-tone blue, they look great against all red jerseys, but no jersey looks better against them than the red and black home sweaters of the New Jersey Devils.
Keep Reading